Top CRM Software List Fresh Release
What is CRM Software?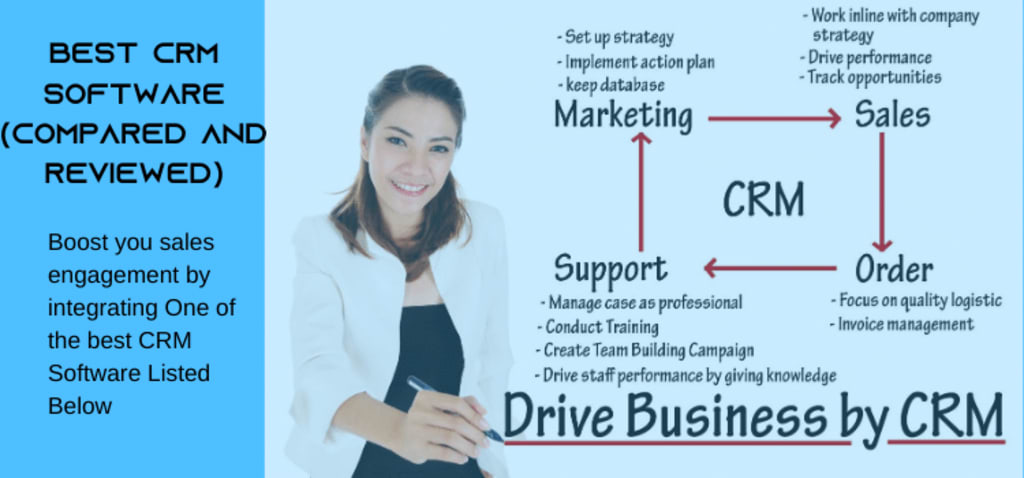 CRM Software is an integral tool of any modern company around the world. CRM Software came into existence from the theory that retention of customers adds to more value to the company since it is cost-effective than acquiring new customers.
In this article, I will explain what is CRM Software and give you a detailed report on the Top CRM Software list for 2020. Finally, I have written a brief history of CRM Software and also the advantages of CRM software for your insights.
There are several CRM software available in the market today, and it is an uphill task to decide on which CRM software to use or subscribe that is suitable. In our Top CRM Software list for 2020, I have explained in detail various types of CRM and, you can choose the best fit for your need.
What is CRM software?
CRM stands for Customer Relationship Management. The basic idea is to engage and nurture loyal customers to the company. So, the main objective is to have interactions with leads and existing customers to know more and present a personalised solution. These days every business operates through multiple platforms and, it is not possible to track and maintain all the interactions manually. Thus, CRM software became a need of the hour. CRM Softwares records all interactions, engagements with the customer also help us to evaluate the lifetime value of the customer.
Along with deciding on a robust CRM software, you must ensure your web server has enough resource to handle this extra integration. There several web host providers we have made a list of best hosting providers for 2020. In case you have many visitors for your website we recommend you to go through our list of top dedicated hosting plans for 2020
A brief history of CRM Software
CRM came into existence in the main-stream marketing only a few decades back. It used to exist in different forms. One of notable type of CRM was key account manager or, departments are the manufacturing industries. Large manufacturing industries would invest in maintaining a key account manager or a whole department for clients with a large volume of orders. This manager or department ensures that the clients are appraised about the order updates or any previous transaction history anytime. This special allocation of resource ensures the clients are happy with the service and helps in getting more contracts and orders.
In recent decades, customer relationship gained prominence in the service sector, especially in the aviation industry with a reward system and in the banking sector with a personal wealth manager.
Advantages of CRM Softwares
• Maintaining Record: CRM software not only store customer interaction but also, maintains records of suppliers, for recruitment, customer service, etc. Since maintaining record manually is a cumbersome task, the software records data automatically.
• Access information anywhere: These days CRM software is cloud-based tools which store data on servers so that the information, is available from anywhere. Since it is more like a tool that captures any interaction, the data gets recorded in the servers, which you can access anytime.
• Decide on nurturing valuable customers and leads: Since CRM software has all the records of interaction, the data can be analysed to nurture and engage the valuable customers of the firm. Values can be assigned to each type of engagement by the customer with the company and then retrieve an analytical report. You need not spend on customers that are not valuable.
• Better and personalised engagements: Within the CRM software, you would be able to segment customers according to your needs. Then you run a marketing campaign with customised messages or emails to customers that will have a higher impact on user engagement. If you are looking for a dedicated email marketing software, we have made an exhaustive list of top 10 email marketing software platforms for 2020.
• Ease of Use: CRM software is designed, in such a way that anybody would be able to use the software like any other apps that we currently use. The interface design ensures that you do not require any specialised knowledge or long course to understand the working.
• Integration Support: One of the best advantages of CRM software is the ability to integrate with any given platform. These days with the CRM tools, API and webhook technology, you would be able to integrate with your website, mobile app, social media platforms, payment apps, etc. The integration with other platform ensures that every engagement with your customers recorded.
• Pipeline Management and forecast: Every company needs to understand where they stand and then plan for the future and optimise workflow to achieve their goals.
In sales and marketing, the ability to predict is an advantage to make clear decisions and allocation of resources.
I have analysed over 60 CRM software that is available in the market and then come up with this exhaustive report and recommendation. I have listed in detail the features and Pros of each CRM toll and also the pricing so that it is easy for you to compare and decide.
Are you planning to start a blog? We have created a definitive guide on how to start a blog in 2020 which will give you detailed steps to follow to create a successful career as a blogger.
1. Hubspot CRM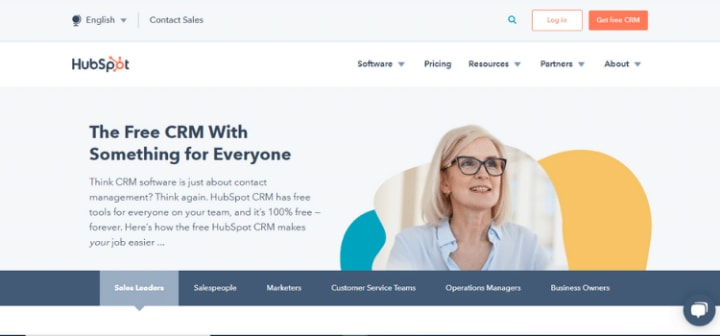 I recommend Hubspot CRM as the best CRM software available in the market and hence ranked number one in our top CRM software list for 2020. First of all, it has a bundle of features to help business up to medium level and also offers a forever free plan. Let's jump right into the features list.
Features and pros Hubspot CRM
• CRM for multiple departments: HubSpot's CRM tool can be, used in various departments of any company. This CRM tools can be, used by the sales team, marketing team, Customer service, operations managers, etc. Thus, making it a one-stop solution for most of the companies.
• Contact Management: Every CRM offers to maintain a contact record of leads whereas, the Hubspot's CRM helps in reducing the data entry process while creating a new prospect of the company.
• Deal Stages: Every sale, marketing or operations undergo various stages. It is crucial to track the phase of any customers, especially in marketing, these phases can be assigned values to calculate the value of the customer and then have personal interaction for a successful sale.
2. Salesforce CRM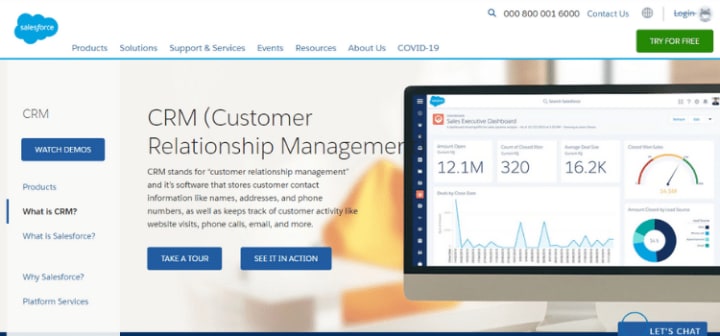 The next popular software on our top CRM software list for 2020 is Salesforce. Salesforce is one of the most popular CRM platforms for companies that are aggressive sellers and also for customer service.
Features and pros of Salesforce CRM
Opportunity Management: You would be able to visualise your sales pipeline, quotes, products and other information required to monitor and optimise your sales deals by leveraging the software.
Lead Management: The software also helps you to filter leads with their value for the company. You can churn out the list with every possible filter required to invest your marketing dollars for the right customers.
Sales Data: In today's business data drives revenue. With Salesforce, you can have all your sales data on the tip of your finger anytime. It is crucial to monitor your data so that you can allocate resources and other decision-makers according to need to optimise your sales and marketing productivity.
3. Freshsales CRM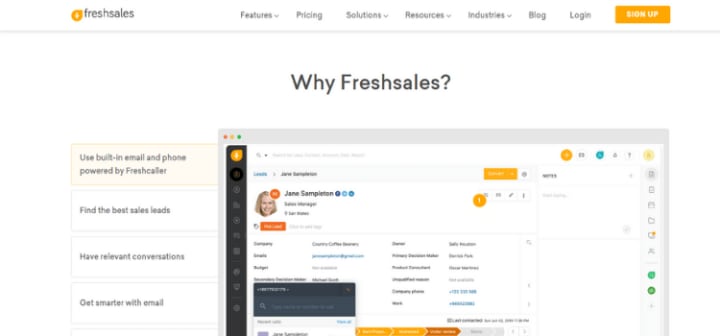 In our top CRM software list for 2020, we rank Feshsales as third best CRM software. Freshsales, specially designed to cater to the needs of your sales team with better capabilities and features.
Features and pros of Freshsales CRM
Renaming modules: One of the peculiar features of CRM is the ability to rename the core functionalities of the CRM according to the nomenclature of the company. Every company. E.g. some companies call sales leads as customers, users, students, etc.
Custom fields: You can create custom fields to capture more personalised data required to run your business.
Multi-currency & multi-language: Freshsales CRM can help you run a single CRM platform across all teams around the world as it supports multi-currency and multilanguage that is uncommon with other CRM software.
4. Zoho CRM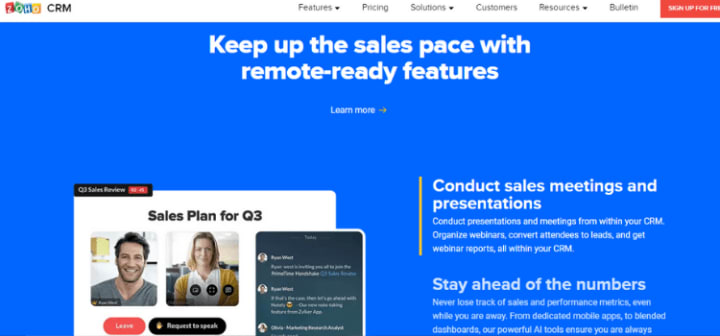 Next on our top CRM Software list for 2020 is Zoho CRM. Zoho is one of the popular CRM software solution providers in the world. They serve more than 150,000 business in more than 180 countries around the world. Top business houses like Amazon, Netflix, Ducati all are clients of Zoho CRM. Let me give you insights into the features and pros of this CRM software.
Features and pros of Zoho CRM
Sales Automation: This CRM Software has capabilities extends from lead management, deal management, workflow automation, etc. With these capabilities, you would be able to optimise productivity by automating the manual tasks.
Track Customer journey: You would be able to track the customer journey from the time they are added to Zoho CRM. Information about customer journey would enable higher management to decide and optimise the journey, for better results.
Process Management: Communicate a clear sales process to be followed by your team. You can define rules for the process and, even the offline sales process can be tracked if the sales representatives adhere to the rules framed by the company. Process management is very important as sales when conducted as a process you would be able to get a sustainable sales to funnel.
Omnichannel approach: Zoho CRM has an inbuilt telephony feature and you would be able to connect with the service provider. You would able be able to engage with customers through email, social media and customer portals.
For More Detailed Report Visit Our Site: https://besthosting4me.com/top-crm-software-list/
If you Like it Please share it with your friends. Thanks
list
About the author
Reader insights
Be the first to share your insights about this piece.
Add your insights