Top 7 Leading Hospitals in Mumbai 2023
Mumbai is regarded as one of India's most developed and significant cities. It has world famous medical facilities and is the nation's entertainment hub. Numerous prestigious hospitals in the city offer superior medical care.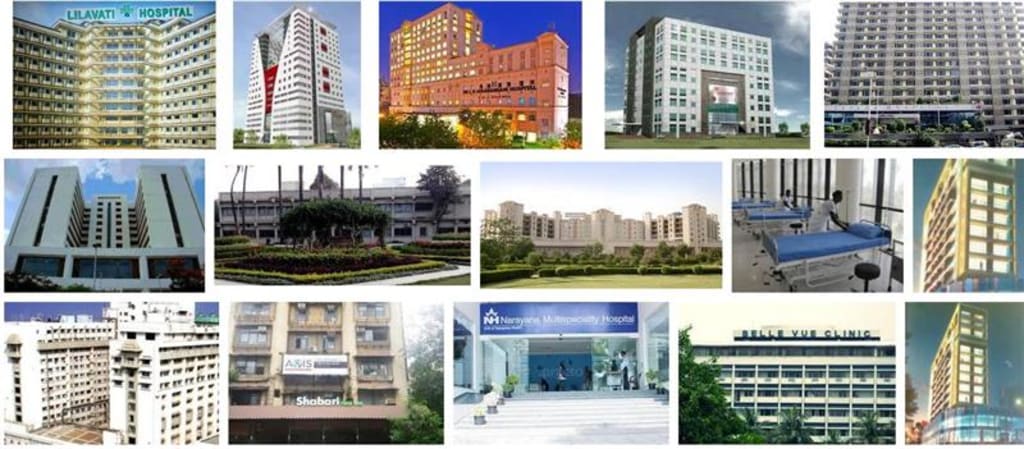 Mumbai is regarded as one of India's most developed and significant cities. It has world famous medical facilities and is the nation's entertainment hub. Numerous prestigious hospitals in the city offer superior medical care.
One of India's most important employment and economic sectors is now the hub of the healthcare industry. India's healthcare system is expanding substantially due to improved public and private sector services, investments, and coverage. The healthcare sector includes Indian hospitals, health insurance, clinical trials, medical devices, outsourcing, medical tourism, telemedicine, and medical equipment.Lets learn about the best hospitals available in Mumbai.
Top 7 Leading Hospitals in Mumbai 2023
1. Tata Memorial Hospital, Mumbai
The Tata Memorial Hospital is located in Mumbai, India's Parel neighborhood. The abbreviation for TMH is TMH. The Advanced Centre for Cancer Research, Treatment, and Education is attached to this facility for the therapies and study of cancer (ACTREC). The centre is a notable cancer centre in this region of the country. It is a national comprehensive cancer centre for preventing cancer, education, treatment, and research. The Department of Atomic Energy of the Government of India, also in control of the institute's management, has sponsored and overseen its operations since 1962.
Address – E Borges Road, Parel, Mumbai – 400 012
2. Lilavati Hospital, Mumbai
One of Mumbai's premier multi-specialty care hospitals, Lilavati Hospital and Research Centre, was founded in 1997 and has received recognition for its superior medical care domestically and abroad. It offers cutting-edge facilities with the best medical knowledge, research, and education. It accommodates 323 beds, many ICUs, 12 advanced OTs, and over 1800 staff.
Address: Lilavati Hospital & Research Centre, A-791, Bandra Reclamation, Bandra (W), Mumbai.
3. Nanavati Hospital
Pt. Jawaharlal Nehru opened this renowned Hospital in the year 1950. Dr Balabhai Nanavati Hospital in Mumbai has built a stand for itself as a provider of exceptional healthcare facilities plus treatments because of its more than 60 years of committed healthcare services.
It has over 350 beds and over 55 speciality treatments accessible. It has technologically advanced equipment and systems. It has about 350 speciality consultants, over 500 nursing staff, 100 resident medical professionals, and over 1500 support employees. It also offers ambulance, pharmacy, and blood bank services.
Address: S.V. Road, Vile Parle (West), Mumbai - 400 056, India
4. Sir J.J Group of Hospitals
It is one of the top missionaries/government hospitals in Mumbai. Sir Jamsetjee and Robert Grant founded this institution to provide medical care for patients and medical education. It has over 2800 beds available. It offers "Jeevandayee Yojna" and has implemented treatments for the needy. It has high-class and extensive facilities with expert staff and doctors. It has all-around treatment facilities.
Address: J J Marg, Nagpada-Mumbai Central, Off Jijabhoy Road, Mumbai – 400008
5. Jaslok Hospital
Jaslok Hospital, a top-rated private hospital in Mumbai, has been offering the best healthcare for more than 43 years. It offers hip and knee replacements, laparoscopic donor nephrectomy, laser prostatectomy, and renal transplants. They have a team of professionals with exceptional competence who are also amiable and well-known internationally. They have compassionate and skillful nurses, provide financial healthcare services, and have more than 364 beds.
Address: 15, Dr Deshmukh Marg, Pedder Road, Mumbai
6. Breach Candy Hospital
One of South Mumbai's top private hospitals, Breach Candy Hospital, has been offering top-notch medical services for the past 50 years. It is renowned for its brilliance in nursing and medical care knowledge. The Hospital is blessed with a group of eminent medical professionals. It opts for high-tech processes like Coronary Angioplasty, Hysteroscopy, and Magnetic Resonance Imaging. There is a charity wing as well to help the needy.
Address: Breach Candy Hospital Trust, 60 A Bhulabhai Desai Road, Mumbai
7. Apollo Spectra Hospital
One of the top hospitals in Mumbai, Apollo Spectra Hospital offers top-notch amenities for improved patient care, along with specialized tools and cutting-edge technology. Apollo Spectra Hospital ranks fifth on the list of the best hospitals in Mumbai. It offers a dedicated 24x7 care unit. It also provides chat support. They also have a user-friendly, customizable app.
Address: Apollo spectra hospital, Ujagar Compound Opp. Deonar Bus Depot Main Gate, Chembur, Mumbai, Maharashtra 400088
Conclusion
These hospitals are renowned for their specialized resources, including their medical infrastructure, nursing staff, patient care, and numerous family support programs and treatment options.
Reader insights
Be the first to share your insights about this piece.
Add your insights