Top 6 Prototyping Tools.
Product design explained.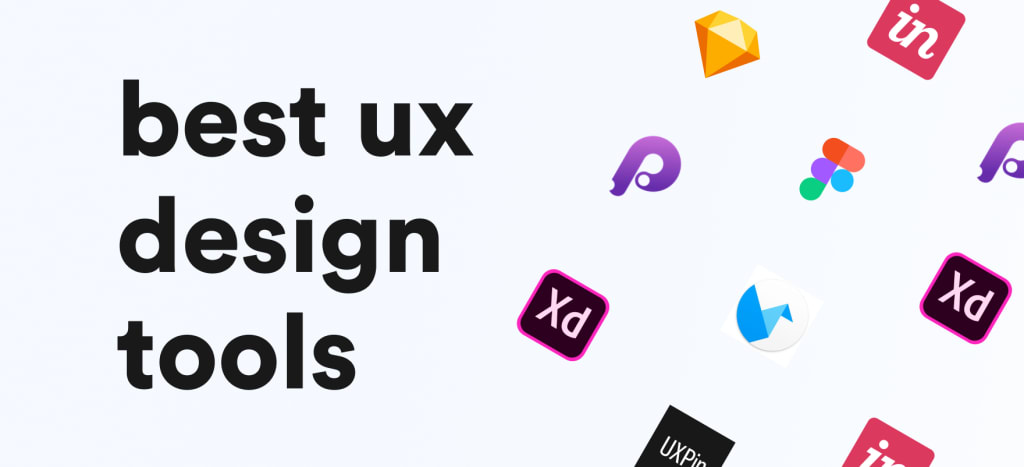 UX tools
There is no better way to confirm the requirements and expectations of a customer than building a prototype. Though Business requirements specifications/software specifications are useful many don't read all those lengthy documents and find it difficult to visualize. A prototype can be defined as a model that is created to evaluate a design or product concept. Prototyping is vital to a UX design process.
How to Choose the Best Prototyping Tools
Prototyping tools aid in demonstrating user flows and also assist in early testing before getting into an expensive process which is app/web developing. With the right tools, prototyping becomes easy, quick, and cost-effective. Now, how to find the right tool for your project? It depends on several factors such as
Goal of your prototype, i.e., whether you need a low fidelity (testing ideas), medium-fidelity (testing layout), or high fidelity (testing micro-interactions) prototype.
Speed at which prototype needs to be made available for testing.
Ease of usage and collaboration with others involved in the project, including designers and clients.
Price of the prototyping tool.
By considering these factors, you should be able to choose the finest prototyping tools that illustrate the purpose of your design, helps you save time and money, and obtain valuable feedback. Without further ado, let's jump right in.
1. Figma
Without any doubt, figma is unbeatable in the game of UX design. Being a cloud based app make it none-resource intensive hence can run on any machine running browser.
It is easy to use, has excellent value for money, and does not require any coding knowledge to add interactivity to designs. It's quick sharing, real-time feedback, and seamless collaboration in the cloud makes it stand out among the online prototyping tools.
Consistency is essential in UX design. With Figma, it is easy to manage the appearance of text, grids, etc. uniformly throughout a design. It also has many resourceful plugins, such as Autoflow, for demonstrating user flow and Figmotion, for creating animation. With these powerful features, Figma is grabbing the attention of UX designers all over.
2. Adobe XD
Developed and maintained by a renown company in the design industry, Adobe XD is ranked second in our listing. Though too young in the game, it is offering incredible features and a rich pool of plugins.
Adobe XD is an all in one app that lets you create wireframes, prototypes, and design for websites, mobile apps, voice interfaces, games, etc. It allows seamless integration with other products from the Adobe family, which is a big plus. Because of easy integration, designers can import files from Photoshop or Illustrator without trouble. It is a feature-rich tool that allows designers to view designs on actual devices in real-time and comment on prototypes. With Adobe XD, it is easy to switch from design to prototype mode, add interactions, share with the team, and receive feedback. Its reliability makes it one of the greatest prototyping tools in the market.
3. InVision
The acclaim for the most popular prototyping tool goes to InVision. Top companies such as Netflix, Amazon, Twitter, Airbnb, LinkedIn, etc. use InVision for their app prototyping. It is a robust tool and is continuously updated with new features, thus improving its efficiency.
By uploading static images and adding animations and interactions, it is possible to create clickable prototypes easily. It has a drag and drop design feature and is compatible with multiple image types. InVision supports real-time comments and provides an option to organize designs lists into to-do lists, under review, approved, etc. Collaboration and communication are two strong pillars of InVision, and its well-established reputation makes it a favorite among designers.
4. Sketch
I go by the adage that old is gold. Though the newer tools seem to take the fame off the sketch, it has still managed to emerge among the top rated tools. It is an entirely vector-based design tool, which means it is easy to adapt to change in size, style, and layout. It is fast, efficient, and has a simple interface using which high-quality graphics and artwork can be created.
With Sketch, the transition between different screens can be done seamlessly. It also provides ease of repeating elements such as buttons, bars, etc. with simple copy-pasting. Consistency and uniformity are two main attributes of Sketch. The well-defined user interface, ease of use, and lightning-fast prototyping make Sketch an industry standard for prototyping among every UI UX design company.
5. Protopie
I know most people will definitely agree with me that this tool is a beast in the league. Having used it in advance prototyping and to depict logic flow of apps, I will highly recommend you give a try to this tool.
ProtoPie is the easiest tool to turn your interaction design ideas into realistic prototypes. Create interactive prototypes for mobile, desktop, web, and IoT. Make interaction design the epicenter of your workflow. The center of the ecosystem is ProtoPie Studio — the actual prototyping tool on macOS and Windows. With ProtoPie Player on iOS, iPadOS & Android, test prototypes on any smartphone or tablet. Share your prototypes with stakeholders using ProtoPie Cloud.
6. WebFlow.
Imagine that while you are designing a prototype, you are also creating a live website. And that too with zero coding. Appealing, right? WebFlow lets you do just that!
Once you are done creating a high fidelity prototype, WebFlow helps you turn it into a production-ready website with a click. This is a boon for independent designers as they can export the prototype without the help of developers. Webflow is a website prototyping tool that focuses on creating web animations, interactions, and responsive web design. By providing a speedy way to design and prototype, it has become one of the best prototyping tools for all skill levels.
7. Bonus.
The list is endless and more tools are developed everyday. With this I will add more tools I have used over time and I would recommend it to my fellow designers too.
Framer
Lunacy
JustInMind
UXPin
Flowmapp
In conclusion:
Every prototyping tool has its own advantages and specialties. In this article, we have covered from beginner-friendly, low-fidelity tools to advanced, high fidelity ones. The best tool for you is the one that answers the requirements of your project- your goals, your team, and your skills. But whatever requisites you may have, be assured that technology has solutions for every one of them. And over time, we will be sure to see even more advancements in the UX prototyping field.