Top-11 slide design services
More than PowerPoint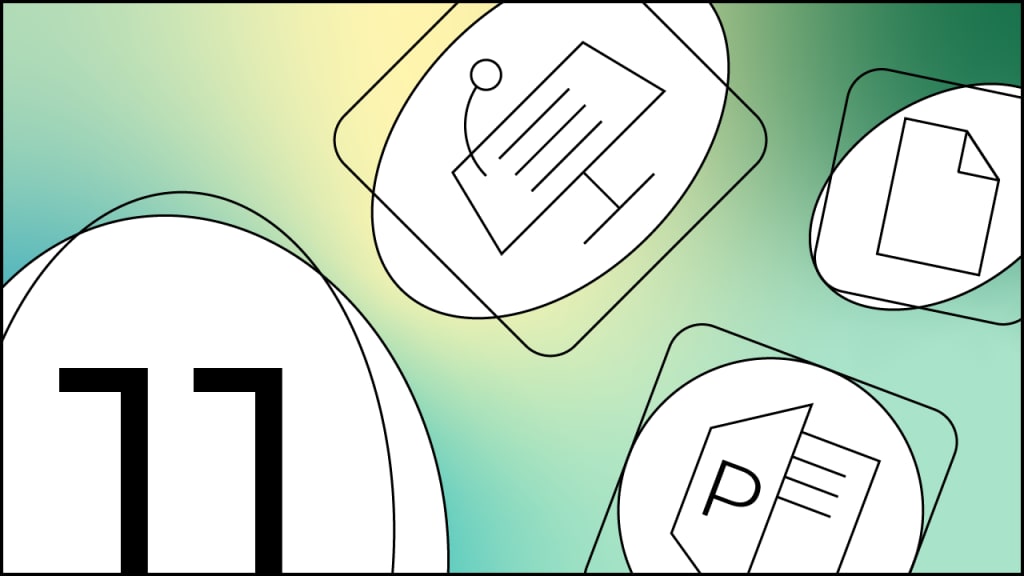 In this article, we'll go through different services and see which ones are cut for classic presentations and which ones provide additional features such as adding media or interactive modules for communication.
A successful presentation nowadays is only imaginable together with decent software with a variety of tools. There are loads of services for slide deck creation, so the main question is how to select the service that works for you. Check out our top-11 slide deck software list and learn to choose the one that suits you best given all your goals and preferences.
1. PowerPoint
One of the most popular services for slide design. Comes as a part of the Microsoft Office 365 pack.
Pros:
a familiar interface for those who use other Microsoft software
includes a manual and a help system
various skins
automation (e.g. copying style and forming templates based on 2-3 slides)
compatible with many file formats such as .pdf, .xps, .mp4, .wmv, .odp, .jpg, .png, .gif etc.
Cons:
excessive functionality (a lot of "odd" features ignored by regular users)
complex collaborative editing mode: the document has to be saved to OneDrive so that other people can edit
Platforms: Windows, web-version
A part of a paid Microsoft Office pack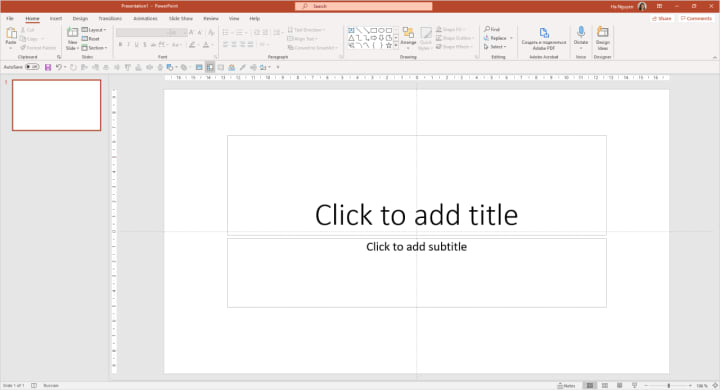 2. Keynote
An automated slide design software for Mac. Comes as a part of iWork by Apple.
Pros:
only consists of basic editorial tools (contrary to PowerPoint)
templates library
supports export to PDF, QuickTime, JPEG, TIFF, PNG, HTML (with JPEG images) and PowerPoint.
user-friendliness & minimalistic design
collaborative editing
synchronization via external cloud drive
Cons:
for iOS/macOS only
a risk of distortion if converted to .pptx
Platforms: macOS, web
Comes free of charge with Mac or may be purchased in Mac App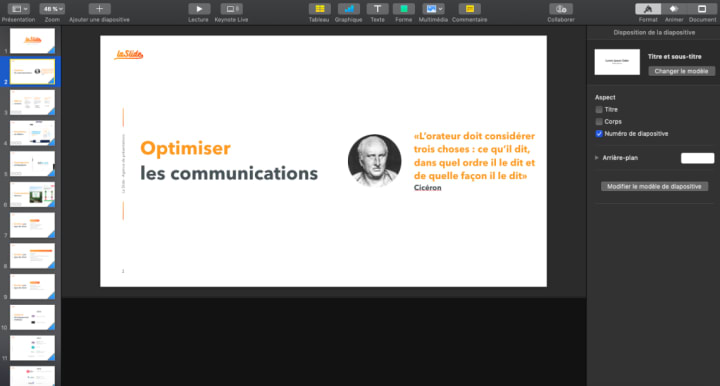 3. Google Slides
A simplified online analog of PowerPoint or Keynote. A part of Google Drive office pack.
Pros:
covers all basic slide design features
easy collaborative edition mode
an interactive Q&A module (via link)
Cons:
scarce functionality
offline access only via Google Slides
compatible with few file formats
Platforms: web, Chrome
Free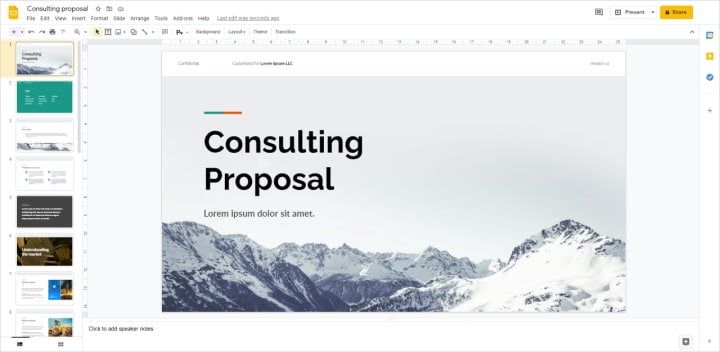 4. Prezi
Innovative software for visual storytelling. Alternative interface with its very own feature - flash presentations — presentations with the use of interactive tools such animation and various sound effects.
Pros:
an innovative approach to slide design: canvas instead of slides
viewing the deck as a whole thing or zooming its' parts in&out
compatible with every platform
online presenting
collaborative editing mode
Cons:
doesn't work for any type of reports official presentations
Platforms: Prezi.com.
Free on Prezi.com + paid license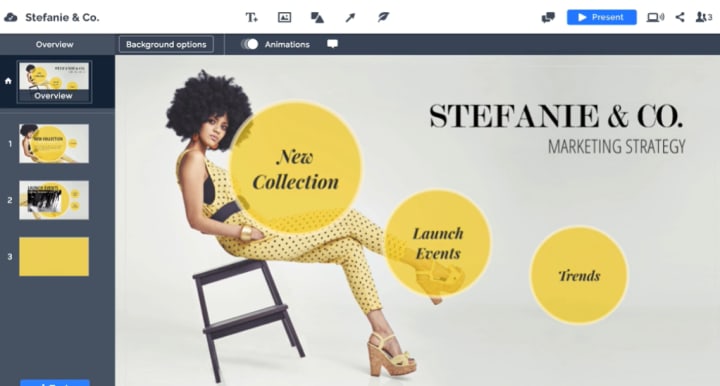 5. OpenOffice Impress
Slide design software within OpenOffice.org pack. This software is known to be a free analogue of PowerPoint.
Pros:
provides the same functionality as PowerPoint
exports presentations to PDF-files & Adobe Flash (so they can be viewed on every device with a Flash Player)
Cons:
less fancy and user-friendly than its paid counterpart
Platforms: OpenOffice.org
Free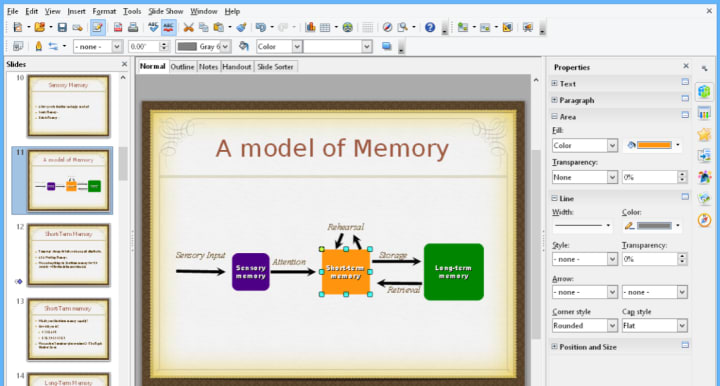 Apart from installable software, we have put together some online services:
6. Zoho Show
A part of Zoho Office Suite online office pack.
Pros:
doesn't require installation and setup
considerable tools library
real-time display demonstration mode
may be converted to PDF format or to one of Microsoft Office or OpenOffice formats
Collaborative mode
Cons:
Internet-based only / only works online
limited skins options
Platforms: Zoho.com
Free. Requires to sign up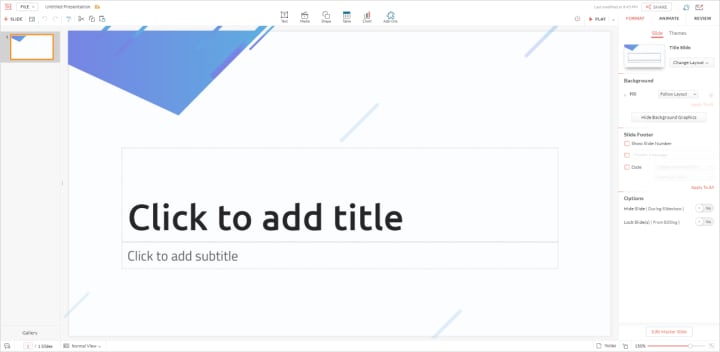 7. Piktochart
A great fit for presenting annual reports with massive numeric data, marketing research, business plans, etc. which also provides an opportunity to create infographics and animation apart from slide decks.
Pros:
a user-friendly interface despite wide functionality
various charts, tables, diagrams and pop-ups
considerable templates library
Cons:
Internet-based only / only works online
English version only
Platforms: Piktochart.com
Free
8. Slides
Online service with an HTML export option.
Pros:
simple interface
service manual provided
synchronisation with Dropbox, Google Analytics
sharing to social media
Cons:
12 fonts only
doesn't support multimedia
Platforms: Slides.com
Free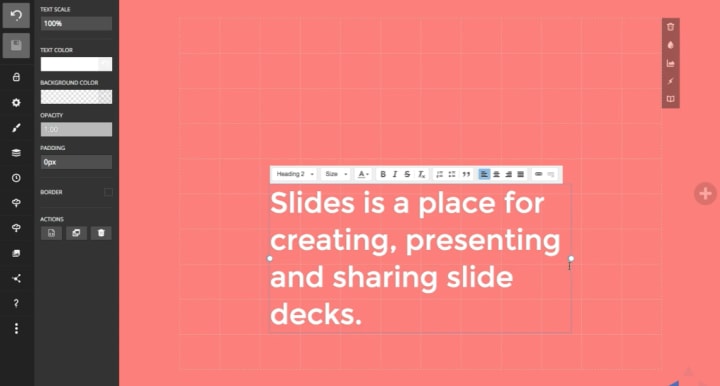 9. Canva
A free service for online slide design with a built-in photo editor. Allows creating presentations directly in a web browser and works for various design concepts.
Pros:
a nice and user-friendly interface
various tools
a great many free templates
Cons:
scarce functionality
paid templates & visual elements are considerably better than the free ones
Platforms: Canva.com
A paid service (limited version is available free of charge)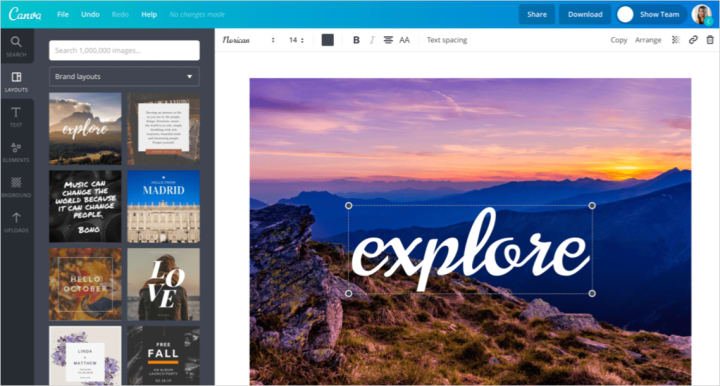 10. HAIKU DECK
A "quick fix" presentation software that is a perfect fit for creating a slide deck from scratch in less than 30 minutes thanks to its user-friendly interface.
Pros:
simple functionality clear for everyone
Cons:
limited options for more complex slide decks
Platforms: Haikudeck.com
Free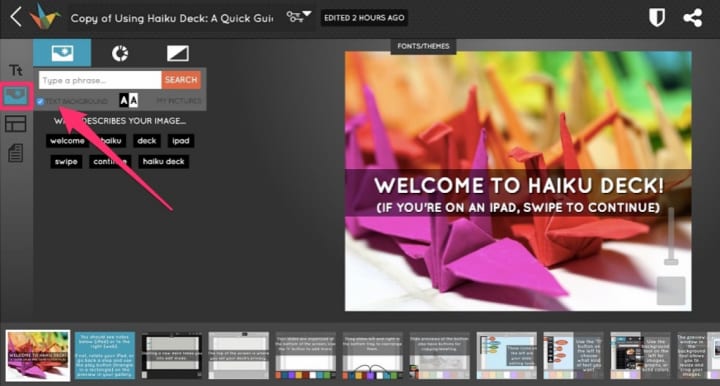 11. POWTOON
A slide design service with video presentations. A perfect fit for impressing the audience.
Pros:
convenient user-friendly interface
various sound effects & animated templates
Cons:
Internet-based only / only works online
a non-removable watermark on the slides if using the free version
Platforms: Powtoon.com
A paid service (limited version is available free of charge)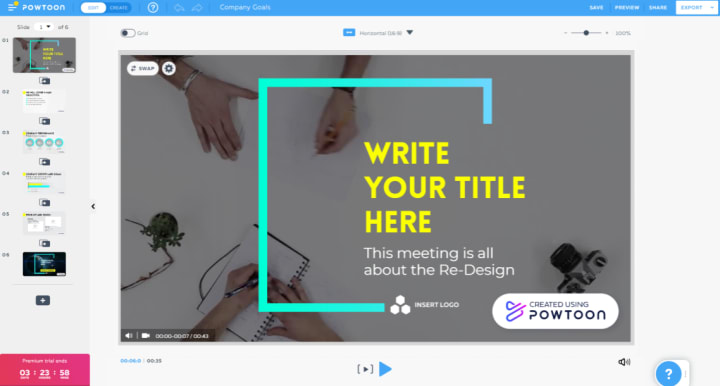 Summary
Now you see that no matter what your goal is — a huge presentation with many slides, diagrams, animation, and quality design or just a simple but well-structured deck, — you can find proper software cut out just for what you want to present at this very moment. We hope this article helps to do your very best slide design.
Want to learn how to make awesome presentations? Check out my online course PowerPoint 101