To Cut or Not to Cut
Upcycling and embellishing thrift store finds to costume quality often requires blind faith to make that first cut...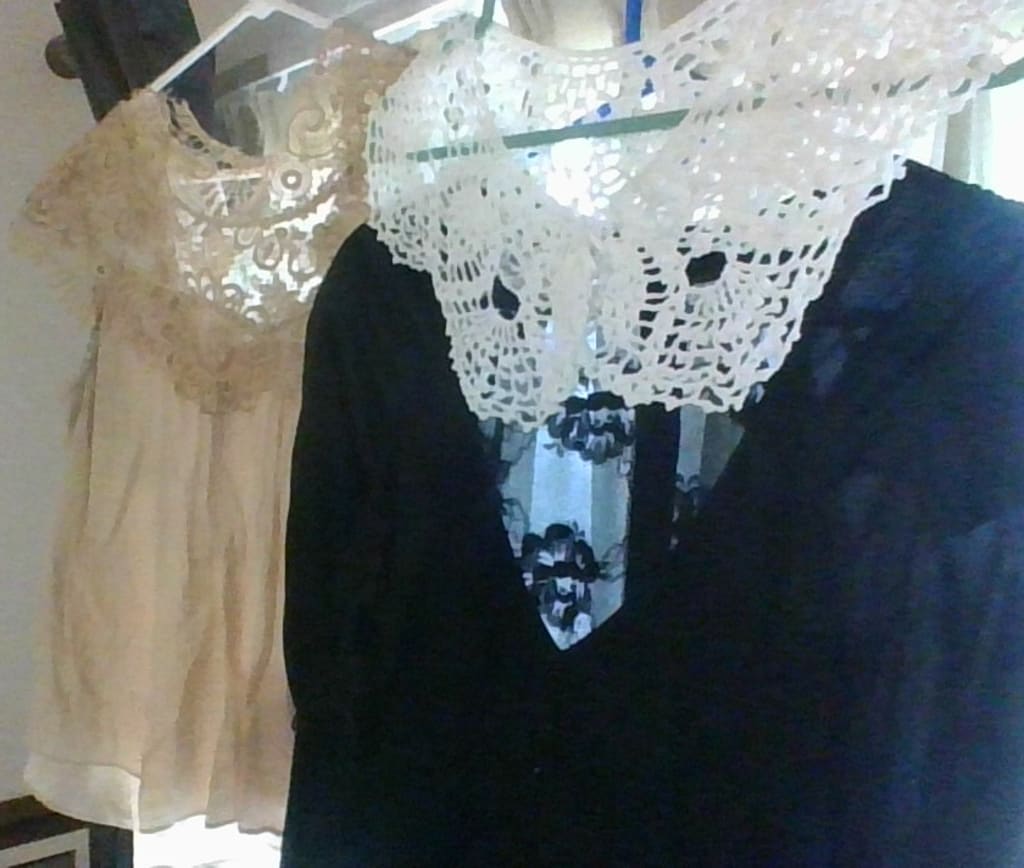 Two pieces in progress and antique lace collars to be used in costuming projects - Mimi Meeker, Federal Way, WA
My passion for sewing began with a part-time job during college at a local fabric store. I was by far the youngest employee among veteran crafters and seamstresses and the store had the tradition of starting newbies with cheap scissors and then graduating to higher quality - usually a sturdy Fiskar's pair of scissors work ethic was proven and longevity rewarded. The job was hard, we had a Nordic manager who believed that the store should be straightened and look good for the next day's customers even if it meant working past 11pm. I was not a fan but learned much and acquired a stash of fabric and a love of creating something from a flat piece of cloth. When I left the job to pursue a job in my field of study, my coworkers gave me an expensive set of shears I cherish to this day.
Over the years, my skills and shears were summoned to sew event dresses for friends, lead craft parties, Scout projects, make matching Christmas vests for nephews, cousins and sons. Their best and most fun times were in use making Halloween costumes for both of my sons (now in their 20s) and we donated all of our gently used costumes to a local children's hospital.
With the pandemic time, I revisited my love of costuming, visiting virtually eBay, thrift sites and online shops for items that I could remake or embellish to market for Dickensian, Edwardian, Renaissance Fairs and other costuming groups. My focus was for people who are often hard to fit in costumes due to size or body issues. Transgender and gender fluid participants have issues finding period appropriate costumes during transition, but are often drawn to reenactment events. These are my people. I'm never happier than to find a costuming basic skirt, jacket or shirt in 2XL, or size 16-22. Then the creative juices flourish! As Gilda Radner once said, "I can always be distracted by love, but eventually I get horny for my creativity." I can work until the wee hours on a project of passion.
Blessed to have inherited a love of crafting and sewing from my Grandma Peg, I was the grand child who claimed all the trim and notion boxes in the sewing room. It is my way to speak with and channel Grandma to embark on a project and often get an inkling to "look in this box" and find something that just works perfectly. Once I find a piece that works in line and fabric, the next step is to make it time period appropriate with trims, embellishments, bustling, ruching and also make it versatile so that it can be worn more than one way. A black velvet skirt with an over bustle one day, can be a walking suit the next. The difficult part is when I think that the best use of a piece is to cut it apart and use elements in other costume applications.
A simple tonal embroidered silk blouse was slightly damaged. The choice was to try to dye or repair the damage or remove the decorative parts to reuse in other ways. Cut a silk blouse?! I chose to deconstruct it and made a pillbox shaped cap and matching bag (finding millinery supplies any more is a whole nother story...) crafted a base from solid broadcloth, stiff braid and buckram, then stitching the motif to the hat and bag in such a way that it looked crafted for the purpose. Many items require pinning and repinning until the composition says, "This feels right!" I also collect damaged lace pieces to embellish simple tops for Victorian era ensembles or work into jabots, bonnets or hats. This week I'm working on tea dyeing a lace collar piece and attaching it to a contemporary sleeveless top (pictured above) so that it can be featured under a stylish jacket. When considering cuts to antique fabrics and laces, a leap of faith is required.
With every project the path from idea to fruition requires trusted tools, muscle memory, the ability to reconstruct something visually inside out, upside down or in mirror image to get the finished piece to appear as desired. Some ideas need to be trimmed down for various reasons, but once completed the feeling of accomplishment is something else. From the first cut, there has to be a belief that every element is intended to be included for a reason and that it will enrich the wearer in their costuming environment and imbue them with confidence and a positive body experience. With good sharp tools, innovative ideas and thrift store bargains, there is never a dull moment in my craft room. Notice I never said a clean, well organized craft room... that's a project for another day.