Tina Turner, legendary 'Queen of Rock 'n' Roll', passes away at 83 in Switzerland.
The world has lost a music icon as the legendary Tina Turner, one of rock's greatest vocalists and most charismatic performers, has passed away at the incredible age of 83!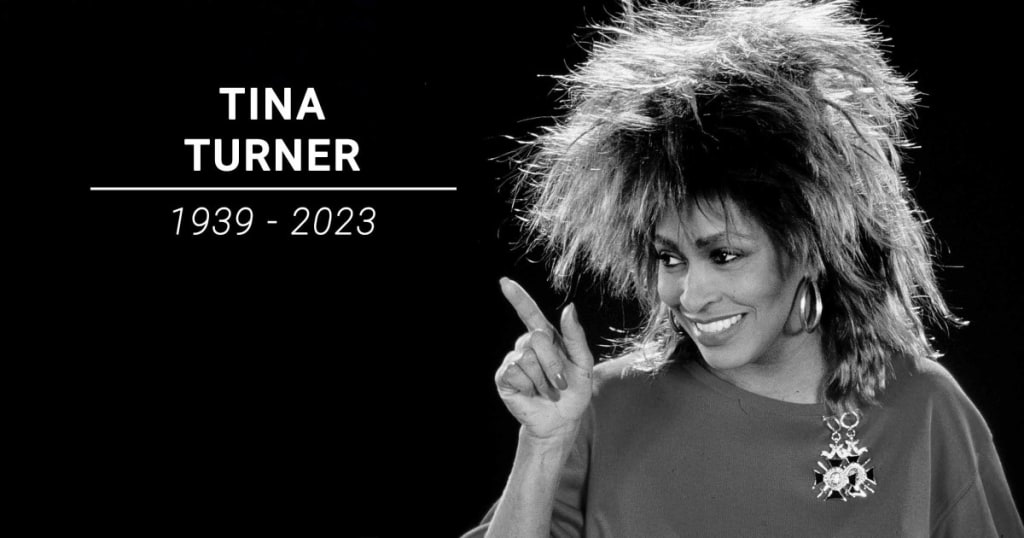 The world mourns the loss of music legend Tina Turner, also known as the 'Queen of Rock 'n' Roll', who passed away at the age of 83 in Switzerland. Despite enduring years of abuse from ex-husband Ike Turner, Tina rose above it all and resurrected her career in the 1980s, becoming one of the biggest music stars in the world and leaving a lasting impact on the industry.
We lost a true music legend and role model May 24, 2023. Tina Turner, the 'Queen of Rock 'n' Roll', passed away peacefully in her home in Switzerland at the age of 83 after battling a long illness. Her stage presence was electric, and her songs like The Best, Proud Mary, Private Dancer, and What's Love Got to Do With It will be forever cherished. Many stars, including legends like Sir Mick Jagger, Sir Elton John, Diana Ross, Bette Midler, and Giorgio Armani, paid tribute to her amazing talent and inspiring personality. She helped shape the music industry and will always be remembered with great respect and admiration.
Turner, who had previously battled intestinal cancer and endured a stroke, shared in 2018 that her husband had selflessly donated a life-saving kidney as she contemplated assisted suicide. Her manager of three decades, Roger Davies, fondly described her as an unparalleled and extraordinary powerhouse, brimming with unyielding strength, boundless energy, and unparalleled talent. He mournfully expressed how deeply he would miss her.
Back in the 60s, Turner rose to stardom with her ex-husband Ike and their unforgettable hits like River Deep, Mountain High and Nutbush City Limits. But sadly, she faced domestic abuse from Ike and had to fight to break free. It was all captured in a 1993 movie that won three Oscars, and her inspiring life story is still celebrated in a popular West End show.
Back in the late 70s, the singer's fame had faded and it seemed like her time in the spotlight had come to an end. She continued performing in cabarets as a tribute act, but her destiny was about to change. In 1983, her cover of Al Green's "Let's Stay Together" became an overnight sensation, and at the age of 40-something, Turner signed a new deal with Capitol Records. This led to the release of the iconic "Private Dancer" album in 1984, which sold over 10 million copies and brought her back to center stage as a true superstar.
Ah, the good old days of music! Private Dancer had not one, but seven hit singles including the unforgettable What's Love Got to Do With It and I Can't Stand the Rain. And who could forget The Best, that cover of Bonnie Tyler's song that became her most famous tune. And of course, Proud Mary still gets us dancing and rolling down the river, even into her late 60s at live shows.
Taking a trip down memory lane, it's worth noting that following her triumphant return, there was a brief stint in the world of film, starring opposite none other than Mel Gibson in the iconic Mad Max Beyond Thunderdome back in 1985. This venture into the movie business also gave birth to the chart-topping hit, We Don't Need Another Hero. It's worth mentioning that her birth name was Annie Anna Bullock, and this talented performer first graced the world in a segregated hospital in Tennessee, way back in November of 1939. In more recent times, she became a citizen of Switzerland, a country she has called home for the past ten years now.
She reminisced about the days when she lived on a sprawling estate on Lake Zurich with her husband Erwin Bach, whom she met in 1985 and fell in love with at first sight. She fondly recalled the moment she first laid eyes on him and her heart went bu-bum. Turner also shared that she had four children, two of them she adopted from her ex-husband Ike's first marriage. However, her heart still ached from the loss of her eldest son, Craig Raymond Turner, who passed away five years ago from an apparent suicide. She recounted the pain of scattering his ashes in the sea off California and wrote on Twitter that he'll always be her baby. Unfortunately, tragedy struck again in 2022 when her second son Ronnie lost his life to cancer.
About the Creator
I reveal the questions that our soul is interested in and that our mind is searching for.
Reader insights
Be the first to share your insights about this piece.
Add your insights