This is where it starts.
The first places that gave me substantial money from online work.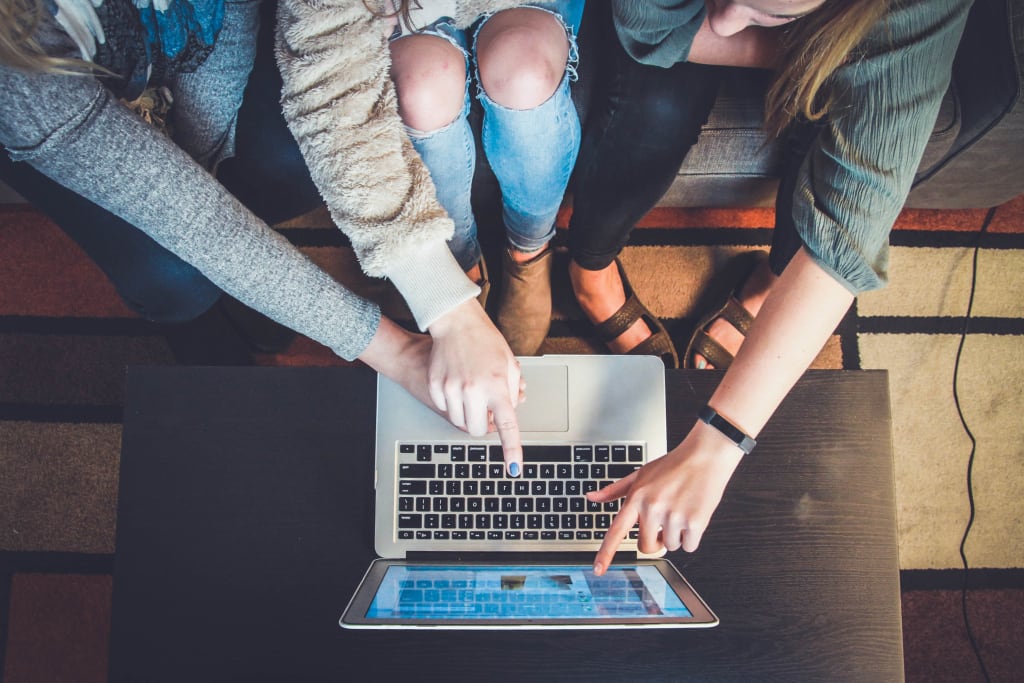 Photo by <a href="https://unsplash.com/@johnschno?utm_source=unsplash&utm_medium=referral&utm_content=creditCopyText">John Schnobrich</a> on <a href="https://unsplash.com/s/photos/online-workers?utm_source=unsplash&utm_medium=referral&utm_content=creditCopyText">Unsplash</a>
Workers are a dime a dozen. We are the work-from-home community.
Being that I am a worker myself, I had to start somewhere. I will share what I've found. Maybe it will help you on your way.
Few truly blessed individuals jumped right to work and made a living wage. Most of us started with user testings or survey sites.
What does the survey say, Mr. Harvey?
You know the ones.
They will get all the information they need, twenty questions in, and you're screened out.
Sorry, this survey is not a match.
Congratulations! You just received three bonus points.
They are so excited for you because they just scammed you. If you are on their site they are already making money off of you.
Speaking about points. Have you looked at any of the reward programs? Have a ridiculous amount just so you can receive a two-dollar gift card, to spend in their virtual gift card store. It's a win-win! For the site!
After two years struggling out five dollars here, ten dollars there, and an ocean of survey sites. I have found the best two sites to take a survey.
Prolific has the same sign-up information that you provide all the other sites. Except for t
The sign-on bonuses. The difference is they only send you the surveys that fit your demographics. I've been with this site for 2 years and only a couple, maybe three tops, that slip through where I became screened out.
Prolific | Online participant recruitment for surveys and market research
Launch your study to tens of thousands of trusted participants in minutes. Recruit niche or representative samples…
prolific.co
I can sit down for a couple of hours, fill out four or five surveys, and cash out to PayPal by the end of the day. Eventually, you can receive instant payments. The cash-out minimum is five dollars.
Some days are more tedious than others, doing three or four ten to thirty cent surveys. As long as I am focused, focused, they are all true to their time. I stray on the opened ended questions so. I take a while longer to finish.
Random questions will need to be updated throughout your time with them. They can complete these in the "About You" section. Then, if you'd like, go over the information and look for any other changes that need to be made, you'll be right there in sections on the same "About You" page.
These are the most important parts. They use the About You questions to make sure you only receive surveys to suit your demographics.
2. Mturk is a decent enough site.
Amazon Mechanical Turk
Access a global, on-demand, 24x7 workforce Amazon Mechanical Turk (MTurk) is a crowdsourcing marketplace that makes it…
www.mturk.com
Have a Prime account with Amazon. Most people don't realize Amazon has this type of income hustle. Have a Prime account with Amazon. You will do one of four or five types of things.
Once approved as a Turker you can go through the platform and choose a Hit. These are what each job is called. They are tasks or hits that either want you to work a survey, verify data, transcribe recordings or receipts, or teach robotics a specific phase.
These surveys are different in that they are Academic Surveys. They can screen you out of them. But, since a college or university requested them, they are less likely to. If you get the quality control questions, you'll be paid for it.
You may work to verify that the two pictures are the same. Or if two examples of any random are primarily for a man or a woman.
There will be other types of hits to verify, where you may be a kind of grading prior hits. So you could verify one of your completed hits.
Since so many companies switching to a virtual assistants. There are countless amounts of transcribing jobs. MTurk is no different. Then they have your basic recording that needs transcribing.
Also, there are recordings in which the requester wants you to give them quality voiceovers.
There are the hits that will ask you to make a recording by chatting with a bot for things like; vacation rentals, movie tickets, etc. Anywhere that could have a conversation with an automated system.
There will be an oddball hit or two that I haven't covered. It is a mass repetition or redundant work here.
MTurk is reworking their pay system, so I'll just go over the pay system that is in place now. I use Amazon pay.
You can have it sent directly to your checking account or get it on an Amazon gift card. Update, you can now only use your checking account or Amazon virtual gift card.