this inherited language: the shaping of a curious form
part I (gwendolyn, rebeka, bell)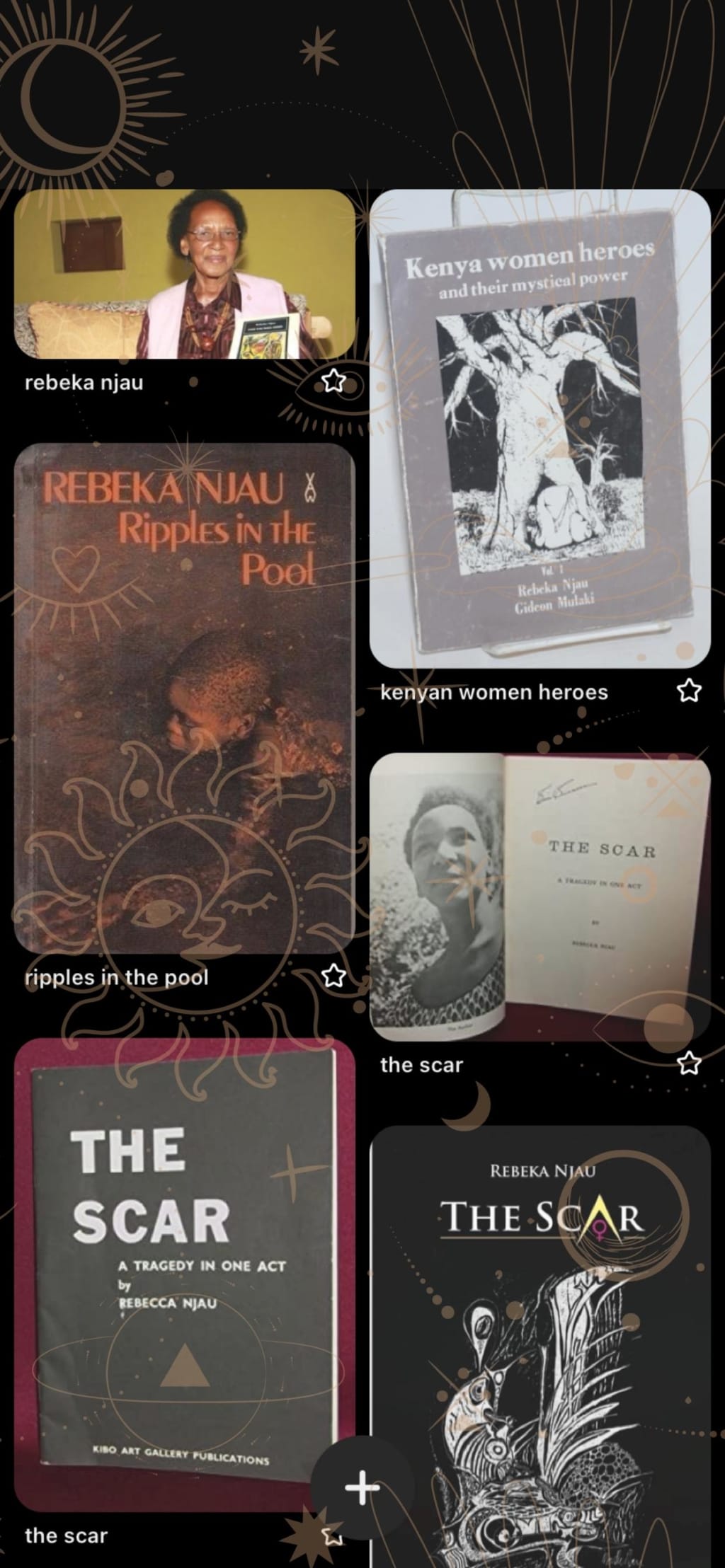 rebeka njau and a selection of her works
it is the end of 2021. i am looking to educate myself and find a community of wandering poets, so i sign up for a free online workshop, a "mooc" the pre-recorded instructor-hologram informs me. while going through the course videos, the author and textile artist gwendolyn brooks comes up. i'm listening to "we real cool"- her rhythm and tempo, the sharp way she hits every "WE" with conviction. i listen to 3 different readings and watch several videos on youtube while searching "gwendolyn brooks modernism" because it has occured in the background flurry of new information that gwendolyn brooks is an icon in modernist american literature. in a moment of sweet awareness i decide that for every american modernist poet or author i research, i will find an african counterpart. i have a latent thirst for representation of the things that i feel have shaped me into this curious form. a new friend asked me recently, "do you know the work of the people without whom your own would not exist?"
it's haunted me in some ways this question. presenting itself in different forms. do i know my predecessors in art and culture? i suppose yes. in an obligatory, barely survived but fully graduated the kenyan 8-4-4 school system type of way. chopped up as burdensome memory of homework and mandatory exams. surely not the intimate relationship i now desire.
and so i google "african modernist literature" (how intimate) and somewhere down the rabbit hole i am introduced to rebeka njau, also known as marina gashe. glad to see she is still with us, i greet this elder, in a terra/cyber-ritual that i invent and deem appropriate for this moment. i will build a pinterest, a small living shrine, and place within it 3 works by rebeka njau. i settle on "the scar", "ripples in the pool" and "kenyan women heroes and their mystical power". i will excavate slowly and write diligently, guided by a nurtured wisdom that seems to be recycling through me in my experiences and this inherited language i find myself caressed by.
i choose both gwendolyn brooks and rebeka njau as pillars in this next phase. next to "art on my mind" by bell hooks who, with guidance, i have chosen to help me integrate my budding art practice with my personal and social development. i say chosen, but in so many ways i feel like i stumbled into a secret society to which i scored a black market admission voucher. i'm not entirely sure why i am here, yet i have prescribed myself 3 authors as guides into new territory. vast, vast open fields of possibility and history and layers of being.
woman, femme, black, human, queer, spirit, animal, vessel, rebel… this curious form.
acceptance finds me in a quiet room, in my books and my screens. i pause to wonder if i can commit to this way of learning again. i wonder about the pleasure i find in wandering this way, and what it might cost me. so much of my alone that is created here is also deeply soothed here, in pages of familiar journeying and aching and longing and becoming. i wonder what gwendolyn brooks, rebeka njau and bell hooks say of their own aloneness and the cost of knowing. i pause again to wonder about my constant wondering and consider how maybe being the bearer of a constant-wandering mind is the key to finding out and knowing my predecessors as intimately as i desire. and that in my pursuit of re-education and community, i am only always guiding myself to me.