The Vanity of Small Differences
Grayson Perry @ Salisbury Cathedral until 25th September 2022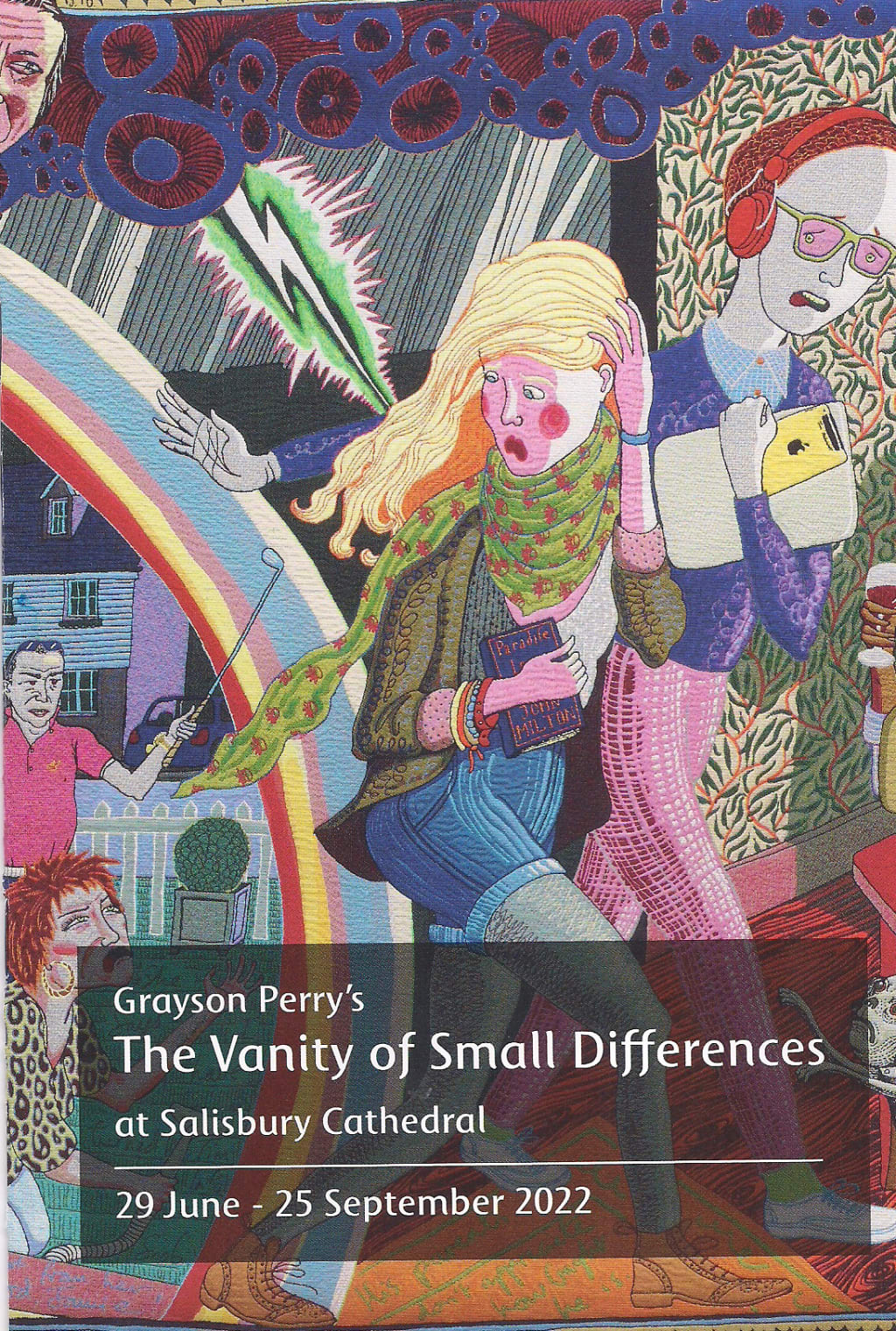 Grayson Perry exhibiting at Salisbury Cathedral less than 20 miles from where we live was too good an opportunity for us to miss.
We heard Grayson Perry present the Reith Lectures broadcast on the BBC back in 2012 or 2013. All four lectures were stimulating in that he wanted the listeners to challenge their own perceptions of art. To think as independent individuals about what they liked, why they liked it and how it made them perceive the world as they saw it. To question if what they were looking at was good or bad art? But, because there is no right or wrong answer that is still not an excuse to try to answer the question.
Well worth a listen eight or nine years on from when it was originally broadcast and it is still available on the BBC website. Just search for "Grayson Perry - Reith Lectures - BBC.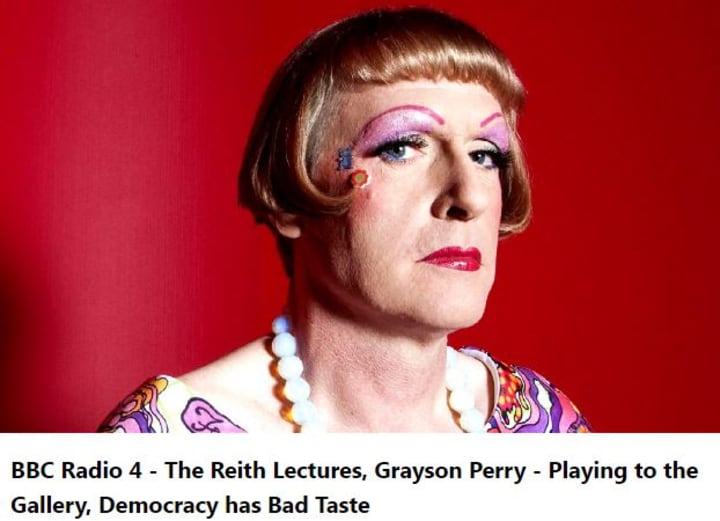 Then during the COVID lock down here in the UK we were flipping through the TV channels on a Friday evening and came across a program called "Grayson's Art Club". It became the highlight of our Friday evening viewing while the series ran. Each week he invited viewers to send in their work on different themes. The best entries were then selected to be included in an exhibition. His presentation style was totally inclusive and energetic to make everyone welcome into his world of art regardless of experience, technique, ability or medium.
His enthusiastic attitude was and still is "go on just have a go".
It is as a result of this series we bought a stencil of Banksy's "Panda With a Gun" which now adorns a blank white wall in our garden as well as a wall in a courtyard garden in Ringwood. In fact that cute little armed panda has two guns, one in each of his front paws ready to cause pandamomium.
"The Vanity of Small Differences" is an updated version of Hogarth's 18th century work "The Rake's Progress". That was a caricatured depiction recording the life of Tom Rakewell and his downward progress from wealthy son indulging in all the excesses of the time to a death in a prison for the insane and deeply in debt.
Grayson Perry portrays over six tapestries the life and times of Tim Rakewell from his birth in Sunderland in the late 20th century to his death in the early 21st century. The same temporal arc as the digital era through to when that technological revolution produced its first mega millionaires of which Tim was one.
Somehow we started at the wrong end of the six tapestries, "Lamentation" which shows the aftermath of a car crash in which Tim is killed. This tapestry does not hold back in anyway on the gruesomeness bloodiness and reality of such a death. It shows the body of Tim about to be taken away in an ambulance almost as naked as the day he was born. While we were looking at it and trying to work out where the first tapestry was a mother with two children about nine or ten years old stood in front of us looking at it. We heard one of the children ask their Mom "Ugh, what's it all about?" Sadly "Mom" gathered both the children like a mother hen into her protective arms, turned them away from the tapestry, then walked them away from it telling them "It's far too complex to explain now and you're both far too young for this sort of thing".
Such a shame as those two children although both repulsed and attracted attracted to the imagery wanted to know more about what they were looking at. The next time their Mom takes them to a gallery will they bother asking questions about what they are looking at or not bother for fear that she will repeat herself as she did at Salisbury Cathedral. Even if it is a piece of narrative art by Gainsborough, Turner or Constable.
Grayson's tapestries depict the class structure so prevalent here in the UK. Tim gets to university, becomes a geek, sets up his own business, sells it for millions and acquires all the consumer products associated with success. A house in the country, a Ferrari and in the end the ultimate question is asked as he lies half naked bleeding to death on a pavement in some urban environment. Almost a portrayal of the universal statement that "You can take the boy out of Sunderland but you can never take Sunderland out of the boy" no matter how hard anyone tries including the boy himself.
Is it all worth it? Only the viewer can decide.
Material wealth may in the end not be worth anything to us even though through the accumulation of its accouterments we try to express our identity. But is our identity fixed at birth by our circumstances at that moment of time?
Those are the questions the artist is asking the viewer and in a big way. Each tapestry measures 200 cm x 400 cm and with their bold imagery and colour schemes. They are, to speak colloquially, "in your face" acting as a mirror to the viewer's own identity that they may not want to see.
The details woven in to each are extensive making each one deserving of forensic analysis. A Sunderland football shirt. A pigeon loft. That motorized emblem of the newly rich in the 1990's; a Range Rover. The iPad showing the news in the financial press that Tim has sold his tech business to Virgin. Tim and his second wife living in the country wearing the clothes of the established landed gentry. The clothes may fit them well but do they really fit in to the society around them? And then finally, the Ferrari badge from his wrecked car lying in the gutter.
If this exhibition comes to a venue near you then go along. Unlike us, make sure you start your viewing with the first tapestry "The Adoration of the Cage Fighters". It will help you make sense of the entire display.
art
About the author
When you read my words they may not be perfect but I hope they:
1. Engage you
2. Entertain you
3. At least make you smile (Omar's Diaries) or
4. Think about this crazy world we live in and
5. Never accept anything at face value
Reader insights
Be the first to share your insights about this piece.
Add your insights