The Taste of Ink
*Scissors are a necessity to the perfect tattoo stencil.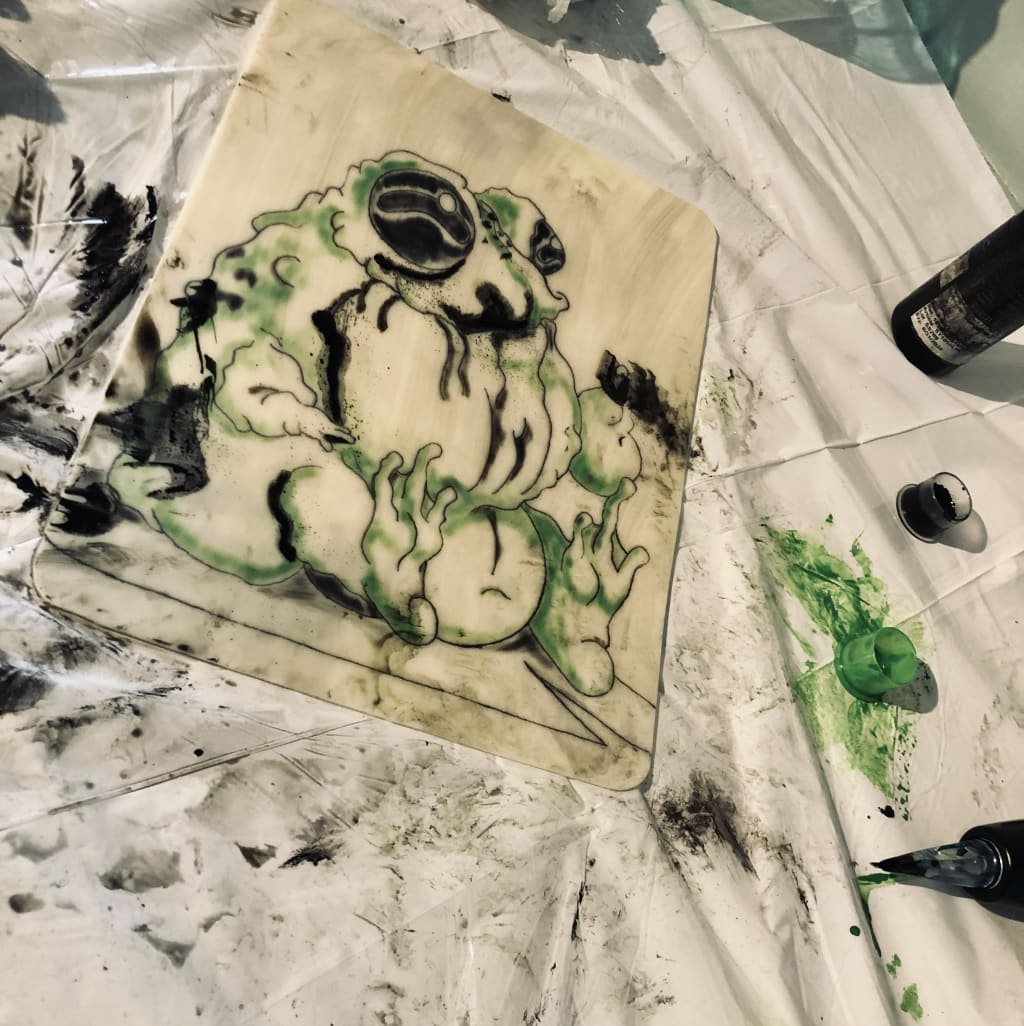 In a complete burst of spontaneity, I awoke abruptly one morning and insisted I needed a new tattoo. I required it that day. Absolutely no exceptions were to be made. I did not have the slightest clue what I desired or what tattoo parlor I would be adventuring to. None of it mattered in the slightest. I just sat down and started roughing out a design. When I arrived at the nearest tattoo parlor the artist complimented me on my rough sketch. The man's notice was significant enough to take me by surprise. I enjoyed doodling plus constantly drooled over tattoos. I suddenly slammed into the idea that I wanted to become a tattoo artist.
Wanting to fine-tune my skills as an artist, I began focusing on details, dimensions, and shading in my work. Fighting towards the capability to make each drawing jump off the page. I attempted art I found on Pinterest to stretch my comfort zone. I urged myself to get every detail right. After discovering points of light and shadow placement, I introduced color.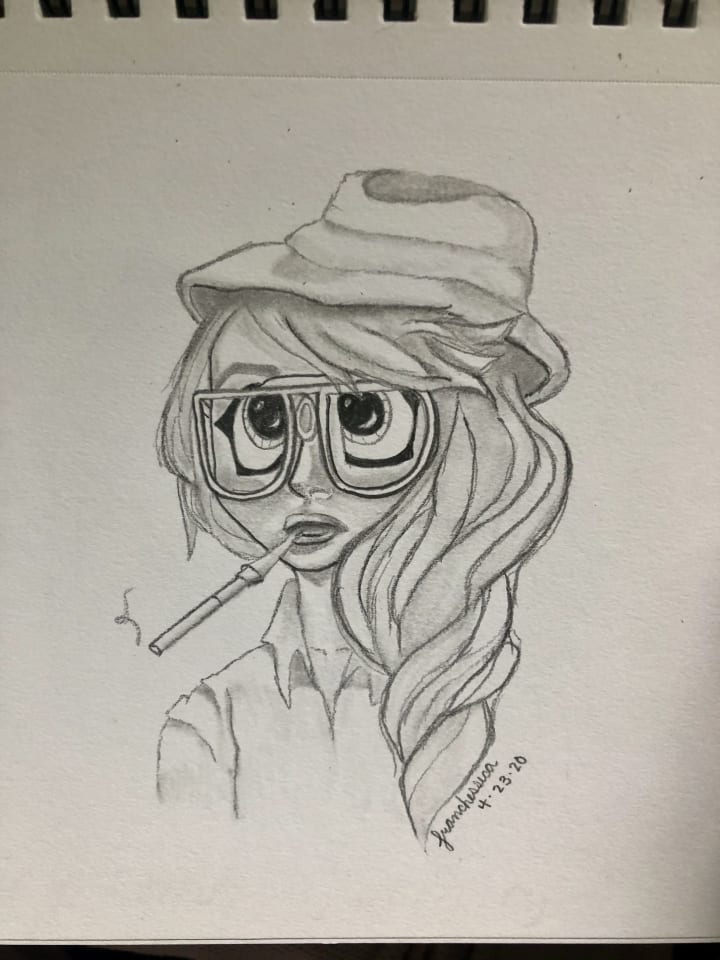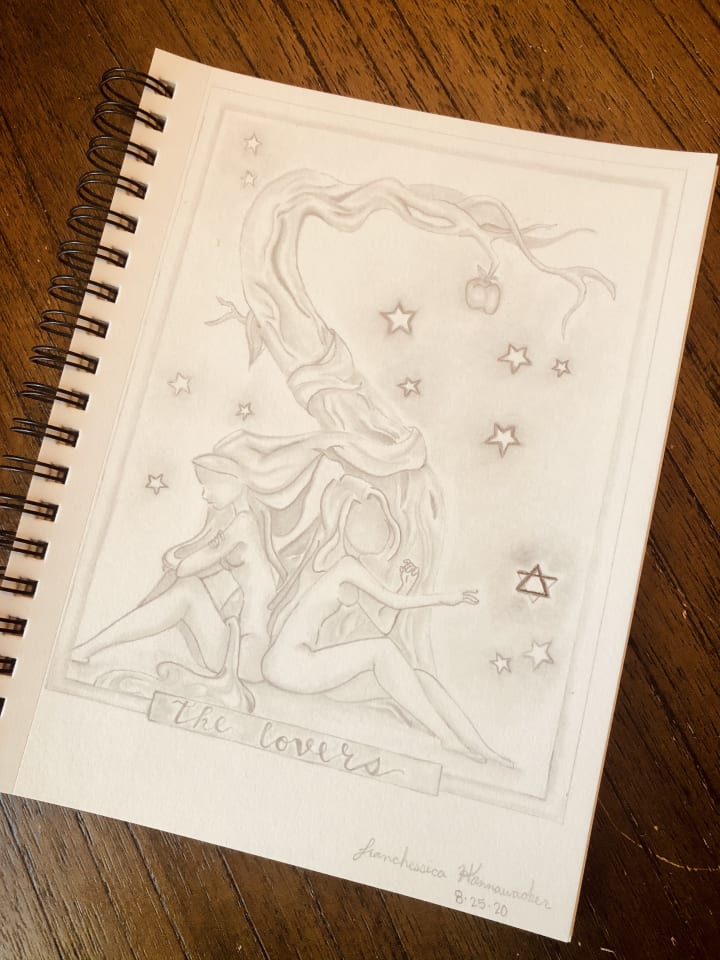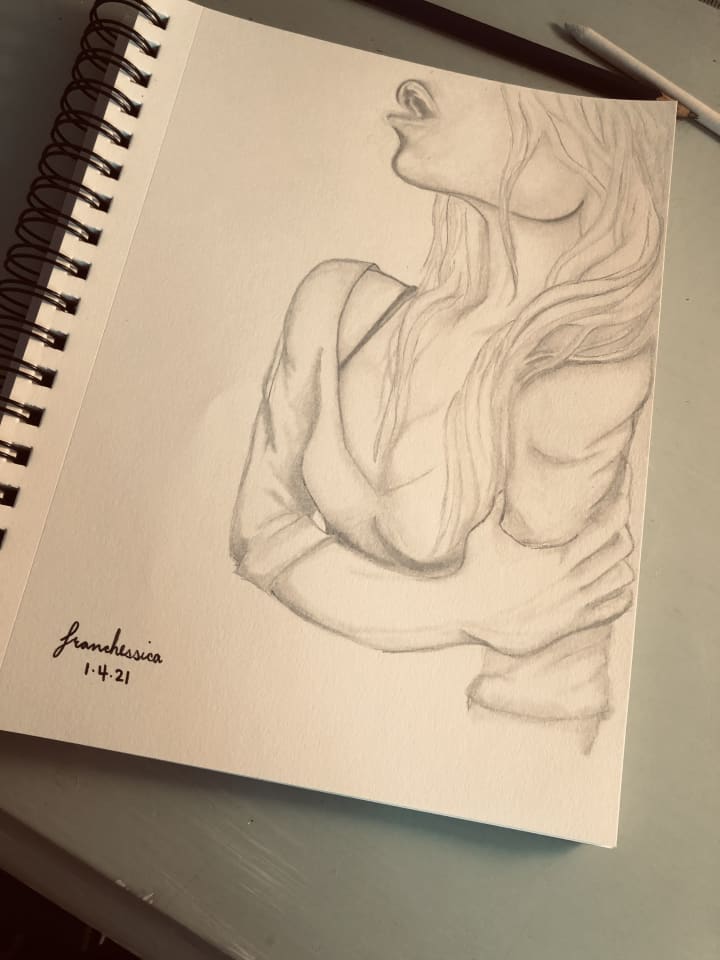 A tattoo artist will use crazy amounts of ink for a color tattoo. Sometimes, ten different shades of the same color are blended collectively to create a realistic look. Color had perpetually been more difficult for me to master. When the colors of a tattoo were associated well I had a tough time deciphering the different shades. Causing me trouble in following the dimensions and how they were composed. I began using watercolor pencils to break the complexities down. Doing this helped me see the soft transition of color plus eventually helped me blend two colors smoothly.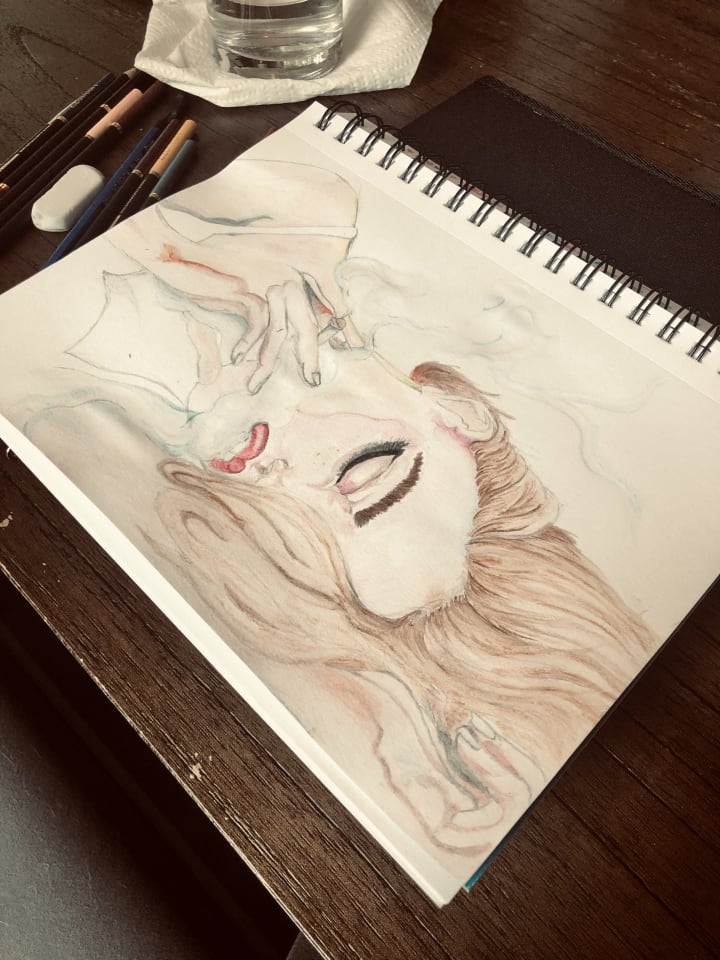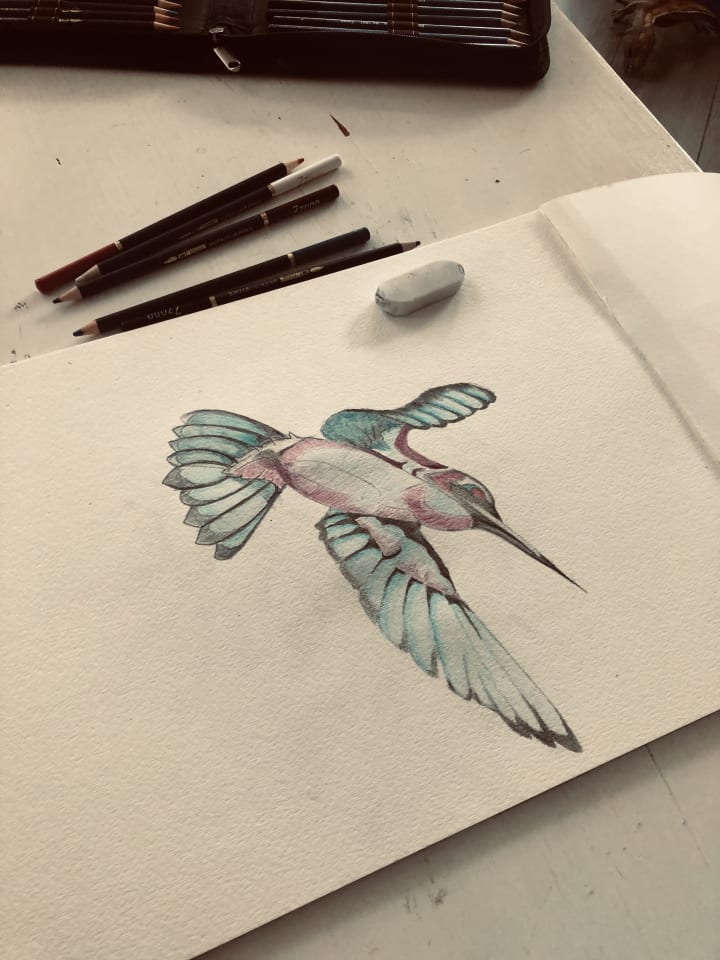 As my drawing capabilities improved, I began ingesting a ton of research on tattooing. Countless hours of informative Youtube videos. Google articles telling me how to line a tattoo, how to shade, how to stretch the skin, and how to find your distinct style. The last one being significant because there are so many different fashions to the craft. Tattoo styles include traditional, new school, Japanese, black and grey, portraiture, realism, blackwork, biomechanical, geometric, surrealism, and the list continues to grow. Every tattoo artist will, more or less, specialize in a specific style. Finding mine was rather pressing as it would dictate where I needed to focus. Also, it was a lot harder than I had initially thought. At first, I assumed my tattoo style would land on black and grey because I struggled with color. Little did I know, color was what I needed in my life.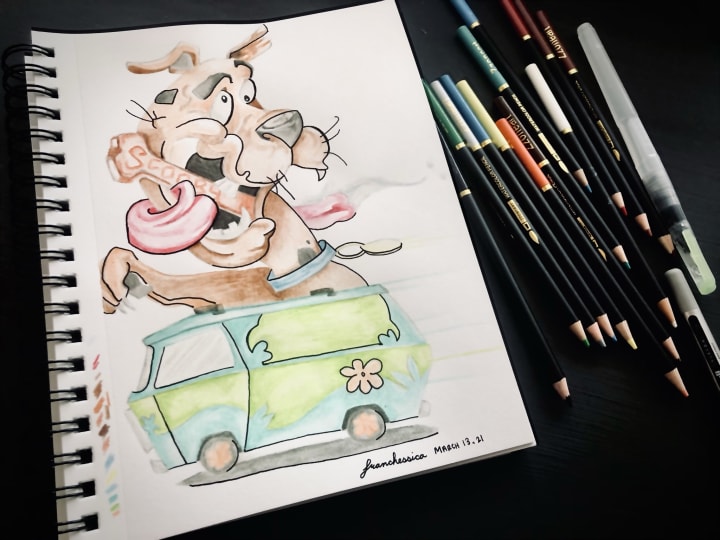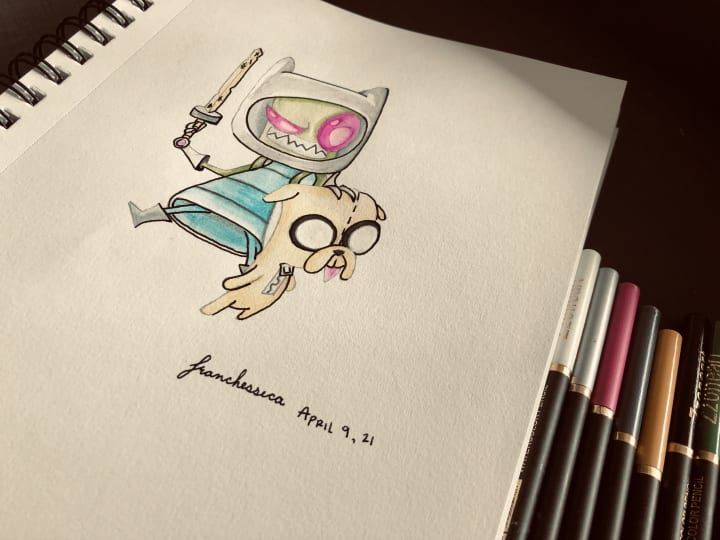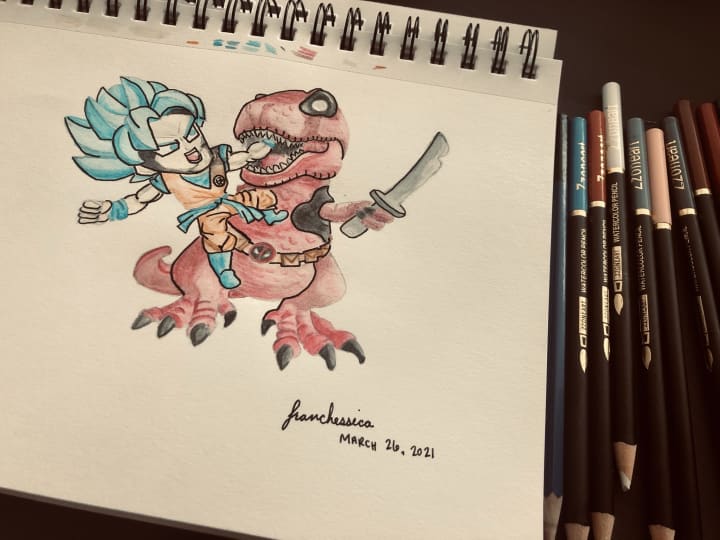 When I dipped my pen in the new school method I fell in love immediately. Introducing my spin on the subject matter by making the bold colors resemble watercolor. I loved that the lines were bold and defined. More manageable for me to produce a good tattoo outline when the lines were thicker. You are allowed the opportunity to go over the same line more than once this way. Alleviating a lot of the anxiety I was causing myself by believing each line had to be perfect the first pass over. Favoring a lot of the new school tattoos I had observed were cartoons or anime. I did not mind drawing more realistic elements but had more fun drawing cartoons than I did flowers for the fiftieth time. Plus, there is more room for creativity than a style such as realism. I realize that it might not be the most popular tattoo style. I just wanted to do something that made me happy.
In most circumstances experienced artists will recommend that you not get started tattooing on your own. They prefer you come to them raw limiting the reversal of any bad habits you pick up. Although, the way I learn best is by hands-on experience. I obtained the necessary research before I started embedding ink to artificial skin (that you can purchase on Amazon). After having a good image you need a great stencil. A stencil is a copy image placed on the skin to help you focus on individual lines instead of the whole piece. That way all lines appear crisp and neat. Because I do not have a fancy machine that creates mine, I produce all stencils by carefully tracing each image onto stencil paper. Then, I carefully cut the stencil out with scissors to fit it on the skin. My initial tries at tattooing were extremely rough, to say the very least.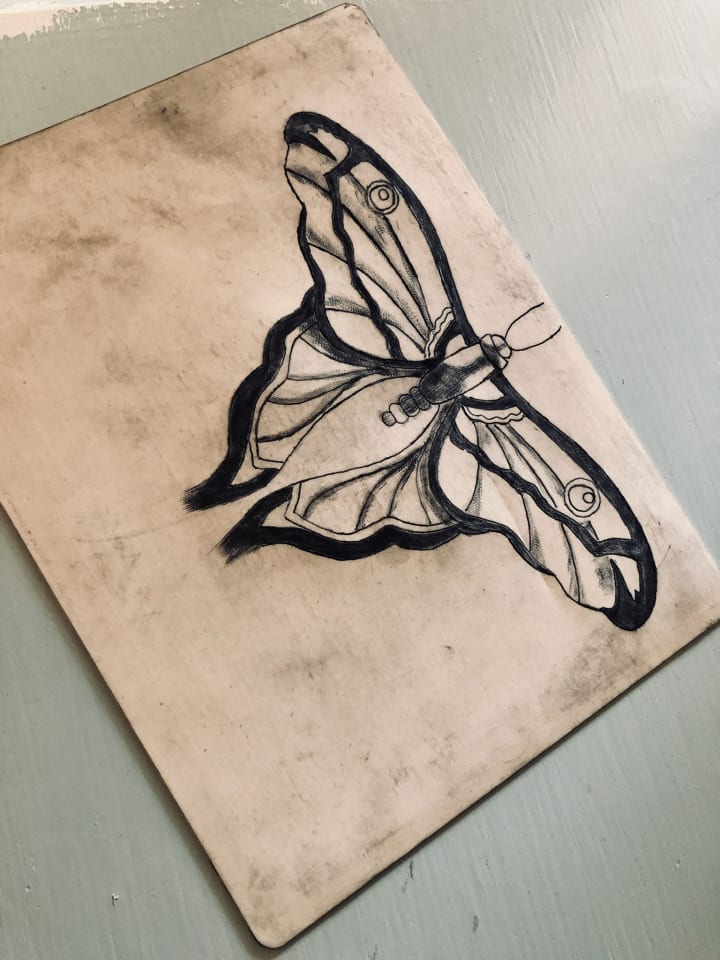 Had I started with an actual person under those needles I would have scarred them for life in the worst way. There is a term used in tattooing, a blowout, in which you aggravate the skin so drastically that the ink starts to bleed in the skin. It is irreversible and distinctly tough to cover up. That is, and will always be, my biggest worry as an artist. Had those little pieces of fake skin been a physical person severe blowouts would have been the outcome. As I grew more comfortable with the tattoo machine everything began to get lighter. With a lot of time and even more practice, I did eventually start to get better.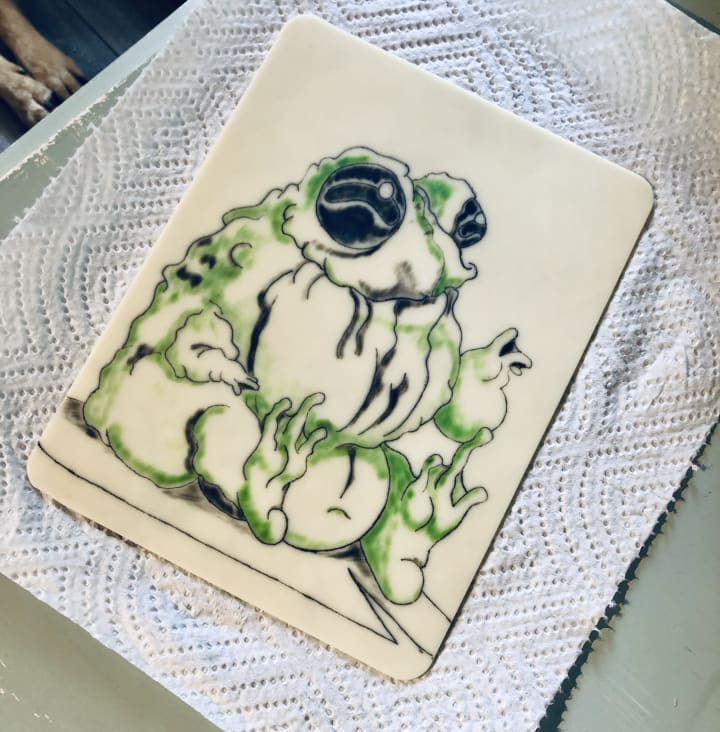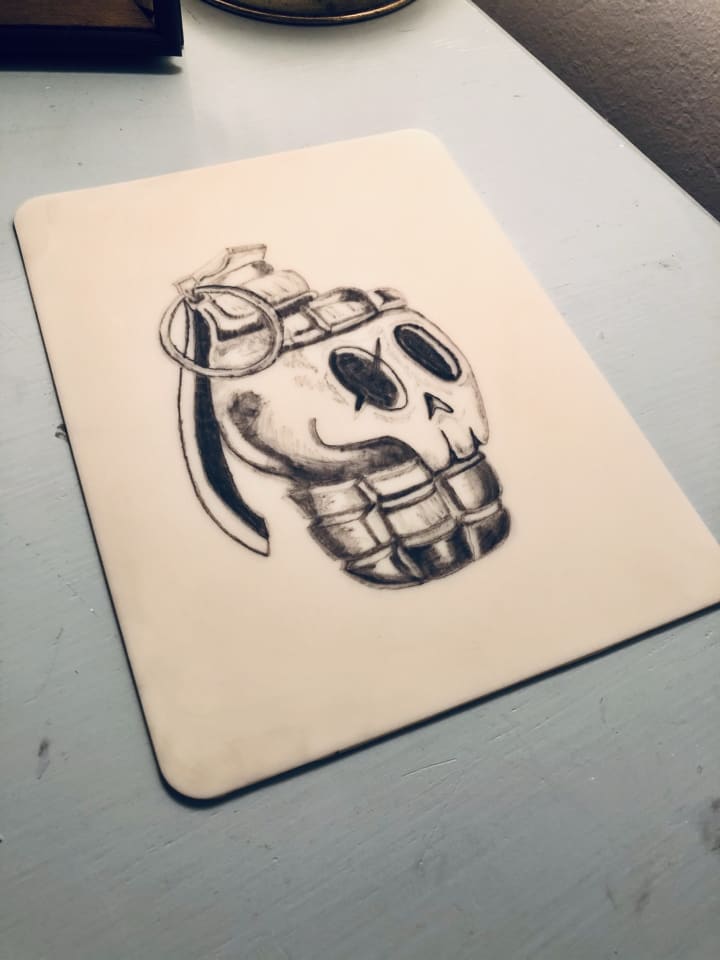 Forever my rule, I had to tattoo myself before I tattooed anyone else. I needed to know whether I was too heavy-handed, or too rough. If I was going to mess anyone's skin up for life-it was going to be mine. Eventually, I built up enough courage to put needles to the skin. Spoiler alert, the result was pretty lousy. Picking a traditional style bird I persuaded myself the image, being a simple outline, would be easier to tattoo. I designed the stencil, carefully cut it out with my trusty scissors, and installed it on my ankle. The result was okay for the very first tattoo that I tattooed on myself. Although, from an experienced artist's point of view they would have declared the tattoo garbage. The fact that I got over my nervousness and tattooed myself was plenty to push myself to get better and try again.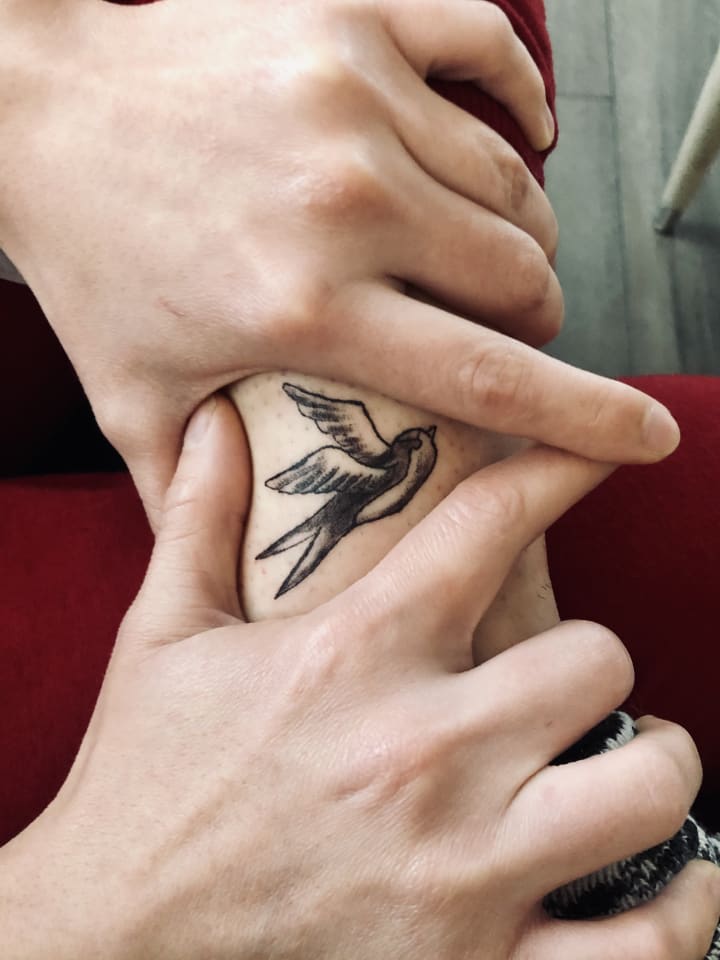 For my second attempt at tattooing myself, I spun back to my comfort zone. I am referring to the new school style with more solid lines and rich colors. I settled on a Cheshire Cat design I discovered. Contributing my flair by washing it out for more of a watercolor appearance instead of packed-in color. Better placement to tattoo my skin, since I had to be hunched over in the same position for hours at a time, was also a must. Also, by creating a larger stencil I did not have to worry about fitting detail into a small space. Using my scissors I cut the stencil out excellently then gingerly placed it on my inner leg. My second attempt turned out leagues better than the first.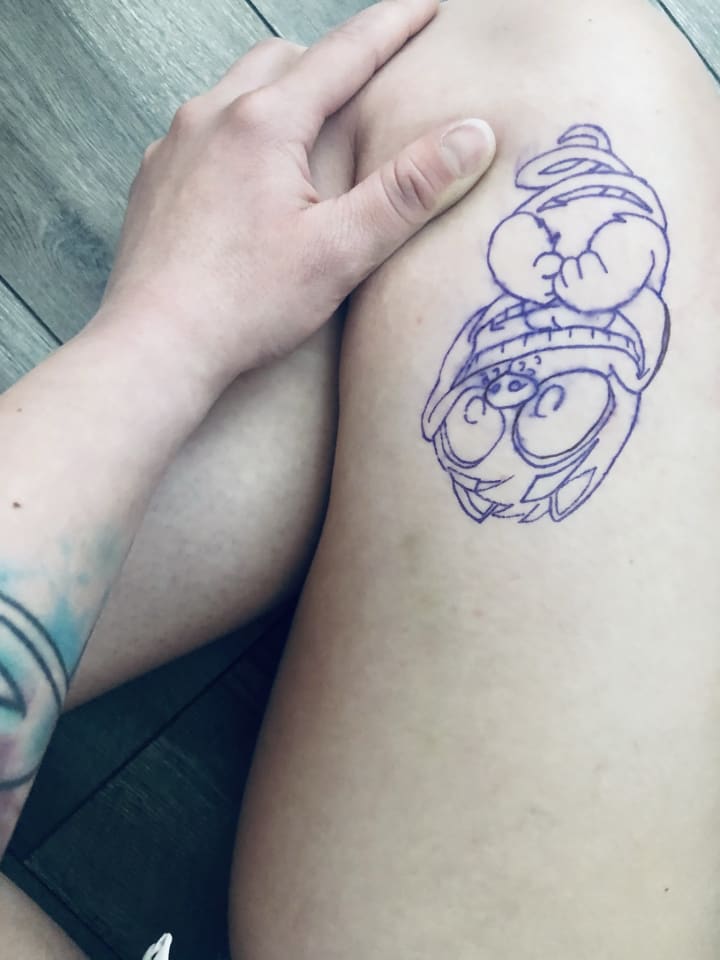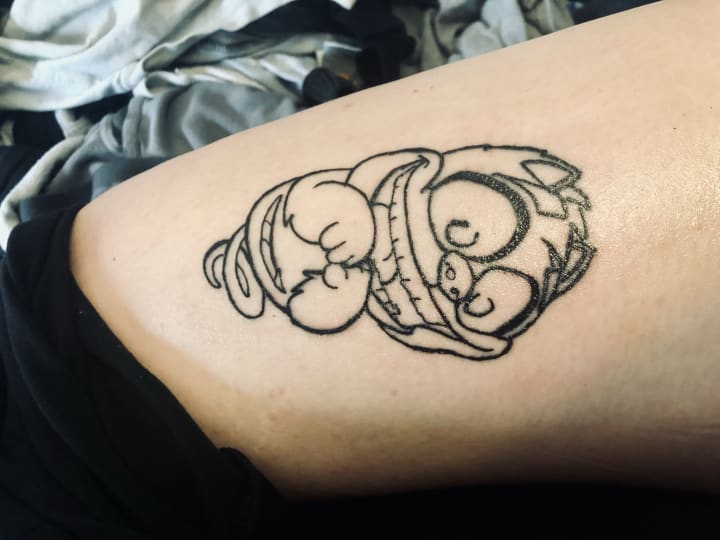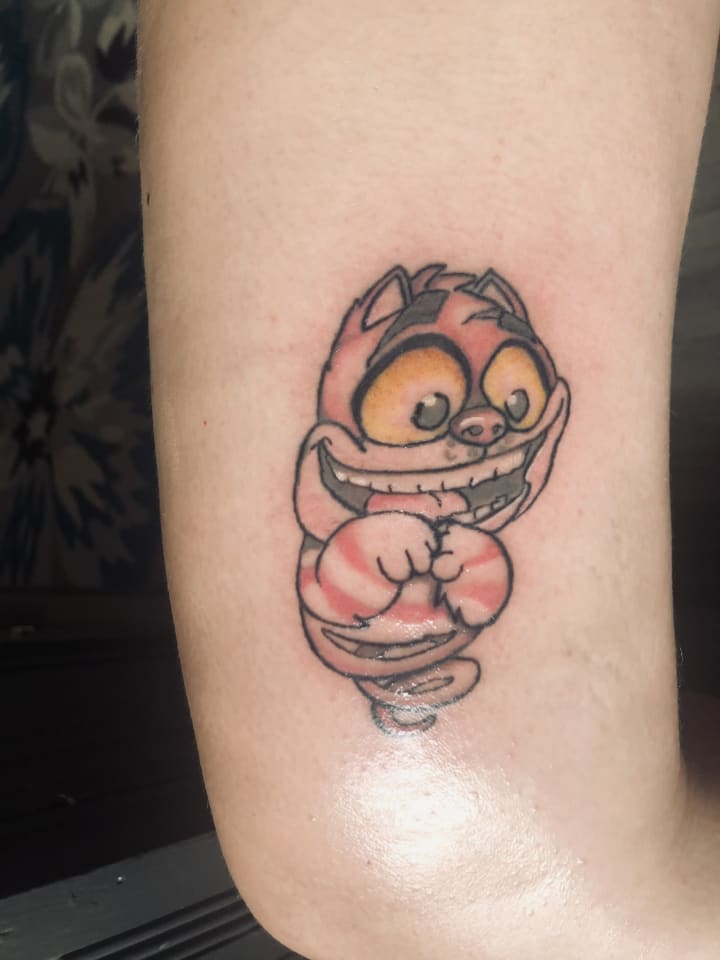 My husband was rather fascinated with my second endeavor. So much so that he asked me to tattoo him next. He was not the only one my meager following on Instagram began asking when I would be ready to tattoo other people as well. Honesty, I was not confident enough to tattoo others yet. Tattoos are for life and pretty easy to mess up if you do not know what you are doing. I required a bit more practice before I risked other precious canvases. Although, of course, I said yes to my husband.
I informed my husband he had to choose from the new school genre of art, but other than that, he had free range. It took him longer than I estimated to decide what he wanted to get. That not being much of a surprise since he is the most indecisive person on this planet. It did enable me to get more practice with drawing and color placement. Mother's Day was upon us when he announced his readiness. My husband presented to me a Beetlejuice drawing he discovered on the world wide web. I painstakingly created the stencil to perfection. Making sure I got all the lines just perfect. My first time tattooing a body, not my own, I aimed to make sure I did the best job I could do. I worked my scissors to cut the stencil out exactly before setting it on his leg. Then, we got to work.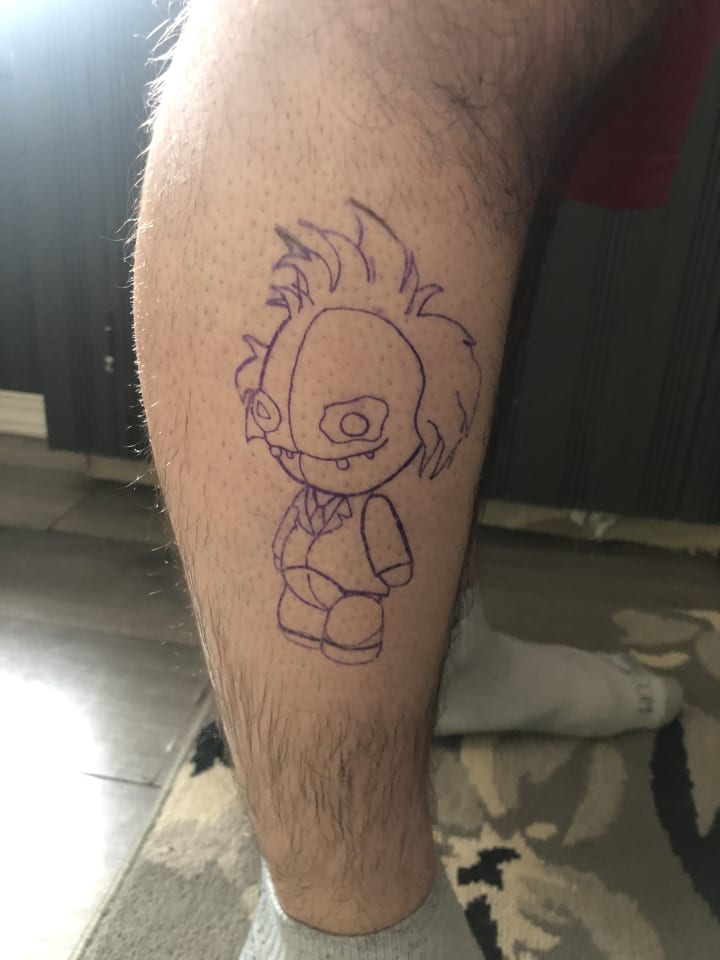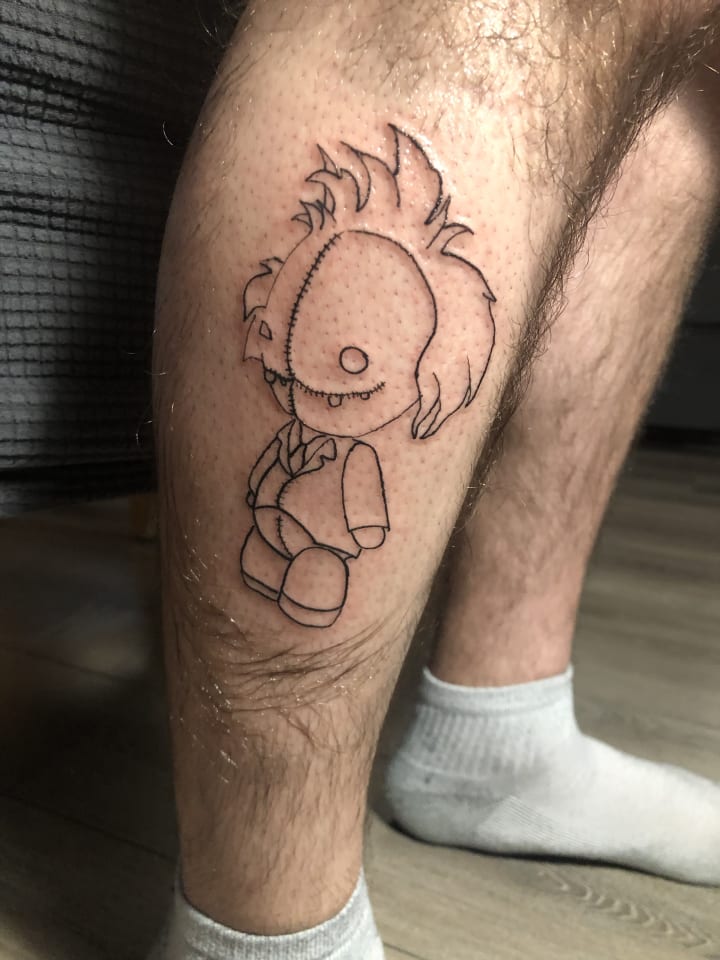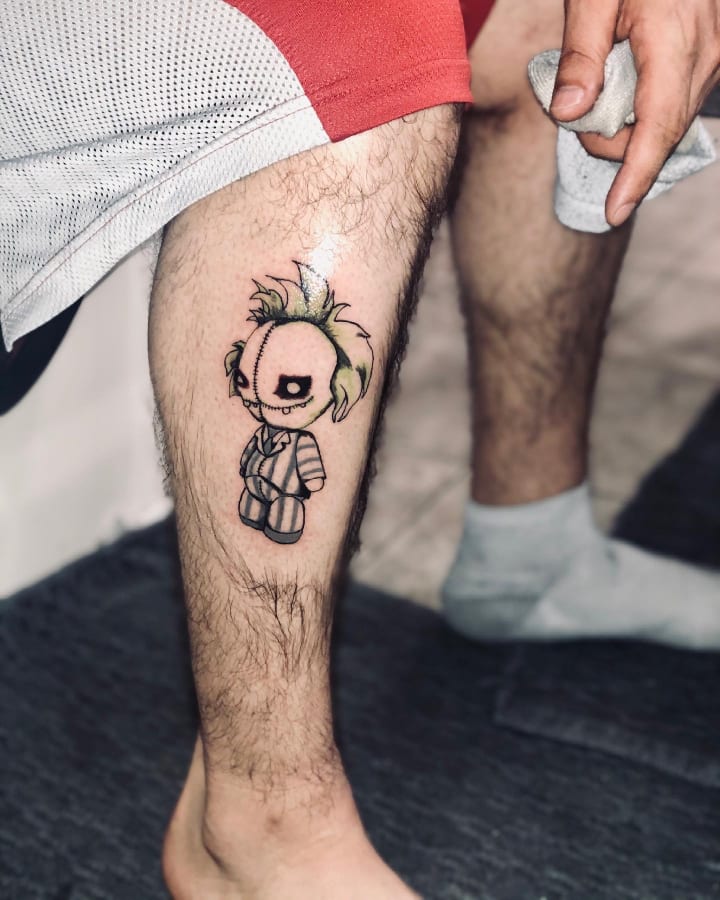 My husband's tattoo turned out way more agreeable than we both had anticipated. I acknowledge I still have a lot of work to do. I have many things to learn. But, from where I started so long ago, I believe I am on the right track. I mean to entertain more at-home studying for the time being. Possessing the suitable tools for creating my art and tattoos is also critically essential. I continue to cultivate my supplies as I learn. Each step is invigoratingly intense and wonderful. I cannot wait to get into an actual parlor and absorb the ways of the tattoo artist.