The Success Behind 'Funko'
Funko Pop! figures are cute, desk-sized representations of everyone's favorite on-screen characters. How did this fad become a successful phenomenon?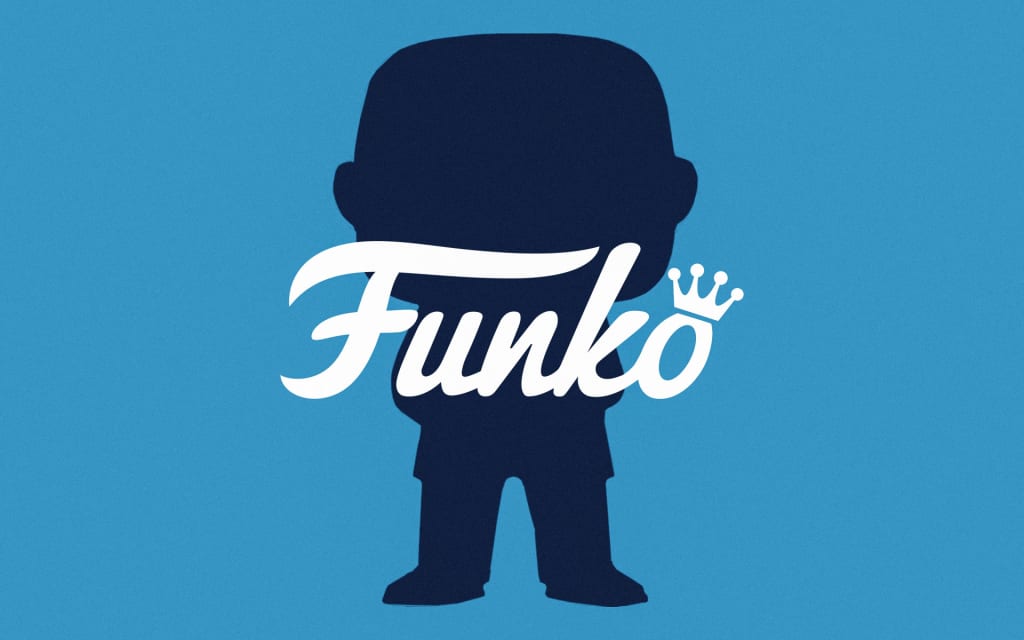 Funko LLC sells over $30 million worth of Pop action figures a year. Funko CEO Brian Mariotti believes that the company's success is largely due to its versatility. "Whether it's the X-men or Breaking Bad, we're going to find some pop culture phenomenon to get you into the hobby." With big heads and little eyes, it's not hard to see how adorable Funko Pop! toys are. With characters from Game of Thrones, Breaking Bad, the DC Universe, and many others, it's not hard to find a character that you like. At New York Comic Con 2015, they were selling exclusive figures. A line was formed to get a ticket to have the chance to get the exclusive toys. The tickets for the day were claimed very early in the day. Tickets were given in one location and the Funko Pop! booth is in another. It was nearly impossible to get a ticket. So, why are disproportioned plastic toys the hot item? Why is Funko Pop! such a success?
Funko was founded in 1998 by Mike Becker. Mike Becker was a t-shirt designer and toy enthusiast. He decided to create the company when a collectible he was looking for was selling for hundreds of dollars, and he thought he could produce his own replica. That's when he started Funko. He started selling bobbleheads, banks, and hand puppets. His initial licensed items included Popeye, Dick Tracey, and General Mills cereal characters. In 2005, Becker started to get uninterested in the company. Brian Mariotti knew that this was a goldmine and scooped the company right up. In 2010, at the San Diego Comic Con, he debuted the prototype that they were working, Funko Force 2.0. He brought four figures of DC Comic characters which included Green Lantern, Batgirl, and two Batman collectibles. It wasn't a success at first. But there was some positive feedback, which is how the company was able to stay afloat.
Once Mariotti gained three big licenses (DC, Marvel, and Star Wars), the company took off. After that, he was able to secure 25 more licenses. Along with the increase of licenses, Funko Pop! toys were becoming available in stores and online. Fans began blogging and even Game of Thrones characters were taking photos with their miniature versions. They were also reasonably priced, most of the toys cost $9.99. With the increase of characters being made, their unique look, and the affordable price, it really isn't a surprise that the company is booming. Funko creates other toys as well. In 2013, they were at $40 million for revenue and $28 million was just from Funko Pop! toys and it's only increasing.
What exactly is a Funko Pop! vinyl toy? The figures are an average 3.75" tall and in a neutral post. Some Funko Pop! figures are slightly larger, such as Hagrid from the Harry Potter franchise. He is a large character so they made him fit the part. Funko Pop! toys also have a square head with round edges which also takes up half of the height. The eyes are pupil-free and black. They also have a small nose and usually no mouth. The biggest factor? They must be adorable.
While at New York Comic Con in 2015, we interviewed Mark Robben, who is the Director of Marketing at Funko. His favorite Funko Pop! item? The headless Ned Stark from Game of Thrones. The figure came with a magnetized head that can be removed and reattached. He is also excited about the Doctor Who line they had.
So, how does someone become cool enough to be a Funko Pop! figure? Robben said that there are the classics fanbases like Archie Comics that they want to create and even modern shows, like Arrow, that also have a huge fanbase.
"So between us, the fans, and the retailers, it creates a little triumvirate of what's going to sell, what's going to be in demand," Robben said. "And it's not always going to be Star Wars or Marvel. I mean, a show like Supernatural isn't as big as the Star Wars franchise, but they have really devoted fans and they move a lot of units."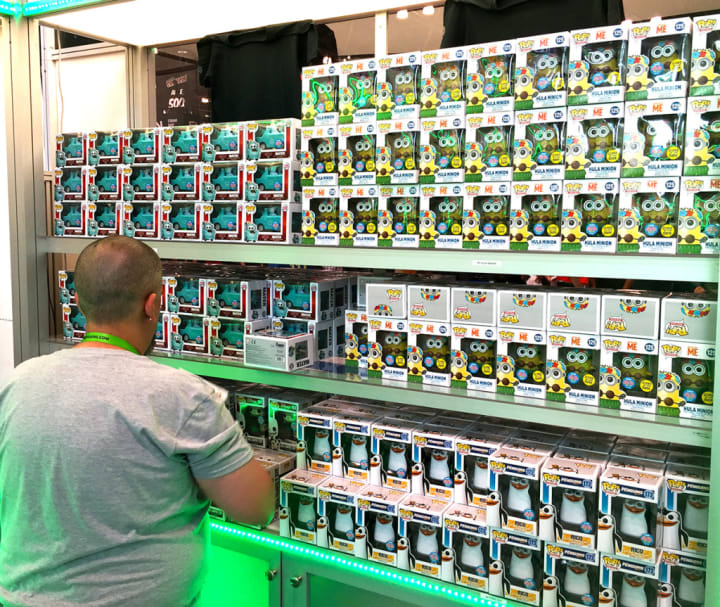 At NYCC 2015, there was a system to getting the adorable figures. Tickets were given at a location at 11 a.m. and 2:30 p.m. each day of the convention. The lines were so long that there became no distinct times. People that were waiting for the 11 a.m. tickets overflowed to the 2:30 p.m. slot. Once you got your ticket, you were also given an order sheet. The order sheet allowed you to pick out the items you wanted, so a Funko booth worker could retrieve the items in an orderly fashion. But it was only one item per customer, so you needed to choose wisely. Funko! Pop released a large selection of toys that you could only exclusively get at the New York Comic Con in 2015.
Along with Funko Pop! figures, there were also the ReAction line, Vinyl Idolz, Dorbz figures, Hikiari figures, and t-shirts. Starting with the Pop! figures, one of the NYCC 2015 exclusive item was the Alternate Universe Fry and Leela, which portrays them as they looked in The Farnsworth Parabox. There was a unique Catbug from Bravest Warriors that glows-in-the-dark a bright orange color. There is also a golden Cylon from Battlestar Galactica. Doctor Who fans were excited about the exclusive Tenth Doctor in his spacesuit from the episode "The Water of Mars." A classic toy from Hanna-Barbera cartoons, Ricochet Rabbit (which was available in both pink and yellow), was also snatched up pretty quickly at NYCC 2015. For both Christmas and Halloween fans, There was a Nightmare Before Christmas exclusive Funko Pop! that includes Jack Skellington and even a vampire teddy bear. There was also a Patina Cthulhu which looks like it came off a sunken ship, which bronze and teal highlights. Everyone knows about Deadpool's love of chimichangas. There was a Pop! toy that had Deadpool with a chimichanga truck. From God of War, there was a Kratos that is an icy blue color. Minions are everywhere it seems and that includes at the New York Comic Con. There was a Hula Minion exclusive as well. Everyone love of cookies began with the introduction of Cookie Monster, so Funko made sure to include him. Other exclusives included a Fallout figure, Mater from Cars, Stan Lee in a superhero costume, the TIE fighter in Star Wars, and Rico from Penguins of Madagascar. One exclusive that they announced at the last minute was the Iron Throne from Game of Thrones. The best thing about it is that it will fit any Funko Pop! figure in the seat. So, any of your Pop! toys can rule Westeros.
According to Robben, the top five best sellers at NYCC were:
The ReAction figures is a line of toys that are small figures of classic movies. At NYCC 2015, they had a black and white variant of the Wolfman, Frankenstein, and Creature from The Black Lagoon. They also had a T-1000 Frozen Patrolman from Terminator 2 which isn't seen as often. The Vinyl Idolz are more proportionally corrected figures. Funko had a bloody Daryl Dixon from The Walking Dead. They also had a bloody Ed and Shaun both from the Shaun of the Dead. Funko Dorbz figures which are similar to the Pop! figures, but have round bodies. They had Batman from Batman: Arkham Asylum, the stealth Iron Man, the Punisher, and a greyscale set of the Teenage Mutant Ninja Turtles. Their Hikiari line of figures are still adorable but their proportions aren't as exaggerated. They had the Greedo that was done in all silver from Star Wars, Boba Fett from Star Wars that was a glittery green and clear colors, and Bossk (also from Star Wars) that was a glittery purple, yellow, and clear colors. They also had Rainbow Dash from My Little Pony, which was all rainbow (this is different from her usual blue coloration). Finally, they were offering three shirts during comic con that resembled the Pop! figures. That included Captain Phasma from Star Wars, Stan Lee, and Freddy Funko.
It's no surprise to see why Funko Pop! figures are so popular. With their big eyes and heads, they are simply adorable. Since Funko is constantly creating new characters from different series, they will constantly be gaining fans. They do a variety of shows so it will be hard to not find a show and a character that you like. The price is extremely reasonable and the adorably unique look is the key to the Funko Pop! figures success. Also, the fact that they also make exclusives for conventions makes people want to get the collectible items.
About the Creator
Definitive movie buff. Quickly realized that it was more financially prudent to write about film than trying to beg for millions of dollars to make his own.
Reader insights
Be the first to share your insights about this piece.
Add your insights