The Menu Movie Ending Explained
The Menu Ending Explained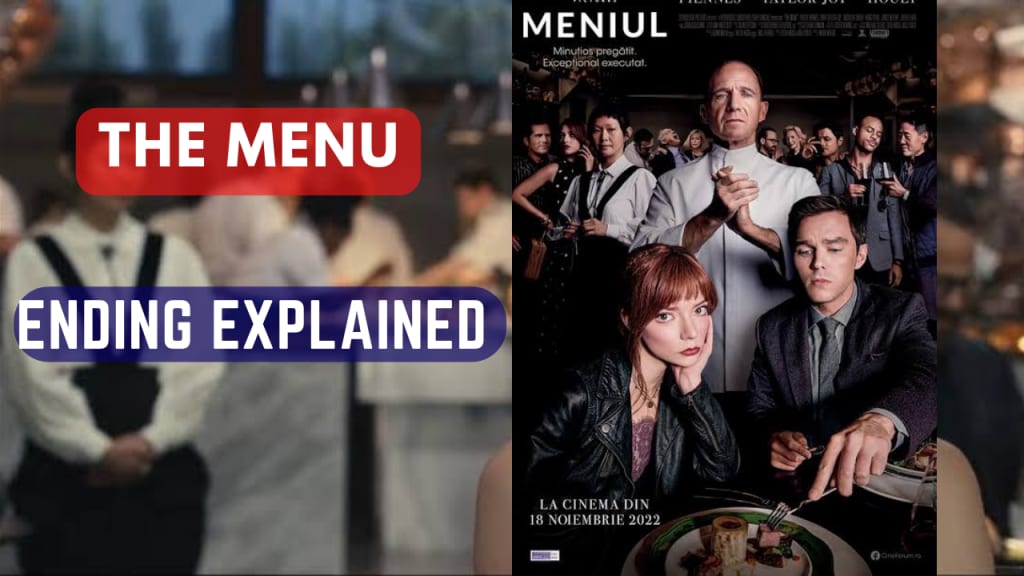 The Menu Movie Ending Explained
Guys I am back again; there is no review today, but I will explain the ending of the recently released black comedy horror film The Menu. So in case you haven't seen this movie yet and you want to see it and you don't want any kind of spoiler in advance, then you should leave this topic now due to spoilers.
In the beginning, we get to see a boy named Taylor, who is with his girlfriend Margot, and he tells Margot that we are going to a place, and he is spending a lot of money to go there.
At the place where Tyler or Margot are standing, a ship arrives, and on that ship, twelve hundred dollars per person are charged, which Tyler easily pays.
There are other people on this ship, like three businessmen named Dave, Bryce, or Soren, a film star or his assistant, food critic Lillian Bloom, or their editor, who has closed many restaurants because of their bad reviews.
The Menu Movie Ending Explained
When Tyler or Margot are in the ship, they are offered a dish, which they eat, after which Tyler says, "Now all my money has been recovered, the ship is moving towards an island, and Elsa welcomes all the guests as soon as they reach the island." 
Elsa takes all the guests around the island, then everyone comes to the hotel, where a lot of staff are busy with their work, then Chief Julian enters, who starts seeing Tyler or Margot as soon as they arrive.
A food dish is kept in front of all the guests; they eat it and they like it a lot, especially Tyler, but Margot is not liking the food much, and Tyler is praising Julian Chief a lot. I wanted to taste their food for a long time, and that's why I could not resist when I learned that Julian would be here.
The second dish comes, and Julian does not allow anyone to eat it; rather, he asks to taste it and feel it. That dish is very strange, and Julian explains everything to everyone about it, including how hard it is to make, to which Tyler gets emotional after listening.
Margot finds all these things wired, then all the guests taste that dish, and everyone likes it too. Then Julian comes and tells everyone that the second part of this dish is not at all for common people. A dish is served to everyone, but this time the guests find it strange.
Dave, Bryce, or Soren ask for bread to eat, and Elsa flatly refuses them; she tells them that today you will be given food according to the menu, as I told you that Margot does not like the dishes much. So Tyler tries to taste his portion, but then his plate falls.
Then Julian comes in and tells Margot that you don't like the food; Margot responds that she isn't hungry; Julian is distraught and goes to his mother, who joins the guests.
Julian tells everyone the name of his third dish, "memory," where he introduces his mother to everyone. As a child, Julian cut his father's throat with scissors because he was troubling his mother. Related to this, they present a dish that has a scissor case. 
Everyone finds it all very dramatic, and guest tacos are also given, which Julian tells everyone to eat; all the guest tacos are presented with things related to their past lives.
Twist and Turns
Like Lillian's tacos have hotel images of her first review, Tyler's tacos have his own picture, and film star John's tacos have an image of his flop film Doctor Calling Sunshine, which makes him laugh.
The details of their illegal accounts are present on Dave, Bryce, or Soren's tacos, seeing which they get angry; on Richard's or Anne's tacos, there is a picture of Richard or Margot in which they are sitting together and eating something.
Margot finds it all very strange, so she gets up from her chair and goes somewhere where Julian comes, and he says that he does not like that you are not eating anything. Margot continues, "I'm not hungry," and when Julian asks for her name, she gives it to him. After that Julian says, "You shouldn't be here,"
Before presenting the fourth dish, Julian calls his chief, Jeremy Louden. Jeremy wants to be like Julian, but he can never be like Julian, who gives his whole life to feeding his customers. Yes, he talks like that.
Julian orders Jeremy to move forward, and then Jeremy kills himself with a gun in front of everyone.
After all, everyone is terrified of what is happening. Julian says that this is all a drama, but some people are still scared, and some people are actually thinking of it as a drama. Again, the dish is kept in front of everyone, and Julian orders everyone to eat.
Tyler has no senses; he is completely blinded by Julian's love, and he is happily enjoying every dish. Richard or Anne want to leave this place, but Elsa does not give permission, and the guards catch Richard and cut off his finger.
Even after all this, Tyler is not showing any reaction, and the guest is now forced to spend. Elsa informs Margot that Julian wishes to meet with her; Margot approaches him and inquires as to why he wishes to meet with her; Julian informs her that everyone will die here; you can die in two ways: first as a guest, and then as a staff member; or he gives him fifteen minutes to decide.
Before the fifth dish is prepared, to which Julian claps, Margot enters and slaps Tyler, who is enjoying the food.
First of all, Julian offers everyone tea and says that if you have any questions, then ask.
All the guests have only one question about what is going on here. Julian says that there is a reason for all the guests to be here.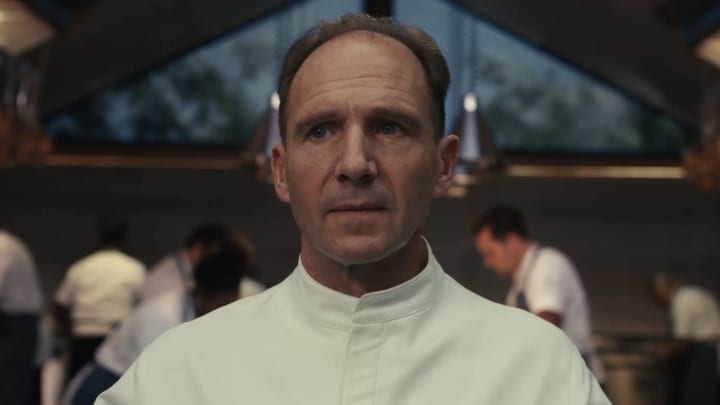 First of all, Julian is a frustrated character, and he wants to take revenge on the guests because they have disrespected him. Like Lillian Bloom, who is a food critic, Lillian has closed many restaurants through her reviews, so that's why Julian has called Lillian or her editor Ted.
Julian goes on to tell Richard or Anne that they are his regular clients and that they can't remember which dish they ate from his hands, which Julian considers to be the greatest insult of a chief. Slowly, slowly, Julian is showing his inner thoughts in front of the guest.
He cooks food with great effort, and people leave like this after experiencing that food; they don't care for his food.
Then all the guests are shocked, and Julian kills his investor by drowning. After a while, there is a small conversation between Margot and Julian, where Margot says that she has come here at the behest of Tyler, and Julian treats Margot well. recognizes her; he already knows Margot.
After the conversation is over, Julian calls all the guests, and he tells them that Katherine has prepared his next dish. Katherine comes forward and tells Julian that he tried to rape her three years ago. Julian advances towards Katherine, and she stabs him in the leg. Julian apologizes to her.
Julian says that the men will get a chance to escape, and after 45 seconds, my men will come to find you; then all the men will run away, and Tyler will also have to run, unwillingly.
Kathrine takes all the ladies inside and makes them taste her dish, which Lillian likes very much, and after hearing her praise, Kathrine becomes emotional. Then Anne asks Margot if she has ever met Richard. Felicity asks Katherine if everyone is going to die today, and Katherine confirms that everyone is going to die today.
Now that those who ran away and those who got the chance are caught, the story progresses a bit. Julian asks Margot how she would like to die, so she decides to die along with the staff member.
Julian asks Margot to bring something from his room; Elsa gives Margot the key; and then Margot sees Tyler dead; everyone is very upset; and John, who is an actor, questions Julian. Why am I here? Julian says that I went to see the movie "Doctor Calling Sunshine" to enjoy one of my holidays; which was absolutely rubbish, and you shouldn't have done such a movie while appreciating your art. And Felicity is very rich, so she will also die.
Elsa and Margot fight, with Margot coming out on top; Julian enters Margot's room; Margot notices Julian's numerous old photographs; and in most of the pictures, Julian looks sad, except in one of his childhood photos, in which he used to make hamburgers on the roads and he also got an award.
After some time, Margot comes back to her place and sits down. Julian claims that a chief's job is to provide food for the people, but people want experiences rather than food; they eat food for the experience rather than the food itself. Because of this, the chief works under duress rather than with passion.
And the real art of being a chief gets buried in these things.
Climax
Now an officer is about to come to the restaurant, and Julian tells everyone that if anyone says anything, I will kill that officer.
The officer says that there is a report of bloodshed from here; Julian says that this is a restaurant and a party of rich people is going on here; then the officer recognizes the actor John because he is his big fan. John gives his autograph to that officer, and in that autograph, he asks for help from the officer.
Then, the officer points a gun towards Julian, and all the guests say that Julian wants to kill them, but that officer's gun is fake. It was all an act, and everyone in the restaurant started laughing.
Actually, that officer is a chief. Margot abruptly awakens, begins clapping, and tells Julian that the food is not good at all, that you are enjoying it, but its is forced food, which is why I am still hungry.
Julian approaches Margot to tell you what to eat, Margot demands a cheeseburger, and Julian lovingly makes her that burger. Julian remembers his old days and is very happy.
Julian offers Margot a cheeseburger; she eats it and likes it very much; she demands Julian to leave; he thinks a little but lets her go and gives her fries or a burger to whoever Margot pays.
He doesn't spare the rest of the guests because Julian's life is ruined because of them. He sets fire to the restaurant; everything starts burning.
At the same time, Margot is getting off the boat and looking at the restaurant that is on fire. She comes out of the boat and starts eating burgers that Julian had given her. 
This is where this dark comedy-thriller horror film ends.
Wrapped 
The Menu is a movie made on a very unique concept; I have never seen anything like this before, and mostly such movies leave a good impression. Well, what are your opinions about this film? Share them in the comments.
Now I am leaving; see you soon.
Reader insights
Be the first to share your insights about this piece.
Add your insights