The Many Talents of Artist M.K. Hughes
From Scenic Design to Teaching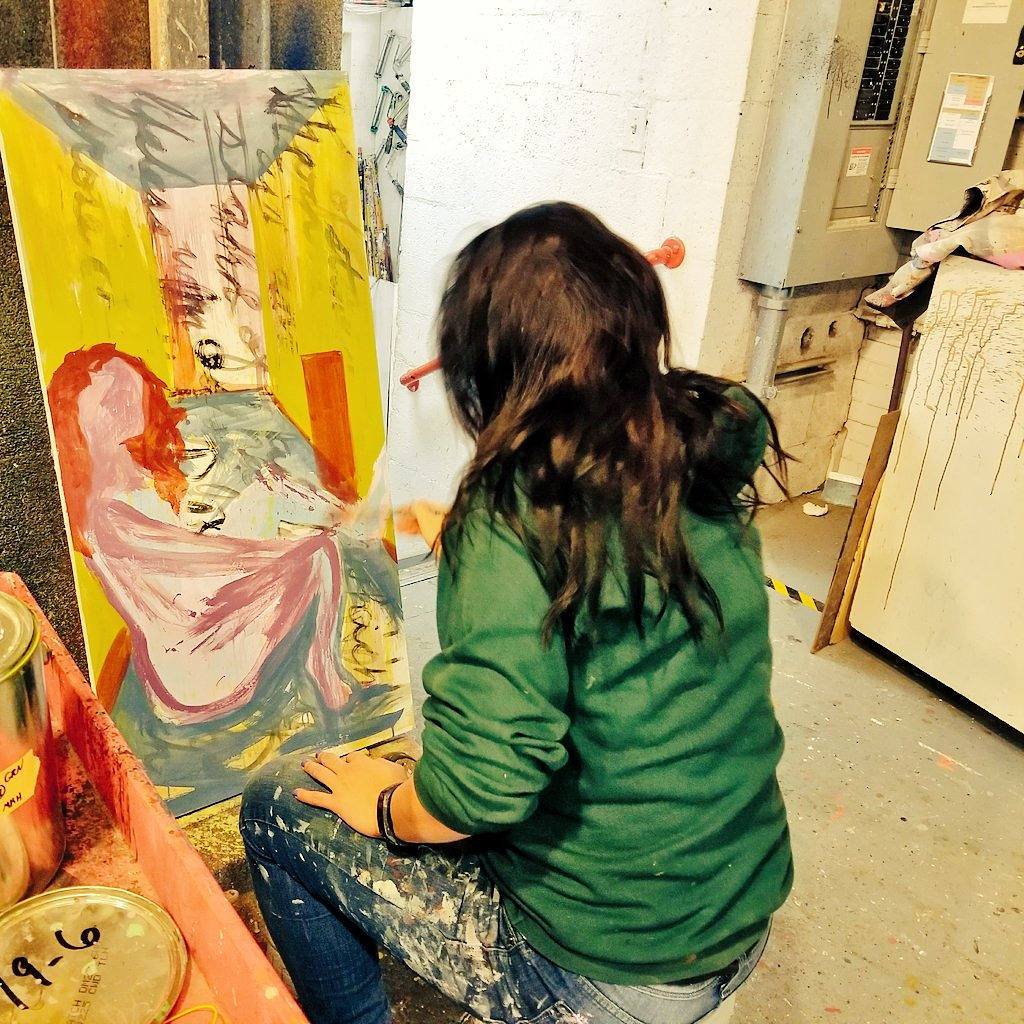 As young children, we are born with the wonderful gift of imagination. Over time, some children gravitate to interest in academic disciplines like math and science and later pursue any number of professional opportunities that reflect those topics. But some children on the other hand, take a liking to things like art, creative writing and music and as such often end up going into related occupations. Those who fit the second group have the chance to give the world something special with imaginative flair. Artist M.K. Hughes is one of those people.
I met M.K. a little more than a year ago and promptly became a fan of her creative style. Having graduated from Southern Illinois University with a Master's of Fine Arts degree in Scenic Design, naturally, you would assume that her work would primarily deal with designing sets of some type. And yes, you'd be right that Hughes does spend much of her time in this area. However, you might be surprised to learn about her vast variety of interests in the arts.
From the time she was a little girl growing up in Carbondale, Illinois, a charming little cultural hub in the middle of farm country, she recalls some of her fondest memories are about drawing and making art in some form. And with her mother being an actress, she was constantly exposed to a variety of cultural experiences including literature, films, museum trips and live shows.
It is no wonder that the theater drew her attention. And as such, her primary occupation is that of set designer and scenic artist at Point Park University in Pittsburgh, Pennsylvania, a school known for its drama and performing arts programs. This position includes everything from guiding students to making props and building sets from scratch. Sometimes her tools are paint brushes, other times, she's using computer programs and good old-fashioned hand and power tools.
In addition to working at Point Park, she's also designed sets for the Pittsburgh City Theatre, McLeod Summer Playhouse, University of Dubuque, Kansas State University Theatre and Hiawatha Theater Company as a professional and work in several other capacities as an intern and student.
As if all that wasn't enough, her other artistic ventures are many. She is a big Shakespeare fan and as such, she's spent time working with two different festivals dedicated to his work, the Alabama and Oregon Shakespeare festivals in Montgomery, Alabama and Ashland, Oregon respectively. She has had the change to paint several different murals for businesses and organizations. At this time, Hughes is also teaching at Point Park.
When she has the opportunity, she jumps into her own personal creative projects. These tend to include either drawing or painting or some combination of the two art forms. From the "doodles" as she calls them that she generates whenever the moment moves her, to the more in-depth pieces she makes with her easel and palate, there is something captivating about her very unique approach to artistry.
I'm not really sure how to describe it. The subject matter and process used to create her work is really something special. It is kind of like the quote from the original "The Matrix" movie in which the character of Morpheus (played by Laurence Fishburne) states that you cannot be told what it (The Matrix) is, you have to see it for yourself.
I'm so fascinated by her creations that I've asked her to do the illustrating for my first children's book!
If you are looking to expand your artistic understanding, you may want to check out her website at mkhughes.com and see some of her pieces for yourself. She is available for commission work and you can buy prints through the website.
art
About the author
Writer, photographer and graphic design enthusiast with a professional background in journalism, poetry, e-books, model photography, portrait photography, arts education and more.
Reader insights
Be the first to share your insights about this piece.
Add your insights