The Loss of A Dream
Sometimes Our Dreams Sneak Up on Us When we Are Completely Unsuspecting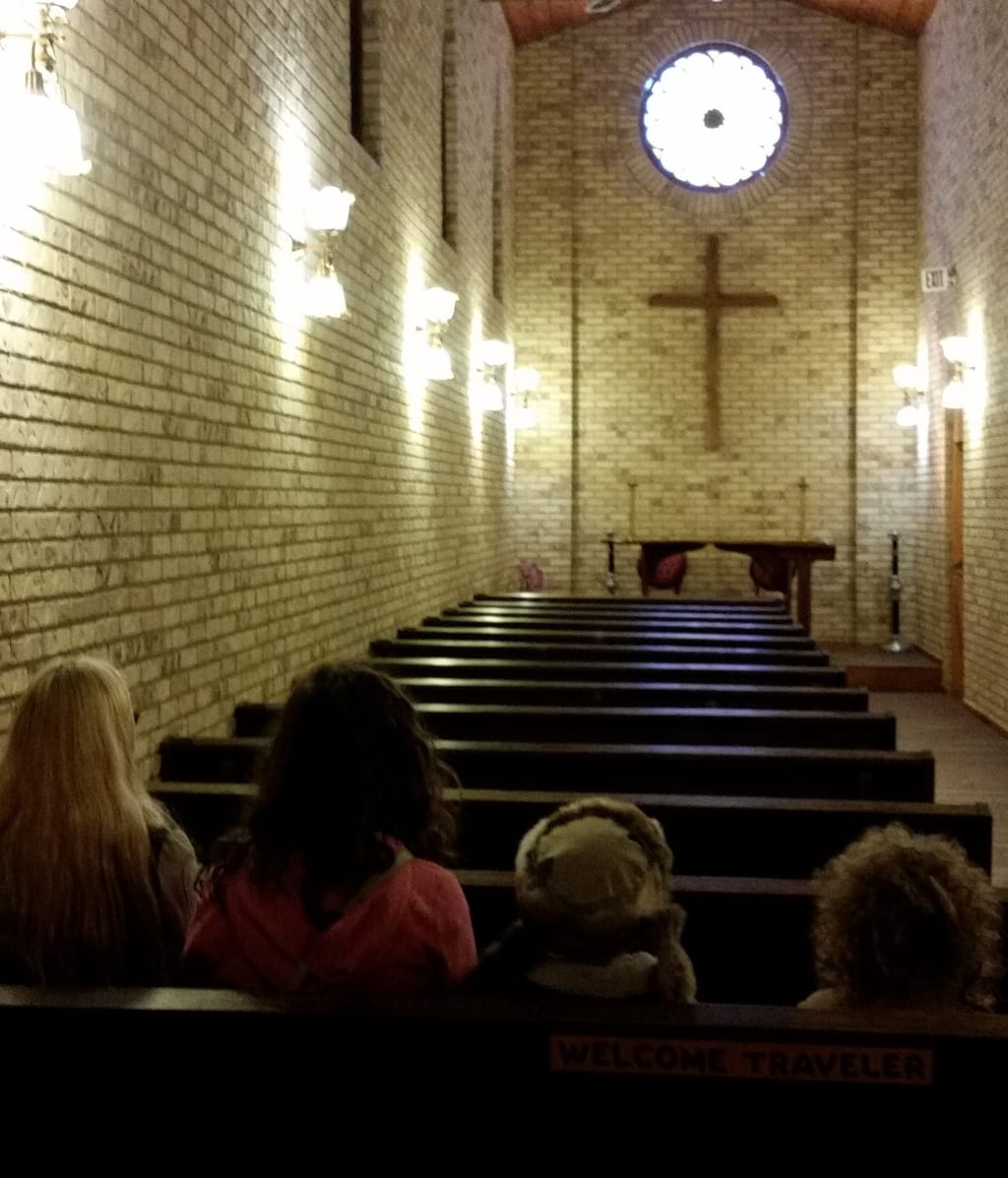 Stopping in a travelers chapel on one of our cross country trips
On the outside, she tried so hard to exude gratefulness. And she truly was extremely grateful …..
Yet on the inside she frequently found herself curled tightly into the fetal position willing deep breaths to manage the constant state of overwhelm.
This was not the life she had so carefully planned, the one she had dreamed of and imagined from her earliest memories. Born an old soul, aware of needs among humanity from such a young age, Maria's vision included working at or maybe starting a home for disadvantaged children.
As a child she had devoured books about orphans, runaways and social deviants. Some of her favorites included The Outsiders and everything published by The Walter Hoving Home.
Faithfully she saved ten percent of her .75 weekly allowance and birthday or Christmas gifts and every time she had amassed $10, off it would go to one of her pet charities: Sunshine Acres, The Walter Hoving Home or Bread for Children.
Raised in a home where hitchhikers, homeless and those struggling to get on their feet were welcomed, Maria determined that she too would change the world one day, one child at a time.
"People need to be loved and they want to be needed." She was fond of quoting.
College opened doors and perspective for this young homeschooled girl. She worked with Habitat for Humanity, a Homeless Task Force and Big Brothers and Sisters among many other service organizations during her college days. College was also where she discovered the man who would become her husband and the father of their many children.
Life had some unfortunate twists for this gentle soul however.
Delighted to be a mother, she altered her dreams slightly to include adoption or fostering children in need. Unfortunately her loving though eccentric husband struggled to find a strong career and their low income crippled any possibilities to pursue adoption.
Taking a giant step towards the dream, this couple became relief houseparents at a home for 8 elementary aged boys. Maria felt at home in this calling. The days were busy, fulfilling and a beautiful memory for their own dear children who looked forward to accompanying them each weekend to the Milton Hershey School. But the season was short and before they knew it this little family with huge hearts was moving across the entire country to start a brand new life.
Blessed with 4 living children and two in heaven, they discovered one more baby was on the way. Such joy flooded the home as her arrival was eagerly anticipated. James had been laid off and the frugal mother once again figured out how to stretch a tiny amount of income to meet their basic needs.
Sadly, the joy was crushed when James' heart failed late one February night. Questioning the foolishness of a God who would allow such a tragedy while she was pregnant with their 5th baby, Maria numbly dragged herself out of bed to care for her children each day.
With the arrival of baby Grace came a new found purpose along with overwhelming joy. Suddenly Maria realized the tremendous gift bestowed on their little family in the midst of their grief and sorrow. Rather than foolish, Grace was the perfect antidote to their sadness.
The days were long, though the years rushed by. Maria found herself in a constant state of hurry. Homeschooling, working, cooking, cleaning, and so many doctors and therapy appointments. You see, several years after their dad died it was discovered that he had a genetic disease which had led to his tragically young demise and to the mother's horror three out of five of her beautiful children carried the same affliction. At least she finally had an explanation for the source of their learning disabilities which took so much time and energy. She also felt blessed with the knowledge that with consistent health care, therapies and testing, each child with this diagnosis had a good chance at a better long term outcome than their father.
On a particularly bleak and wearisome day, Maria found herself silently sobbing deep inside her soul. "My life is so damn hard! No one really has any idea how difficult this is!" Standing in the middle of her kitchen she took in the worn counters, the broken cabinets and the barely functioning dishwasher. Running her fingers through her hair in exasperation she wondered,
"how?

How can I do all of this? It's so hard.

The schooling, the extra learning support, the working, so many appointments to keep up with, cooking, and budgeting (their income was not very high), and trying desperately to love, nurture and spend time with these dear dear disadvantaged kids whom she loved with all her heart."
And then it struck her! As difficult as everything was on any given day she was in fact living her very dream. Smiling wryly at her blindness to this amazing reality she stopped feeling sorry for herself and realized the beauty of her busy life.
She had a home full of kids who needed her desperately to make their world better, brighter and beautiful.
This was the life, the career, the purpose she had been called to, and similar to St. Teresa of Avila, she was determined to find joy in the dishes and all the mundane tasks that made up her very important work of being the best mother she could each and every day to her fatherless darlings.
* * * * *
Thank you for reading. This is a tiny glimpse of the much greater story which would fill several volumes if properly told. It is also the recent true account of the day I realized my dreams really had come true, just in a much different way than I had ever imagined. If you care to subscribe or even just check out my profile, you will find many stories from my colorful life and family.
Once a King or Queen of Narnia Always a King or Queen of Narnia is a wonderful story about the kids and their dad's legacy to them.
Marigold is a fiction story based on the agony of telling my little boy his daddy had died and how we found joy in the new baby.
The Fruit of Hope is a fiction story based on the loss of one of our babies and how we found hope through this hard time.
I have zero expectation of tips and I am not asking for any now, I just wanted to share what I do with them when I am surprised by such generosity in my Vocal Wallet. They go directly into one of two savings accounts that I have. 1. The fix my broken house/things fund and 2. The start a profitable blog business fund.
About the Creator
Born a lover of stories. I love to read, write and tell them. Tales of inspiration, resilience and struggle.
A life long learner, I enjoy nothing more than sharing interesting and useful things I have learned so far.
Please join me.
Reader insights
Be the first to share your insights about this piece.
Add your insights