The Lessons All Writers Can Learn from the Amazing J R R Tolkien
Lord of the Rings and The Hobbit were masterpieces of literature and writer perseverance.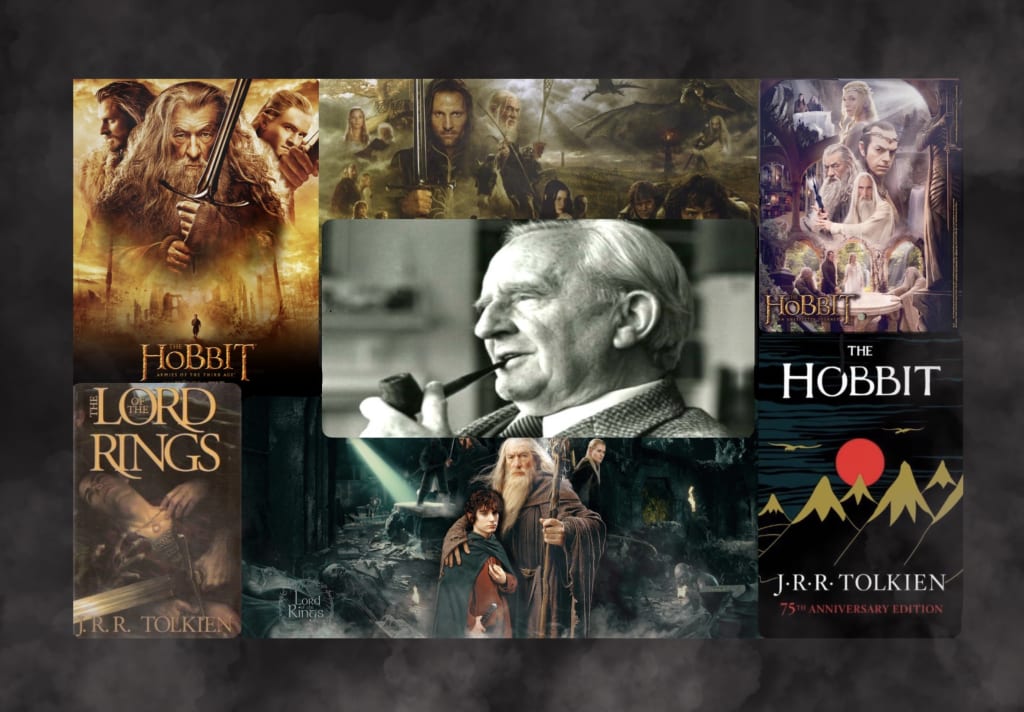 One dreary day, a professor was sitting at his desk when a fateful event occurred. As he marked examination papers, he noticed that a student had left a page blank. For some inexplicable reason, he jotted down a sentence: In a hole in the ground there lived a hobbit.
The professor was J.R.R Tolkien, and unknown to him at the time, he had just written a line that would start world-building the like had never been seen before. Bilbo Baggins had started to exist in his mind.
The Hobbit
Published in 1937, The Hobbit was a huge success. Many readers had never been transported to another world as they were with Tolkien's writing.
Tolkien knew that he needed to capitalise on this success. So when the chairman of the publishing house asked him if other stories were set in the same place, he wrote The Silmarillion.
The answer he received was that they did not want this new novel; they wanted a sequel to The Hobbit. Tolkien started writing Lord of the Rings.
Lord of the Rings
The trilogy immediately captured the public eye. It was adapted to radio the following year and has since gone on to sell over 150 million copies. Later, The Lord of the Rings became one of history's all-time highest-grossing and critically acclaimed film series.
But, writing the books was not a quick endeavour; instead, it took Tolkien twelve years to plan and write the epic novels. As a result, it was not published until 1954.
The book contained not just many characters but languages, geographies and histories. All of these had to be painstakingly created.
It Started with a Map
Tolkien, like myself, believed that all good books should start with a map. The map was the first thing that he drew for the books. As the story progressed, he was constantly redesigning and altering his maps.
He even went as far as meticulously planning how long characters would take to move from one area to another using his map as a guide. It was this level of detail that made the trilogy so successful.
To fit his evolving storylines, Tolkien placed new maps over old ones throughout his writing.
Before he even started to write Lord of the Rings, he had planned and drawn middle earth.
Tolkien the Prankster
Tolkien never saw himself as creating a story from scratch. Instead, he let the story gradually unfold on its own. The characters led him.
Even though his story grew longer and more complex than expected, he put everything together into a finished product. This is more than can be said for George R.R Martin, who has lost control of his story, A Story of Fire and Ice.
It's easy to get overwhelmed and drained when we think about all the steps to take to a destination. These feelings can make it hard to make any progress. We focus so profoundly on the end result that we forget where to start.
I have long ceased to invent…I wait till I seem to know what really happened. Or till it writes itself. - J.R.R Tolkien
Tolkien's Legacy
It is a constant mystery to me as a fan of Tolkien's work why the four were not released as a series. I presume trilogies are more attractive to readers.
Tolkien shows when writing fiction; it doesn't matter if you don't know exactly where your journey will lead you. So instead of fixating on every detail, work on the things within your reach. Lay the groundwork first, draw a map, and write down an interesting conversation that comes into your head. All these can be the first step to a complete novel.
It is easy to become overwhelmed when writing a piece of fiction, but if we keep taking the next step towards the finished product, we will eventually get there. The trick is to focus on the next step rather than the finished story.
The trilogy is considered one of the most remarkable series of the twentieth century and a favourite of many readers. Tolkien's story shows us that sometimes it takes years to produce a piece of work worth publishing. Unfortunately, many of Tolkien's other work was published after his death. Nevertheless, he has left a legacy for readers and writers to study for years.
About the Creator
I know where the bodies are buried and I'm not afraid to tell you - author of True Crime, History and Fiction. Find me on Twitter [email protected]
Or find my crime magazine here - https://www.murdermayhem.uk
Reader insights
Be the first to share your insights about this piece.
Add your insights