The Importance of a Professional Mentor | Nikolas Onoufriadis
Nikolas Onoufriadis on the importance of having a professional mentor.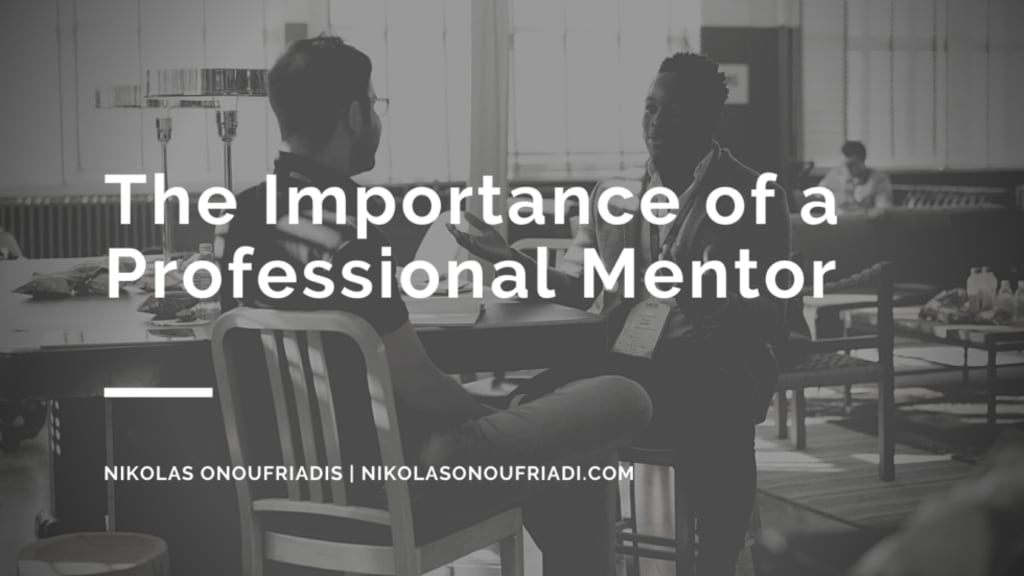 In today's world, the landscape of careers has changed significantly from its past decades. The labor market has become more complex and diversified regarding the types of jobs available. There are many career options for people to choose from, and one must select an apt career for him or herself. However, this can be misleading when a person isn't aware of their strengths and weaknesses or isn't confident enough about their decision-making skills. With the help of a mentor, such individuals can get motivated, assisted, and guided in developing a promising career plan.
Instills Confidence and Motivation
A professional mentor supports, encourages, and motivates an individual. Such mentors help develop mentees' self-confidence and motivate them to keep going, especially when discouragement sets in. Mentors have a positive influence on the mentees and thus, help them find their potential.
Avoids Mistakes
A mentor can play a pivotal role in guiding individuals towards making better career choices. With the help of a mentor, an individual can avoid mistakes in their career paths. A mentor has the experience and knowledge to help a person understand their strengths and weaknesses, which can be very beneficial in deciding the right career path.
Improves Role Models
A mentor plays a vital role as a role model in one's life and thus, helps them build self-confidence and trust. When someone has trust and confidence in themselves, they feel that they can do anything they put their minds to. Such individuals are less likely to give up on their goals and dreams and are more likely to go out there, explore different career options, and gain professional knowledge and skills to pursue their goals.
Provides Guidance and Encouragement
A mentor provides guidance and encouragement not just in terms of career but also in life. When someone is given the right advice at the right time by a mentor, they can prevent wrong decisions or make better ones.
Provides Direction and Support
Since mentors are close to the life of their mentees, they have a 360-degree view of their lives. Mentors can help their mentees find direction in life and provide them with the right support. A mentor would be able to advise their mentee on how they could get ahead in their career and also guide them along the way.
Mentors help to develop career plans and guide people in their ways. Thus, a mentor is of great significance in a person's life and has numerous benefits. In addition to being helpful in career choices, mentoring can also be a lifetime relationship that strengthens the bond between two people and builds confidence on both ends.
-
About Nikolas Onoufriadis
Nikolas Onoufriadis is a native Greek who is currently residing in Boston, Massachusetts. One of the things that sets Nikolas apart from the crowd is his genuine knowledge and understanding of balancing work and self-care. A skilled businessman and conversationalist, Nikolas has conducted business in more than 10 countries in the last 15 years. He's fluent in Greek and English, and conversant in Spanish and German, no doubt helping him during business negotiations.
Nikolas constantly goes above and beyond in whatever he's doing. He not only got his Bachelor's degree in Political Science from the University of Massachusetts, but also got another Bachelor's degree in Psychology from Harvard, making the Dean's list in both places.
Currently, Nikolas Onoufriadis is the Founder and Managing Director of his own consulting firm, Power2U Consulting. Founded in 2015, Power2U Consulting is a business that specializes in management and business consulting, as well as government relations. Nikolas wanted to put the skills that he learned throughout college and his extensive career to work, employing leadership, strategy, management, communication practices, and business growth to the company. Power2U has been successful in tackling complex issues throughout the United States, as well as several countries in Europe, the CIS, and the Middle East. Because of the work that he's doing, Nikolas has not only met with Heads of State, political dignitaries and prominent businessmen, but also gained experiences that he wouldn't have had otherwise by facilitating government and business meetings, participating in critical discussions and negotiations, and organizing targeted events and fundraisers. To learn more about Nikolas Onoufriadis, be sure to visit his websites!
business
About the author
Nikolas Onoufriadis has a track record of helping people succeed. He has two bachelor's and two master's degrees that provided a foundation as a strategist and consultant throughout his 15-year career. Visit his website to learn more.
Reader insights
Be the first to share your insights about this piece.
Add your insights