The Fat Dutchman
In which our hero finds himself uncomfortable in Monaco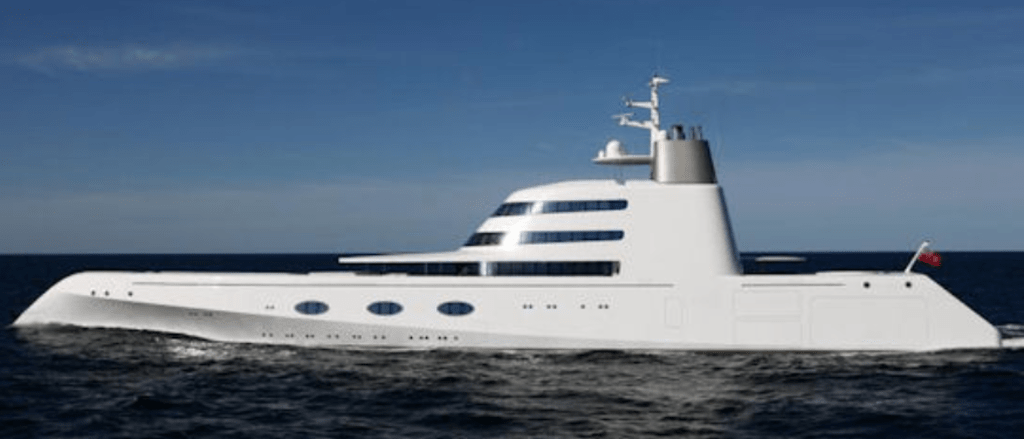 I met a fat Dutchman called Peter. I'd heard he lives on a boat moored in Hong Kong Harbour.
He's drinking mojitos in the Blue Gin bar at the Monte Carlo Bay Hotel in Monaco.
He sips and lays down his drink. Casually swinging two fingers of his braceleted right hand at my colleague, who is deep in animated conversation with his associate. "He's talking tech. Hasn't even mentioned tits or anything yet," he says.
"Tony tells me you live on a boat," I venture. "How long have you lived there? Do you love it or..."
He hesitates, then opens up. "9 years. I love it."
He pulls out a large bright smartphone and begins flicking through pictures.
He expands an image of a sleek-looking, hi-tech sports cruise liner.
"That's quite a boat," I say, feeling out of my depth.
He looks pleased and flicks on to show me some video footage of the on-board, pink-lit jacuzzi with a giant screen at one end. I imagine him fucking hookers while porn streams across its High Definition screen.
"Amazing," I offer and he passes the footage around to the drinkers at our table.
"The jacuzzi needs to be full of naked, young women," my colleague says, erupting at his own hilarity.
Peter shoots me a glance. He knows we both think Tony is a prick.
I look down the bar. It's brimming with the macho swagger of ambitious business women in their 20s and the bellies of over-excited, middle-aged businessmen lingering like dogs round the dinner table hoping for tantalising tit-bits.
I have little in common with these folks. It's work. "Bar work" Tony calls it, eyes alight with the delight of his own wordplay, like an infant anticipating praise as he exhibits the contents of his potty to the visitors.
The cheapest drink is a small bottle of beer at eight euros a pop. I'm happy to let Tony stick our round in on his expenses, and unlike this lot, I'm planning to stay sober.
I've been to too many of these, with everyone pretending the following morning that they feel fine when, in reality, they are filled with self-loathing and shame, and can barely face breakfast.
One of our targets is a South African company. Our link to them is a Dutch Country Manager with responsibility for Africa called Monica. She has a mop of ginger curls, the pinched face of a childless, 40-something divorcee, a great figure, towering ego, and a large expense account.
There is arrogance everywhere. Country Manager? Responsibility for Africa? Maybe one day I'll be promoted to Vice-King or Deputy Deity of the Seven Seas or something.
In reality, we're all small cogs in large wheels, but that's not how business is done; and this is doing business with a capital B, and that requires props for the fragile egos. Hence Monaco, yachts, expensive suits, watches, drinks, and hotels.
My group begins to discuss a yacht moored in the harbour. It looks like something from a James Bond movie. "Designed by Philip Starck," someone says.
At that, the side of the yacht opens and it gives birth to a smaller vessel, which turns and speeds off across the bay. There's a full moon and helicopters crisscross the sky.
The bar is now filling with innuendo and inappropriate behaviour. Monica introduces a key man from our target company. He's tall, young, athletic, and ambitious. After exchanging greetings and ramping up our enthusiasm at meeting him, he introduces his wife.
Unlike the businesswomen, she is soft, feminine, refined, and breathtakingly beautiful. Her name is Eva and she looks too good for this cesspit.
Tony switches into sales mode, laughing too loudly at his own jokes, oblivious to the fact that the camaraderie is entirely his.
We start doing shots and everyone, even Tony, decides they need to order a round of shots. It's a bonding experience I guess, and I reflect that donating my liver was never part of the deal.
After the shots come the selfies. Tony has been chatting to Alex and now insists that Eva sit beside them. She nearly falls onto the plush sofa, already engulfing the guys.
There are whoops and laughter and Tony guffaws as he throws an arm around her and behaves as if she's a commodity.
Eva is too drunk to resist. Like me, she's clearly unaccustomed to this.
Before we know it, she's sitting on Tony's knee with her arm around his neck. He's holding her around the waist and has a hand on her thigh. Her husband's eyes are rolling in his head as he heads off to find more drinks.
By now, a DJ is playing loud dance music and everyone is shouting.
I decide no one will miss me, and with nothing to contribute to this, I bid them farewell amidst allegations of me being a lightweight and a party-pooper.
I wonder how I got here. It's expensive and revolting. I feel no affinity with these people and no desire to spend my time in this way. On the plus side, my room was amazing, with a view of the Philip Starck Yacht in the bay.
I decided it was time to move on, find a different way, spend time with people who were heart-centred rather than money-centred, dissolve my ego, and dance, just dance in my bare feet, with my eyes closed.