Do you use Zendesk as your customer support software? Have you ever wondered what customers are searching for in your help center? Or more importantly, what they are searching for but cannot find? Below is the fastest way to identify searches with no results so you can instantaneously address your customers' needs.
Zendesk Explore and Zendesk Guide
Zendesk Explore is Zendesk's proprietary analytics platform. Within Zendesk Explore, you will find several pre-populated dashboards, spanning Zendesk's wide range of functionalities. One of these dashboards encompasses all of the data from Zendesk Guide. Zendesk Guide is the knowledge base or help center where your help articles are published.
In order to understand gaps in your knowledge base using Zendesk Explore, you should review the 'Search' section of the Zendesk Guide dashboard. This section shows a variety of information, from your customers' top searches to the click-through rate of your help articles.

Identifying Searches with No Results
One data point that is most useful for maintaining a high quality help center is called 'Searches with no results (top 5)'. As the name indicates, these are keywords your customers searched for that returned no results. From the customer's perspective, expecting to find a quick answer to a problem you are facing can be incredibly frustrating when the answer is the dreaded "Your search returned no results." From a business perspective, this generally results in another customer service inquiry (ticket) which results in additional operating costs or can lead to customer churn.
Luckily, there are 2 easy ways to turn these into searches with results!
Writing and publishing a new help article that includes the search term(s).
Adding labels to your existing help articles. Labels are words or a combination of words you can add to Guide articles to improve the search experience. Labels are like tags for search engine optimization.
In the above example, 'unsubscribe' is the top search with no results. Although there is no help article that uses the word 'unsubscribe', there is an article about cancellation that addresses the concerns of customers who are searching 'unsubscribe' in the help center. By adding 'unsubscribe' as a label to the article under Article Settings, the customers who search 'unsubscribe' will now be directed to the cancellation article. This should result in a reduction of customer support inquiries and enable customers to self-service.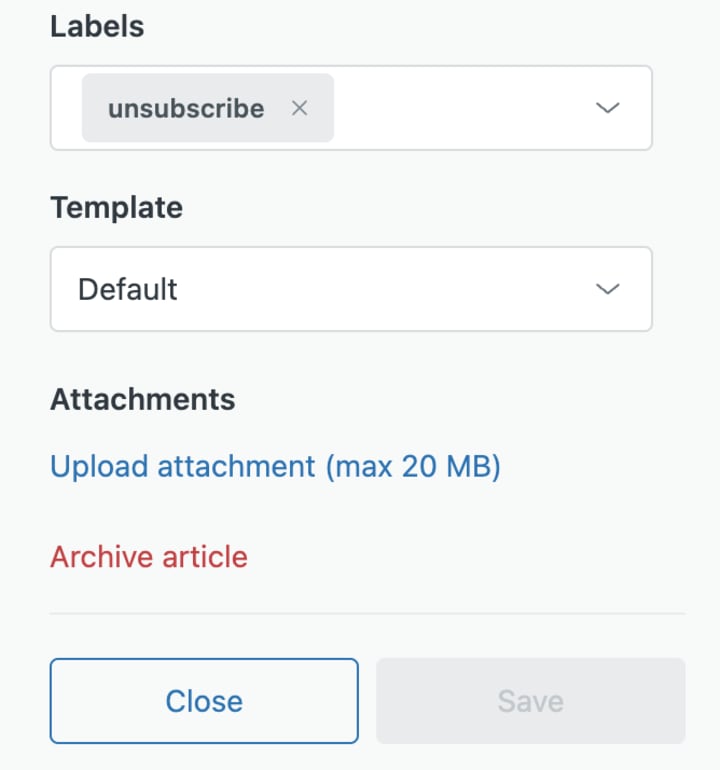 Another pro tip is to add related words, various conjugations, and even spellings or misspellings of words to your labels. For example, in addition to unsubscribe, you could add unsubscribing and unsubscribed as labels. This will help populate results if a customer uses a more conversational sentence to search.
Auditing Search Improvements
In order to validate that the label you added was set up correctly, you can navigate to your help center and search for the keyword that previously returned no results. The search should populate the article that you added the label to. Finally, that popular search term is returning results!
Even if all of your searches return results, it is still possible that your help articles are not answering your customers questions. You can gauge the quality of your help articles and labeling by checking the 'search effectiveness' and 'ticket to search ratio' table in the Guide dashboard. If your articles are effective in giving your customers the information they are looking for, you will see your 'searches with results' increase and 'tickets created to search ratio' decrease. Ideally, the total number of tickets created will decrease as well, because the customers will be able to answer their questions using your help center articles. Less tickets equal saved cost for your business. It's a win-win for all.

It's important to check the Guide dashboard in Explore on a regular basis since your business and the needs of your customers will constantly change. For any brand or platform frequently rolling out new products or features, identifying and eliminating searches with no results is key to customer retention and satisfaction!
Reader insights
Be the first to share your insights about this piece.
Add your insights