The Essential Grocery Worker.
Grocery Shopping during COVID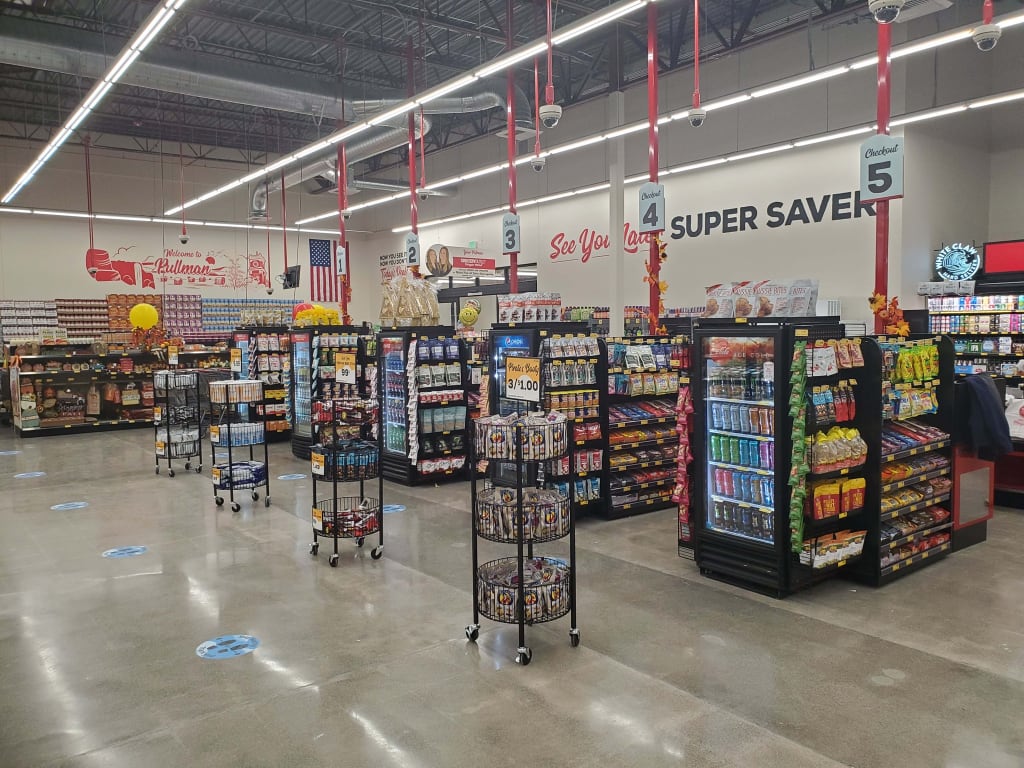 Are you by chance an "essential" worker? Of course, you have what some people consider Doctors, Nurses, and EMTs at the top of the list when you hear those two words. I however would like to talk about another type of essential worker. The Grocery store worker. Yes, there are several more types of essential workers, and yes, I see you too neighborhood postal workers. The food can not stop we all have to eat so unless you live on a self-sustaining farm, you likely get your food from your neighborhood grocery store. It has not been easy for us who work in grocery retail. In the happening of COVIID We have found ourselves short staffed, Over worked underappreciated and blatantly disrespected due to many company policies changes, state laws and corperate policies. These changes are out of our control as cashiers and department workers. Simply asking a customer to put on a facial covering upon entering the store can lead to customers becoming irate with us. So, in this article I would like to remind others in these times to remember we are all in this together, we are all frustrated, we are all a little scared and just like you are putting yourself in the possibility of harm's way, so are we. Some of us for minimum wadge with little to no benefits.
One thing workers and customers alike cannot stand are facial coverings. However as uncomfortable as these are to wear, they do help to protect everyone. I know theres a lot of controversy and misinformation surrounding having to wear masks in public but an article written by Rick Kushman will give you the full run down and statistics to wearing masks the link to this article is https://www.ucdavis.edu/coronavirus/news/your-mask-cuts-own-risk-65-percent/ as stated in this article Scientists have found that wearing a facial covering stops the chances of spreading COVID19 droplets and even other air borne diseases by 65% and when all parties have face coverings the risk is decreased even further to around 85% protection. However Prolonged conversation and standing still along with a lack of social distancing can increase your risk of infection. So please remember we are not trying to impede on your rights, we are just trying to keep everyone healthy including our staff who risk there lives every day and often at minimum wadge. I do understand how uncomfortable it is to wear these masks. As employees in the store we wear our masks anywhere from 4 hours shifts to 12-hour shifts. I know I myself work 40-hrs a week and wear my mask for 99% of my day. I feel it's not too much to ask for shoppers who do not have a medical excuse for not wearing a mask to do so for the hour and a half to two hours that you are shopping in the store. Remember his is for your safety and ours.
Please stop wearing gloves in our stores! Bring hand sanitizer or use our hand sanitizer stations we have strategically set through out our stores for your health and convenience. As a former Certified Nurse's Assistant, and a current department worker I must inform you gloves are a one time use thing. Say for example I want to slice ham. I do not put my gloves on and touch the cooler door, my face, the coffee urn and then grab the ham with the same gloves I used to do multiple other tasks then touch the ham and my slicer. Therefore you should not wear gloves in the store and touch your cart, your mask, multiple groceries, display cases, your groceries, the money counter your money, your phone and any other items and think this will protect you and others. Honestly it does not work that way. In order for gloves to work you have to change them every time you touch something. You are much better off using hand sanitizer or hand washing!
Social distancing is a must! You will see that through out the stores there are distance markers strategically set throughout the store. Social distancing does truly work air born germs and droplets usually have a radius of 6 ft. when I was a CNA we learned coughs and sneezes can actually make it up to 10 ft, however when a person is wearing a mask it cuts the distance down to a 6 ft radius. The employees in the store have been trained to try to keep their distance from you, and it would be a lot easier if you as a customer would heed the social distancing standard and try to keep your distance from us too. Nothing is more irritating than the oblivious shopper who cannot seem to be aware enough of their surroundings to stay away from other people.
As frustrating as all the uncertainties are now it is important to remember that your grocery store may not have all the same products as before COVID hit. This has nothing to do with faulty ordering on the part of the store associates and managers. This is due to manufacturing issues. There may be a shortage in factory workers, and some factories may have had to temporarily had to close their doors. This is frustrating not only to you but to us too. We want our shoppers to be happy, we want to be able to provide all your favorite products adding to an excellent experience. Before you take this out on the store employees please remember some things are out not because of faulty ordering or negligence of any kind. 99% of the time it is a manufacturing issue somewhere down the line and is not the direct fault of the retail employees in the store.
One last thing that comes to mind when giving advice to shoppers, is that it may be more beneficial for you to shop on off days and or off hours when stores are less busy. Busy times are usually 10am to 2pm and 5pm to 8pm Monday – Friday. Saturdays and Sundays are almost always busy except for the hours of 8am to 10am. If you are looking to shop when its not busy NEVER plan grocery shopping during the first week of the month. That time is the time everyone who gets benefits go to the grocery store. As a rule the later in the month you go the less busy it will be, and if you want fully stocked shelves when you go to the store simply ask your local store what days they get their shipments in. Hopefully, some of these tips can help you stay safe and healthy while shopping for groceries and help the store employees remain stress free and healthy as well. However, I think my main message with this article is be patient, be kind, and be safe.