Ten of the Best Books for Writers
These books will make you a better writer. Really.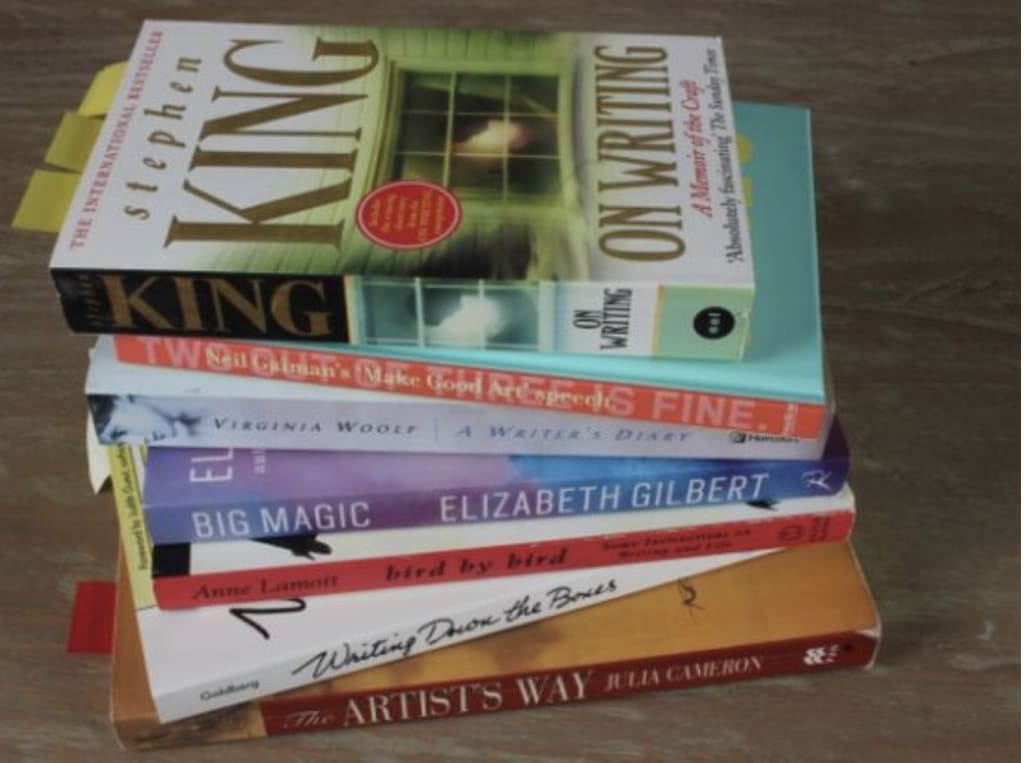 1. Stephen King: On Writing
Now I happen to think that Stephen King is one of the best storytellers alive. No matter how absurd his initial premise – A car is alive! A clown in the drains! Phones turn you into zombies! – he does it with such conviction and imagination that you suspend all disbelief.
But no matter what you think of his work, this memoir/instruction manual is simply the best book on writing, full of inspiration, practical advice from one of the world's most successful and prolific masters of the art.
Ask any writer for their top ten, and this will usually be in there somewhere. My much-loved and much-used copy is full of highlights, notes, underlining, bookmarks and folded-down corners. Start here!
2. Elizabeth Gilbert: Big Magic
Beautifully written, this mixes practical advice with mystical belief about the power of art, and how stories find us when we open ourselves to them. The chapter headings give you some idea: Courage; Enchantment; Permission; Persistence; Trust; Divinity.
This is one all creatives can learn from, not just writers. Especially if you've lost touch with your muse, you can't get into flow, and you've lost faith that inspiration will come. We all have those dark moments. This book is a light, guiding the way back to your path.
If you find it too wu-wu and weird, stick with it. You're probably the one who needs it most, right now.
3. Julia Cameron: The Artist's Way
I re-read this every couple of years, and I've given it as a gift more than any other book. Clients of mine have written novels, screenplays, got through those difficult second albums and created new artworks by using its central tools: a weekly artist's date, and daily morning pages. I've done both for years now.
They're like a compass, gradually showing me the direction I need to take, and in the rare times I now abandon them, I quickly see the difference in terms of focus and inspiration.
Experienced writers sometimes struggle with the idea of freewriting, because they hold themselves to higher standards. My tip? Do it without any grammar at all – I use dashes and little else – and don't go back to edit, correct spellings or anything else. It works like a spring-clean for your mind, stopping thoughts playing on endlessly repeating loops by getting them down, however incoherently, onto the page.
There are plenty of other exercises and writing prompts too, with each chapter addressing a different obstacle in the creative's path. This is another book that works for all kinds of creatives. But it's especially brilliant for blocked, burned out or stalled writers.
4. Steven Pressfield: The War Of Art
Subtitled Break Through the Blocks and Win Your Inner Creative Battles, this is one of the best books I know about what he calls Resistance: the forces stopping you just getting on and doing your creative work.
Like The Artist's Way, it's effective and inspirational whatever your creative field. But writing is Pressfield's craft, and many of the examples he uses involve fellow writers.
Some of Pressfield's attitudes are a little dated, but his methods are sound. See him as a wise old uncle, pushing you to just begin doing the work you dream of doing, no matter what you think is in your way.
5. Virginia Woolf: A Writer's Diary
You either love Woolf's novels, or you hate them. I'm in the love camp (To The Lighthouse is a book I've read many times over), but you don't have to agree to enjoy these extracts from her diary.
We often feel that the great writers, those whose work has endured and inspired, somehow sat down and effortlessly wrote finished drafts of their novels, stories or essays, and we measure our own clumsy first drafts and half-formed ideas against them. This is the antidote: Woolf's diary exposes the sheer hard graft, the revisions, the self-doubt and the soul-searching that goes into producing a solid body of work.
If you are afraid of the Woolf, search out your own favourite writers' thoughts on the craft. Ian Rankin's introductions to the newer editions of his Rebus novels give lots of insight into his creative process, for instance, and Philip Pullman's essays on reading and writing are as brilliant as his fiction.
6. Neil Gaiman: Make Good Art
This is actually a 2012 commencement address Gaiman gave in Philadelphia, and you can see him delivering it below. But graphic artist Chip Kidd had the lovely idea of making it into a beautifully illustrated book. I often open a page at random, and find just what I needed to read that day.
At its heart, all of Gaiman's fiction is about the creation of story and of the myths that subconsciously inform us, even if we think we've forgotten them. I love the introductions he writes to his short story collections, and most of his collected journalism and speeches are also about the power of reading, writing and story.
7. Anne Lamott: Bird By Bird
Amongst many gems in this book, Lamott introduces the idea of Shitty First Drafts. These three words have pulled me out of the swamp more times than I care to remember, and the gist of them is this: on days when you can't write well, just write badly. Get it down, then improve it later.
"All good writers write them," she reassures. "This is how they end up with good second drafts and terrific third drafts."
There are gems in here about character, plot, dialogue, setting – and knowing when you're done. And great exercises to try, along with brilliant paragraphs of her own writing. Leafing through it to write this, I've realised it's been too long since I've reread this book, and it's just moved from the shelf to my bedside table.
8. Natalie Goldberg: Writing Down The Bones
Three days after his 71st birthday, my dad complained of feeling sick, lay down on the bed for a moment, and died. He was rarely ill and hadn't visited a doctor in 20 years, so this was beyond sudden and unexpected.
This was the book I was reading when that happened, 15 years ago. While I did all of the things I needed to do as the eldest child supporting a mum who – like most women of her generation – had never lived alone, this was also the book that kept me whole. I filled journal after journal in the following weeks and months, dipping back into these short essays whenever I needed kind, compassionate but firm guidance.
Sub-titled Freeing The Writer Within, it's a good place to start if you have always wanted to write, or have been away from the page for a while. If you're not sure where or how to begin, the writing prompts here are brilliant.
9. Natasha Khullar Relph: Shut Up And Write
As the title suggests, this is no-nonsense advice on getting the work done from a talented writer who managed to launch a successful international freelance career from India, then branch out into courses, content marketing, fiction – plus a really helpful and detailed series of books on making money from journalism and content marketing.
These final two writers both produce practical guides to getting paid for your work. I've included them here because I think it's important to understand that artists and writers no longer need to starve. It's perfectly possible to make real money from your writing – if that's you want to do.
10. Joanna Penn: Successful Self-Publishing
This book is free on Kindle, inexpensive in paperback, and hugely practical if you want to publish your own writing and start earning money from it. Penn has a whole series of clear, informative books on writing and a long-running podcast about self-publishing, as well as her own successful and ever-growing series of independetly-published fantasy thrillers.
Like many older writers, I always looked down on self-publishing. I was wrong. It's a great way of by-passing gatekeepers such as publishers and agents, getting topical work out quickly – and getting paid for your work within weeks, rather than years.
11. Antony Johnston: The Organised Writer
I've added this to the list as a bonus book, because I've just read it and it's too useful not to share. This isn't about how to write. It's more about how to function, as a writer. How to be efficient in juggling multiple projects and organise everything from the folders on your computer to your notes.
My only criticism is that he advocates a somewhat dated system of storing old projects in A4 envelopes and file boxes. Why clutter up your workspace when you can just scan it all into an app such as Evernote and find it again far more quickly? But that's a minor niggle about a book packed with sage advice. I've been a professional writer for four decades now, and I still learned a lot from it!
There are many more brilliant books about writing.
Scarlett Thomas's Monkeys With Typewriters is a great practical guide to writing and especially plotting fiction; James Wood's How Fiction Works and Walter Mosley's The Year You Write Your Novel are pretty self-explanatory and brilliant. Ray Bradbury's writing advice is always pure gold, and I've never read any of Zadie Smith or Margaret Atwood's thoughts on the craft without feeling smarter for it.
Really, I could go on, and on, and on. But I'm sure you have favourites of your own. Leave your recommendations in the comments. And perhaps I'll revisit this later, and do ten more.
Enjoy this?
If so you'll enjoy The Creative Companion, a bi-weekly newsletter in which I share books, podcasts, videos and other useful resources to help professional creators get the success and the pay they deserve, making work they truly love. Sign up here to get the next issue.
book review
About the author
Sheryl Garratt is a former editor of The Face and Observer magazines, and has written professionally for more than 30 years. She is also a coach working with creatives of all kinds. Find her at thecreativelife.net
Reader insights
Outstanding
Excellent work. Looking forward to reading more!
Top insights
Easy to read and follow

Well-structured & engaging content

Expert insights and opinions

Arguments were carefully researched and presented

Eye opening

Niche topic & fresh perspectives
Masterful proofreading

Zero grammar & spelling mistakes

On-point and relevant

Writing reflected the title & theme
Add your insights