Switch areer in Python
How to switch career in Data Science with Python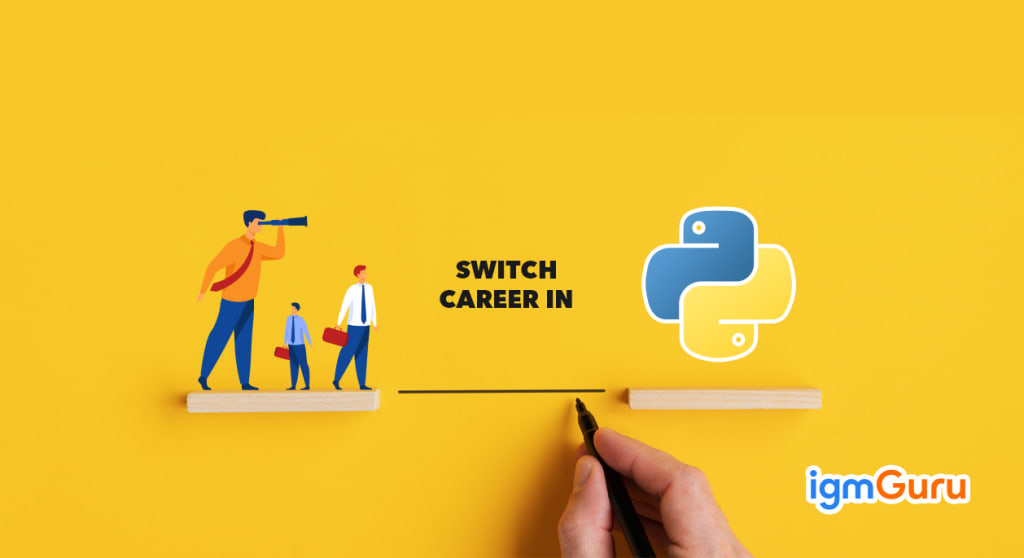 Source: igmGuru
Introduction
Are you facing any stress due to low work productivity? Do you want to boost up your career? Are you thinking of a major shift in the workplace? Then you are on the right platform. Python, not only helps you to uplift your fallen state of work, but also helps in an easy smooth transition from one job to another. Python is a general-purpose open interface language whose appealing interface helps you in enhancing your career but also help you stabilize your future prospect with a lucrative salary package and allowances. Python is very much in demand nowadays and almost all major IT industries are likely to recruit professionals who have strong expertise in python.
Demands of Python
In the last few years, it has been seen that Data Science with Python has miraculously achieved high growth. Many factors culminate in making this language so much demand in today's world. Here are a few of them-
(1) Syntax- With superb easy and readable syntax, Python emerges as one of the best efficient programming languages for newbies. Anyone can learn Python on their own. By allowing the interpreter to execute each code line by line, Python makes debugging on each line and this helps the beginners to learn to code easily.
(2) Compatibility- Python is one language that easily integrates itself with other languages such as Java, C++, C, and so on.
(3) Less Coding- Why do people prefer Python more than other languages? Because of its less coding but large functionalities option. In Java or other languages, one has to code more in complicated terms, but with Python, not only it provides lesser means of coding but also it gives a large number of variables functions attached to it. Isn't this wonderful?
(4) Huge Library Functions- No other computer programming language provides so huge number of library functions than Python. Not only it helps to perform various things like threading, unit testing but also GUI and learning cryptography.
(5) User-friendly Data Structure- This is one of the important reasons why Python is so much in vogue nowadays. Maximum big multinational companies demand employees with expertise in Python because that would not only benefit their companies in terms of data but also achieving their goals.
(6) Easy to Use- With its free and open-source interface, Python is very much Object Oriented. Being very much simple and convenient, Python serves the purpose of a general-purpose language. It provides a huge base for communication among developers to help and share in troubleshoots thereby making the language all the easier to use. You can download the python free from the link.
How can you shift in Python ?
Data Scientist is highly skilled in handling a ton of data regularly. Not only do they have good problem-solving intuitions, but also they are quite adept in statistical knowledge. They have good communication skills and they delve deep into the work they perform. To shift your career into Data Science with Python programming you need to have the following skills and criteria-
(1) Educational Qualification- To shift a career in Python-based Data Scientist, one must have the following educational qualification-
(a) A B.Sc or M.Sc in Computer Science/ Social Science/ Statistics or a B.Tech/ M.Tech in any field of Engineering(Computer Science is mostly preferred).
(b) Data Science with Python Training in the Data Science Master degree program is compulsory.
(c) Learning special skills like Hadoop or Big Data is a must to learn the transition of data.
(d) A candidate must be well versed in the fields of Mathematics and Statistics.
(2) Programming Knowledge- The candidate should have in-depth knowledge of programming and at least have the ability to create an app or start a blog. The more you can explore the analysis of data, the more you can fulfill the criteria needed to become a Data Scientist. If you haven't yet mastered any programming language, don't worry, you can start your training from the internet at Simple Data Science Training with R programming language immediately!
(3) Python Coding Skills- Python is the best language for Data Scientist. More than 80% of Data Scientist use Python as their major programming language. Python is versatile by nature and with its help, one can find any type of database one desires from Google. So Python coding is a must. To learn Python coding skills, you can take up online certification. Course from various websites including the Udemy app. Python allows in creating codes easily to help in importing SQL tables and works with various formats of data.
(4) Machine learning and AI Skills- Machine learning and knowledge of Artificial Intelligence are not one of the fortes of Data Scientist. The majority of them are not experts in these fields. If you want to stand out from others, you need to know these topics. If you are competent in supervised Machine Learning, computer vision, survival analysis, etc., you will be able to solve various data science problems faced by major organization bases, and your chances of getting hired to increase by leaps!
(5) Web Development with Python - We love eye-catching things. Python does the same work. A code on PHP takes hours to construct but on python, it takes just a few minutes. if you want to work as a web developer, you must be well adept with python along with c++ and java.
(6) IoT System - Internet of Things, which mainly focuses on connecting and exchanging data with various devices, takes the help of Python to handle data more efficiently. The easy syntactical platform of python helps the smaller device to access the data. So if you want a career in data security, IT, and management, you must be well aware of the workings of Python!
Conclusion
From one stream to another anyone can shift their career. With a bit of tenacity and dedication, anyone can master any language skills.
With python, one opts for lucrative salary packages of:
Web Developer
Data Scientist
Core Python Developer
Now the choice is yours! So, if you want to shift to the pythonic world, start your journey now!
product review
About the author
Tarun Saini is a strategic thinker and an IT Pro currently working with igmGuru. With more than six years of experience in the digital marketing industry, he is more than a results-driven individual.
Reader insights
Be the first to share your insights about this piece.
Add your insights