Summer of 78
The Kid, the Crabs and the Shark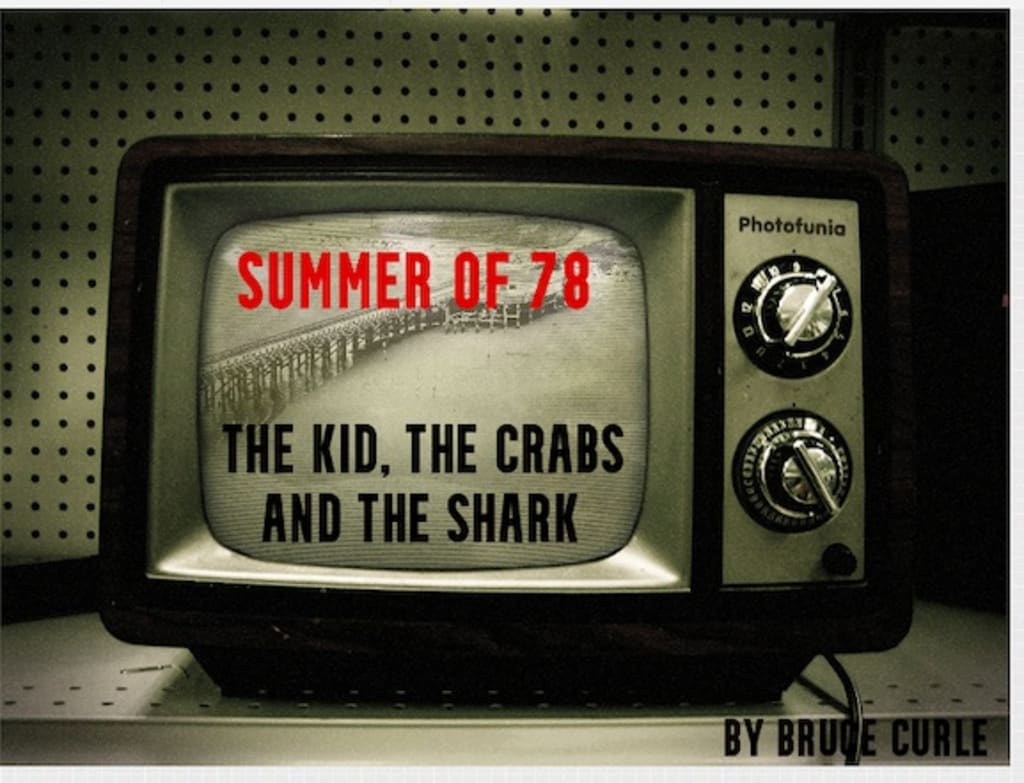 In my youth in British Columbia, I loved to snorkel in ocean waters. Much of my time was spent when I prepared to attend private school, snorkelling under the White Rock Pier in all sorts of weather. During my youth, crabs were still plentiful around the White Rock Pier and in the rugged breakwater that protected it.
This gave a young, daring young man the unique opportunity to make a few fast dollars if he had a trusted companion to work with. Though, it could complete this task alone with guile and cunning.
The City of White Rock was much smaller at that time in history but was always a favourite spot for Canadian residents and their American cousins. Many people would go down to the pier to look at the waves, the fish and, of course, the delicious-looking crabs that could sometimes observe wandering around the pillars of the pier.
This entrepreneurial spirit was originally ignited by a stout, balding American gentleman who tapped me on the shoulder one day as I walked down the pier with my mask, snorkel, and flippers in hand. "Kid wants to make a crisp American dollar," he said to me.
A few moments later, I was swimming under the pier, looking for a nice large Pacific Ocean Crab. Within a few minutes, I was wrestling with a beautiful large crab, but the lure of Yankee money helped me win the battle. I came to the surface with the crab, and the American gentleman had something special for dinner, I had my fee, and the poor crab was doomed.
The following summer day, I returned to the pier and struck up a conversation with another young man; he had a large net on a pole but could not swim underwater the way I could. We came up with a plan and an agreement on how we would share any funds. John would wander the pier finding interested people that wanted a delicious crab dinner; I would do the snorkelling and use his net to capture the beasts.
Back in these days, the White Rock Pier had a smaller dock off the pier that pleasure boaters and fishermen would often tie up to for short periods of time. People would often fish off the pier and sometimes toss rocks or bottles off the pier. With time I would learn to avoid all these hassles and try to use them to my advantage. A prime example of this was when a fisherman came in and tied up for a while; if he were a sportsman, he would often toss his bait and lunch into the water to avoid bringing them back to shore when they were done for the day. The crabs would move in very quickly, followed about five to ten minutes later by me.
This would also sometimes happen with those fishing off the pier who wanted to bring half-dead smelly worms or other products home to the family once done for the day. My partner in this trade would watch closely and point out potential hot spots for me to snorkel in.
I often limited my snorkelling time to no more than fifteen minutes at a time; my partner also would watch if I was in the water for predators, one being a fishery officer named "Bill," the other being the scavenger of the ocean floor the mud shark, also known as the spiny dogfish. Bill had once warned us a much bigger shark had been spotted on the other side of the rocky breakwater, and it was known as the Salmon Shark.
I would discuss with my partner the hazards we were facing daily. We had three types of predators to watch for, crabs that when their pinchers grabbed you could really hurt, the possibility of cramps for John and me getting mugged for our money. We did not have to worry about our guardians. My mother was at work, and his grandmother was up the big hills of White Rock in an apartment. We encountered the only police officer toward the end of his shift who came with an ice cream bail and excepted a large crab from us. After which, we looked at the positives. The biggest benefit on a good day as we were each making about $10.00 U.S.A dollars a day plus about six to eight Canadian dollars a day. For a young teen, this was a lot of money in the late 1970s.
All seemed to be going very well. Indeed, that was until the day John did not appear at the pier. I waited around for a while and became concerned for him; he sometimes had problems with an older sibling. I walked up the hill that took forever to do; at the grandmother's apartment, I learned that John's father had arrived back from work in the east and had taken his three children to return to live elsewhere. The old lady handed me the net and told me she knew that John would want me to have this.
I did not go out to the dock for several days, Friday was coming, and this was always the best day to find anxious American types ready to give money for a nice juicy Pacific Crab, though on my own, this would prove to be a much more difficult task to perform. As my mother left for work Friday morning, I walked the mile or so down toward the beach. As I stepped onto the pier, a couple of fishermen waved to me and said, "Hello kid, where's your friend."
I explained that I was on my own, and one nice older gentleman told me I could leave my gear near his. A few moments later, one Asian gentleman spotted me; twice in the past, I had got nice crabs for him and pointed out where the schools of fish seemed to hang out under the pier. A few minutes later, I was back in the water and under the pier though it seemed somehow different.
As the summer days wore on, I purchased myself a little lockbox I tied to a post; once I observed the money being placed in the box, I would swim down and get a nice crab for the person. As the days wore on, I also became more and more aware of reports of mud sharks in the area. The sports fishermen were appearing more and more and dropping more delightful treats for these scavengers of the sea. "Bill" warned me that this salmon shark was also still in the area somewhere but doubts he would come in near the pier.
As the warm sunny days of August were upon me, my lust for money for private school increased. I began to swim under the dock and around the rocky breakwater more and more often. I was getting excellent tip money for the much larger crabs I was encountering close to the breakwater. I also seemed to be developing regular customers and several motherly types that thought I should not be doing such things independently.
One evening as I was down for the day and was up on the pier, something caught my eye suddenly; it was not some salmon; it was not a rock cod; it was a mud shark moving under the pier. I knew they were around; usually, though they seemed only to appear once it was dusk or just before the dawn came up or, so I was made to believe.
I decided to be more cautious from this point onward for the next few days till they moved on. But that did not last more than a single day, an American with a crisp five-dollar bill wanting a nice large crab sent be back towards the breakwater late one afternoon. I managed to find a nice big crab with huge pinchers; I dove down twice before I was able to get him in my net and swim toward the surface. As I moved toward the surface, I saw the tail fin of a mud shark heading in the opposite direction. I was pleased to see they did not want to meet a boy in the ocean any more than the boy wanted to meet them.
Two days later, I jumped off the dock as I often did into the water; this time, I bumped into some time under the water. As I focused the glass on my mask was touching the snout of a Mud shark, also known as the Spiny Dogfish. I pulled my arms upward in shock as the dogfish, spun around fleeing in the opposite direction.
As I surfaced, I hear a panicked voice screaming, "SHARK!"
I reached an arm up, coughing out water, a local man grabbed my arm, and two men pulled me out of the water. The older fisherman I knew appeared, "Kid never saw a person jump on a shark before."
After this, I decided to retire from my crabbing career, at least for the moment, I would snorkel again, but watch much more closely I was leaping much more closely. As for the Spiny Dog Fish, I suspect he stuck to dawn and dust searches under the pier after that day.
I would never meet my partner again or see "Bill" or the old fisherman after that last day at the pier. Over time I would forget most of the adventures I had under the White Rock Pier but would often think of this little shark and wonder how he was doing.
Over the years, I would encounter other members of the Squalidae family of sharks in the Pacific Ocean, but none would be as memorable as the one in the Summer of 1978.
About the Creator
A Fifty something male that enjoys writing short stories, scripts and poetry. I have had many different types of work over my lifetime and consider myself fairly open minded and able to speak on many topics.
Reader insights
Outstanding
Excellent work. Looking forward to reading more!
Top insight
Excellent storytelling

Original narrative & well developed characters
Add your insights