Stress and the Human Resources Professional
Human Resources professionals are familiar with extraordinarily difficult days at work. Those unique days for the record book. The days that go on their personal list of the worst days ever.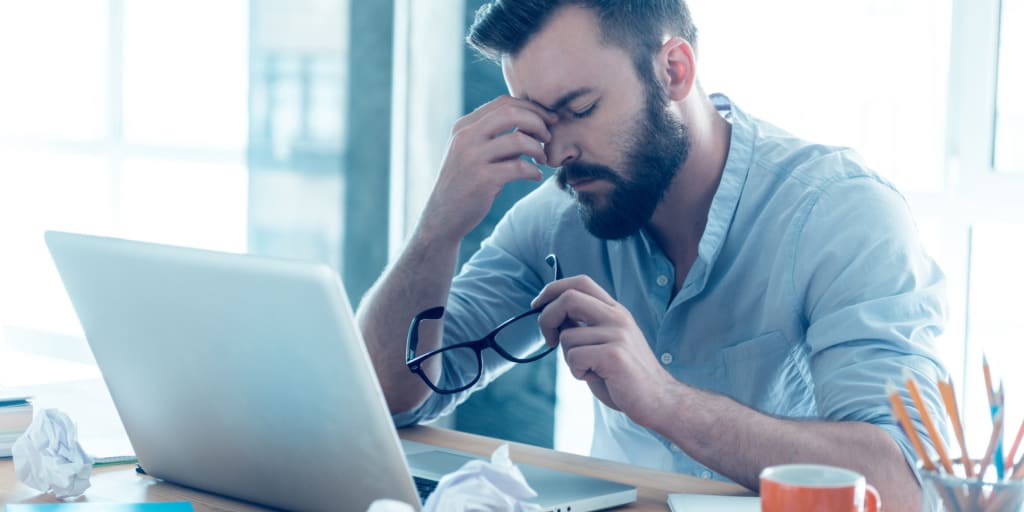 Stress and the Human Resources
For many employees who work in the field of Human Resources (HR), it could be the day when an employee is discharged for misconduct, an applicant files a formal complaint for not getting the job he feels he deserves, or the Equal Employment Opportunity Commission sends a Charge of Discrimination on behalf of a disgruntled former employee.
The list of possibilities is endless because the situations all deal with people interacting with one another about matters in the workplace. The variables are endless due to the characters who are involved.
No Sympathy for the HR Professional


There is no reason to feel sorry for the Human Resources (HR) professional or for the work they do. After all, the HR employees are the big bad mean folks who participate in disciplinary write-ups, determining employee wages, layoffs, terminations, etc.
Who feels bad for the sad louses who are recognized as the meanies in the workplace? They could not truly care about the feelings of the employees. They get paid for the work they do. What sort of a person would desire such a job?
Devoted HR Professionals Are Not a Myth
As shocking as it may be for most to concede, there are many awesome professionals in the HR field who really are devoted to their jobs. They are committed to ensuring a healthy and productive place for employees to work. They want to support a business environment where employees are not bullied, where they are recognized for their hard work and where they are paid a fair wage.
This care is for the employees, themselves. HR professionals must care about their employees to ensure they have the opportunity to be successful at work. Unfortunately, this dedication can wreak havoc on the psyche of the HR professional who is trying to do the right thing by the employees they serve. It is this group of professionals who go the extra mile for employees because they do indeed care about their experience in the organization.
How Things Go Awry
Trying to solve problems that exist in the workplace is central to the many tasks that are performed by Human Resources staff. Human Resources generalists, specialists and managers are especially weighed down by the matters that happen every day at work.
Assisting employees who are tearful, separating fighting employees in a brawl, and trying to calm down a manager who wants to "clean house" can take a lot out of an HR professional. Day after day of continuous employee issues can make a person very weary. When overall morale is low in the workplace, the weight can be especially debilitating to an HR professional trying to do the right thing for employees.
Signs of a Stressed Out HR Professional
It does not require a catastrophic event in the workplace to push an HR professional to a breaking point. Often, it is a small request or routine task gone wrong that makes an HR staff member really feel stressed out and ineffective at their work. Noticeable signs of a stressed out HR staff member are:
Failure to return phone calls. Avoidance of problems is one way to not take on a new challenge. A stressed out individual tasked with dealing with employee issues might find work easier if they flee versus fight.
Disheveled appearance. When one does not look their best, they often do not feel their best. Coming to work when one is stressed might be displayed in the presentation of an unkempt appearance or unprofessional attire.
Attendance issues. Arriving late to work can be an issue for a lot of employees. Missing meetings or arriving late are common behaviors for an employee experiencing stress from the job.
Lack of interest in training and workshops. Due to the ever changing laws and societal changes that affect the workplace, it is inconceivable for an HR professional to not attend training and seminars. Stressful work situations can affect an HR professional's interest in the field and their desire to assist others.
Refusing to participate in company special events. Many employees become disenchanted with the workplace due to the issues that are occurring at any given time. Financial constraints, politics and pressures of senior leadership can have negative effects on HR professionals trying to stay positive and show support at company functions.
Lack of patience when dealing with employees and their concerns. Serving employees and applicants is an important aspect of being an HR professional. When an HR professional is not feeling well due to stress, there is often a display of negativity or lack of patience for those employees who are in need of their support.
Decline in work quality. Due to employment laws, it is paramount that HR professionals maintain high quality work for credibility and compliance purposes. An HR professional who does not care about the integrity of the work is not doing the workplace or the employees any favors.
Let's Get Physical!
Some physical activities to help relieve stress:
Tai Chi
Exercising at a fitness club
Bike rides and other outdoor activities with family
Nature hikes
Yoga
Long walks with the dog
Ways to Tackle Stress
There are many ways to battle the stress that HR professionals, as well as any employee, face in their workday. Consider the following:
Focus on learning. Take a look at available training and work related workshops to stay fresh on the field of Human Resources. Being on the cutting edge in the field of Human Resources requires time dedicated to keeping abreast of contemporary issues. Federal and state laws change the HR landscape frequently. One way to know what is happening in the world of work is to attend workshops presented by HR colleagues who study and then report what is happening in the field.
Look for advice from coworkers. It is always helpful to seek out other HR professionals, either inside or outside of the organization, who will have an appreciation for the types of situations that are stressing out the HR professional. Chances are good that these individuals will be going through same or similar situations. When possible, establish a relationship with a senior or more experienced HR professional who can provide advice or impart wisdom about their experience in the HR field.
Establish an exercise routine. Exercise has positive effects on a person's mental well-being in addition to the physical aspects. Working out at a gym or doing something as simple as taking a walk can release tension for the HR professional experiencing burnout.
Practice a healthy and nutritional diet. Eating healthy foods make you feel better at heart. While fast food and sugary treats may give short-term satisfaction, the lasting effects of a good diet provide long-term benefits.
Make a change in the daily schedule. Getting away from the everyday grind is very important to keep things fresh and real in HR. Being stuck in a routine can cause stress to a person dealing with employee issues.
Take a break. Walk away from the desk or take a day off from work. Well-planned vacations are good ideas, but sometimes a last minute day off is just the break an HR professional needs.
Spend time with friends and family. A day out of the office with friends and family might just be the best remedy for an HR professional experiencing professional burnout. Making family and friends the number one priority will provide a refreshed perspective on work.
Keep Moving Forward
The most difficult thing in life sometimes is to just keep on doing what you do in order to get past a difficult period. Getting up and having the courage to face the day is not something that everyone is able to do. Taking care of your health is necessary to complete the job of dealing with the challenges. HR professionals must care for themselves before they are able to support the employees and the organization. When the signs are there to give the HR professional concern, they must take them seriously, and act prudently to improve their well-being. The organization and its employees need an engaged, focused Human Resources Department to be successful.
About Author

Daisy R. is a research content writer and blogger from NY. I am a graduate of the New York University. Currently, I write for various sites as essay writing company or similar. I am interested in topics about parenting, education, business, motivation, health, writing, etc.
About the Creator
I am a highly motivated individual with a strong work ethic, and a successful career in the education industry. I have a proven ability to multitask and prioritize effectively.
Reader insights
Be the first to share your insights about this piece.
Add your insights