Scissors in a Frame Shop
Respect the Label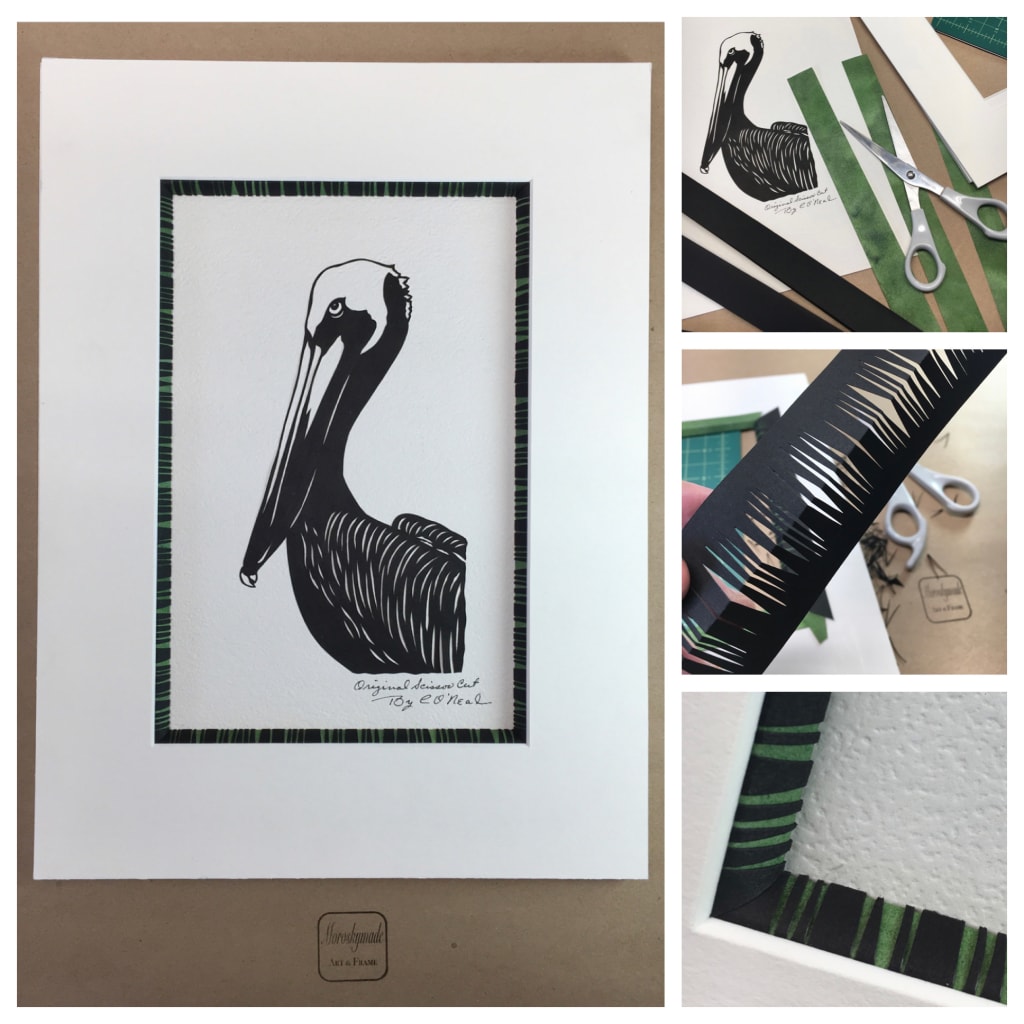 Original scissor cut by Charles O'Neal with original scissor cut mat, designed by me.
FABRIC ONLY. It's written in all caps just like that. It's meant to be shouted. Don't hold back. If you see this particular pair of scissors in a custom picture framing shop, beware. The employee, in charge of the expensive textiles, is not messing around. They put that label on the blade for a reason: The scissors must remain clean. They must remain sharp. They mustn't fray the fabric. Respect.
If you possess the fabric only scissors because you've been cutting fabric, and said employee says, "Hey, has anyone seen my fabric scissors?", just give them back. No harm, no foul. If you used them for some other purpose, like, let's say cutting really sticky tape, or cutting through impossible plastic packaging like on old-timey CD cases, just pretend they're lost, go to the store on your lunch break, and get a new pair. It's the only way to salvage any sort of amicable relationship with your coworker. They know you have them. They know you used them for something very, very, not fabric. Save yourself.
This anecdote is only slightly exaggerated. Keeping the fabric scissors sharp, clean, and free of adhesive is a serious business. Having worked in the custom picture framing industry since 2003 from big box stores to small businesses, to my own business, scissors are a huge part of the art and framing craft. Every shop has its textile scissors labeled. Of all the scissors in a frame shop, the fabric scissors garner the most respect or create the most drama. They may as well be the litmus test for the overall toxicity of the company culture.
Have you ever tried to cut fabric with sticky scissors? It's a nightmare, but stick happens, ya know? The scissors in my frame shop wear many hats. I use them for cutting paper or yarn, chopping thin wire, trimming threads after sewing down family heirlooms, jerseys, and silks. And, yes, very often sticky tape. On my lunch break, I enjoy trimming my own bangs and slicing up a pizza. I always have a pair within reach. I use WD-40 to wipe off the stick, the grease, the hair.
Forget fabric for a minute, have you ever tried to cut paper with sticky scissors? Different day, the same nightmare. I don't personally know the paper cut artist, Charles O'Neal but I feel for Charles O'Neal. Did he surround himself with people who loved to gum up his shears? I hope not.
I've enjoyed Charles' work since I was introduced. I inherited an original paper cut of his creation from a dear family friend who adored pelicans. I've been an admirer ever since. I've tried to research him only to find little about the man but an assortment of his art. He works from a single sheet of black paper, cutting and removing bits to create line, form, and texture. They are intricate and delicate designs often inspired by nature. I feel lucky to have a piece of his craft.
In the age of computerized mat cutters and laser precision technology, I found scissors to be a valuable and effective design tool in the custom framing industry. I don't need a computer or a laser. I enjoy working with my hands. That statement often means I don't understand computers. I don't. I can pull off charming designs without one (Re: I'm saving money for one). Hand me my scissors, please.
I wondered what it would be like to step into the world of papercraft, to create negative space with scissors and black paper, like Charles. With the cleanest pair of scissors I own, I cut one-inch strips of black Canson paper, folded it in half, and snip, snip, snip. My cut strips are backed with a sap green watercolor background so it feels like bird-watching in the tall ocean grass. This mat not only showcases the work and adds cohesion but will protect the work for years to come. This is my passion. I am a framer. My O'Neal pelican is ready for a frame.
I started my own custom picture framing business in 2017. I'm saving money while getting ready to take the leap to open a retail location in Vancouver, WA. Currently, I work out of my home. I work alone. I still label my textile scissors FABRIC ONLY. And to be completely honest, sometimes they get sticky.