Ron Navarreta Shares Interview Tips for Security Careers | Anaheim, California
Security operations manager Ron Navarreta explains ways you can succeed in your next interview.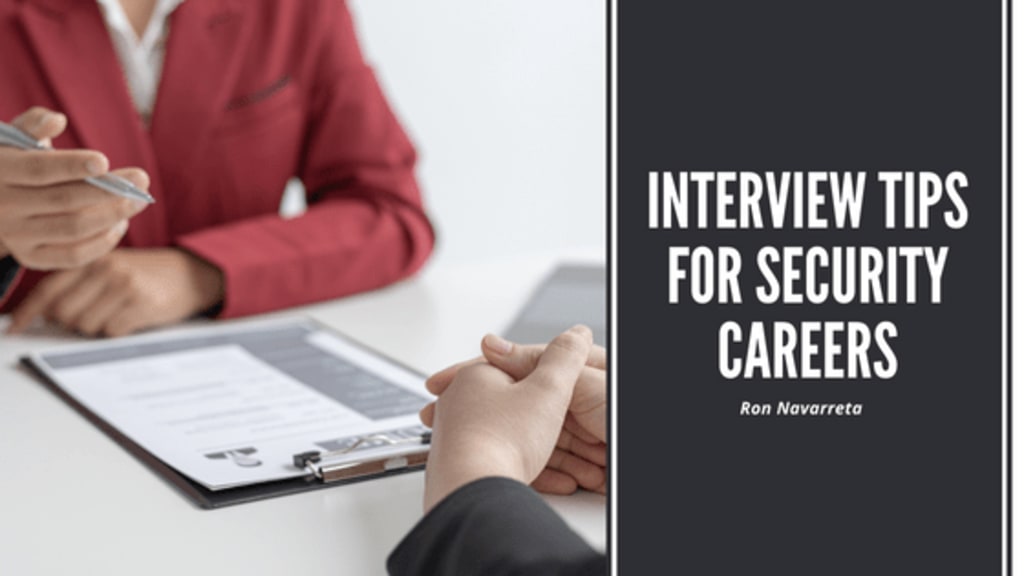 https://ronnavarreta.co/interview-tips-for-security-careers/
After successfully scoring an interview for a job as a security guard with a leading company, you're probably feeling a bit nervous about the next step. Even though you have the necessary skills and experience to succeed in the position, many people feel uneasy talking about their unique talents and experiences in front of potential employers.
If you're new to the security industry or are already an experienced professional, these tips will help you prepare for your upcoming security interview.
Step One: Research
Employers appreciate candidates who show they're serious about the position. One way to demonstrate their seriousness is by studying the company you're interviewing with. Your ability to talk about the organization's details will show that you are dedicated to the job and care about their performance.
Although it's not necessary to thoroughly study the company, you should still gain an informed understanding of their operations.
Step Two: Resume
Your resume will likely get you in the door. However, your ability to explain how your education and experience are relevant to the position will prove very important. You should seamlessly explain your responsibilities and achievements while discussing your previous work. You can highlight your awards by using numbers or anecdotes.
Step Three: Prepare Answers
You can improve your interview skills by practicing answering security questions. Ask a close friend or relative to join you and provide honest feedback so that you can be more confident and concise in your responses. Answering questions correctly will show that you can handle them and avoid miscommunication. Your interviewer will be able to see more clearly what you're capable of as an employee if you provide them with supporting details.
Step Four: Prepare Questions
You and the company will both be interviewing to find out if you are the best fit for the job. The security firm will ask you if you have the personality and skills to perform the job and if you are a good fit for their culture. You will also be trying to find out if the company can allow you to grow and develop.
Besides being able to demonstrate your interest in the job, planning ahead will also allow you to prepare questions that will be interesting and thorough.
ABOUT RON NAVARRETA
Ron Navarreta is a security and crime expert with almost 30 years of experience in the industry. He holds a Bachelor's degree, as well as a Master's in Corporate Security Management. Prior to working in the private security industry, Ron spent the majority of his career in law enforcement. As a young boy, he'd always dreamt of a career in the field, as offices and the traditional 9 to 5 never appealed to him.
When his dreams became a reality, Ron relished in the thought that he was a part of something bigger—an entity whose sole purpose is to give people a sense of security. Always a people-person, he loved constantly being around others and the dynamic nature of teamwork. After decades in law enforcement, Ron decided it was time for a change.
In 2015, Ron Navarreta joined the private sector and began his career in private security, working as a consultant, leading security teams, conducting security assessments, and managing client relationships. Ron soon realized that the teamwork component inherent in law enforcement precincts was also present in private sector security, so he found the transition easy.
Ron also found his career transition rewarding. Unfortunately, the current state of the world demands that critical infrastructure, private business, and the people within these institutions must be—and feel—protected. The perceived absence of security can demoralize individuals to the point that it harms productivity. Unplanned time off caused by fear and feelings of being unappreciated can be toxic to operations. Fortunately, a robust corporate security plan can mitigate such a negative impact, which Ron finds immensely rewarding as a security professional.
About the Creator
Ron Navarreta is a security operations specialist in the critical infrastructure space and an ASIS International board-certified security expert (CPP®) with experience law enforcement and private sector safety and security experience.
Reader insights
Be the first to share your insights about this piece.
Add your insights