Resurface your Web and Mobile Application Services with .Net Development Framework
This is why .Net framework is best for web & mobile apps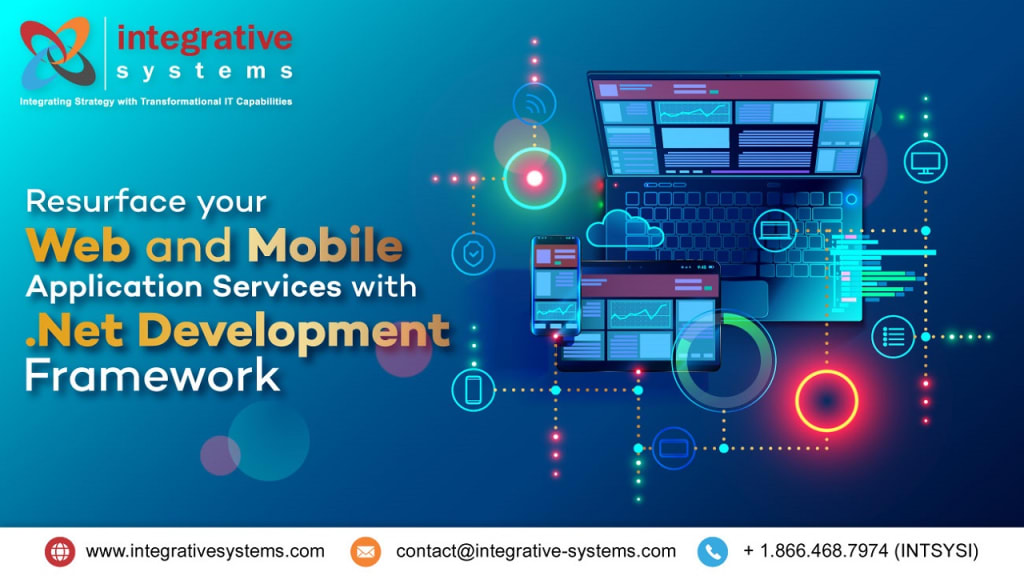 For more than two decades, Microsoft's .Net Framework has been one of the most popular programming languages. The platform intensified with the arrival of mobile apps, and cloud computing has further escalated it.
In the past few years, Microsoft has made significant changes to the .net development services to facilitate the dot net development firms. The has led the dot net developers to consider the .Net Framework feasible for application development.
If you are looking for a custom net development company for your next project, this article will provide you with valuable insights into the ASP.NET Framework.
History of .Net Development
Whenever we talk about the most demanded technology for mobile and web application development, Java and .Net emerge as top contenders for being the most advanced platforms in their segments. However, Java was the first one in this list, but now the momentum has shifted toward .Net, due to recent policies of Microsoft. Also, the platform is gradually gaining its position in the market.
Often .Net is described as the best development framework from Microsoft, and it's been here in the market for more than two decades. The reason behind its persistent popularity is strong support from the developer community, and due to this, .Net has 15% market share as of now.
Furthermore, Microsoft has made a new start with .Net, by leaving its proprietary technology history, and now it is shifting the platform to the cloud. Due to such state-of-art re-invention and up-gradation, .Net has gained momentum.
And now, the platform has spread out its wings and launched several programming languages. These languages are:
VB.NET
J#
VC++
JScript.NET
C#
And many other third-party programming languages
Mobile Apps Development on .Net
A few years ago, .Net was ignored entirely by the developers for mobile and web application development. The reason behind this was – IT industry was focused on end-customer, and they needed more responsive products with a higher reach percentage. As a result of this, the desktop and standalone products model became outdated as .Net development could not keep pace with the latest trends. As a result, the interest of the organization shifted to other platforms.
However, now .Net has started to keep up with the market trends, and Microsoft enabled it to develop mobile and web-based applications. Although, it took some time to bounce back again as dot net developers are also learning the new technology to develop products.
NOTE: Wireless Universal Resource File (WURFL) is the database that provides the name, type, dimensions of the screen, browser type, and version. Also, the database can be easily integrated with any other .Net project seamlessly.
Big Data and IoT through .Net Framework
The concepts of Big Data and IoT are huge. As a part of custom net development services, various organizations are offering big data and IoT solutions.
Also, when it comes to reliability and serving world-class user experience, the .Net platform is considered the first choice of dot net development firms. Moreover, when huge data input, analysis, and data presentation in an interpretable form is required, again .Net is the first Framework that strikes developers' minds. Therefore, it is an ideal platform for developing flexible IoT and big data solutions.
As the tech industry is evolving rapidly, interoperability is the next big thing in the IT sector. This move will allow easy integration of apps with IoT devices.
The wide array of Products and Solutions
.Net development solutions can manage various management operations and tasks in an organization. The task like inventory management, mobile apps development, supply chain management, dynamic websites, and custom CRM solutions.
Several industry verticals have embedded .Net Framework because of its high security and reliability. Moreover, the information security framework of .Net has been implemented by various government and private organizations. Because in case of a data breach, it can destroy all such threats and restart itself.
Future of Dot Net Development
Thanks to Custom .NET Software Development Services in the market, the future for the .Net family looks very promising.
The future of the .Net Framework looks promising, and all thanks go to dot net development firms in the market. Furthermore, Microsoft is also enhancing the platform continues to make it more effective. This move will encourage more dot net development firms to use this platform for application development.
With features like - WYSIWYG editing, automatic deployment, and drag and drop server controls, the dot net platform is a shining star in the future.
Conclusion
By going through the blog, you must have an idea about the features and scope of the .Net development framework. So, if you are looking for an experienced dot net development company to discuss your next project, then consult with Integrative Systems today.
You can also send them an email at [email protected].
Reader insights
Be the first to share your insights about this piece.
Add your insights