Questions To Ask Before Hiring a Digital Marketing Agency
Thinking for hiring a digital marketing agency?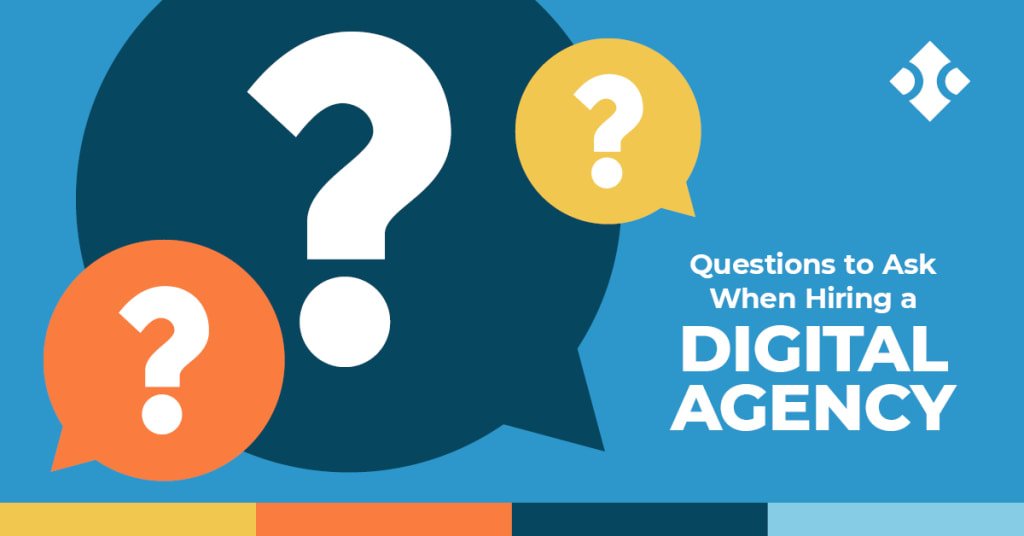 If you are reading this, you are probably on the verge of hiring a digital marketing agency and are in dire of reliable and effective digital marketing services. Unfortunately, it may so happen that an agency has just burned you, and now you want to be more careful while hiring the next one to finish your work.
Since there are too many digital marketing agencies available in the market these days, it is difficult to pick the best and discard the rest. Therefore, you do not know which one is suitable for conducting efficient and effective digital marketing work.
To help you choose a suitable digital marketing agency, first, you have to know to ask questions to the professionals. Here we have presented a few questions that you should ask a digital marketing agency before hiring it.
List of questions to ask
Before we get into the questions to ask a digital marketing agency for hiring it, let us first divide the digital marketing agency into its essential departments. The questions to ask a digital marketing agency will depend on its departments and will undoubtedly vary from one another. Given below are the questions that you ought to ask concerning the different digital marketing agencies.
• Search engine optimization
Here are the questions to be asked related to SEO:
- Do you abide by the guidelines of the Google webmaster?
A digital marketing agency should always follow the rules mentioned in the policies of the Google webmaster.
- How do you earn high-quality links?
Ask whether the digital marketing agency has appropriate placement opportunities and reaches out to bloggers.
- How will you improve the search engine rankings?
Ask the process of search engine optimization to the agency and see if you are suitable for it.
- What should I do to make the campaign successful?
Find out the information that you can give to the agency to make the campaign successful.
- When will I see the results?
Ask the agency about the number of days to notice the results and see the difference.
• Content marketing
Given below are the questions that you should ask in digital marketing about their content:
- Can you show some of your previous work?
When hiring unknown digital marketing with whom you have never worked before, it is imperative to check a few of their previous works.
- How is your content optimized?
Learn about the process taken up by the team to optimize and connect with your target audience.
- How many contents, both internal and external, can you create every month?
If you have to stay at the top and rule the search results, you must keep posting regularly. But, first, find out the number of contents that the agency will post both internally and externally.
- How will your writers familiarize themselves with our business?
Every business is unique in its way. Ensure that the digital marketing agency writers you choose quickly catch your brand's requirements and get accustomed to them soon.
- What are the types of content that you work on?
Find out the different types of content that the writers of the agency can create. The more variety an agency can produce, the more it should be hired.
• Paid search
Here are the questions to be asked:
- Do you have a Google partner badge?
When a digital marketing agency has a Google partner badge, all the employees in the agency are certified by Google AdWords and have access to their own Google agency team.
- Do you have experience in managing social media platforms?
Since social media can give a business the broadest possible reach, all the team members in a digital marketing agency must have enough experience in managing social media.
- Do you offer services across multiple PPC platforms?
Although Google is the most widely used search platform, it is better to find out whether the digital marketing agency you hire uses Bing Ads.
- What metrics do you use in a standard report?
The agency you hire should deliver you standard reports by which you can clearly understand how your paid search ads are performing.
- What tools do you use to optimize paid search?
Some digital marketing agencies use tools to optimize paid search that is too expensive for you to buy for in-house purposes. Check out the tools they are using and look for their effectiveness.
• Social media
Since social media today has acquired a large share of space, it is vital to know the following things from a digital marketing agency before hiring it:
- How do you measure ROI on social media?
Measuring the ROI is very important as it will tell you the return that you can get upon your investment. When using social media, it is essential to know how much feedback you are getting in return.
- How do you process community management in social media?
Ask the agency the methods that they are using to gather the target audience and engage them. The more you engage your customers, the more awareness does your business gets.
- How will you ensure that your social media presence reflects our brand?
The agency you hire will be formulating social media strategies to make your brand reach out to the desired customers. Ensure that the social media strategies are consistent and in sync with your business or brand's goals.
- What is your content development strategy?
When it comes to producing great content, the social media team and the content marketing team have to work together.
- What social media platforms should my company undertake?
Not all social media platforms are suitable for all businesses. The digital marketing agency should be competent enough to understand the social media platforms that work for your business.
Conclusion
Therefore, when you are hiring a digital marketing agency the next time, make sure you ask the questions that have been listed above. Before hiring, clarify all your doubts.
advice
Ajay Ratra is a 30-year-old management consultant who enjoys binge-watching boxed sets, writing on various niches especially on Education Sector and listening to music. He is bright and giving, but can also be very rude and a bit lazy.
One of the more confusing aspects of the computer world has always been the wide variety of file formats. You create the perfect document and half the people you send it to can't open it. How frustrating! Or you design an awesome logo in Word and the sign shop or newspaper say they can't use it. They tell you they need a vector file. Why are these things so complicated and

Where do I even start about YouTube? Well, as this is my first post, I suppose I should start with myself, first. My name is Sophie Alice, I'm a 20-year-old living in England, studying two college courses, those being a Diploma in Counselling Skills Level 3, and a Diploma in Assisted Teaching in Schools Level 2. I was studying Functional Skills Maths Level 2, but then I learnt my name wasn't on the exam register and that course kinda crashed and burned.

Looking at the growing number of online opportunities in our nation, it is evident that payment gateways are an essential component of the online economy. Choosing the finest Online Payment Gateway in India is one of the most essential things you must do when developing a strategy for your online business. Read on to learn about the factors to consider while selecting the finest payment gateway in India:

In today's age and technology, developing an app is no big deal. You need to have a concrete idea that fills the existing loopholes, and set a budget under which you will develop your app. You might want to hire any mobile app development company that will get most of your job done.

Short on cash? Struggling to get by? You are not alone! If you are like most people these days, you are living on a budget. Living within your means can be difficult, which is why most of us have accumulated some kind of debt. Be it student loans, credit card bills or otherwise, we are all feeling the pressure!

I stand alone. However, I am busy with my thoughts. The thoughts and ideas of what I must do for the rest of the day buzz around in my head. So, I don't feel alone. I pull out my phone to look at the time, but I am so deep in my thoughts that I forget my initial purpose for pulling my phone out. So, I put it away again. I stand here with all the tasks of the day screaming in my head. "Read the rest of the chapter," they say, "don't forget to take that test", they demand. I forget. I forget it all. I forget every idea, every single task, and every responsibility that I have. In this moment, as the wind billows up far behind me and pushes against my back, moving my hair and ruffling my shirt, I am sent back in time. I turn towards the wind, I feel it in my bones to turn, and as I turn, I breathe in. The carefree air enters my nose, and it feels like the air is connected to my memories. I am instantly transported back to a simpler time.