President at 22
Insight into My Life, and How I Grew to Own a Company at 22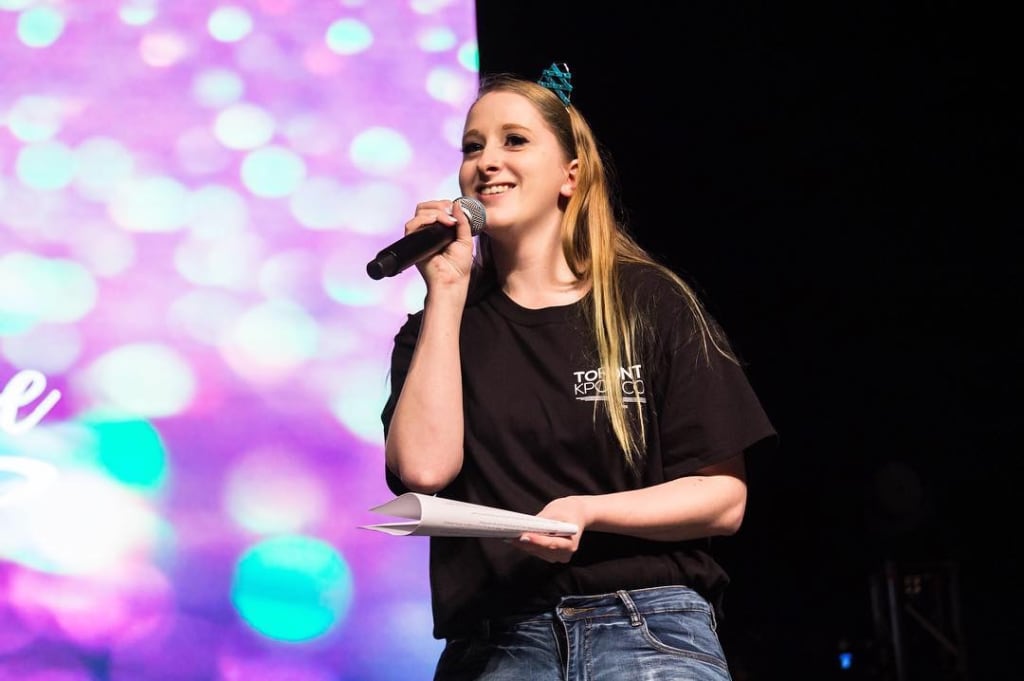 When I was a child, I had many dreams. I wanted to become a rockstar like my dad, I wanted to become a famous singer, I wanted to become a fashion designer and stylist, and I wanted to own my own company.
Fast forward to now, and I am a YouTuber, Instagrammer, and President of a company. Though I still hope on the side to start fashion design and I would love to still become a stylist, and singer. Rockstar though, is definitely out of the picture.
First of all... I did not start my company! What the weird thing is, is that I was asked to become president by two people who had begun the work towards starting an events company. The one person I had met when I was working backstage at a concert stop in Toronto, and he was one of the people who was front of the house working. The other person, I had no idea about until we met for the first time when he returned from Korea.
In May of 2017, I got a message that talked about their general idea and asked if I was free to meet to discuss possibly turning this idea into an actual thing. It was a great idea, because as someone who worked on many events while in Toronto, this company idea was planning to fix the things which so commonly happened during events, which could be prevented with proper preparation.
Sadly, in May of 2017, I was working almost full-time preparing a four hour show with 187 performers, so I had little time to discuss in detail, but I informed them that I was interested in meeting about it. I was about half and half leaning towards the idea of becoming a part of their team, but also half towards continuing on my own. But after the event ended in May, and having the recognition being taken by the "owner" I was extremely dissatisfied. None of the staff had been given food for the weekend work, and while some staff were free to take pictures after the concert, the staff who were working were forgotten about. I didn't like that.
So we met in June of 2017, one of the conditions I had was that I wanted to ensure staff were paid for their work, or at least recognized for their contribution. And I wanted to ensure that the staff were not taken for granted, and were given rewards for being a part of our group.
It started out with a simple Facebook post, mentioning the overall idea of creating events in Toronto for Koreans and Canadians, with the motto "Combining the Korean and Canadian Communities One Event at a Time." And I got many messages... Probably at least ten from people who had been working with me on the event last May, and some from friends whom I had worked on other events with before.
We met with everyone on different days since we know not everyone's schedules matched up, and we talked with them about what we wanted to do as a group, and we mentioned that while we cannot always pay them for their work, we will always recognize their efforts, and will not force them to work during their busy times. We let them all know that if they have assignments and classes or exams, that those take priority over our company work, and we explained that if they were too stressed with everything they are free to take a break or just become a general volunteer who helps out the day of events, rather than assisting with all the behind the scenes work.
From those people we elected five people to become the team leaders, and then the other six were staff. With each person on one to two teams, until we were able to see where they were best fit, we had a functioning team full of people who were excited for what was to come.
Our first large event was actually something my friend had been working on, and they needed help last minute. It was the Korean Harvest Festival, and they have the Hanbok (Korean Traditional Clothing) booth every year, but this year they had no group to run it. So they asked me if I could be in charge and I offered up our group to run it for them. As it was a favour we made no money, however they were impressed with our organization and asked us to run it again next year.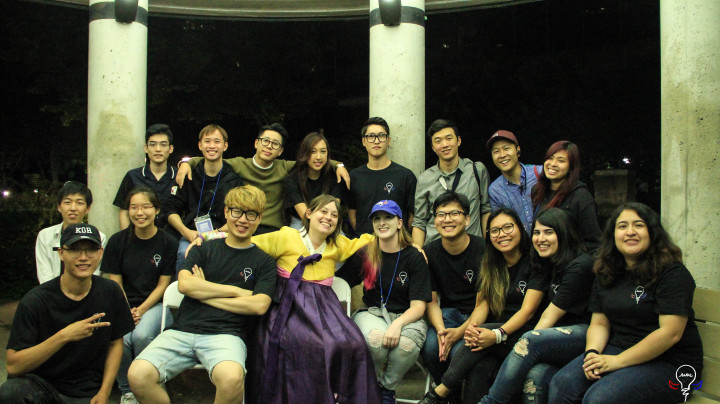 After that, The Consulate General Republic Of Korea in Toronto was working on Korea Week, and during that week there was this event surrounding Korean food, but they needed more help organizing the event and so I was contacted by them to assist, and offered up our group again to assist.
We worked on a social event, where we played games that had people talking with each other, assisted last minute with running a part of a York University Running Man event, where we had the participants play a quiz and take a photo at the same time, we were incredibly busy. We also organized a meet & greet with the stars of Kim's Convenience, which is a popular show centered around a Korean family in Canada running a convenience store.
With the Kim's Convenience Stars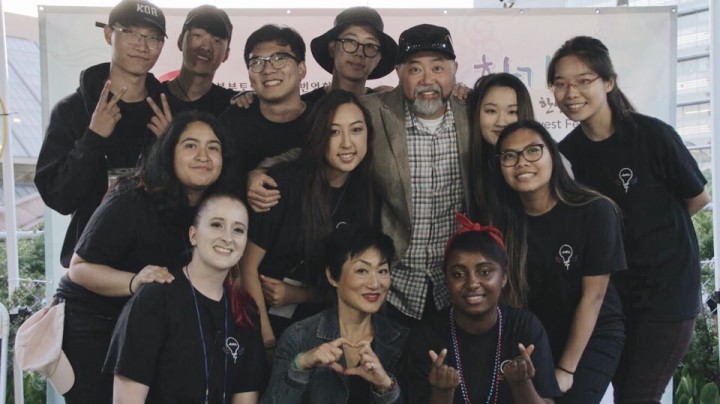 With the amount of business we were having we realized the need to expand once again, so that we did not exhaust our team we had currently. So we held a public recruiting session where they filled out a google form, then we contacted those who best answered our questions, and held an in person informative interview.
Our group expanded from 15 (me, two vice-presidents, five team leaders, and six regular staff members) to 24, and our regular staff members were promoted to executive staff members. This meant if a team leader was unable to work on one event, one of the executive staff members would step in and lead.
We began holding workshops for the event-planning team, teaching them exactly how to create event proposals, budgets, production schedules, critical paths, and marketing plans. We began having our film/media team working more on our video series which is set to be released in 2018. Our marketing team focused more on other events we could share on our group, and how to increase our social media following. Translators team began recruitment as the need for translators increased, and the pay per word was set. One of the vice-presidents purchased our email and website domain, and the other purchased our business license and put all our names on as owners.
We held a Halloween event, and had our mini-bar as well as charged a fee for those who attended (discounted fee for anyone who was a part of our group), and we hired staff for the night and paid them minimum wage for their work for the four hours. We had a Christmas party which was extremely successful, and had staff who worked the night, and paid them for their work as well as saved money towards our next event.
Photo from Our Christmas Event
Personally, I began looking into holding weekly language exchanges and promotion plans for that, as well as event proposals in collaboration with many groups and companies.
Our next steps involve releasing our video series informing people about Korean slang and English slang, releasing our website, working on our launch event (we have not officially launched as a company as we've been too busy helping with other events to do that), working with the consulate on events for 2018 promoting Korean culture, and more.
I am only 22 years old, this business started when I was 21 years old, and it's constantly growing and adapting to the needs of our unique industry. I had to give up a lot in order to become the type of boss I wanted to be, and I have some regrets.
I had to stop hanging out with friends as much, because my business meetings took priority. I had to save a lot on money in case we went over budget for events and the staff needed to be paid. I put a pause on my personal YouTube and Instagram accounts in order to ensure that the business would be successful. I ended up breaking up with my previous boyfriend for the reason that I became too busy, and didn't want to put my career on pause for the relationship.
BUT... there are a lot of positives.
I was able to make use of my experience and create fun events with positive reviews. I was able to meet lots of businesses and promote our group as the up and coming company to look out for. I met new friends and became close with my staff, who I consider to be my second family now.
Our company is called Narae officially, but our social medias refer to us as Narae Events. We are a group of people who are dedicated to creating events where Koreans can interact with Canadians without cultural, language or social barriers and vice versa.
Check us out:
Facebook: Narae Events
Instagram: @NaraeEvents
Twitter: @NaraeEvents
Email: [email protected]