Political correctness a distraction from real issues
When prejudice takes over from logic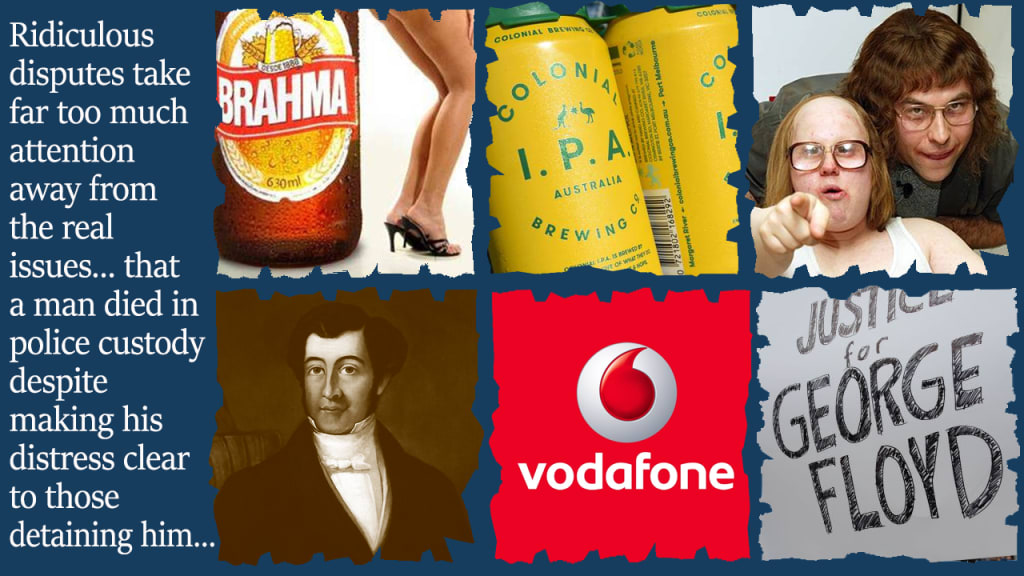 Sometimes it seems the world has really gone mad in the name of "political correctness" with everything from television programmes to beer brands subjected to scorn following the terrible events in Minneapolis in May when George Floyd tragically lost his life in highly controversial circumstances.
There are no excuses for what happened to Floyd, but the aftermath of the justifiable protests that took place across the world seems to highlight the ridiculousness that exists in society to stay on the side of righteousness.
The desire to remove statues of slave barons is totally understandable, but calling for apologies from the cast of Little Britain for some of their sketches is several steps beyond. Their work was done as satire and pulled no punches, with all of mankind's foibles fair game for David Walliams and Matt Lucas.
I do not believe their humour was inherently racist, it may have been in poor taste at times and upset people from all walks of life, but it challenged stereotypes and focused attention on our prejudices... and for that they should be proud, not apologetic.
Likewise, cajoling product manufacturers to change the names of their goods because of some perceived offence is, to my mind, taking political correctness too far in the majority of cases, although there are always exceptions.
Take, for example, a beer I'd never heard of produced by a brewery from Western Australia.
Located a few hundred miles south of Perth in Margaret River, Colonial Brewing Co was forced to contemplate changing its brand last month after its beers were pulled from bottle-shop shelves across Australia.
The microbrewery's products were taken down at Blackheart and Sparrows shops in Victoria, the ACT and Tasmania because the brand was "stupid and degrading" towards indigenous Australians and people from countries that had been colonised, according to the Melbourne writer who steered the campaign against the company.
It was argued that the word "colonial" in the name was degrading towards indigenous Australians, but it hardly cries out racism does it?
"In light of the current climate and recent events, Colonial Brewing Co acknowledge the significant stress and angst of the Black Lives Matter community," Colonial Brewing Co managing director Lawrence Dowd said in a statement, adding the company was considering changing its name.
He said the company had been reviewing the name for a while but had faced an increased backlash recently.
"We have had significant messages and comments regarding our name, we want you all to know: we hear you," Dowd continued. "The brand and name Colonial Brewing Co was inherited in 2008 when we purchased what was, at the time, a small microbrewery in Margaret River; it was not chosen or intended to celebrate colonialisation."
In this instance I'd kind of expect market forces to be allowed to play their part. If the name is offensive to people they can choose not to purchase the product… surely that is how the world should work?
Personally, I believe Blackheart and Sparrows' measures were a bit extreme, they shouldn't feel pressured to stop selling a product because of political manipulation from outside. I accept their right not to stock a brand they believe to be offensive, but I'm not entirely convinced that's what led to their decision.
Colonial Brewing Co's range includes draught beers, IPAs, pale ales, ciders, porters and sour beers, which come with a distinctive lid. The company tapped its first keg in 2004 in Margaret River and opened another brewery in Port Melbourne in 2015. It is now a national Australian-owned brand, with the Port Melbourne expansion giving it the ability to brew up to seven million litres. Does such expansion really suggest the name causes that much distaste?
But in the brewery industry the ludicrous state of affairs doesn't end there, there's an even more bizarre dispute going on.
The world's largest brewer, Anheuser-Busch InBev SA/NV, is under pressure to remove the name of a Hindu god from a popular beer it produces that dates back to the late 19th century.
An inter-faith coalition, which includes representatives of the Christian, Jewish, Buddhist, Hindu and Jain religions, is calling on the Belgium-based brewing giant to rename its Brahma line, a favourite in Brazil, in a ruckus the beermaker insists is a case of mistaken identity.
Brahma was first produced in 1888 by Companhia Cervejaria Brahma, a Brazilian brewery now owned by Anheuser-Busch InBev, whose massive line-up of 500 brands includes Budweiser, Bud Light, Corona and Stella Artois.
"It is the right time to fix an old wrong, the trivializing of the faith of our Hindu brothers and sisters for about 132 years," coalition spokesperson Rajan Zed told the Associated Press.
The Hindu god of creation, Lord Brahma is a highly revered figure who, according to Zed, should be worshipped in temples or home shrines "not misused as a toasting tool".
He said the coalition also objects to what it calls "raunchy" marketing of the brand by using the image of a scantily clad woman to promote the beers.
But Lucas Rossi, head of communications for Anheuser-Busch InBev's Latin America subsidiary, said the beers were named in tribute to Joseph Bramah, an Englishman who invented the draft pump valve, and not the Hindu deity. The spelling was changed, he said, to make the name work better in the Portuguese language.
"We deeply respect all religions, faiths and their histories," Rossi said, adding that Hindus are a tiny minority in Brazil, where the Brahma brand is "very important to the culture of the country".
Beers sold under the Brahma name include a lager, a double malt, a wheat beer and a chocolate stout, but Zed said the name offends regardless of its origins.
"The stated history behind the name does not reduce the pain of the Hindu devotees when they see their creator god on alcohol cans," he said.
Once again I think too much credence is being given here to the biased views of some faiths seeking to take political correctness too far. There are a huge number of advertisements in the world that offend me, but that is down more to my own prejudice than that of the organisation's producing the campaigns.
Many would argue Vodafone, Procter and Gamble, Alfa Romeo, Starbucks, the Chicago Bulls and Google should change their corporate identities. Why? Because of the perceived satanic subtexts they contain.
Sure, all these emblems may say more about the organisations than most of us realise, but once they are pointed out we still reserve the right to boycott the products.
At the end of the day these ridiculous disputes take far too much attention away from the real issues in the world… that a man died in police custody despite making his distress clear to those detaining him. This is the issue people should focus on, not whether Anheuser-Busch's adverts for a beer are a little bit raunchy and the name of a Hindu god is taken in vain!
About the Creator
From Covid to the Ukraine... nothing is as it seems in the world. Don't just accept the mainstream brainwashing, open your eyes to the bigger picture at the heart of these staged productions.
JOIN THE DOTS: http://not.wildaboutit.com
Reader insights
Be the first to share your insights about this piece.
Add your insights