paper, scissors, happy
Creating worlds of joy with paper sculpture
"Another Day in Paradise" Paper sculpture in progress -P. D. Murray
I've always loved how creative stage design, even with a minimum of materials, can build a magical world. My current craft is inspired by this art form, sculpting painted paper to make small dreamscapes that transport me to my happiest of places.
I paint a lot and, invariably, there are disasters. But instead of discarding my not-quite-up-to-snuff works, I gather them for a joyous second life. I start by cutting out interesting textures and shapes. A broad swath of turquoise, snipped into serpentine strips, suggests an ocean. A tiny crimson patch becomes a crab. And a pink blob dovetailed with an emerald fin could be a mermaid.
I shuffle the shapes and scissor them with more finesse, adding texture and pattern with oil and acrylic markers. Gradually, each element coalesces into a whole. When I'm satisfied with the overall composition, I begin hot-gluing the sculpture together. I've experimented with other adhesives but found that hot gluing adds speed to the construction. The backplane of paper is designed to fit flat into a 4-inch deep shadow box. But as I add components, the scene grows in depth.
Unlike collage, the sculptured paper can weave over and under, creating subtle shadows. In the past, I've added other materials: feathers, shells, beads, bones, fabric, and glitter, but I've come to love the purity of simple paper, paint, scissors, and glue.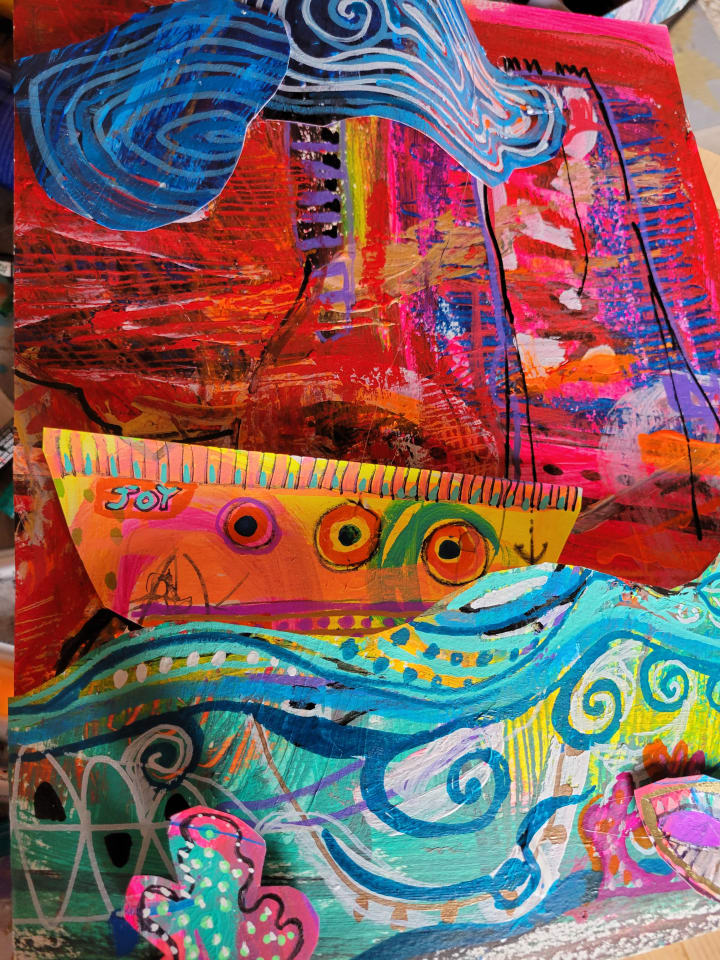 The themes I pick are almost never pre-determined. Rather, they emerge intuitively, in response to color and form. I'm no realist; for me, the happiest process is pure discovery. Because each piece becomes a world unto itself, I prefer scenes that are set in vivid landscapes, seascapes, forests and jungles. I often cut tree leaves and branches so that they can bend away from the larger groups of foliage. I layer clouds and waves for added interest. In keeping with the cheerful process, the figures I add are intentionally child-like and expressive, with no attempt at accurate representation.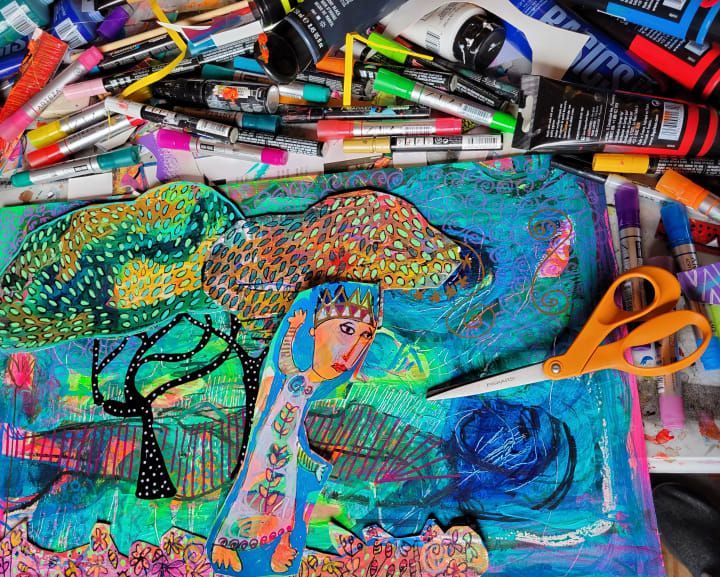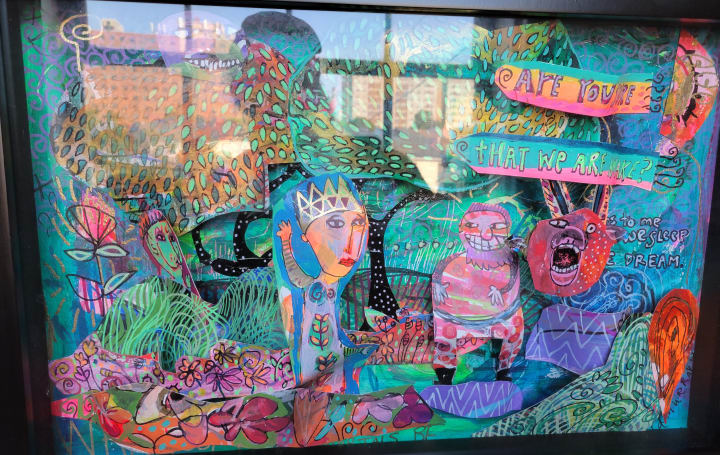 As any crafter or artist will tell you, the journey truly is the destination. When you're in creative "flow" time slips away and the myriad of everyday concerns ebbs. As I design dreamscapes, I hear snippets of favorite lyrics, remember places I've loved, and immerse myself in the deliciousness of color and form.
Even more recently, I've found a simple way to make these works interactive. I attach fishing lines to certain elements, thread them through the back of the piece and drill holes in the bottom of the frame for them to descend. By adding large wooden beads to the ends of the lines, the viewer can pull on them to make parts of the dreamscape rise and fall. With this most basic of techniques, I've made scenes with boats that float on the tide, suns and moons that dawn and set, and even a whimsical UFO that lifts a startled cow into the sky.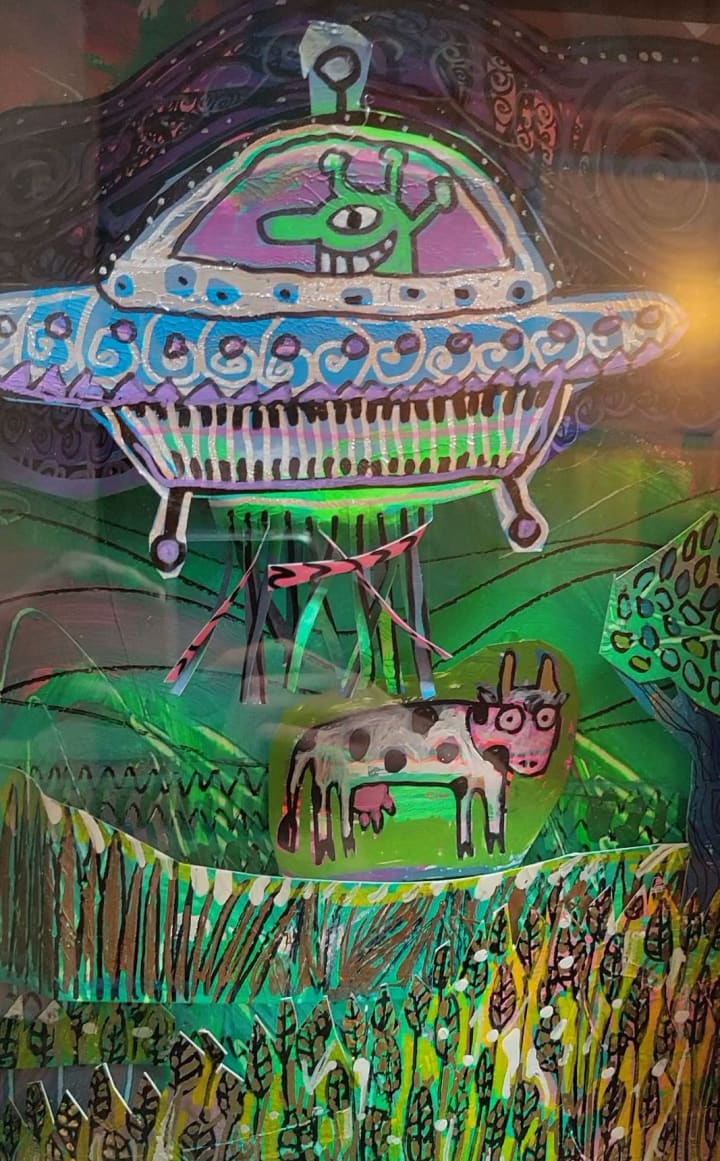 But don't think you have to be a painter to try this for yourself. You can craft your own happy dreamscapes in shadow boxes using family photos, pictures from magazines, wallpaper, cardboard and more. You may be surprised at what treasures lurk in your recycled trash. You can explore how different papers bend or curve according to their thickness. Tissue paper can be crumpled and added for delicate color and texture. Traditional Origami papers can add instant patterns. Handmade papers with embedded leaves or twigs inject natural textures.
Even kids can get in on the fun. With your help, a brightly crayoned picture can be reassembled with added depth, making the perfect family memento.
Just find some paper, grab your trusty Fiskars and let your inner child start snipping away. Soon enough, you'll be creating your own happy place.
About the Creator
Murray is an accomplished painter and writer.
Through 2010, he was shown exclusively by Treehouse Studio Galleries. His work hangs in private collections around the world. He's also published 5 books. You can see more at www.pdmurray.art
Reader insights
Be the first to share your insights about this piece.
Add your insights