Sooo, @Vocal, do you know what today is? No?
To be completely honest, I didn't expect you to remember.
Today is our first anniversary! One year ago today, I decided to take a chance on you.
Don't worry, I know some people don't really keep track of these things and I accept that about you.
So, I got myself a gift from you! It's a gorgeous sustainable note book, for jotting down all my amazing ideas. How thoughtful and appropriate for our anniversary! A first anniversary traditionally being paper, of course.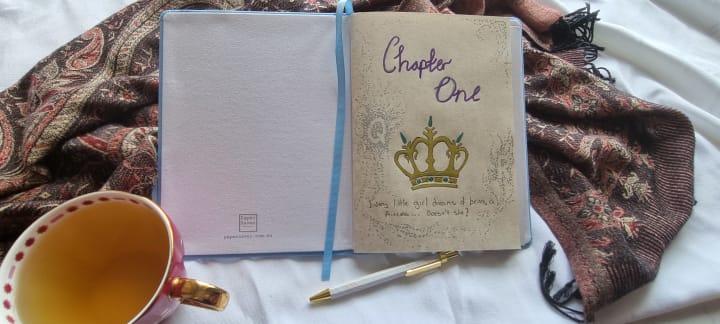 I can't wait to see what you (ok, I) get me for our diamond anniversary!
All jokes aside, our anniversary is on my birthday. I expect two separate gifts next year.
On a serious note, it has been a year since I started publishing with Vocal Media. Other than a terrible, cringe-worthy attempt at a blog in my early 20's, I have never published before. I have written on and off over the years, but never really got very far with anything I started.
There are a lot of reasons for that. More than likely a few excuses thrown into the mix, too.
It's important to remember there is a big difference between a reason and an excuse. An excuse is what we use to hide the reason.
Hold on to that for a minute, it is relevant.
The first piece I published was an open letter about why I choose to write. I can't say it was brilliant, but it was heartfelt and raw. It also helped me cement in my own mind why I was embarking on this journey. And that is where the Excuse 'v' Reason becomes relevant. I couldn't make excuses to myself anymore when it was laid out bare. I couldn't tell myself I didn't have time. I couldn't use losing motivation as a reason not to try when Vocal and its communities are so encouraging. I couldn't hide behind myself anymore.
I really had no reason not to try, the excuses just weren't holding water any more.
After 12 months, I think I've learned a few things. I know I have a lot more to learn, but I think I'm off to a great start!
What I think I know so far:
(I am absolutely ready to revise if I'm proven wrong!)
1. Author, know thy self.
It is so easy to lose sight of why we are writing.
I started out not knowing much about Vocal, other than researching to make sure I kept the rights to my work.
It didn't take me long to find out about the Challenges and barely a month to discover a Vocal+ membership was required for a fair number of the Challenges. Which I wanted very badly to be able to take part in.
After all, how many of us can resist the allure of the rewards associated with winning a writing competition?
And for those who don't find cash a motivation to partake of a Challenge?
Ah! How about the publicity?
The most common thing I hear/read on both Vocal social media support groups and indeed, even on other Creative Writing and Author support groups, is we should be writing for the love of it and publishing, not for remuneration, but for the opportunity to share our writing. Well, a place in a Challenge will most definitely lead to wide spread reading of one's ideas.
Personally, I find it a slightly narrow minded thing to say to an author that they should not ever want to make money from their writing. For me, if I could make a living or, a little more realistically, even a little extra from my writing, I could write and share more.
That is just my personal opinion though. Where ever your own personal opinion lies, there is an advantage in even being shortlisted in a Challenge.
So why do I say 'know thy self'?
Because it's easy to get caught up in the excitement of what amounts to a lucrative competition.
I felt incredibly discouraged every time results were announced and I didn't get so much as a look in.
Why was I not good enough?

Am I really rubbish and no one has the heart to tell me?

Am I that poor sod on the blooper reel everyone laughs at?
It took me awhile to realise not placing or getting short listed didn't mean anything, really.
So my style wasn't what the judges were looking for. Does that mean my writing is awful?
The short answer is no.
I just needed to remember why I started writing in the first place. And occasionally when I feel particularly proud of a piece, I have to remind myself I'm not publishing to Vocal for the money or even the attention.
I publish because it keeps me motivated to keep going and to try new things.
Which brings me to a second revelation.
2. It's called a Challenge for a reason.
I've noticed, Vocal, your completions are called Challenges.
And I think I may have realised why.
The prizes are certainly worth while. But I've come to the conclusion, they are more an advertising tool than anything else. A Challenge on its own? We would see a few die-hards enter, for sure. But it becomes much harder for both current and perspective Creators to scroll past when there is a prize like cash involved.
Challenges are designed to be exactly that: A challenge.
Something to direct creativity, get Creators thinking.
Sometimes, something to direct us away from our comfort zone. To inspire us. To prevent us from losing the motivation to keep going.
I don't know if this was your intention (it probably was one of them) but working on Challenge entries has helped me refine my style. I also have a personal policy to attempt most of the Challenges. Which has helped me identify my strengths and my weaknesses. It gives me something to work on. Knowing myself though, I'll leave most of the poetry Challenges to those better skilled in the genre.
Ultimately, I've learned to treat the Challenges as exactly what they are. An opportunity to learn, grow and develop.
3. I am by no means a marketing expert!
I've run my own business before and I didn't do too badly with marketing.
But this is a whole different ball game.
I follow at least 6 Facebook pages dedicated to Creators sharing their work, I have a personal Facebook page as well as From The Pen Of Lilly Cooper (a personal blog page for sharing updates and articles), an Instagram page and website (though the website is more for when I finally publish a physical book).
I'm yet to try TicToc, though Vocal recommends it. I can see the merits, and I won't say never, but we shall see. In the mean time, I'm working on something a little different, which I will share when I finally finish it.
Why am I concerned with marketing at all if my focus isn't making wads of cash?
One day I'm going to finish one of my first drafts and work towards publishing a book. Creating networks now and having my name and my brand recognised will help to some degree when I finally publish.
Also, I'm aware that reads and interaction with Challenge entries are used as tie breakers.......
Just because I'm aware enough to not get depressed when I don't get short listed doesn't mean I'm not going to give myself the best chance I can if I ever hit the right note with the judges!
What I have found is that marketing online short stories and articles is hard.
It is time consuming and it takes dedication to find out what works and what doesn't. If a creator's aim is to make a decent amount from reads, they need to come up with a really effective way to reach alot of people.
For me, I'm in for the long term game. Slow and steady wins the race. By the time I actually get to publishing, I will have learned much more about how to market!
4. Judge not.
I don't mean judging other Creators.
I mean judging myself.
As it turns out, I am not a prolific writer.
When I first started with Vocal, I under estimated how long it took to write even a short story.
Did you know that on average, without editing, it takes a solid, uninterrupted 4 hours to write 4000 words?
Obviously for some it's less, others it's more. There are a lot of influencing factors.
Me personally, I don't usually get 1 uninterrupted hour, even on a weekend. I grab time when I can and occasionally stay up to the wee small hours of the morning to get a piece finished by the deadline.
It's a common piece of advice on entering challenges that the more entries submitted, the better your chances of winning. That absolutely makes sense, for many of different reasons we won't go into right now.
It didn't take long for me to start seeing individual Creators submitting multiple entries for the same challenges. I started wondering what was wrong with me as a creator that I wasn't achieving the same volume of content.
How [email protected]#p must I be to only ever manage to publish a measly 1 entry?
The answer was easy: I'm not crap at this. I'm just different.
I have a lot of commitments that are time consuming. My process for writing and editing is time consuming. It makes very little sense to compare and be critical of myself because I'm not living up to someone else's potential.
Final Notes
One thing I know about being an author is that, like in life, we are constantly being presented with opportunities to learn.
About ourselves and about our art. We just have to be open to learning and recognise the lesson when it's in front of us.
I'm looking forward to the lessons I'll learn in my second year with Vocal and the many communities that have sprung up around them.
P.S. Vocal, a traditional second anniversary is cotton. I've been eyeing off a nice throw blanket to curl up under for writing during winter..... Oh, who am I kidding?! Id be happy with a Vocal Media T-shirt!
About the Creator
A journey of a thousand miles starts with a single step.
I may be an amateur Author, but I love what I do!
Subscribe to join me on my journey!
Reader insights
Outstanding
Excellent work. Looking forward to reading more!
Top insights
Expert insights and opinions

Arguments were carefully researched and presented

Easy to read and follow

Well-structured & engaging content

Excellent storytelling

Original narrative & well developed characters
Eye opening

Niche topic & fresh perspectives

Compelling and original writing

Creative use of language & vocab

Heartfelt and relatable

The story invoked strong personal emotions

On-point and relevant

Writing reflected the title & theme
Add your insights