Only I can do What I can do
Pull Yourself up by Your Bootstraps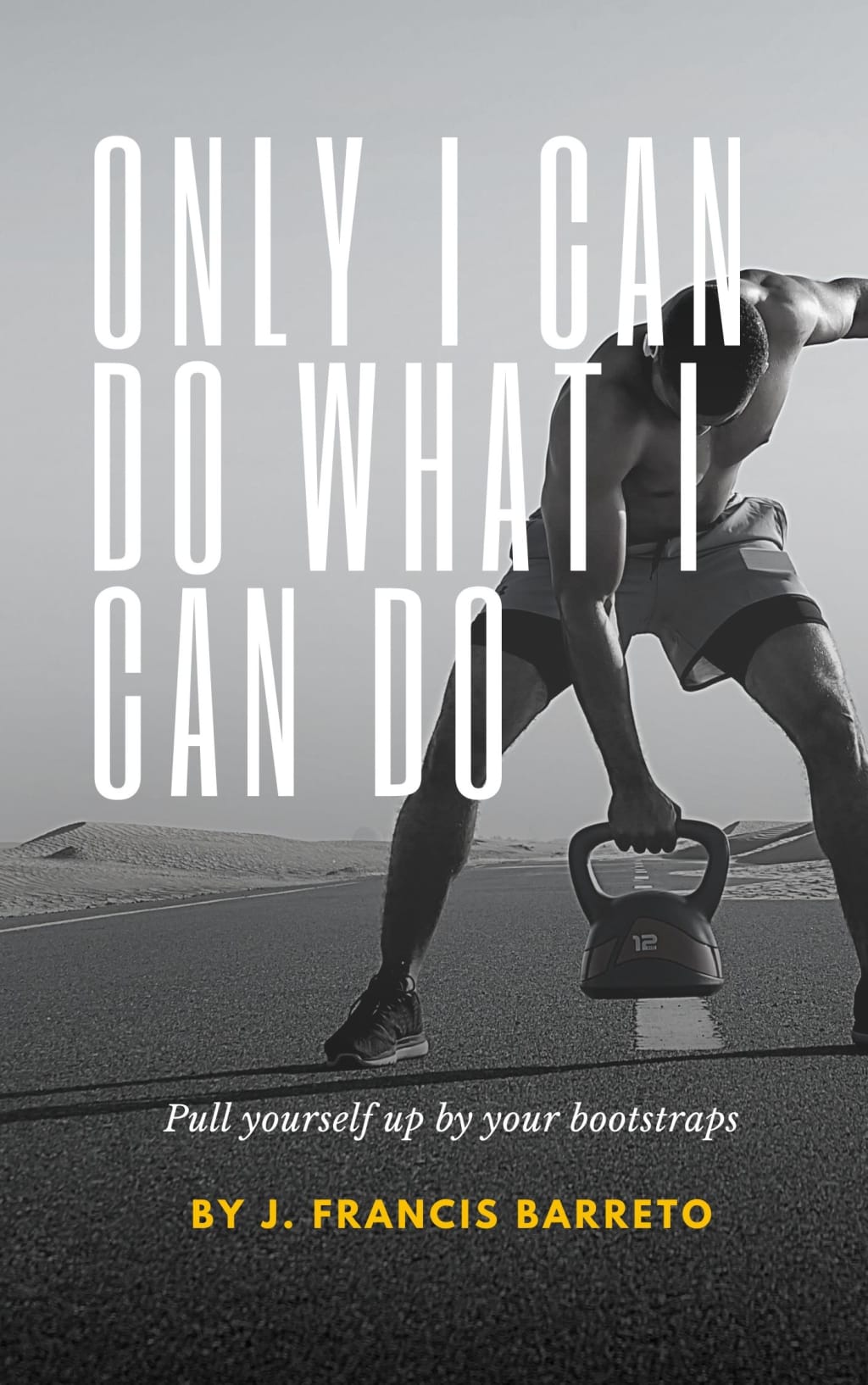 I was the eldest of 8 children in a family of Irish descent. I had 4 brothers and 3 sisters. Mom and Dad had come over from County Mayo in the west of Ireland.
Dad initially came over to England to find work. He eventually found a job as a maintenance worker at the well-known Cadbury's chocolate factory in Bournville, Birmingham.
During my family's initial spell in England I was born in Birmingham, in Loveday Street Maternity Hospital, an old Victorian establishment built in the early 1800's. It was later bulldozed in the mid-1970's to make way for a flyover road coming out of central Birmingham,
After I was born though, my parents, unsure of the way ahead, took us back to Ireland when I was 6 months of age. We stayed on my paternal grandmother's farm for the next 12 months. It was here that my sister was born, in the maternity hospital in Castlebar, County Mayo.
A year later, we eventually moved back for good to Birmingham, settling in the south side of the city.
After a good period working at Cadbury's, Dad found better employment as a team leader for a group of welder fabricators installing conveyors inside giant car factories.
He would work away from home, sometimes for weeks at a time.
His main employers would be the major car manufacturers, so he spent many a week at locations like Speke in Liverpool (British Leyland), Cowley in Oxford (British Leyland) and Goole in North Lincolnshire.
So, with Dad working away a lot, and me being the eldest, I found myself acting as the 3rd parent to my siblings. I was fetching in food at age 5, braving the busy road outside our house.
We had cousins living 300 yards down the road from us; we'd make wooden cars out of orange boxes and pram wheels. Then push the cars down the road as fast as we could go. These cousins would eventually move away, going to Lichfield, Staffs, because their father had secured a new role in that area.
No sooner had one set of cousins moved away, when another set of cousins moved in down the road from us, only 5 houses away. Over the next few years we became firm friends with them, the male cousin becoming as close as a brother to me.
We had disused allotments at the rear of our back gardens. During the summer months, these provided us with an endless supply of things to do with our time.
We would build dens out of old wood, briars and corrugated sheeting. And even do a bit of cooking in the den using a camping gas stove.
There were other little gangs of children within the allotments so we were always on the lookout in case our dens were sabotaged.
We had our own little gang called the 'secret seven '.
Just before I started my secondary school life, I was told by the primary school nurse that I needed to wear spectacles (or glasses).
My auntie Kate took me down to Baker Street to be fitted up for a pair of John Lennon (Beatles) spectacles. At 11 years of age I hated them! There was no way I was going to wear these for the coming years.
So, each first day of each new school year, I had to make sure I was at the front of the queue when choosing our desks for each particular study topic (Mathematics, Physics, etc.,) .
I was always amazed that colleagues of mine, at the back of the class, could manage to read the blackboard from 40 feet away! while I was struggling to read the same blackboard from the front desk in the class ?
It was whilst I was at school I started my entrepreneurial pursuits.
I would buy Jammy Dodger jam biscuits and sell them to my classmates (for a profit of course).
Towards the end of my school life, I was running a very small mail-order business from home. This involved selling a basic 'Homeworkers Directory ' to people who were seeking work locally. It was my first real success in the world of business
Fast forward a good few years. It was the early 1990's. I was in my early 40's.
After a few years running my own print business, which eventually collapsed, I found myself on the scrapheap . The eventual collapse of the business was painful. I ended up owing money to several paper suppliers and I had no way of paying them back. I couldn't even re-mortgage the house since we had only moved several years earlier.
In the end, I had doorstep visits from 2 lawyers, about a week apart, serving me with a Bankruptcy Notice. Imagine that, and having 3 children and a wife expecting me to provide them with food and clothing!
To ward off these bankruptcy petitions, I called in person to each of the Legal firms involved. I then fully explained to them the reasons for my business going to the wall.
They called off the Bankruptcy Notices once they realised I was NOT someone who was trying to deliberately rip them off; I agreed to pay them back a small amount each month for the next few years.
One particular day I remember vividly was when bailiffs, acting on behalf of one of my creditors, simply opened my premises (garage door) and took away the only printing press I had – a Gestalith 211. Without this machine I was unable to print any work for my customers ; this put me in an even more precarious position. I was now a printer WITHOUT any machine to print on!!
Even though my print business failed, I was proud of the hours of work I had put into the business. And my ability to carry out many different jobs within that business.
So, here I was, in my early 40's, my business had collapsed, and I'm struggling to afford the mortgage on the house, let alone feed my children.
I decided that I needed a career that would harness my brain power; years earlier I had achieved reasonable success whilst at secondary school so now I would build on that, albeit 20 years later.
I approached a local college to see what courses were on offer to an ordinary guy who was currently on the dole ( claiming unemployment benefit ).
I found out that I could enroll, free of charge, to study for a HNC in Business & Finance .
This would involve attending college Monday, Wednesday and Friday each week during term time ( approx. 30 weeks per year ).
This was by no means an easy decision to make. My wife at the time was saying to me 'what are you doing going back to school at your age! 'and 'why don't you get a proper job like working in a factory? ' . It would have been so easy to give in and get a factory job at £200 per week for the rest of my days, but I was determined to use my brain and perseverance to create a good career for myself and my family.
So, at the start of 1996, I commenced my HNC in Business & Finance course.
Studying 10 modules, 3 days a week, over a 12-month period. The course was classed as Fast-track since it usually took 2 years to complete.
I was a few years older than most of the students on the course; but that didn't bother me. I was determined to study this course and achieve high marks in the exams.
What particularly pleased me was the Distinction mark received, for an Economics exam, from a tutor who rarely gave out a rating so high.
I finally completed the course in the spring of 1997, gaining 5 distinctions and 5 merits for the 10 modules.
The course gave me a very good broad grounding for Business Life.
When I was studying for the HNC course, I found that I seemed to easily grasp those topics that covered numeracy. So much so that I was completing the homework within 24 hours of it being set by the tutor.
One of my classmates commented to me 'Why don't you have a go at doing the AAT (Association of Accounting Technicians) course ' ?
After investigating the AAT possibility, I found out that I would NOT have to complete the Foundation part of the course, by virtue of the fact that I had completed the HNC.
Which meant I would go straight in at the Intermediate Level.
So, even before I had fully completed the HNC, in the autumn of 1996, I was studying the AAT course (at Intermediate Level) each Thursday.
A couple of months later, just before completing the HNC, I begun studying the Technician (final) Level of the AAT, each Tuesday, in tandem with the Intermediate Level.
Whilst waiting at the college elevator one day, one of my AAT tutors called me over to her classroom full of students and said:
'Class, this chap is not doing just one course; he is currently doing 4 courses . A HNC in Business & Finance, Middle and Final levels of the AAT course and Spanish on a Tuesday evening for good measure '.
The class of students seemed to be lost for words.
When the time came to take my AAT exams, in the June of 1997, I opted to attempt the 3 exams from the Intermediate Level and 3 out of the 5 from the Technician Level.
Most of my college classmates were only taking 2 or 3 exams (from one of the levels). But my age was not on my side so I decided to try and pass 6 out of the available 8 exams.
The exams were spaced over the period of a week, one in the morning, one in the afternoon, with a 3 hour duration for each of them.
I received the results of my AAT exams in the August of 1997. I had passed 5 out of the 6 exams, at first sitting, narrowly failing 1 exam by a few marks.
Shortly afterwards, in the college Tutor room, one of my AAT tutors Helen asked me: how many exams did you pass John ?
To which I replied ' 5 Helen out of the 6 I attempted. '
'You little superstar!' was her reply .
I was very pleased with my achievement and hoped it would lead me into employment within the accounting sector.
Before I had completed the AAT exams I sent my updated CV to various Finance Agencies in Birmingham.
Imagine my delight when I received a phone call from one of them asking if I wanted to start a temporary role at a local hospital.
Ok, the pay rate was very low (about £3 per hour) but I had to make a start in the Accounting profession.
It was progress, albeit on to the first rung of the ladder.
My first significant accounting role was with a large car parts distribution company called PARTCO. They owned and ran a chain of 1000+ branches selling car parts to the car industry (garages, retailers, etc., )
I was working as an assistant Fixed Asset accountant, supporting my boss Adrian.
He had recently qualified as an accountant (ACCA) and gave me as much assistance as I needed in my new role.
Working at Partco was a good learning curve, with a lot of work, but made enjoyable by the people I worked with. We were a small team in Corporate Accounts, working in a large spacious office.
By now, I was earning almost £10 per hour, which is the equivalent of £20,000 per year.
In the early summer of 1999, Partco were taken over by a larger car parts company so most of the staff were fearful of their future job prospects. Usually when a larger company takes over a smaller one some staff are made redundant.
Adrian made the choice to leave Partco and move to car axle manufacturer in the city.
This left me as acting Fixed Asset accountant for Partco.
A few months later Partco did offer me a permanent role but it was at a lower salary than I was currently earning as a contractor; so I declined, thinking that my future was brighter working as a finance contractor around the UK.
My new boss Alan gave me a glowing reference as I left in late summer for pastures new.
A couple of years into my new career in accounting, I secured what I consider to be my first 'heavyweight' accounting role. It was working as interim Capital accountant for the UK high-street chain BRITISH HOME STORES (BHS) , in Luton, Bedfordshire.
I had travelled almost a 100 miles for the interview, with the Finance Manager and the Capital accountant of BHS.
BHS were based right in the middle of Luton, in the Arndale Shopping Centre. We were given a free parking pass which was a real bonus.
It was my first time working away from home and indeed the first time working for a well- known high street brand.
The role paid £12.50 per hour which equates to about £25,000 per year. This was a reasonable salary for 1999 and I felt I was on my way to a half-decent career.
The role covered maternity leave for one of the senior members of staff, so I knew it would be 10 months at least in duration.
I enjoyed working and living in Luton, and I knew this role, once completed, would do my career and prospects a lot of good.
For the first few months I tried a few hotels in the middle of Luton, close to work, but this proved expensive. It was also difficult for me to settle in to my surroundings.
Eventually, I found long-term accommodation with a friendly Irish couple a couple of miles from my place of work.
That Christmas of 1999 BHS had organised 2 Christmas staff parties, one in Luton and one in London. The London one took place on a Tuesday night in a nightclub. About 50 of us travelled in by coach from Luton. It's worth pointing out that the majority of the BHS staff were based at the London offices in Marylebone and Euston.
The staff party had a JAMES BOND theme, where we were greeted by some young ladies holding a frozen revolver. They would pour any alcohol of our choice down the barrel of the gun into our eager throats. We were half drunk shortly after arriving in the venue.
Part way through the night I recognised a chap at the bar. It was Philip Green , the owner of British Home Stores. I thanked him for putting on the sponsored evening. A few years later he was knighted.
Also attending that evening was Alan Leighton, one of the original founders of ASDA in Leeds; Philip had recruited Alan to help revive the ailing BHS brand. I had a few words with Alan at the bar before returning to my work colleagues.
So, in one evening, I had met 2 heavyweights of the British retailing industry.
After leaving British Home Stores I then worked on a few low-key contracts for companies in Hertfordshire and Cambridgeshire before securing, in the summer of 2002, a new role at a large chain of Convenience Stores in the West Midlands, an area well known to me. The company was called T & S Stores; they owned and ran about 1000 convenience stores across the country under the One Stop brand name.
I was unaware that the convenience store marketplace was very competitive; so much so that Tesco, Britain's largest supermarket group, bought T & S Stores for £530m.
This move by Tesco took it's share of the UK £20bn convenience market to 5%.
Tesco said that by buying T & S Stores it would increase its presence in "many neighbourhoods across the country" and bolster its share of a growing market. Britain's supermarkets are racing to open small high street stores to cash in on demand in urban areas.
I remember reading that the Tesco chief executive, Sir Terry Leahy, said he was "delighted" to have made the offer with the full support of T&S Stores' board.
This role turned out to be one of the most enjoyable of them all.
One of the reasons was the quality and variety of my colleagues there.
First of all we had a very good boss, Pete, who happened to be a fellow Aston Villa supporter.
And my other colleagues like Malcolm, Kash (Vikash) and Sal (shortened version of Salvatore) made working there far more enjoyable.
On one occasion the whole Finance function organised a night out at the Tenpin Bowling alley. There were about 18 of us, in teams of 3 occupying 6 lanes.
In my bowling lane was Chris, one of the Finance Managers. Chris seemed to be a semi-pro bowler since he arrived with fancy bowling shoes and his very own bowling ball. I was a reasonable bowler but didn't think I stood much of a chance against the apparent quality of Chris.
He went straight ahead in the first game, getting off to a good start. But I managed to catch up with him and eventually beat him in this first game. Part of me thought it was me just getting a lucky break.
Game 2 STARTED. I got off to a good start, hitting a couple of strikes early on in the game. Chris then came back towards the middle of the game; but eventually again I beat him. He was not happy; a semi-pro bowler getting beaten by an ordinary joe.
In fact, I picked up a plaque at the end of the night which proclaimed that I was the best player out of the 18 that evening.
I remember driving home afterwards with a good feeling inside, mainly because I had beaten a semi-pro bowler.
Because the tenpin bowling proved so popular within the finance office, we started a tenpin bowling league and met at a local tenpin alley (at Bloxwich, Walsall) on a fortnightly basis. Before I left T & S Stores in December 2003 I had set the highest score attained by anybody in the Finance office – I think it still stands to this day.
Towards the end of 2003 I secured what I regarded to be my next heavyweight role, at British Telecom in Watford, Hertfordshire.
I travelled down there, after work, for the interview with David, one of the Finance Managers at BT.
Then back home the same evening; a round trip of almost 200 miles!
This role pushed my earnings up to £30,000 per year but, with hindsight, it was a very hard-earned salary. I had to work many hours, sometimes under considerable pressure, to bring that wage in.
The BT location was in a giant building in Hercules Way, over the road from the Leavesden film studios (made famous by the Harry Potter films) . This building was more of a ' village ' , covering 3 floors and housing in the region of 1,000 people.
It housed a gym, several restaurants and 3 break-out rooms.
After a few weeks I managed to find accommodation close by in a house I shared with the owner (my landlord) and a chap from Kenya.
The Kenyan chap was Steve; he would spend most evenings talking on the internet to his wives back in his homeland. Sometimes he would play music in his room; it would always be the 1970s and 1980s disco variety.
He kept joking about exchanging his 20 odd year old Toyota for my BMW 325i, but I was'nt having any of it.
The owner of the house was Richard, a very clever chap who mainly worked night as a security guard. He would always take a book to work, usually a history book. I remember, on one occasion, watching an episode of University Challenge with him ; he answered most of the questions . And most of his answers were correct!
Sometimes he would do a stint as a contract teacher, working a couple of days a week.
The BT contract was intensive. I remember working long hours for many weeks and not even able to leave on time on a Friday to get back to my family. But that's what working in Finance is like. You seldom leave work on time.
My mother, god bless her, always thought I finished work at 5 o'clock on the dot. But this was never the case; I'd always have enough work to take me past this time and quite often well beyond.
Once a month, at month-end, it was solely my job to close the Fixed Asset Register for BT. I could not start this process until 5pm when all my colleagues had done what they needed to do. At 5pm I would start a couple of my initial processes; these would take several hours before they completed. So, quite often, I would pop home to have my evening meal ; then return at 10pm to complete the full process. I remember on 1 occasion leaving the office at just turned midnight! My boss would still expect me to be there first thing in the morning though!
At the time I was paid on a daily rate, which I soon discovered was a mistake since the days were nearly always 10 hours or more. I tried to change to an hourly-rate contract but my agency wouldn't entertain the idea.
One good point of the role, at least for me, was the variety of people working there. I could already speak Spanish, German and French to a reasonable level. I had colleagues at BT who came from all parts of the globe: Australia, South Africa, New Zealand and Israel to name but a few of the locations. So I was able to learn at least a few words of some new languages, notably Afrikaans and Hebrew.
I still keep in touch with a few of my ex-colleagues from BT, mainly through LinkedIn.
That was one role where I felt the pressure literally 'fall' off my shoulders the day I finished there. I reflected that I wouldn't miss the work but I would miss the people I worked with.
It had now been 7 years since I decided, whilst I was on the scrapheap, that I would re-educate myself in an effort to get back into employment. But not just ordinary employment ( as valuable as that is in it's own right ) but a career in accountancy. Thus far, I had come from earning zero Pounds ( £'s ) to more than £30,000 per year. I wanted to push myself for the next few years and significantly improve on the salary I was currently earning.
Look out for the next in the series – ' ONLY I CAN DO WHAT I CAN DO ( the middle years )' to find out where this journey takes me.