Online Sales Training in Bangalore - Boost Revenues by Mastering Sales
By Mr. Mihir Shah (India's Top rated Sales Trainer)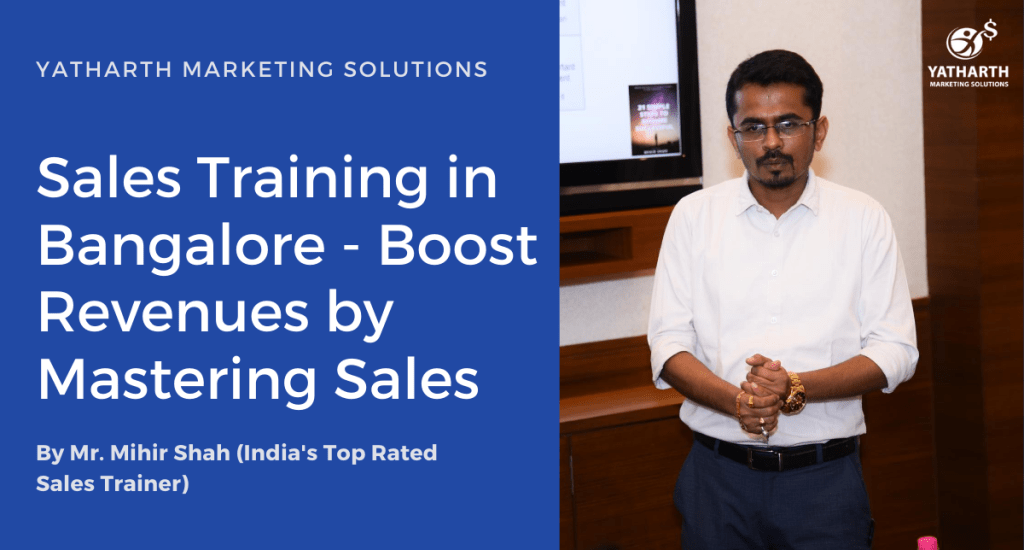 By Yatharth Marketing Solutions
Date: 26/07/2020
Location: Bangalore, India
Price: Rs 2499/- onwards
DETAILS:
Mihir Shah has been recognized as one of the leaders in sales training in India and abroad. He has successfully trained thousands of salespeople by helping them master sales fundamentals so they can achieve personal and professional success.
Why master sales fundamentals instead of tricks?
Have a strong positive approach to sales as a master of selling, and learn how you can apply sales fundamentals to engage with customers who are 'not interested'
Create a customized sales pitch and lead generation strategies that can leverage even cold leads
Sales are not about hunting but attracting, understanding how to manage objections, queries, and even negotiation skills that will put you above the cheaper competition
Leverage social media and digital media to evolve for the new type of customers by learning how they engage
Sales are most importantly about productivity and how to achieve goals in personal as well as professional lives of the participants
Here's your opportunity to become a master of sales and boost organizational revenue with Mihir Shah. How does he create such a huge impact on his online sales training programs:
Creates customized training programs for you as per your requirements. This means that his training will be entirely related to your product and market instead of generic training sessions
Mihir has built a reputation as one of the best online sales trainers in India due to his consultative approach that guarantees results after training. He understands the individual requirements of each participant and ensures that there is a specific result to each of their training individually, as well as a team.
With YMS, you get industry-specific expertise. So whether you are in the real estate, retail, manufacturing, IT, or any other sector, there is a customized approach to your field so it is completely relevant to you.
There is a complete audit for each employee so organizations can monitor and track the growth of their employees and help them where they need it
YMS provides offline and online training programs for participants as required
Training programs are not just about lessons but how they are implemented. So YMS offers 90-day support to ensure that the participants understand how they can use the strategies in real life as well and modify as necessary
Here are some reviews from the participants of our previous Online sales training in Bangalore:
"Mihir has been very impactful not only in my professional life but also in personal life. What he taught me has shaped me into becoming really great at my job which makes me love it more. By managing time while pursuing success, I understand the right way to approach it. I would wholeheartedly recommend not only salespeople but all professionals to let Mihir help you as he helped me."
- Shashank Prasanna
"Our organization needed a boost to achieve our annual targets, and Mihir's online sales training in Bangalore helped with that. I don't know any other sales training programme that offers support after the programme to help us correct our strategies and understand how to make it better. I think Mihir and YMS for the excellent sessions that they created for our team. I would recommend these sessions for all professionals."
- Rohit Sharma
Session Agenda
Here is a list of topics you will master with YMS' online sales training in Bangalore:
1. Selling
Improve communication skills and how to structure a conversation
Build rapport with potential buyers and get them to open up
Understand how to use questions to gather relevant information
Handle objections while pursuing your goals
Learn how to discuss price and confidently ask for business
2. Negotiation
Understand common negotiation frameworks and techniques to lead and close better deals at every stage of the sales process
Learn differences between sales and negotiation, where to use
Handle price objections more effectively
How to state your case even in strong negotiation
Ensure that each negotiation has clear objectives achieved and future goals that are agreed upon
3. Sales Efficiency
Improve communication skills and how to structure a conversation
Build rapport with potential buyers and get them to open up
Understand how to use questions to gather relevant information
Handle objections while pursuing your goals
Learn how to discuss price and confidently ask for business
4. Lead generation and Prospect finding
Tools and tips to discover great leads
Common mistakes and how to avoid them
How to convert listeners to leads and build a rapport to grow the conversation
Target and acquire relevant customers
How to consistently grow leads from new areas
5. Strategic Account Management
How marketing and sales strategies differ
Types of sales strategies as per requirement
Learn how to deploy account targeting strategy
Understanding selling and sales channels strategy
6. Motivational Training
The right attitude to become a master of sales
Blueprint for success throughout a career
Focus on achieving big goals
Motivation vs discipline - how to build
Self-motivation and ambition
7. People Skill
Bringing out the best in every team member
Irrespective of social, ideological, cultural backgrounds
Dealing with difficult people and positive team dynamics with practice
Organizational streamlining and hierarchy
Customers and team members communication
8. Sales Coaching
Why sales are different from other jobs - and how to approach it
What is sales culture and its impact on organizational efficiency
How to become sales leaders - fresher to professional journey
Become a sales leader with the right mindset
9. How to sell professional Services
Relationships are central to sales
Taking sales to a new level: where does the change start
Target and close attractive deals by upgrading your approach
Long-term business associations make all the difference
10. Mastering the Opportunity
Learn all the relevant approaches, skills, tools for preparing and delivering winning sales presentations
Recognize opportunities and leverage the right approach to succeed
Balance business v/s relationship for fruitful engagements
Learn a complete, organized, and repeatable process for creating winning sales approaches
Join Mihir Shah's Online Sales training in Bangalore to become the master of sales and develop a positive, impactful approach to sales with confidence.