Nibbles to 9th April 2021
Life in the New Forest, killing threads, burnouts & bonuses and British weather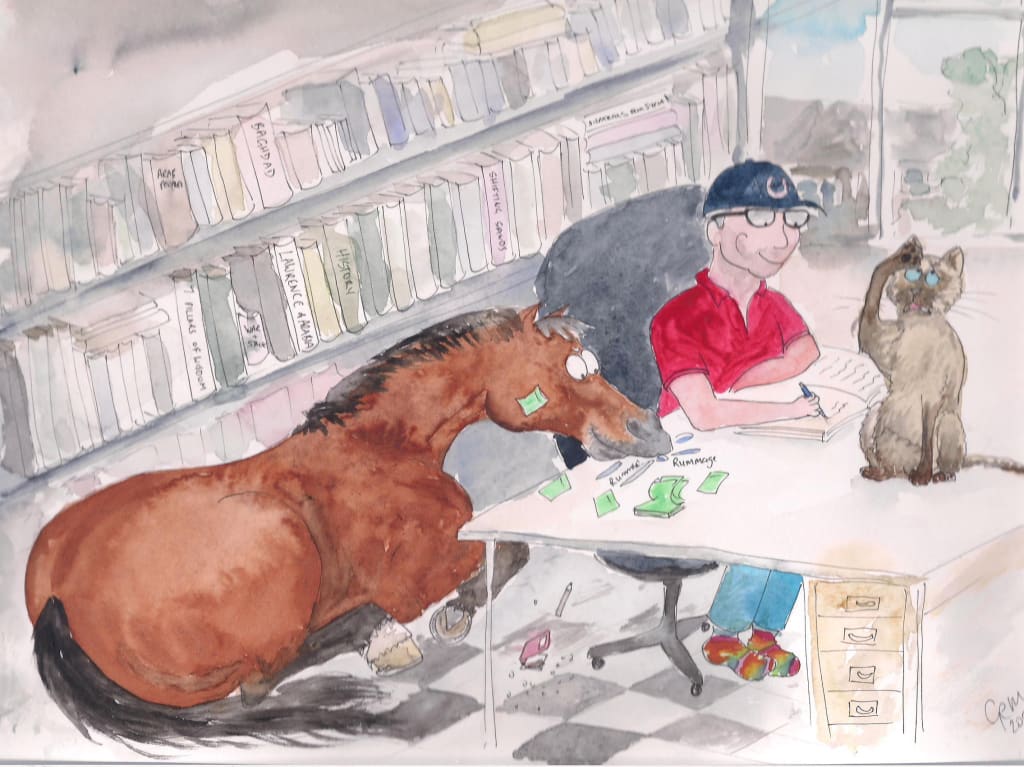 Thanks to Gemma Gill of Pegs Pony Pictures
LIFE IN THE NEW FOREST
Easter Bank Holiday has come and gone.
There was a dread amongst locals that with some of the COVID restrictions about to be lifted the area would be invaded by visitors pushing car parks and roads beyond their capacities.
It didn't happen to the levels of chaos this time last year; thankfully.
What did happen leading up to Easter were incidents of irresponsible and careless dog ownership.
We were driving to see our horses and noticed a stag with his full set of antlers running across a paddock. "Unusual" we thought. We stopped to watch where it went in case it ran across the road and it was then we saw why it was running. A loose dog was chasing it. The stag cleared a fence, ran across the road, cleared another fence and disappeared into some nearby woods with the dog in full chase. After they both disappeared, I retraced the dog's steps for about half a mile hoping to find the owner and let them know where their dog had gone and what it had been doing.
There was no one in sight.
When I got back to our car the stag reappeared on the road. It trotted away from us before disappearing into some more thick woodland. Luckily there was no dog in pursuit.
At about the same time, less than a mile away, a doe had been cornered in a small paddock by a lurcher type dog. This time the ending was not so good. The dog did manage to attack the doe before it could be scared off by the people living nearby. The doe, by now bleeding from its injuries escaped into the nearby undergrowth and woods. The people who witnessed this tried to find the dog's owners but again, without success.
According to the game warden, who came as quick as he could, the doe had in all probability made its way to somewhere safe to quietly die of its injuries and trauma. Even sadder, it may well have had a fawn nearby whose fate…. Well, it doesn't bear thinking about.
The laws are on the statute books about owners of dogs having to keep them under control and there are warning around the New Forest reminding people of their responsibilities. Sadly, these do not seem to be heeded.
Good laws do not make good citizens and that includes dog owners.
KILLING THREADS
This is nothing to do with disposing of cotton or nylon.
Ad hominem – a fallacious statement that leaves an impression on the mind of the audience.
I first came across this expression in "Private Eye", a UK based satirical magazine that is probably our only truly free media outlet. It is not owned by a multi-national conglomerate or private individuals, with their own political agendas and editorial influence. Private Eye is a fortnightly publication that in the tradition of satirists throughout history have been prepared to take a pop at those in power and expose their failings.
Recently on Facebook there was a post about this country abandoning its legally enshrined policy of contributing 0.7% of its GDP to international aid and development as a result of the change in economic circumstances caused by COVID. This was posted by the FB group "Scientists for the EU" who naturally is against the Government for taking us out of the EU.
This change in policy has appeased some people who believe any form of charity should start at home regardless of the soft power benefit this country may receive. Also, in theory to cut overseas aid is in effect ignoring the situation in which Britain is already a recipient of such aid from UNICEF who have projects to ensure children get the right quality and quantities of food. I did point this out on the FB thread.
One person commented that there is no point in giving foreign aid as none of it ever reaches those who are meant to receive it. Oh dear, a sweeping ad hominem statement. I answered it by asking the "threader" what evidence they could provide to that effect. I also stated that even if some of the funds to those in need to benefit from some rather than nothing which would be the case if we stopped providing funds altogether.
There has been no response from the "threader".
BURNOUT AND BONUSES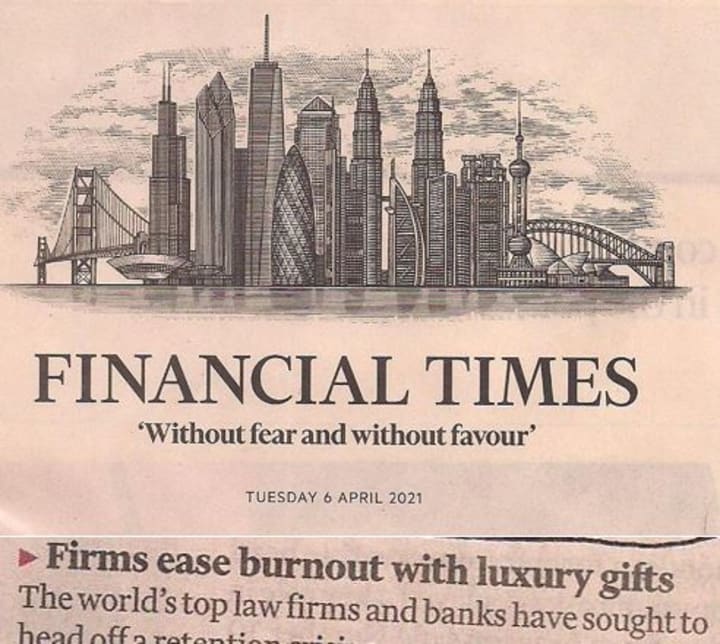 On the front page of the Financial Times 6th April 2021 was the following teaser paragraph:
Firms ease burnout with luxury gifts
The world's top law firms and banks have sought to head off a retention crisis among overworked junior staff by handing out luxury gifts and generous bonuses, after a stellar year for earning – PAGE 10
Well done to those institutions for their prima facie generosity after they have had bumper years dealing with corporate restructuring during the pandemic.
I have been unfortunate enough to have experienced burnout at least once in my working life. It is not pleasant. Big things look small and small things look big. Focus and concentration are dissipated and there is no other way for me to describe the feeling other than it is a feeling of emptiness and seemingly going through the motions. It is not something I would wish on anyone under any circumstances.
The main article on PAGE 10 was headlined "Firms address burnout with bonuses and luxury gifts"
Yes, the bonuses and gifts were generous. One firm offering between $12,000 and $64,000. Another firm offered gifts such as Peloton fitness systems, Apple Products, luxury wines or a shopping spree.
Why this sudden splurge of largesse?
The article goes on to say that they follow "in the wake of departures by junior staff in these institutions who have complained of long hours during the pandemic".
If these gifts and bonuses are not really an act of "largess" they are part of a policy to retain staff. Evidence of this policy comes from one employee of a law firm who says that they received a £5,000 one off bonus for their extra work with a pair of "golden handcuffs". If they left the firm within twelve months of receiving the bonus, then contractually they had to pay it back in full to their employer.
Surely, what has been described in this article is symptomatic of something very wrong with how these institutions operate? To my mind having to resort to these types of payments is a cheap very short-term fix. Shouldn't those firms be looking longer term at how they are resourced and at their working practices, which by the sounds of it in their present state, have become the institutionalized norm?
BRITISH WEATHER
At its best British weather is variable.
None more so than in this week following the Easter Bank Holiday weekend. Over the weekend where we live was bathed in warm sunshine. Short sleeve T shirts were the order of the day. On Tuesday we woke up to frost on the cars, winds from the north and snow flurries.
This weekend sees the running of the Grand National at Aintree racecourse on Saturday 10th April. This race is the last major race of the jumping season, it should mark the official end of winter and herald the spring soon to be followed by summer. It might do and then again it might not. The weather does not follow the racing calendar and so even when this big race has been run there is no way of knowing what we should be planning to wear next week.

Alan Russell
I am a very lucky person. I live in a beautiful area,the New Forest,have a happy home that I share with my wife and two felines. More,much more than this I travel many highways,to interesting places and meeting interesting people.Carp diem.
See all posts by Alan Russell →