My First Month On Vocal
At Least, Actually Publishing Stories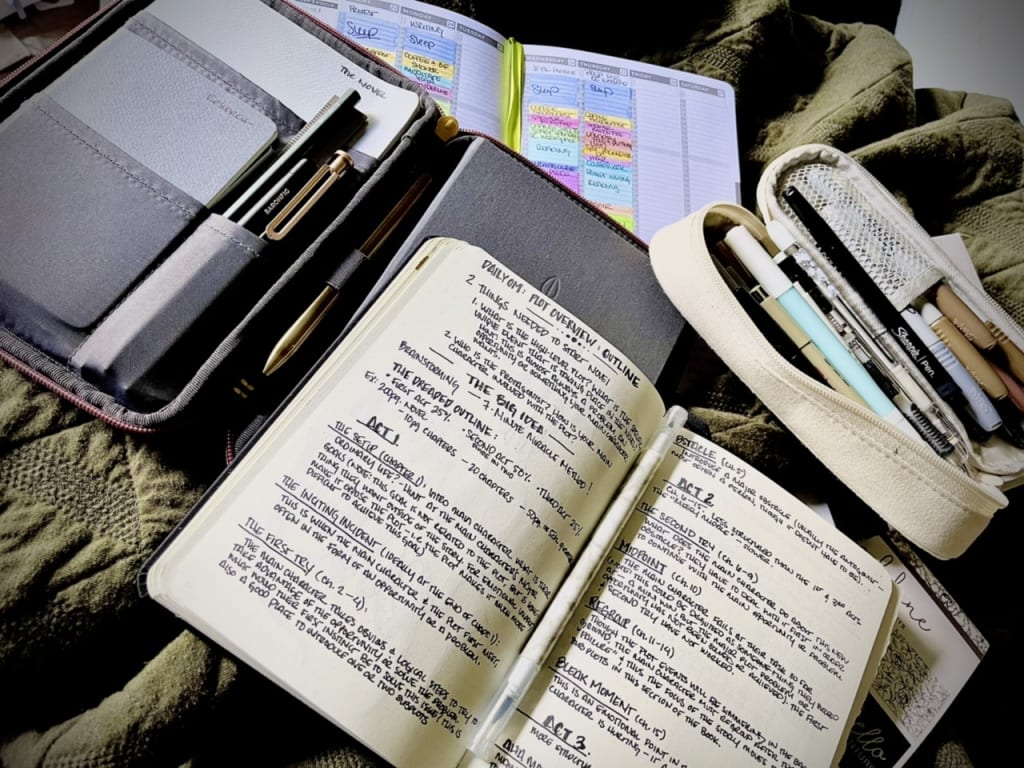 A Fraction of My Writing Tools — Rii
Writing on Vocal has been an interesting and incredible experience for me. I've always dreamed of being a writer, but after a decade long writer's block, it didn't seem to be in the cards for me. I dabble in writing for Medium, and I've been "starting" a blog for the last year. Two in fact, though one is more of a membership site and I have a team of comrades working with me.
There's something different about Vocal though. Endless research of how to start and run a successful blog will tell you, "you HAVE to have a niche." This has been the hardest part of actually starting my personal blog — I have too many things to talk about. Or write about, rather. With Vocal, I can write about anything. And the challenges push me to write about things that never would have crossed my mind before.
Take the recent Colors challenge. A poetry challenge. I've always written poetry, but none of it saw beyond my own eyes. I would occasionally share it with a friend, or my sister, but for the most part my poetry stayed a very personal, very visceral solitary therapeutic outlet for my eyes only. It was also impacted by the writing drought of 2010-2020. But when I entered that challenge, it all came flooding back to me like I'd never missed a beat.
Because of this, the majority of my work so far published on this platform has been poetry. I can't seem to stop. I'm perfectly fine with this, as it's given me a new goal of publishing a book of poetry this year. *stay tuned ?*
One particularly unique aspect of Vocal I find surprisingly motivating, are the delays in publishing. On Medium, I'm the editor. On my half-way existent blog, I'm the editor. I get the final say, and when I'm ready to publish, I publish. On Vocal, I have to wait. Someone else has to read my work, and decide that it's decent enough to give the green light. Of course, this takes time.
According to some posts and comments I've seen floating around the Creators Lounge on Facebook, this timeframe used to be much shorter. Since I've joined, the amount of time from submission to approval has averaged at around a day for every given submission. While it seems to be a bit of an annoyance for others, it really does something for me. That wait is something of a weird tease that gets my creative juices flowing. It makes me want to submit more. As if the wait creates some sort of creative anxiety, and I have to write more to fill the time until my story is approved.
The combination of not having the final say and being left to wait for my work to be approved has sparked a heavier drive in me. Seemingly having too much freedom on Medium and my not-yet blog lends itself to a much more casual attitude towards writing and the frequency at which I do it. Here it's almost competitive; not necessarily with the other creators, but with myself. Of course the incentives are greater as well. Though reads don't pay shit, the bonuses and tips really are quite empowering and motivating.
Yet another unique trait that's more of a byproduct of Vocal, is the community. Yes, there are Medium communities, and Wordpress communities, but none quite like the Vocal community. The support I've found in the Creators Lounge is unsurpassed. In spite of having such wide range of content and often very little in common, the creators on Vocal are as tight-knit as family. Everyone is incredibly motivated to support one another — helping other creators get reads, hearts, tips, as well as offering genuine feedback and offering a space for open and honest discourse about our work and the platform itself. It's rather uplifting.
Like many others, I joined Vocal for the Little Black Book challenge. Also like many others it seems, I didn't actually end up entering that challenge. I've actually missed several since joining. There is a list of half written challenge submissions in my notebook and writing app, that I either didn't feel connected to, or forgot until it was too late. The first challenge I finally entered, and my first piece published on Vocal, was for the (No) Regrets challenge. It is absolutely not my best work, but I was determined to enter because I saw the Vocal plus charge on my bank statement and I was damn well not going to keep paying that every month and not write anything.
After that, as mentioned, the Colors challenge, which kicked off a whole new phase for me that is blossoming into something unstoppable, and I am *loving* it! So finally, I've been publishing regularly for just under a month. When I joined Vocal, it was really to practice writing horror. I have a novel somewhat in the works, in that I have a rough outline and a major plot point being a nightmare I had last year. To date, I have yet to submit a single piece of horror. The one attempt at a horror short I had started to breach novella length, with no end in sight. I tabled it. I didn't know where it was going, and it felt contrived and overwrought.
One of my many writing courses has a 7-Minute-something exercise, in which you choose a prompt, set a timer for 7 minutes and write without stopping to think. I think I'm going to choose from the endless well of horror prompts on Google, and do this 7-Minute exercise until I pump out something good. Or maybe just publish all of them, because, why not?
Vocal gives you the freedom to write both crap and masterpieces, and share them with a loving community as well as anyone else willing to nose dive into my work. I was reluctant to join at first, seeing sponsored ads for months on Instagram before the Little Black Book finally got me. I even considered cancelling my membership after I'd failed to submit even a single piece in months. Now that I've finally started submitting regularly, signing up for Vocal has turned out to be one of the best decisions I've made. It's lit a fire under my literary ass, and sparked my inner bibliophile once again.
Although I'm definitely not encroaching anywhere near the "up to $500" advertised, the passion that's been brought out in me is far beyond worth the money I'm not yet making. I owe most of the thanks to my fellow creators, but the platform itself has my utmost gratitude and appreciation.

Rii Pierce
(She/her.)Words have inexplicable power. ONE word has the power to change any situation just as quickly as it takes to form. Avid writer, voracious reader, compelled activist, and anxious creator, I am newly embracing what I have to offer.
See all posts by Rii Pierce →