My Dream
The Opening of Da Kine Vape Lounge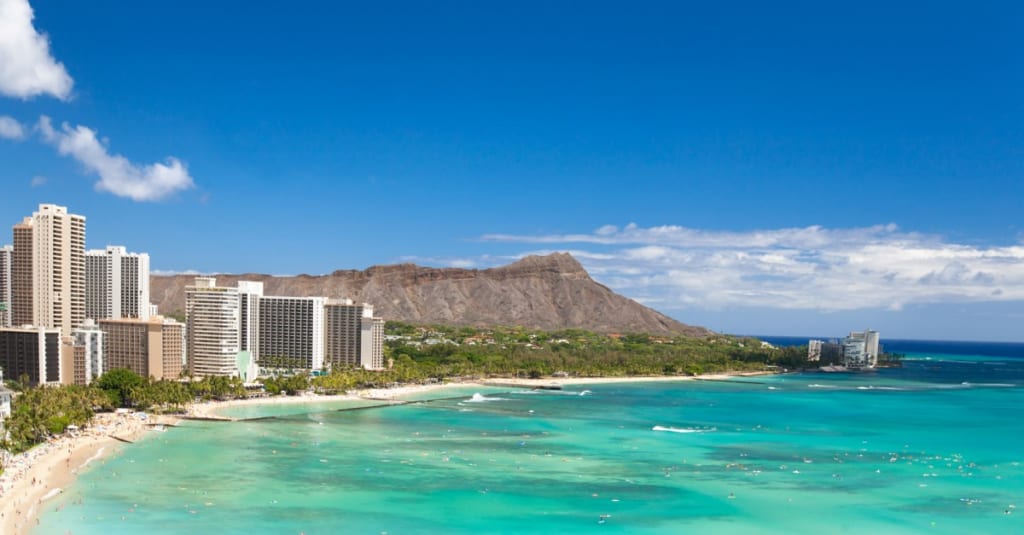 Waikiki Beach and Diamondhead Volcano
For as long as I can care to remember I have wanted to own my own business. I couldn't figure out just what I wanted to sell, but I have always wanted to start something, run it just the way I wanted, be in charge for once. I have failed at quite a few things in my life, my last failure was that I worked for an established vape mod company. They had goals and quotas, but never shared that information with me, so they decided to end their relationship with me. I am fed up with looking for a job, working under someone who is more interested in money than the customers and being under a management structure that says they are approachable and team oriented but do not give you enough time to form relationships with businesses so they can be repeat customers.
My solution: create my own damn business and work my derriere off making it work. What happens if I fail at my business? I can hold my head up high and say I tried to live my dream, I jumped when I could and believed in myself when very few could. I am going to open a vape shop/lounge.
My store is going to be called Da Kine Vape Lounge and I want to tell you what I have planned. First off, Da Kine is a catch all word in Hawai'i for when you either don't know the name of a person/object/place. It's also a play off of my website name (dakineclouds.com) and my Instagram handle (@da_kine_clouds84). As you have probably guessed already, I am going to sell vape mods, e-liquid, all types of atomizers and accessories of all kinds. I am going to try to sell my items at the absolute lowest price I can to sustain operations and beat out my competitors. There are only two vape shops in my town and both of them are really high priced. So, if I can cut into their business profits by stealing their profits, it's a free market in a free country. The only thing that I am going to do is make my store open to persons 18 years old and older.
The second part of my business plan is to create a friendly, welcoming environment that people can hang out in. I am going to have two 4K televisions, one for an XBOX One X and the other for a Playstation on one wall. On another wall I am going to have a HD projector for cable TV and movies. I am going to have a bi-weekly movie night, with food and alcohol to those of age. The customers are going to become my friends, mostly. The lounge with serve snacks, drinks (alcoholic and not) and will have the most comfortable furniture that I can afford. I will remodel the store so that I can have people vape in the lounge area without it becoming a problem in the retail area.
I will be one of two employees. So we can split the work day up. I want to be hands on, but I don't want to be overbearing to the point of annoyance. I want my other employee to KNOW that I value them and I care about them as a human being first, employee second. I'll try to pay them the most I can with the option for raises and bonuses, depending on quarterly sales. The raises will be discussed every 6-8 months. They will also have the freedom to make certain decisions if I am not there. Nothing major, more along the lines of discounts, company credit card, being able to sign for deliveries and other minor things. If they have a problem with the schedule or they have an appointment they have to be at, I'll cover them until they get back.
Like I said, I want to (above all) a place people want to be. Where they feel comfortable and welcomed and where they can vape without worrying if someone is going to rag on them for it. When I went to the vape expo in Richmond a few months ago, the way that everyone spoke to you made you feel welcomed. They spoke to you as if you were a friend even though you've never met before. I want to capture that energy and atmosphere here in my little town. Culpeper is friendly if you are in the right place. There are a few places, here and there, that no one wants to be in, but on the whole Culpeper is nice.
This is not a full business plan, yet. But I am working on it and tweaking it from time to time. The thing I am most worried about is not failure but it's about money and the prospect of not trying at all. I am very excited to start my adventure. I hope that some of you reading this live near me and will visit once I have everything in place. I am excited. Thank you for reading this. If you have any ideas, tweaks or want to know more leave a comment and I will answer. Thanks again.
Aloha,
Eric