Must Have WordPress Plugins to Enhance Your Business Website
WordPress Development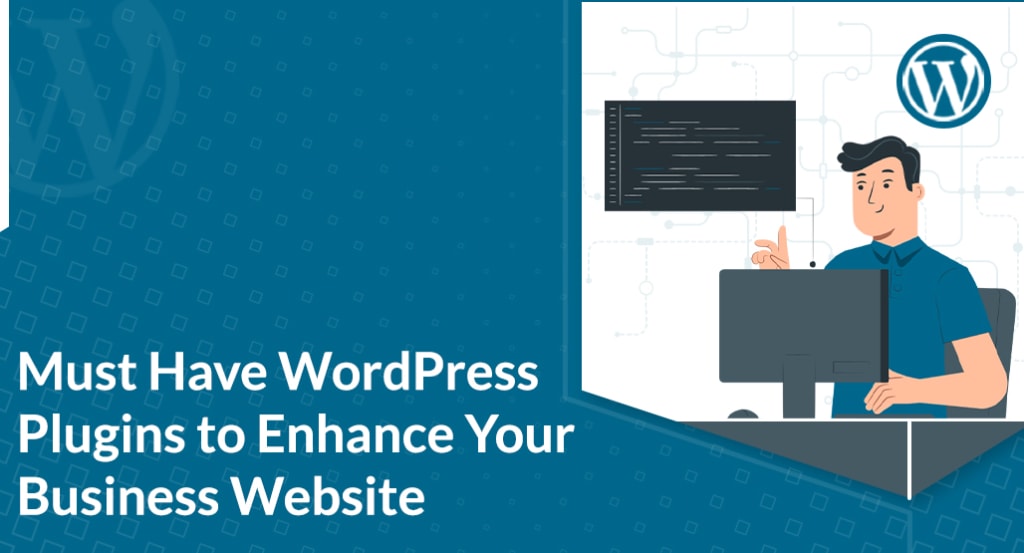 WordPress is a free, open-source, and one of the most simple manageable, and accessible Content Management Systems (CMS) that makes it easy to create and manage a website. It enables you to have the flexibility to create your ideal website and helps you build your customized website.
One of the great benefits of building a WordPress website is the versatility of the platform. You can build lead-generating business websites and high-traffic blogs with WordPress. No matter what kind of site you want to create, or what niche it belongs to, there are some obvious plugins that you'll want to install. In this article, we're going to introduce you to some must-have WordPress plugins for your business website.
Yoast SEO
There are several plugins out there devoted to search engine optimization but Yoast SEO is one of the most comprehensive solutions for maintaining your site's on-page SEO efforts. This provides facilitates optimizations for WordPress pages and content in a simple and intuitive way. With Yoast, you can easily customize SEO titles and meta descriptions, get full control over your site's breadcrumbs and generate and submit XML sitemaps.
WPForms
The contact form is essential for every website as it is the medium for your users to contact you. With WPForms, you can easily build contact forms, online order forms, email subscription forms, payment forms, polls, surveys, and other kinds of online forms by just dragging and dropping. Also, you can integrate with all leading payment and marketing platforms, and facilities so you build powerful online forms instantly.
WP Rocket
WP Rocket is the easiest and most beginner-friendly caching plugin that allows you to instantly improve your WordPress website speed and performance without any technical skills. It comes with additional features like caching, lazy load, Cloudflare integration, etc which can all help improve your website speed.
WooCommerce
It is the most popular eCommerce plugin for WordPress used by millions of websites. With WooCommerce, you can turn your WordPress site into an online store, so you can sell your products to your customers on the web. You can create a fully customizable online store with checkout pages, shipping options, and unique design layouts.
Redirection
It is completely free to use and a fully-fledged SEO-safe redirection management tool. By using this plugin, you can track 404 errors and identify where you need to set up redirects first. It also helps to improve the user experience by indicating which pages aren't loading in a proper way.
Elementor
Elementor is one of the best free page builder plugins in WordPress to create unique designs for home pages and other pages. With Elementor, you can add cool effects like background overlays, hover effects, animations, and more by just dragging and dropping. Also, If you want a custom design for parts of your website it is a good option for that.
LiveChat
LiveChat really shines among the other WordPress live chat plugins bcoz of its cool features. LiveChat really shines among the other WordPress live chat plugins bcoz of its cool features like messaging function with lead capture and sale options. It can easily connect with WhatsApp, SMS, Messenger, email, etc.
MonsterInsights
MonsterInsights is one of the best Google Analytics plugins for your WordPress website. You can monitor various real-time stats regarding your website, track user views from multiple platforms and devices and receive various demographic and interest reports. Its Pro upgrade unlocks access to extra tracking for eCommerce, publishers, and contact forms, among other things.
Sucuri
Security is a real concern with WordPress and Sucuri is one of the leading WordPress security plugins. Sucuri Security is a free and cloud-based website security plugin that comes with malware detection, integrity monitoring, and standard WordPress security hardening features. It'll be super easy for you to manage the security of your WordPress site with Sucuri Security.
These plugins fulfill the basic needs of any WordPress website and make it easy to manage your business website. We hope this WordPress Plugins list will help you find the best WordPress plugins to improve your business website. Find the ones that would suit your business needs and get on with them. If you want to give your business a boost with these plugins, Contact Swayam Infotech and schedule a meeting for a detailed discussion. Our experienced and skilled WordPress developers create intuitive, engaging, and appealing web solutions using a variety of plugins.
About the Creator
Matthew Brain, an experienced content writer, enjoys sharing his thoughts on various online delivery firms, eCommerce, on-demand business models, and so on.
https://www.swayaminfotech.com/taxi-booking-app-like-uber-clone-app/
Reader insights
Be the first to share your insights about this piece.
Add your insights