Morning Pages of a Prodigal Writer
From the author's workbook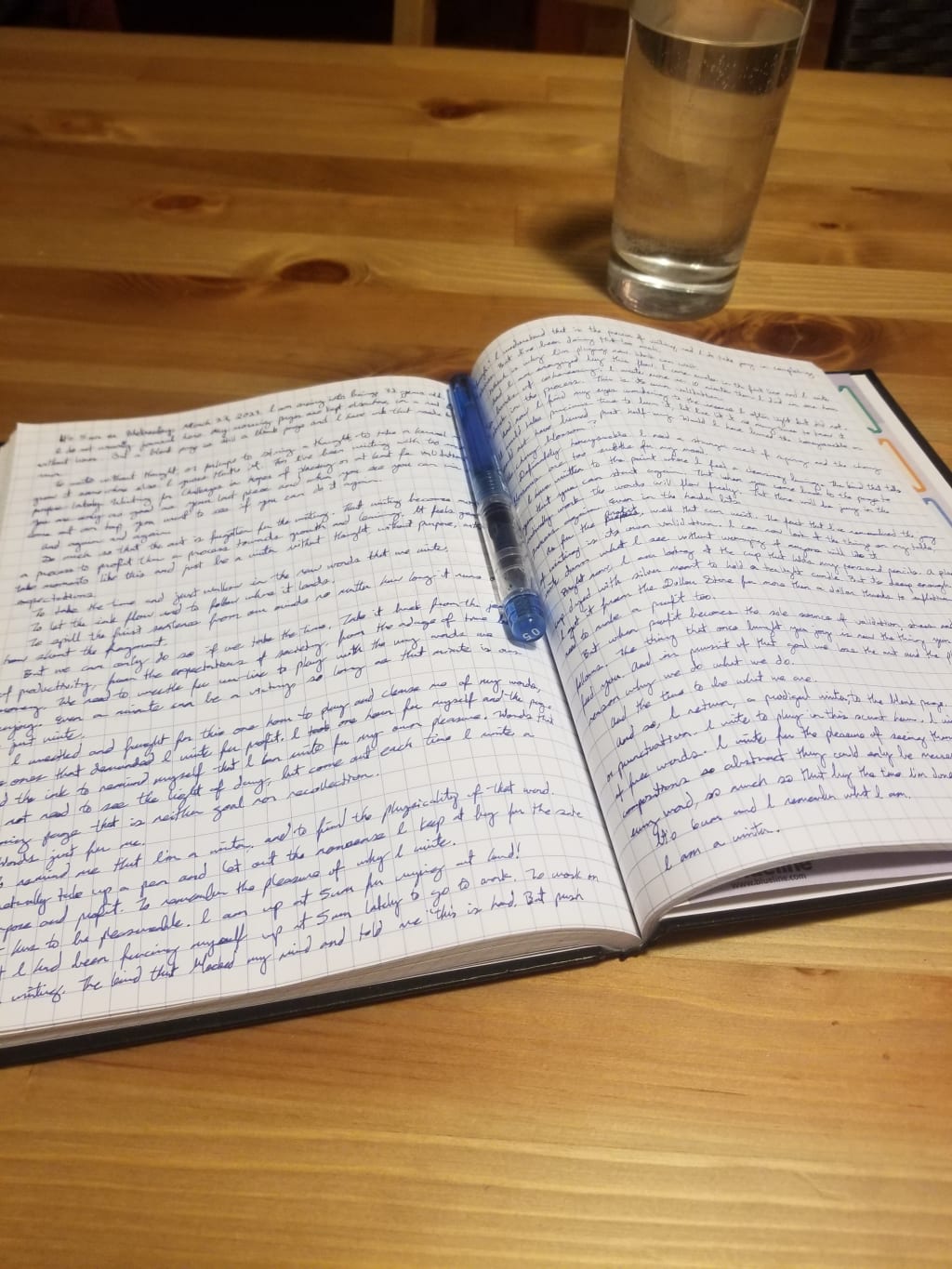 Photo of the author's workbook on her writing desk/kitchen table
It's 5am on Wednesday, March 22, 2023. I am easing into being 32 years old.
I do not usually journal here. My morning pages are kept elsewhere in a red book without lines. But a blank page is still a blank page and I have ink that needs to run.
To write without thought, or perhaps to string a thought, to take a kernel and grow it somewhere else. I guess that's it. For I've been writing with too much purpose lately. Writing for Challenges in hopes of placing or at least for validation. You are only as good as your last piece and when you see you can win or come out on top, you want to see if you can do it again.
And again and again.
So much so that the art is forgotten for the writing. That writing becomes more a process to profit than a process towards growth and learning. It feels good to take moments like this and just be a writer without thought, without purpose, without expectations.
To take the time and just wallow in the raw words that we write.
To let the ink flow and to follow where it leads.
To spill the first sentence from our minds no matter how long it runs or how short the fragment.
But we can only do so if we take the time. Take it back from the jaws of productivity, from the expectations of society, from the adage of time being money. We need to wrestle for our time to play with the very words we enjoy. Even a minute can be a victory, so long as that minute is ours to just write.
I wrestled and fought for this one hour to play and cleanse me of my words, the ones that demanded I write for profit. I took one hour for myself and the page and the ink to remind myself that I can write for my own pleasure. Words that do not need to see the light of day, but come out each time I write a morning page that is neither goal nor recollection.
Words just for me.
To remind me that I'm a writer, and to find the physicality of that word. To actually take up a pen and let out the nonsense I keep at bay for the sake of purpose and profit. To remember the pleasure of why I write.
I has to be pleasurable. I am up at 5am for crying out loud!
But I had been forcing myself up at 5am lately to go to work. To work on certain writing. The kind that blocked my mind and told me "this is hard. But push through." I understand that is the process of writing and I do take joy in completing stories. But I've been doing that too much.
Which is why I'm playing now. Work can wait.
And I am energized by this flow. I came awake in the first line and I write in bursts of coherency. I wrote more in 10 minutes than I did in one hour stuck in the process. This is its own validation.
And now I find my eyes wandering to the incense I often light but did not. It would take precious time to burn it, but I"ve lit it so many times to know it would not have burned past half-way. Would I have burned the honeysuckle or the cherry blossom?
Definitely the honeysuckle. I need a stronger scent of spring and the cherry blossoms are too subtle for my mood.
I have written to the point where I feel a cleansing burning. The kind that tells you that you can start again. That when you come back to the page to actually work the words will flow freely. That there will be joy in the process again. Even in the harder bits.
As for the profit, well that can wait. The fact that I've remembered the joy of writing is its own validation. I can now look at the things on my table, write down what I see without worrying if anyone will like it.
Right now, I am looking at the cup that holds my pens and pencils. A plastic cup dyed with silver meant to hold a tealight candle. But it's deep, lol. I got it from the Dollar Store for more than a dollar thanks to inflation. They need to make a profit too.
But when profit becomes the sole source of validation, stress and desperation follows. The thing that once brought you joy is now the thing you want to have feed you. And in pursuit of that goal we lose the art and the pleasure and the reason why we do what we do.
And the time to be what we are.
And so, I return, a prodigal writer, to the blank page. I write without purpose or punctuation. I write to play in this scant hour. I write to remember the flow of free words. I write for the pleasure of seeing them spill onto the page in compositions so abstract they could only be messes. And I take joy in every word, so much so that by the time I'm done playing I don't want to stop.
It's 6am and I remember what I am.
I am a writer.
*
*
*
Thank you for lingering.
Reader insights
Outstanding
Excellent work. Looking forward to reading more!
Top insights
Easy to read and follow

Well-structured & engaging content

Excellent storytelling

Original narrative & well developed characters

Expert insights and opinions

Arguments were carefully researched and presented
Eye opening

Niche topic & fresh perspectives

Heartfelt and relatable

The story invoked strong personal emotions

On-point and relevant

Writing reflected the title & theme
Add your insights