Michael Pellegrino
Entertainment Industry Powerhouse Agent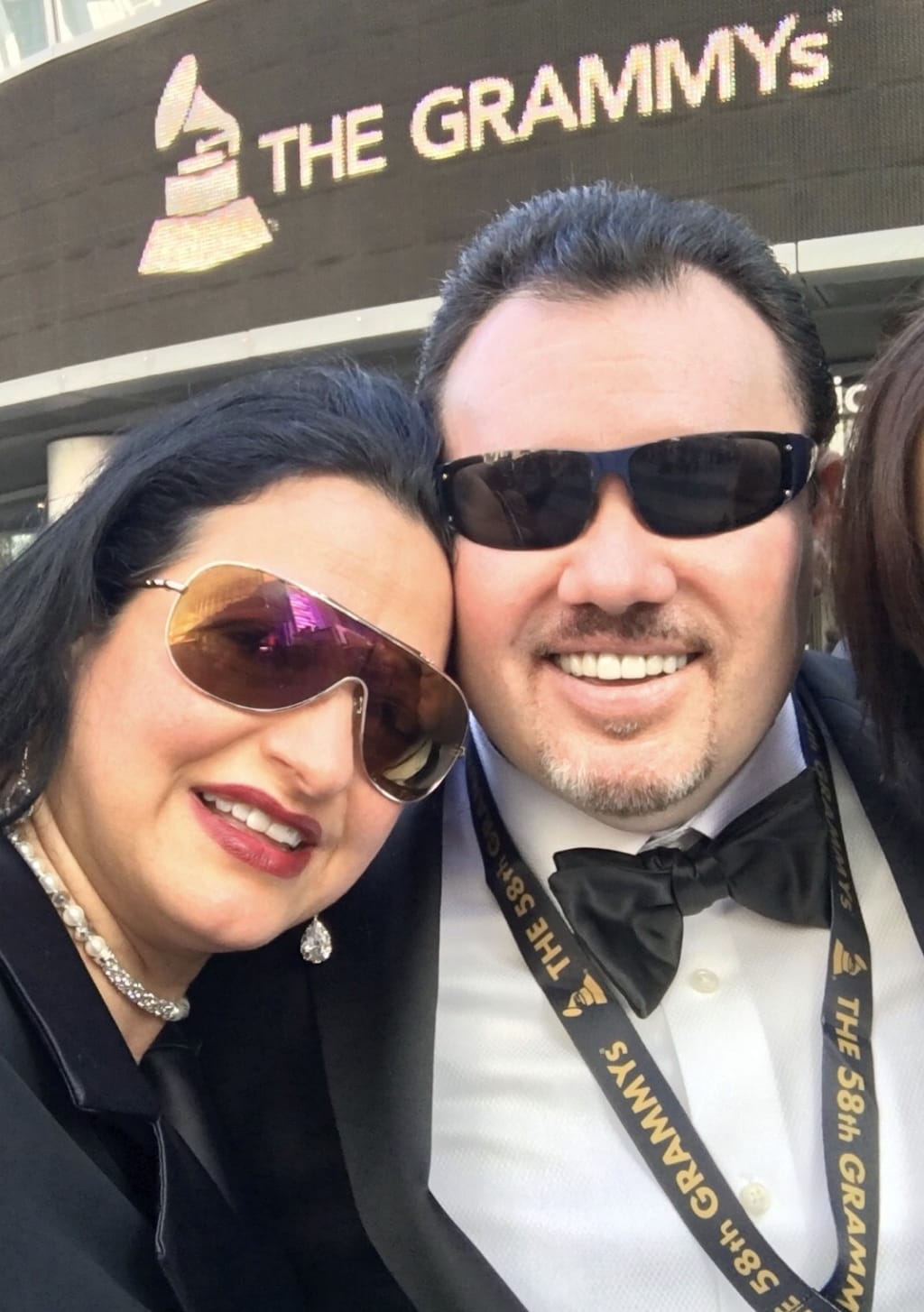 Michael Pellegrino with friends at the 58th Annual Grammy Awards
Before forming and co-founding Artists Management Agency, Michael Pellegrino has been in the entertainment industry most of his life. As a young teenager Michael appeared in the Marva Collins Story starring Cicely Tyson and Morgan Freeman. Later that same year Michael was also given the opportunity to work with the late great John Belushi in the movie Continental Divide. As an adult Michael found his comfort zone behind the camera. In 1992, Michael joined Max Net Entertainment as a casting director and went on to become a senior writer, and eventually became the head of the television division.
In 1994 Michael teamed up with R&B and legendary Motown artist Ronnie McNeir, from the Four Tops, it wasn't long after they fortified a brother like bond that Michael assumed the management position to Ronnie McNeir and they have been a team ever since. In 2000 Michael was recruited by Artist Management founded by legendary talent agent Michael Ovitz to be a writer and he began to work alongside Michael Ovitz.  In 2001 Michael Pellegrino signed a multi-million-dollar publishing agreement one of the biggest ever given to an author. Later that year, Michael became a New York Times bestselling author. Michael teamed up with Area 52 Entertainment LLC to produce and co-write what would soon be a Las Vegas musical hit.
Michael worked with legendary producers Gary Ouellet and David Tumaroff to make Tease the musical a Las Vegas smash hit. In 2004 Michael was recruited by Sunset Island Records to be the VP of Artist Development. In 2005 Michael went on to co-produce the CD entitled Ronnie Mac and company Michael also co-wrote the song "I Don't Feel That Way Anymore" written with Ronnie McNeir and Kathy Lamar. In 2010, Michael was the executive producer of the CD titled "Living My Life." Michael has continued concurrently throughout to do his first love, which is writing and developing movies and TV shows.  In the span of time from 2014 to 2018, Michael was named Vice President of Film and Television at Media Artists Group.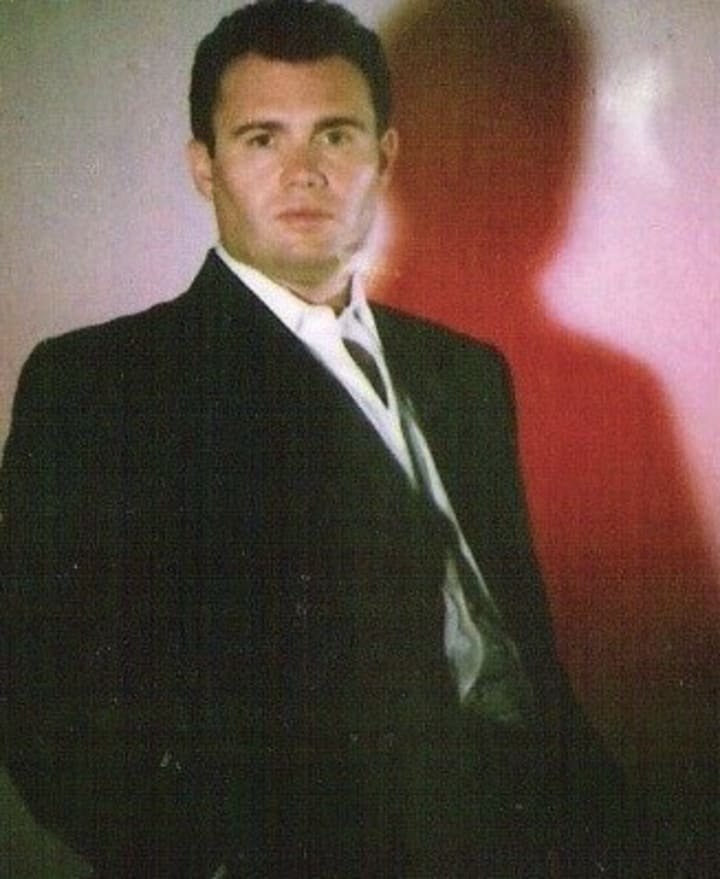 Also in 2015 Michael started his own production company called Relentless Entertainment. The company develops everything from reality TV, drama, comedy, to animation. Michael loves creating animation feature films and is currently developing and packaging a wonderful full length animation film titled "Sox." In 2016 Michael was responsible for giving the world the best commercial featuring his close friend and client Ice-T. Who doesn't remember Ice-T selling lemonade with a bunch of children? This was considered one of the most memorable Geico commercials ever!
Michael is considered one of Hollywood"s most persuasive talent agents in the industry. He is in the process of launching his own clothing line called 'Persuasion'. The line includes cologne for men and perfume for women. Michael's production company was named Relentless Entertainment because he never gives up, and to do that you must also be persuasive.  Michael's gifts took light in his creativity, drive, and leadership for his A-list clients like Jermaine Jackson and Marlon Jackson of the Jackson 5, Larry Braggs of the Temptations, ICE-T, Coco, Anthony Cris, Hulk Hogan, Brooke Hogan, Nick Hogan, and many others. Michael is a voting member of the Recording Academy, a member of the Writers Guild of America, the Screen Actors Guild, and the Author's Guild. Michael is a highly rated speaker at Toronto International Film Festival, Sundance, and Dubuque Iowa Film Festival on industry related topics. Michael also has two causes that he is deeply passionate about. The first one is the charity Gifts from the Heart for Downs. Michael sits on the board and the charity grants wishes for people with down syndrome. The second cause that Michael is extremely passionate about is prison reform. Michael has an extraordinarily strong belief that a large percentage of people that are incarcerated can be rehabilitated, but the current system in place doesn't give these inmates the proper opportunity for reform. In 1999 Michael was responsible for setting up the first ever educational program in the state of Nevada to help inmates received their GED and help them obtain jobs before they were paroled. He also implemented a program to help inmates with anger management. In Michael's own words, "reform does not apply to everyone, but a large portion of inmates do deserve as second chance."
Our interview today touches on Michael's career, his passion about police reform and upcoming projects he is working on. Vocal readers please enjoy our interview!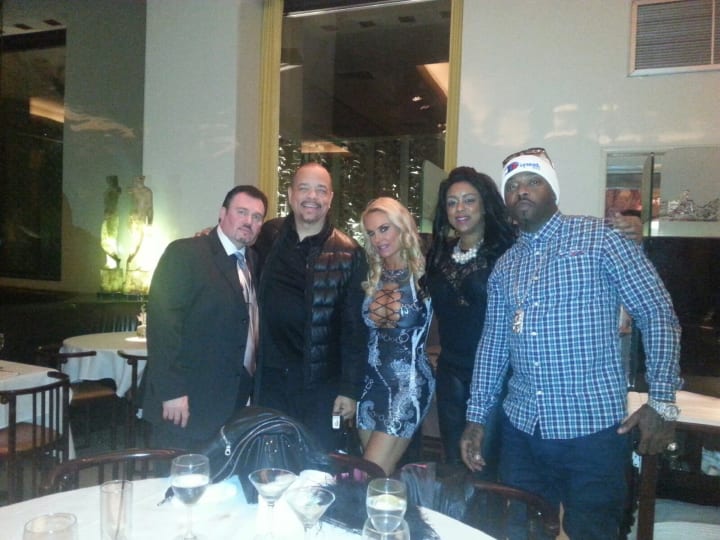 Tammy Reese:
You have accomplished a lot in your career so far. What inspired you to create the 312 TV series?
Michael Pellegrino:
I always been a Chicago boy. I lived in Los Angeles for years, I lived in New York too, but Chicago is home. I grew up in one of the roughest neighborhoods that now is considered one of the most violence centered in Chicago. It breaks my heart that we have so many black guys that are highlighted so negativity. Chicago is beautiful, the people are engaging, and genuine. There's just a few bad apple that have really given us negative publicity.
Also I'm a big advocate for prison reform, when I began creating 312 I wanted something that wasn't a one off. I wanted to create a series that could do the recipe like Dick Wolf. Dick is one of the most amazing people in the entertainment industry. He took one show and turned into this massive franchise, that is what we want to do with 312. It can cross over into other area code shows, for example, New York (212), and 213 would be a cross over into LA. I started 312 because it's my hometown and there is no where in this town that I can't go. They welcome me here with open arms because I grew up in the neighborhoods and I understand the people. I can also go to the best of neighborhoods and understand what their thought process is too. It's a passion project that means a lot to me. I want to deliver a message to people. I am hoping that when we finally get it out there on the networks that it relates with people.
There are always two sides to a story. Just because someone makes mistakes and are doing some bad things, it doesn't make them a bad person. Some people are just a product of their environment. Some don't know any better, or they haven't been taught there is another way, another life. I get that, I grew up around that. I wanted to be Al Capone, I wanted to be a gangster so bad I was always routing for the bad guy. I understand the mindset of what some people go through because they don't have the opportunity of privileges that others are allowed. When people do wrong of course they need to pay for it, but it doesn't mean you throw them away. You don't throw the baby out with the dirty water, you throw the water out and put fresh water in, and the baby stays.
A child molester or a rapist are not fixable. But some guy or girl who gets caught up stealing a car or selling drugs that doesn't mean they should never be productive citizens again or positive role models. It's actually the opposite. they could bring a lot more insight to their community than other people. You have to walk in somebody's shoes before you judge someone.
People pre judge others without knowing what it's like to live with no job, and no food because they are privileged. They can go to the best schools and drive mom and dads car. Whereas some walk, or take the bus, or the train. They survive just like being in the military, they adapt to their surroundings and overcome. Sometimes while overcoming mistakes are still made. I want 312 to highlight that. Also on the flip side all police are not bad people. The ones who are negative are giving the good officers a black eye because they're doing things that are absolutely horrific. Cops risk their lives everyday to protect us. Nothing is perfect that's for sure, I'm am a realist, I know some don't want to hear the truth. The truth is that the system is broken, it needs to be fixed and that's how we came about creating 312. It hits on some rough subject matters.
We have young children being murdered innocently being caught in the cross fire of stupidity over a street corner and that's not what Chicago is about. Chicago is a phenomenal, beautiful city with so many wonderful things to see like architectural, cultural, and diverse neighbors. There's negative things of course, but 312 will also highlight the positive and the people who are trying to make change.
Tammy Reese:
Why is it important to you to advocate for prison reform?
Michael Pellegrino:
Prison reform is a huge deal to me because so many are incarcerate and that's it, on the state side at least. Rarely are inmates provided rehabilitation and that's a shame. There needs to be a system in place that makes a sense. Such as figuring out if the inmate has or needs an education. Some don't know what a checkbook is or how to pay a bill. Many inmates don't have the knowledge about the simple things in the world. I was so passionate about starting a program like that, so I did. In Nevada while inmates are locked in the state system they are able to get GED if they want to take college classes. I made a deal with one of the local school systems. I had school teachers who would donate their time and teach classes with me. So many inmates wanted to come to class and learn what I had to say. I had to teach two or 3 classes a day because there were too many. I told them if they wanted to make the most out of the class just listen to what I have to say because I have walked in your shoes and been where you have been. Every mistake I made in my life, some I'm not proud of but they were a lessons that made me a better man and shaped me into the person that I am today. Some one took me and changed my life, I am here to do the same for others, and give a second chance.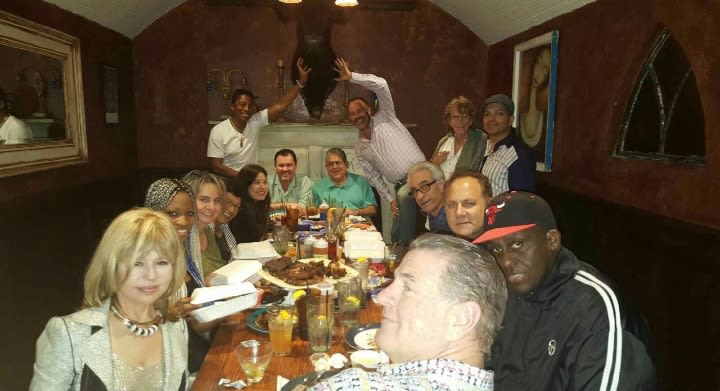 Tammy Reese:
What inspired you to get into the entertainment industry?
Michael Pellegrino:
In the mid to late 80's I had the opportunity to go to California for a little while and I was introduced to some of the most incredible people on the talent agent side, the deal makers. I fell in love with it, I'm a deal maker that's what I do. I love creating and negotiating, it just became apart of me. I've seen the money, and how people where wheeling ,dealing and the fast pace. I said to myself I am from Chicago, none of these LA guys got anything on me. I could walk in and sell a show in a heartbeat, and I did. I thank those people because as soon as I seen what a talent agent was and what management was too I fell instantly in love with it.
You get to interact with new people all the time. you start to build a clientele, you start to become friends with those people, and like family. The money is not bad either (fun laughs) I love it! My friend, mentor and colleague took me under his wing and told me that I was a natural, and that I was born to be in this business. So I learned a lot and adapted quickly. When I learned TV and film packaging I really fell deeper in love with the industry.
I wanted to be a gangster when I was a kid, that's easy. Being in Hollywood is 10 times harder than being a gangster, you just dress nicer. You have to have tough skin. After a while I built a rep for myself and before you know it my calls were getting answered . And people were calling me to work with me. I built a nice client rooster. people see I fight for them. I do everything in my power and beyond to get my clients to where they want to be in life.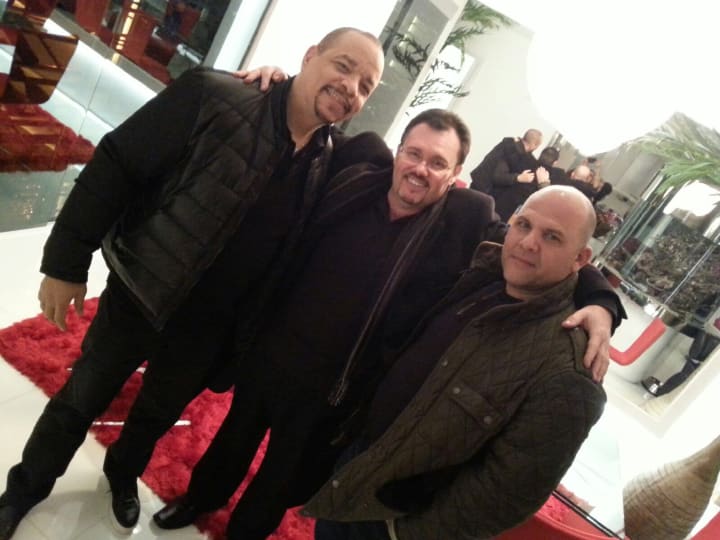 Tammy Reese:
What are some memorable moments in your career so far?
Michael Pellegrino:
There are so many but one in particular was when I pitched the Ice-T commercial because everyone didn't see the vision. They thought it wasn't workable. I was apart of creating that commercial and I packaged it . Ice was like, "Are we serious? I'm going to sell lemonade at a lemonade stand with a bunch of kids?" He than said, "Well I have to figure out how to get it into my Law and Order schedule." I said don't worry about that, they are going to shoot it in New Jersey, and are going to do it in one day. I told him how much money it was, he said, "damn you're good!" I said are you in? He said," I see it, I see the vision."
Everyone who was a doubter blew my phone up for like a week after that commercial aired. We launched that commercial the beginning night of football season. The reviews of the commercial were so phenomenal , people were on twitter going crazy over it. No one expected this gangster rapper to be on the corner selling lemonade and that was the whole point, to take him out of the box and do something that was unexpected. Ice loved it and was thankful. He seen my vision and that made me feel proud he believed in what I was pitching.
Tammy Reese:
How has the pandemic shaped your day to day life?
Michael Pellegrino:
It's changed my life drastically because I have a couple of health issues, so it has scared the hell out of me just because I have had some serious heart issues. I have had two heart surgeries in the last 90 days. Being in the hospital is not a good place for me because my resistance is so low. So it changed the way I feel about being safe, it also changed the industry to a new norm. Concerts use to be where there were so much money to be made and now there is no live concerts. They're trying to figure it out, but they are not going to figure until next year. It usually takes a year in advance to plan anyway. The pandemic has changed the whole industry. We were already on a major change before Covid with all the streaming, which has changed the dynamic of our industry entirely. The streaming corporations have really changed the game and they are not stopping.
A industry that was already evolving really put a new spin on things when the pandemic started because productions stopped everywhere. Now so many are afraid to go back to work, policies have changed, so many precautions are being implemented before anything can even be taped. It's changed the intimacy of being on a set with 150 people that have become your family, now we are distancing ourselves from them. Some people have to take tests 3 times a week. On the other side of the coin it made us reevaluate on the positive side. Making us all think what's next? How do we go to the next phase of concerts, and Broadway, and how do we reinvent? Really it's making people put their thinking caps on.
Tammy Reese:
What advice would you have for anyone wanting to enter into the film industry?
Michael Pellegrino:
I am a tough agent who loves being in Chicago because I feel grounded. I don't get into the Hollywood stuff like the glitz and the glamour. I love the business and I love what we do. Hollywood stuff is fun, it's appealing ,sexy, and I'm so proud to be apart of it, but I don't let that distract me from what my job is. I remember where I came from. That is how I was raised. To be true to who you are, and own your mistakes. If you make mistakes it's ok, as long as you didn't do something horrific, it's fixable. When people judge you that's ok too, they are not your friends or they don't know your story and they are not paying your bills. You don't need them apart of your life or circle. The only people you need in your circle are those who love you, trust you, and are going to help you grow and be a better person. I've come across people who have embraced me and took me under their wing and I've met people who have judged me only knowing me for 5 seconds. Those people mean nothing to me because they don't know me. If you do want to know me you have to spend time with me because I am a freaking fun guy.
Tammy Reese:
What do you want your legacy to be?
Michael Pellegrino:
I want my legacy to say that there is nothing in life that you can't accomplish if you put your mind to it. I don't mind being considered the underdog , that means I fought for what I was able to obtain. Just never give up. Let me be proof that there is nothing in this world that you can not do. I had hard knocks and there were times I felt emotionally and physically at the end of my rope but it's like a rocky movie, you're on the floor and there is something inside of you, telling you to get up and keep fighting. I want to create great and wonderful things. I want to be apart of a industry that people say hey that guy was a game changer. I want to be inspiring for other generations and people who are struggling so they don't give up. I accomplished a lot and still have a lot to do. I'm not done yet. As far as I'm concerned, I still have a hell of a journey ahead of me. I won't ever let anybody stop me from where I want to go. I want people to think that way of me. That here is a guy that was really an underdog and still was able to create some fantastic things. Things are now in the works that I never thought would happen, it's humbling. I want to be a positive role model and influence in people in general, but I want my peers to think of me as someone who really was a game-changer. a true fighter because I love what I do, I love the entertainment industry, it's in my blood, it's my life, and it's who I am.
Vocal readers thanks for taking the time out to learn about an amazing entertainment industry powerhouse Michael Pellegrino. Until next time continue to stay safe.
Tammy Reese
Multimedia Creative Artist
Tammy Reese Media- Founder
Vocal Media -Journalist
About the Creator
Filmmaker/Actress/Writer/Journalist/Publicist
Award Winning Multimedia Creator
IG @TammyReeseMedia
Reader insights
Be the first to share your insights about this piece.
Add your insights