Meet the Fearless Business Strategist Who Helps Women Launch Their Dream Businesses
This Compassionate Coach to Aspiring Female Business Owners is Breaking the Mold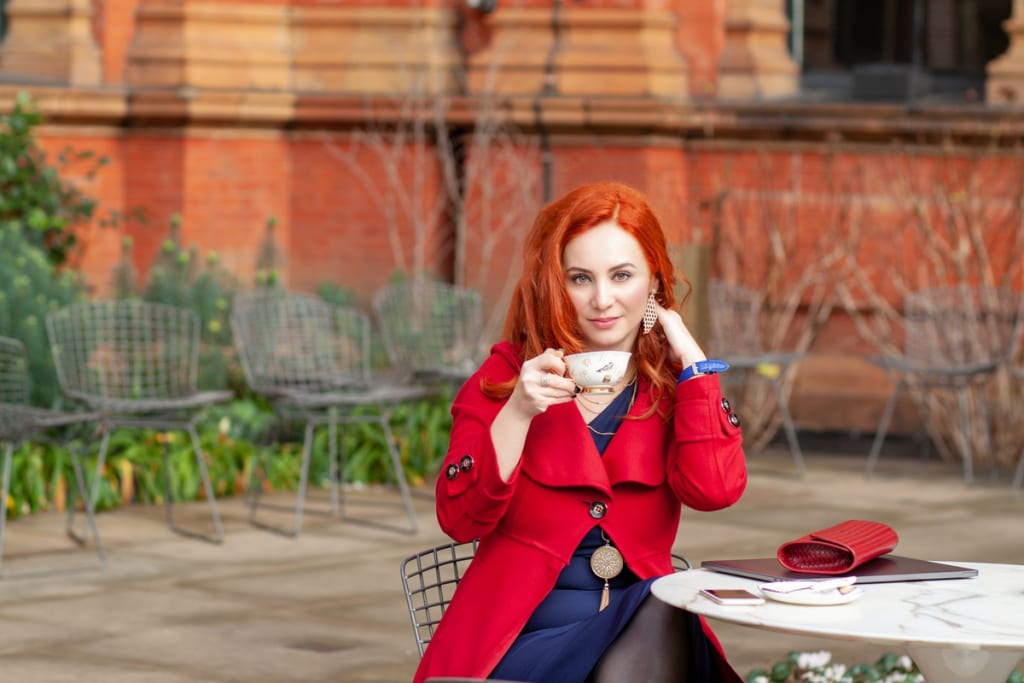 Laura Hurubaru
Growing up in Romania, Laura Hurubaru never dreamed of becoming a business coach. As a matter of fact, she'd never even heard the term! Now she spends her days helping incredible career women package their talents into high-ticket, valuable signature programs … but the road that led her here was a rocky one.
A fighter from the start
Laura's childhood was a dark and violent one. For 16 long years, she faced an abusive alcoholic father who terrorized her, her mother, and her brothers on a near-daily basis. When Laura realized that her attempts to protect and defend her family members were failing, she left home with the intention of enlisting help from police, lawyers, and any authority figure she could find. A fearless fighter at heart, she was the one who finally put a stop to the cycle of violence in her home.
"Eventually, I guided my mom through her divorce from my father," she says. "She was so immobilized by the abuse that most people would say I actually divorced my father. The day we went to the divorce trial is burned in my mind. My brothers hid behind me in fear and my mother self-medicated to stop the trembling that shook her."
That battle was long, trying, and exhausting, but it forged Laura into the fearless woman she is today. She was a natural-born troublemaker from the start, but the battles of her early life transformed her into a courageous and determined fighter.
Driven by an independent spirit
Once she'd won her own freedom and safety for her family, Laura set about building the life she wanted. After scoring top marks in computer science, she spent several years working as a software developer in companies across Romania. As a coder and team leader, she was able to get phenomenal results … yet her bosses never seemed to recognize her achievements with promotions or pay raises. So she job-hopped for several years, courageously leveraging her past experience into better positions and higher salaries. But she still felt jilted and underappreciated everywhere she worked. Around 2010 and while still in Romania, Laura was
"Laura explains. "I didn't want to climb the company ladder. I refused to spend 15 years getting white hair to finally do what I want. I wanted to be my own boss and I started freelancing, consulting, and learning about entrepreneurship."
After that Laura worked as a freelancer in her field, exploring a more independent lifestyle and work terms. During that period of working freedom, Laura chose to devote time to her family. She became pregnant with twins, a life-changing twist to be sure! During this intense period of motherhood, Laura also made her first attempt to develop her own business and brand. Since Romanians are much more likely to work for established companies than strike out on their own, she and her husband decided to move to the U.K. for a better life.
Laura's first solo business didn't work out as planned, so she returned to her roots in tech. Thanks to her persistence and determination, Laura landed a role as a senior digital development manager at EE mobile network, the UK's top mobile network company. After two years with EE she felt ready to revisit her dream of entrepreneurship and left the company on fantastic terms, being acclaimed, rewarded, and recognised for her contribution to the company, something quite hard to achieve in a foreign country all at once.
On the 13th February 2018, Laura began penning her first program to support women entrepreneurs.
On the 13th of March 2018, she was open for business. And a little over a year, she was making £10k per month training ambitious women to craft their own business legacies.
A mission to catalyze success for women
Today, Laura runs a 6-figure business driven by integrity and heart. She's already helped dozens of women who've found success in the corporate world transition to entrepreneurship and launch their own online businesses. Her Fastest Route From Scratch to Cash method equips her clients to transition from desk jobs to full-time solopreneurship in the fastest possible way, and gives them the skills to pursue sustainable growth. She firmly believes that the most successful, admired women in the world today are running soul-driven businesses, and feels honored to help her clients forge their own paths.
Those clients are spread all across Europe, and each of them raves about their experiences working with Laura, calling her everything from "gifted" to "inspiring" to "transformational." Laura herself remains remarkably humble, though she does acknowledge that the fearless fighter within her will always be there when needed.
"People say I'm determined and that I get what I want. I say that I live my life aligned with the beliefs and values I hold most dear. When faced with every hurdle in front of me, I found a way to clear the path."
If you're ready to start the journey that leads to your true purpose and turn it into a soul-driven online business, Laura will show you the way.
Laura Hurubaru is the founder of the From Scratch to Cash FAST 1x1 Coaching and Mentoring Program, a unique system that helps women who've found success in the corporate world launch outrageously profitable online businesses. Click here to schedule a free strategy call with Laura, and start down the path toward enlightened entrepreneurship! laurahurubaru.com