Make Me "The David"
Tales from the yogurt shop 2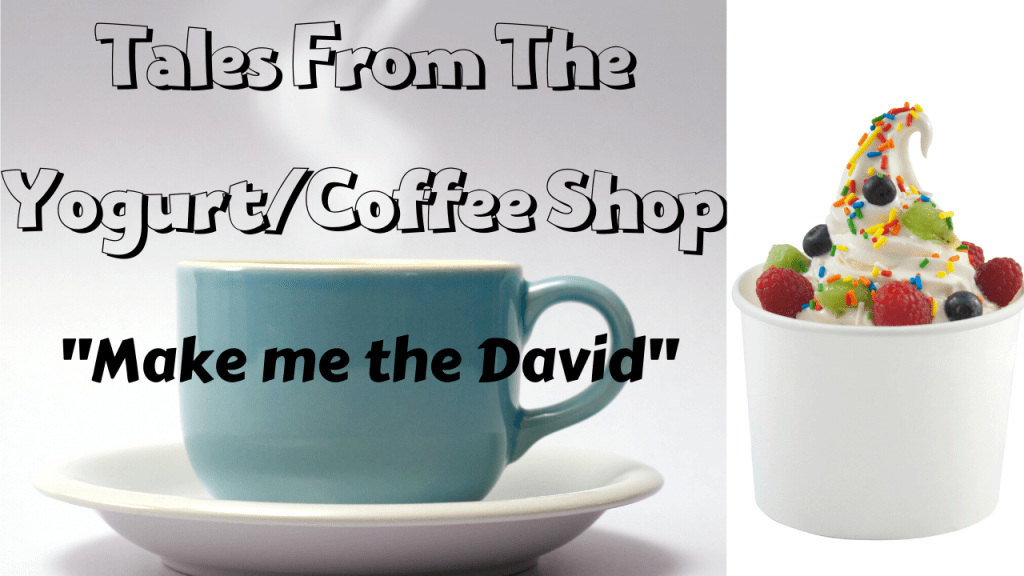 I've worked at a frozen yogurt shop/coffee shop for over 3 years now. Yes that's right, a yogurt AND coffee shop, we sell both. It's a quiet job that has given me a chance to interact with a large variety of everyday people, and witness numerous encounters between those people that I believe can give us all a glimpse into what life is truly about. These are those stories.
Make Me "The David"
It hadn't been very long since we started selling coffee along with our yogurt, so I wasn't super experienced yet in making coffee drinks. Espresso, lattes, machiatos, frappes, mochas, cappuccinos, etc. It can sometimes get a little complicated, especially when customers start making special requests. One of the first request I ever received was from a wealthy looking older man who came into the store one night about 2 years ago.
"Hi there"
Hi, what can I get for you tonight?
"You own this business?"
No.
"You ever wanna own a business?"
I don't know. (Funny enough, I actually do own a business now.)
"If you ever did own a business, would it be a coffee shop?"
Maybe.
"If you owned a business, and it was a coffee shop, and you had a specialty drink, what would it be?"
What.
"What's your name?"
David.
"Okay, David. If you owned a business, and it was a coffee shop, and you had a drink called "The David" what would it be? Make me The David!"
Uhhh, okay.
I proceeded to make him an iced latte, the easiest thing we have on the menu. I often wonder what was going through that guys head. I guess he just didn't know what to order? I also think a lot about what "the David" is. What should I have made that day? I made him the simpliest thing possible, but I don't think I'm so simple. I guess I could have thrown in some caramel, or chocolate or something. But that leads me to my next thought, what is "the David" in terms of more than just coffee? I hope to find out soon enough.
Many, many strange things have happened to me at work. I live in a small country town in the south, filled with lots of strange people. Some are funny, some are annoying, some are rude, and some are just straight up confusing. This particular story fits into the funny/confusing category. It's a confusing story, "Make me the David." Like, what? But it is also hilarious to me and my friends. Since then, I've heard the sentence "Make me the David." many, many times.
Me to my friends: Hey guys, what do you want to drink at the D&D game tonight?
"Make me the David."
That's a common one. I'm not bothered by it though, it makes me laugh and more importantly makes my friends laugh. That's what I care about more than anything, making others laugh. That's why I am sharing these stories, these strange tales from my work life, and I hope you enjoy as I continue to write them. The next story I have in mind to write is about the time a customer tried to sell me "Liquid pantie remover." I''ll let you wonder about what that is until I release the story. I also have numerous tales all about one particular woman, who I will call Karen for obvious reasons. This woman has been the bane of my and my coworkers existence for over 3 years. Speaking of my coworkers, I also have many, many stories all about them. For the past 3 years, I have been the one constant employee at the store as I watch others come and go, many of whom were my best friends, and at times, my worst enemies. I'm telling you, there should be a CW drama about this store. But for now, this little blog will have to do.
If you enjoy my Tales From The Yogurt store, definitely check out my Youtube channel Stay Creative for videos and podcasts full of stories about my life and tips on all things writing and creativity.