Mahindra Tractor - 7 Qualities that you need to know
Is Mahindra Tractor a New Generation Tractor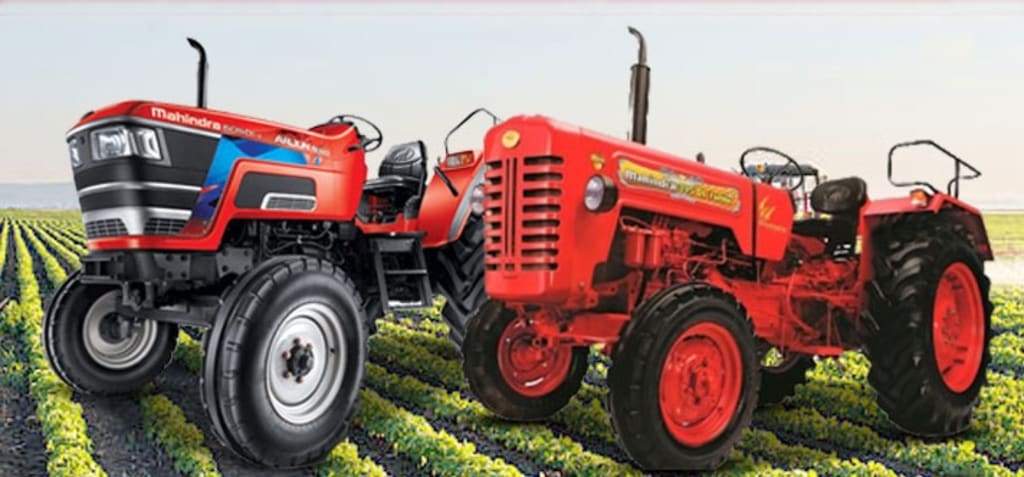 Mahindra tractor is a leading and popular tractor among the Indian customers. It belongs to the Mahindra & Mahindra company, the worldwide manufacturing company of tractors and farm implements. Mahindra Tractors are used in road construction, agriculture, building construction, etc as bulldozers, diggers, and scrapers. The tractor of Mahindra has all the best features which tempt the customers. It comes with innovative properties that make farming and others work smooth and more productive. Tractor offers high fuel efficiency, economic mileage, powerful engine, and many more. Mahindra tractor is a multipurpose tractor that performs various farming operations very efficiently. Along with this, it is correctly working with farming applications.
Design is another specialty of the tractor that means it comes with stylish looks and nice color. Its glorious color and splendid design attract the Indian customers. The Mahindra tractor's advanced features are different from those of today's fossil fuel tractors, and are taking us closer to an emission-free future. It knows very well about the customer's demand and requirement, so it tries to work as per the farmer's need.
Is Mahindra Tractor a New Generation Tractor
In recent years, technologies have become more developed and advanced. And the new generation of farmers is getting ready to do developed agriculture. So, They want a tractor that is suitable for this developed agriculture. Mahindra fulfilled the demands of new-age farmers by manufacturing technically developed tractors. Due to its advanced features, the tractor is ideal for modern farming. Even with these modern features, the Mahindra tractor price is low and affordable.
The Successful Journey of Mahindra Tractor
The founder of Mahindra & Mahindra company was J. C. Mahindra, K. C. Mahindra, and Malik Ghulam Muhammad. At the stating company name was Muhammad & Mahindra later in 1948, the name was Mahindra & Mahindra. The Mahindra B275 was the first tractor of M&M, which launched in 1963.
Mahindra Tractor is the number one seller in India, and it has been the market leader since 1983. The main selling area of Mahanidra is Gujarat, Haryana, Punjab, Maharashtra, and southern states. In Gujarat, sold under the Mahindra Gujarat label, it is under the name Swaraj in Punjab. Mahindra purchased 100 % Gujarat tractors from the Gujarat government in 1999 and bought a 64.6% share from Swaraj in 2004.
In 2011 Mahindra started manufacturing 15HP tractors in Rajkot under the Yuvraj brand name. The set up of this joint venture by Deepak Diesel Private Limited and Mahindra & Mahindra. Additionally, The plant has a 30000 tractors per year manufacturing capacity.
7 Reasons That Make Mahindra Tractor Leading Tractor Brand
We know that Mahindra tractors are the no. 1 tractor brand in India, but why? Therefore, We have seven reasons to answer this question. These seven reasons prove why Mahindra is the major tractor brand in India.
Accessible Transmission System and Hydraulic System
Mahindra tractors come with an accessible transmission system that makes operation easy and straightforward.
The Mahindra tractor offers a convenient transmission system to make the ride comfortable and securable.
It is the best companion of the implements, and with the tools, it improves the production.
Mahindra tractor quickly pushes and pulls the elements such as a cultivator, plow, etc.
Mahindra gives a heavy hydraulic system for smooth and easy functioning.
Safety and Comfort
It provides safety and comfort while driving on the farming field.
Mahindra understands the safety value, and it can adequately verify all the safety equipment.
Before launching any tractor, they verify the tyres, tractor body, and other safety equipment.
They provide a comfortable ride by making the seat comfortable and system smooth.
Due to safety and comfort, drivers get the strength to stay in the field for a long time.
Low Fuel Consumption
Mahindra has a saving money feature, which is fuel consumption. It comes with high fuel efficiency and low fuel consumption.
They offer powerful engines and large fuel tanks that help the tractor stay in the field for a long time.
The tractor of Mahindra has the economic mileage that saves money.
Appearance
First impressions always matter and always work. The Mahindra tractor has a proper design that leaves a striking impression wherever it goes.
It has the lavishing design and glorious colors that entice the Indian customers.
It comes with an excellent appearance power that delighted the farmers or customers.
Convenience
No one likes to drive on the rugged surface, but it's essential. Mahindra tractor has tried to make driving more convenient and less painful, especially on rough surfaces.
It has an array of convenient features that help drivers focus on driving and forget about these external issues.
It has smart gearboxes that provide safe driving by controlling tractor speed.
It comes with smooth steering that makes it easy to maneuver the tractor. And now you can easily take a turn in areas like gardens or small areas.
Durability
Mahindra tractor is a long lasting and durable tractor.
For durability, it provides a bundle of significant characteristics, including
It offers a strong and robust tractor that makes it durable for a long time.
The tractors model of Mahindra comes with modern technologies.
Due to its durable features, Mahindra can face any weather conditions.
Versatility
Mahindra has a wide range of tractor models, and these tractors perform multiple operations effectively.
These tractors are manufactured in such a way that they fulfill many agricultural duties successfully.
Tractor of Mahindra is quickly completing the cultivation, plowing, and many operations.
It is a good companion of heavy equipment and easily installed, which means it can work best with equipment.
Achievement of Mahindra tractor
Achievements decide the success of any product, and Mahindra has the biggest list of accomplishments.
Check out below the achievements of the Mahindra tractor:-
In 2010, Mahindra became the highest-selling tractor of the world.
Mahindra tractor company is the largest manufacturing.
It can produce 150,000 tractors a year and 85000 tractors sold annually.
Mahindra has the most extensive dealer network across the world that is 1000+ dealers approx 40 countries.
In 2018 Mahindra stood at the position of 17th in the list of top companies of India.
It is the most popular company in an automobile after Maruti Suzuki and Tata Motors in India.
These features prove that the Mahindra tractor is the perfect tractor for Indian farming operations. We hope you can enjoy this blog, and you can get answers to all your questions.
product review
Mohit Batheja, Blogger by passion who love to find something that inspire him and make sense by sharing in the words which can provide everyone some best pick around the web... The above you have read is also from the same effort...
Receive stories by Mohit Batheja in

your feed