Letters to my Son: Day One
First Full Day on Base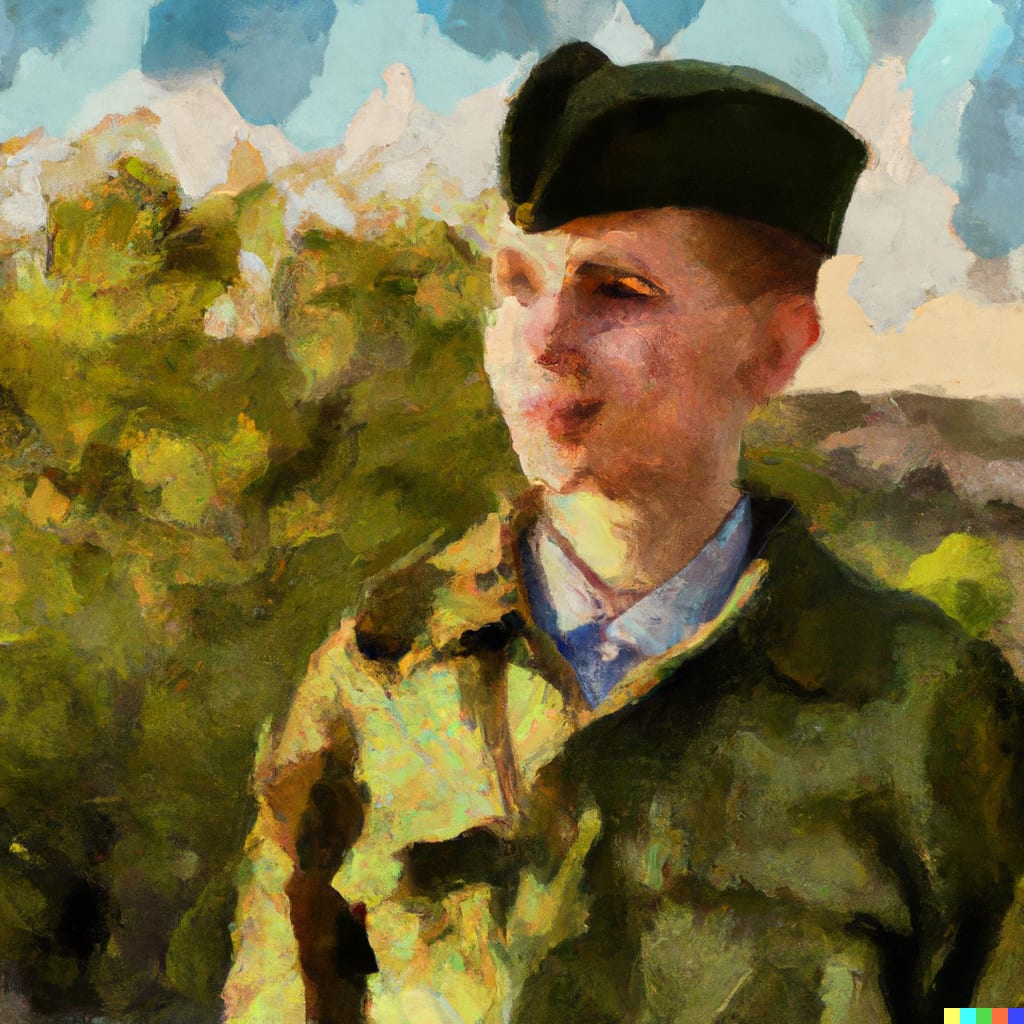 image created with Dall-E
I'm seated at the desk in your room. Your dad is on a work call and I can hear him clearly through the shared wall. There is more light in your room than you'd like: I pulled back the blackout curtains and opened the blinds to let in the morning sun. Soon, there will be a warm bit of sunlight on your bed for basking, which I expect a certain six pound cat to find in about 30 minutes. The fat one has his own cozy blanket for basking in the sunlight of your dad's love on his desk. I occasionally hear them arguing about the leisurely pace 'Biggie Smalls' chooses while traversing the "productivity zone" to get to it.
Your sister has gone to school for her last full day before the Thanksgiving break. It's a chilly 46 in the morning going up to the lower 70s, so can't complain about the weather. I'm going to do a trial run today of your great grandma's apple and sweet potato casserole in anticipation of tomorrow's gathering with a more discerning audience. Then I'll make it for you when you're home for Christmas.
I've been reading up on what kinds of things you'll be doing once you arrive at a battalion reception. According to their website, you'll receive all your gear, get vaccinations and a haircut, and your personal items (phones and such) will be put in storage for you for the duration of your twelve weeks of training. Then, you'll be waiting approximately 3-7 days to be assigned to a platoon. This has been described as a relaxed phase of your training, so I'm imagining you won't truly start boot camp until the beginning of next week. Which means there's no way for you to receive correspondence over the Thanksgiving holiday, which frankly, is pretty sucky.
So, I decided to write to you daily from the desk in your room so that you'd know I was thinking of you. I'll forward them to you each day once I have an address. And then, in a power move I think you would appreciate, I decided to post this as a series called "Letters to my Son" to my Vocal Media profile—with a teaser on my website to direct it there—to help me raise money to travel out to see you graduate as well as launch my full time writer/voice artist career so I don't have to get a real job.
Don't worry. I won't give out any state secrets concerning your identity or whereabouts. I will, however, share my imaginary version of your experience based entirely on what I learn from the official military website and I'll do my best to follow along, offering support, anecdotes from my own past, and gossip from home to entertain you. And anyone else who may be reading. But mostly you.
You'll also get private correspondence, of course, either through that app or, my personal favorite, via snail mail—I bought sealing wax and a seal with an airplane on it so you'll know if they opened your mail. You're welcome.
As today will be your first full day on base, I will begin my letters today as well. It's the day before Thanksgiving. I'm going to assume that they did limited intake yesterday due to the late hour of your arrival. They probably separated you from your stuff and sent you to wash up and a bunk.
Today is when the real transformation begins. You will always be my son, but soon you'll also be a soldier. It's going to be the hardest thing you've ever done, but you'll get through it and be better for it. I know it because I know you: you're a tough noodle. You got this.
I'm super proud of you and love you a shit-ton. I'll write again tomorrow with all the holiday shenanigans and bruhaha from the family Turkey Day celebration. I'll eat an extra slice of pumpkin in your honor, too.
Mom
About the Creator
TAWN is a jet-rated Airline Transport Pilot, serial entrepreneur, fantasy author, audiobook narrator, and Dragon Empress of Tawnlandia, an empire forged of dreams, magic, and of course, dragons. Follow #EmpressTawn on Instagram or Facebook.
Reader insights
Be the first to share your insights about this piece.
Add your insights