Letters to My Son Day 4. Wait, I mean 5.
Psych! It's really Day 6.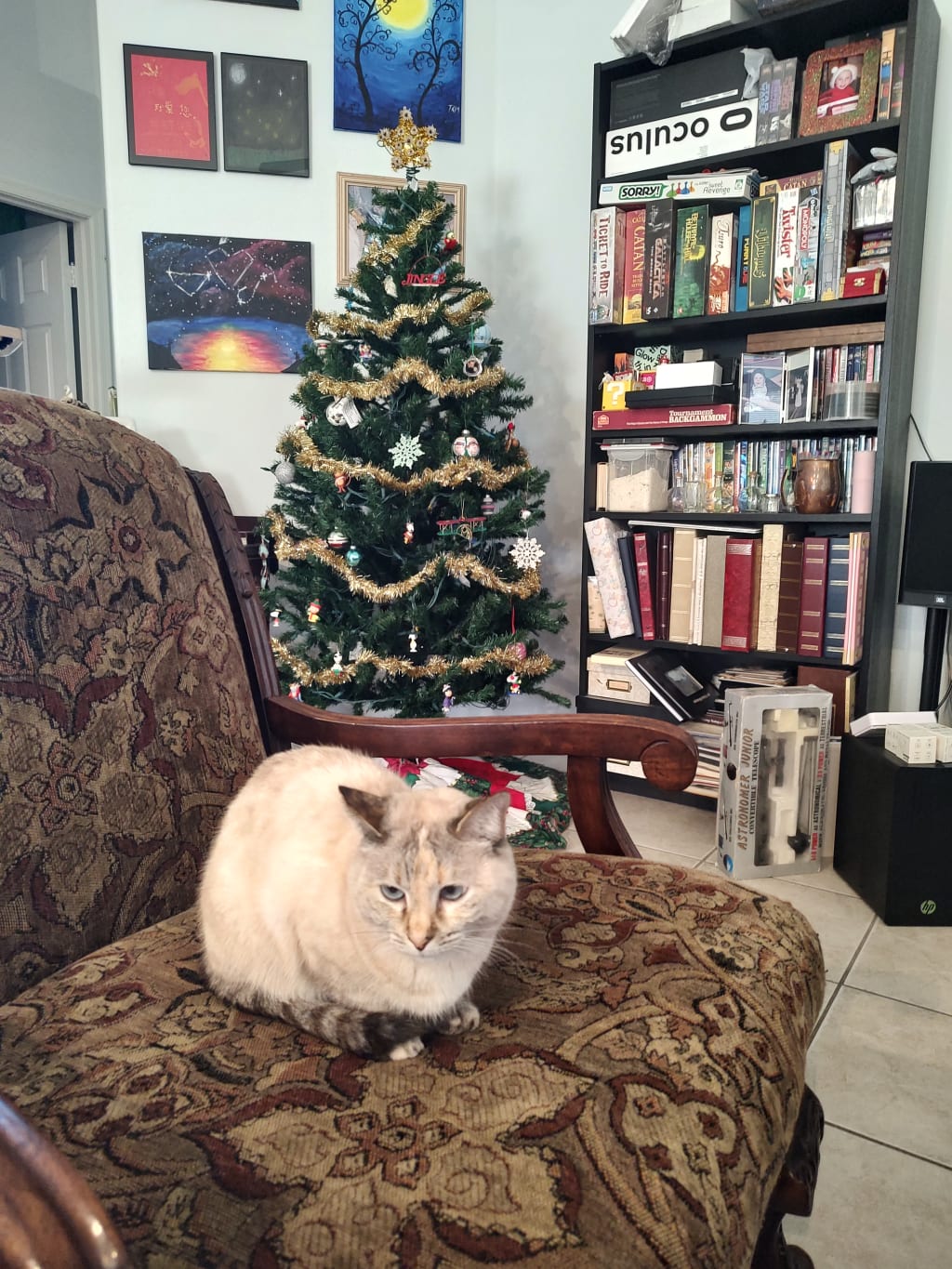 Someone is not interested in holiday decorations.
I am sitting in the backyard in the hammock trying out the new typewriter feature on my Remarkable tablet. The sun is warm, and the cats are content to survey their domain from a patch of it nearby. This has become my favorite time of day recently and having the ability to write like this helps my motivation.
You may have noticed that I missed a day. I take full responsibility for falling down on the job. However, there were extenuating circumstances, the biggest one being the timelessness that occurs in the days following Thanksgiving where your inner calendar is all out of whack from a non-weekend holiday. We also got a call from you, which helped me rationalize skipping a day. Plus, it will still be a few days before I have an address to send these to in any case. Once that happens, I will send all the previous ones in one package and then commence with daily missives from there.
As you can see from the photo, we've done some holiday decorating. In addition to the tree, we've hung stockings, placed a wreath on the front door, and hung some garland up over the garage. Simple, but festive. I'm sure I'll think of more things to add as the weeks go on, even though both cats are freaked out by the each new item.
I'm hopeful that today you were placed with a unit so you can officially begin Red Phase. According to the website, during these first three weeks, you'll get a thorough introduction to military core values, traditions and ethics; Assembling, disassembling and caring for your M16 (or in my case, a Nerf pistol); The Nuclear-Biological-Chemical (NBC) chamber (this does not sound like fun); Security and crowd dispersion discipline; Hand-to-hand combat and guerrilla exercises (I have rope dart and staff spinning training videos ready to go); Barracks inspections (I made my bed!); Running (haha no), tactical daylight marches and fitness training (I'll be doing a modified version). Honestly, all of that sounds really intimidating, and I can imagine you'll feel stressed out, bruised from combat training, and sore from exercises. It's going to be exhausting and unlike anything you've ever experienced, but you'll get through it. I promise. And I'll be right there with you in spirit with my velcro Nerf darts and thirty second planks for comic relief.
Today was not a Nerf or plank day, however. I did some cooking, some cleaning, but not really anything toward generating some income or getting physically fit, unless either writing this letter or dancing to 70s-80s rock while chopping apples counts. No, today wasn't very productive at all, but that's okay. Tomorrow is a new day and another chance for me to try again.
Keep that in mind: you're going to have days that you fail. It's inevitable. Learn from it and move on. Don't dwell on it. Let it go. That's the best advice I can give you. That, and listen more than you talk. Although, I don't believe that was ever a problem for you.
I hope the unit you're assigned (fingers crossed for today!) is full of people who will grow into an extended family in this new reality of yours. People you can count on and trust to have your back. I hope at least one friendship born during this time of physical, emotional, and mental hardship will be a lifelong one, something able to endure the test of time. Having friends to share this experience with will be a comfort to each of you.
I want you to know that we all miss you and are counting the days until we see you again.
Blue skies and tailwinds, my son.
Love, Mom
About the Creator
TAWN is a jet-rated Airline Transport Pilot, serial entrepreneur, fantasy author, audiobook narrator, and Dragon Empress of Tawnlandia, an empire forged of dreams, magic, and of course, dragons. Follow #EmpressTawn on Instagram or Facebook.
Reader insights
Be the first to share your insights about this piece.
Add your insights