Letters to my Son Day 2 in Two Parts
Thanksgiving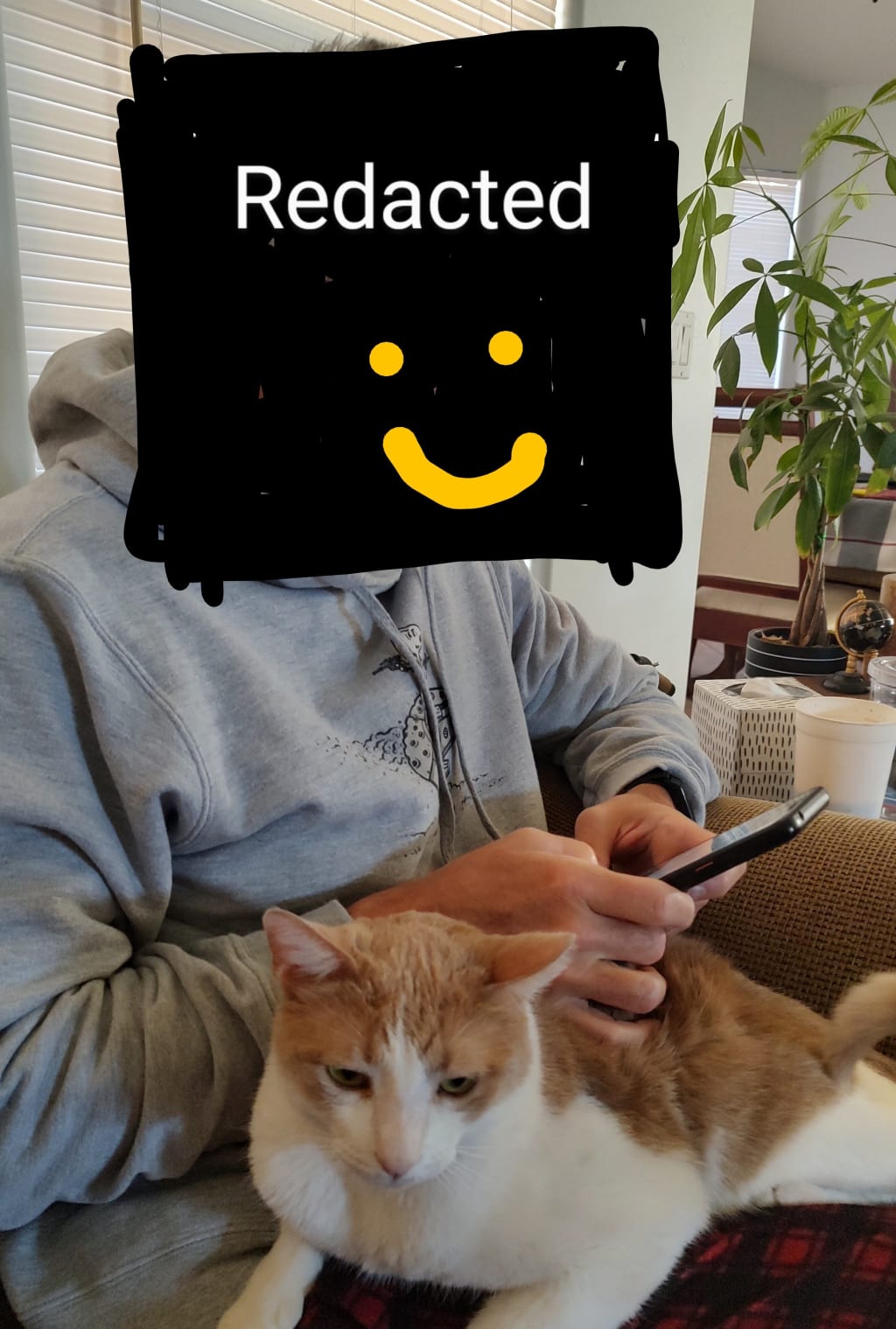 Access to unredacted image approved on a need to know basis.
PART ONE
This is what your dad looked like this morning when you called. You called! Slightly off-topic, but I've decided that since I was the first person you contacted when offered your precious allotment of ten minutes of phone time, I am the one you love the most. I will accept no other explanation.
It was so good to hear your voice! That you joked about your head feeling like it was covered in Velcro proved that your spirits were high despite the sore legs from lots of use in the isolated and regimented environment in which you now reside. I'm glad to hear that the app* I found will be useful for keeping in touch once you're sorted into your unit. I'm was bummed to hear that you'll be going from a decent holiday meal straight to MREs, but I'll do my best to make up for that when you come home for the holidays.
I decided to go back to the BASICS (see what I did there?) with your great grandma's yam and apple casserole this year. I remember being your age (and younger) and begging her to make this for every holiday / potluck / remotely fancy occasion that chanced across my calendar. Boxing Day? Talk Like a Pirate Day? My Unbirthday? Hell to the yes, g-ma.
These yams, the cheesy potato casserole (wedding potatoes?), and the frosted sugar cookies your great aunt makes... omg so good. That's all I'd eat. It was carb heaven. Maybe I can send you a care package of those cookies? Maybe sweet talk the drill sergeants into fewer pushups? We'll see.
I'll need to go get ready to head over to the gathering, but I'll give you the 411 after dinner in Part Two.
Until later...
Mom
*App recomendation: Sandboxx
***
PART TWO
This Thanksgiving dinner was both wildly different and comfortably similar to all the other holiday gatherings I've experienced throughout my life. On one hand, my eldest had left the nest and I was celebrating the first holiday without his dry sense of humor and eagerness to participate in Tech Talk with the nerdier of the family. On the other, I was surrounded by familiar faces feeling thankful for good food, good company, and a well lived life. The food was plentiful, as any harvest festival worth its salt would be, and after I stuffed myself silly, we tried a contender for a new family tradition: games! We broke out the Pictionary and Uno and had a really nice time. Maybe we could play Jackbox when you're in town next. That would be a blast!
Your sister ended up bringing home 3/4 case of 12 oz cream soda cans, a 2 liter bottle of root beer, and two 16 oz Dr. Peppers in addition to half of the pies. She's gonna be on a sugar high like that one Easter when she just ran around and screamed during the egg hunt at your great aunt's place. There was maybe a half cup of the yam and apple casserole left, so it looks like the right recipe. Your dad wants me to make another batch just for us.
And all this has got me thinking—you're gonna want to sit down for this one, I promise—I'd like to decorate the house for holidays. I'm serious. I know in the past I have said some pointedly scathing remarks about the entire season and would rather have given a lung before putting up a tree. But now, I've been given a much more persuasive reason to celebrate: a full nest again, at least for a little while. The mere thought of having you home makes my tiny little grinch heart swell, and I want to make wreaths and garland and scatter paper stars all over the house. It's the weirdest thing.
As I am about to succumb to the customary post-turkey day food coma, I will wrap this up.
Give 'em hell, my son. I'm proud of you.
Mom
humanity
About the author
TAWN is a jet-rated Airline Transport Pilot, serial entrepreneur, fantasy author, audiobook narrator, and Dragon Empress of Tawnlandia, an empire forged of dreams, magic, and of course, dragons. Follow #EmpressTawn on Instagram or Facebook.
Reader insights
Be the first to share your insights about this piece.
Add your insights