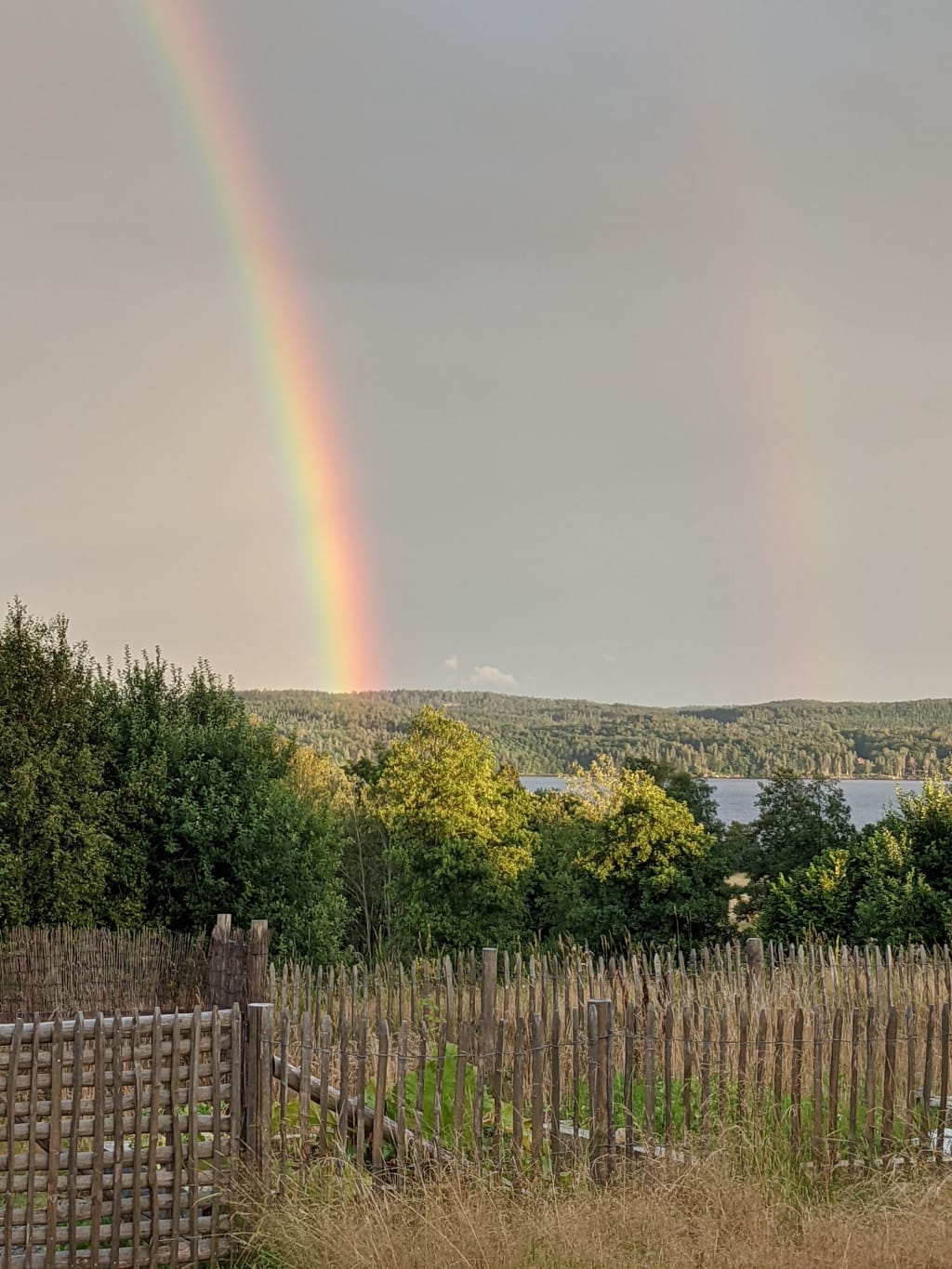 Photo By Magnus Polla
As a young adult living in Vermont, USA, tuning into a regular radio broadcast on Sunday morning with a warm mug of dark roasted coffee was a soulful retreat from the busy hum drudgery of the week. Garrison Keillor's radio broadcast, "Prairie Home Companion" was exactly that, a delightful guest in my kitchen, a welcomed visitor with a smooth and soothing voice. The program was broadcast live from Minnesota, far away from the familiarity of my view of Mount Mansfield, part of the Green Mountain chain, where tall dark pines grew as far as the eye could see and neatly stacked firewood lined my weathered fence, much in need of mending.
His famous quote, "Welcome to Lake Wobegon, where all the women are strong, all the men are good-looking, and all the children are above average." His smooth tone ensured my next hour was pleasant and the inner reflections silence brings would quell any worries.
I now live on Sweden's west coast beside a lake named Lygnern. I am far from Vermont, even further from "Lake Wobegon" and soon for ten years this view from my bedroom window has given me insurmountable pleasure.
Although I have human companions, two furry Lepus who have leapt into my heart (domestic rabbits of the Teddy Bear and Lion haired-breeds) and spoiled Hedemora chickens, the comforting confinement I once chose has now become a quarantine for survival.
I have seen the lake shine like an ice-covered pond on sunny days, frothy waves rustling from gales off the North Sea, moon beams bouncing playfully and Lygnern completely hidden by heavy fog.
This body of water I have become enchanted with is my companion and I its guest. I have sat on the edge of my bed crying with only Lygnern as my witness and comfort. I have sat with my husband on warm summer evenings by the shore, hands embraced, our eyes indulging in its romantic hues. Our love deepens while the water ebbs and it has become the idealistic metaphor of daily life. I have watched children splash, laugh and wild water swimmers tackle this natural playground.
Now I look out and feel the anxiety of the pandemic, grateful for living away from the city yet Lygnern has not changed. It does not reflect fear, rather harbors the history of our region and continues to offer up beauty and solace. It survived the cholera epidemic and on ridges near are graveyards of our village victims who once fished and swam in this lake, too. It has had rowboats browse these shores for centuries, ferries of wedding parties and been the backdrop for celebrations and gaiety for those long gone.
Lygnern embodies in its wake the memories we both cherish and take for granted.
From my window Lygnern will continue to be my companion differently than any other. All who have a view develop their own relationship with it. My worries flow and my hope grows; each day or even hour this lake offers gracefully and precisely what I need.
For those alone during this history in the making, the 2020th year and onward shall forever induce memories of solitude; your view is up to you to create. If you look out and spy a streetlamp or a seagull, they are your personal mirror of Now.
In solitude may we all find a path to inner peace by opening the pages of a book that takes us far away from our physical quarantine, tune in and listen to others and imagine your own comforting scenery.
I never saw Lake Wobegon or met Garrison Keillor, yet they were as comforting every Sunday as an old friend who'd popped into town and surprised me.
From Lake Lygnern I send each one of you a picturesque view during difficult times, and with a warm heart, I wish your days to be a bit brighter than the day before.
I will continue to write from my perch above Lygnern in my cosiest sweater and I will commit to compliance not complacency while breathing in my view of this historically rich land and water. From outside the city, where the lake listens, the sun rises and sets and yes, we all `" think" we are good looking, Peace.
About the Creator
Writing whether truth or fiction, feels as if I am stroking across a canvas, painting colorful words straight from my heart.
I am both a USA and Swedish citizen; from my old farmhouse in western Sweden I tap into my muse via nature.
Reader insights
Be the first to share your insights about this piece.
Add your insights