John Deere Tractor - One of The Best Tractor Brand in India
John Deere- Best Tractor For Farmers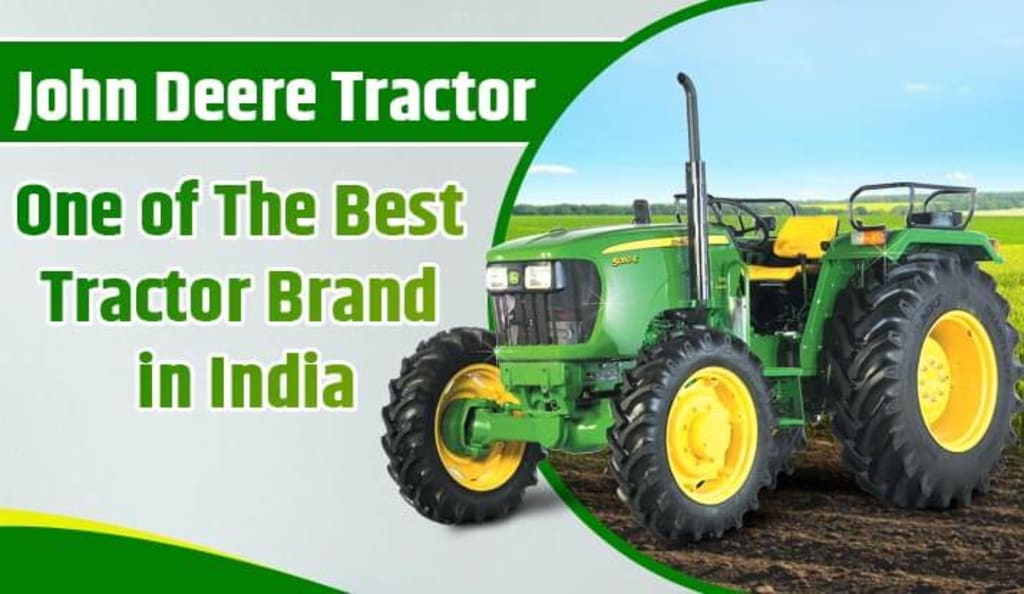 John Deere is one of India's best and biggest tractor brands due to its excellent tractor and farm equipment range. It is an international tractor brand, but it also has a fabulous presence in the Indian tractor market. John Deere India is famous among the Indian farmers as it offers products as per Indian farmer's demand. Deere & Company was founded in 1837 by John Deere and Charles Deere.
John Deere India Pvt. Ltd is a subsidiary of Deere & Company, founded in 1998. In India, the Company started its journey in 1998. Since then, it never looked back. With time, it became more popular and renowned among Indian farmers. The Company made tractors and farm equipment by keeping the conditions of Indian fields and the needs of Indian farmers. That is why it stands on the wishlist of Indian farmers.
How John Deere Tractors Reliable Choice Of Indian Farmers?
John Deere company offers a wide range of tractors ranging from 28 HP - 120 HP, including various tractors. This tractor range includes mini tractors, row crop tractors, 4wd tractors and many more. These tractors are made with the latest technology and loaded with advanced features, providing productive farming. All the John Deere tractor is durable, powerful and versatile, making farming operation fatigue-free. The main advantage of the tractors is they can easily handle unfavourable soil, weather, field and climate conditions which means it performs in any situation. Along with this, The design and looks of the John Deere tractor attract all the Indian farmers.
These tractors provide economic mileage, high work excellence, less maintenance and comfortable riding. John Deere tractors come with an efficient braking system to protect the operator and provide a high grip. They are made with fully aired tyres that run for long hours. All the tractors come with an innovative clutch, good steering system, large fuel tank, robust gearbox, high PTO hp, and most importantly, comfort. With these features, these tractors ensure a high outcome without any extra effort.
John Deere Tractor Price in India
Price range is a primary factor while choosing any tractor. And Indian farmers always want a tractor that can easily fit their budgets. John Deere understands this, and that is why it offers tractors at an affordable price range. John Deere tractor price starting from Rs. 4.70 - Rs. 29.20 lakhs* in India.
John Deere 5036 D is the lowest priced tractor model of the Company, available at Rs. 5.10 - Rs. 5.35 Lakh* in India. The most popular John Deere tractor models is the John Deere 5310, available at Rs. 7.89 - Rs. 8.50 lakh* in India. The brand offers a wide variety of over 35 tractor models in India. The John Deere product portfolio includes the John Deere 5310, John Deer 5105, John Deere 5050 D, John Deere 5036 D, and more.
Along with this, John Deere is renowned for its heavy-duty tractors, which are robust and perfect for heavy farming tasks. Following are the best heavy-duty John Deere tractors.
John Deere 6120 B - 120 hp, Rs. 28.10-29.20 lakhs*.
John Deere 6110 B - 110 hp, Rs. 27.10-28.20 lakhs*.
Popular John Deere Tractor In India
As already mentioned, John Deere offers the broadest range of tractors, some of which are very popular among Indian farmers. So, here we are mentioning some most popular John Deere tractors, which help perform laborious farming tasks.
John Deere 5310 Tractor
It is the most popular John Deere tractor belonging to the 55 hp category. The tractor model is powerful and robust, providing productive farming. John Deere 5310 has a robust 3-cylinders engine that generates 2400 ERPM. The tractor model is made with the latest technology and completely loaded with innovative features. The tractor model performs various farming operations such as harvesting, planting, sowing and many more. The ROPS system of the tractor protects the driver from a rollover or overturns. John Deere tractor price is Rs. 7.89 - Rs. 8.50 lakhs*.
2. John Deere 5050 D - 4WD Tractor
It is a 4wd tractor which is very well known in the 50 hp category. The tractor model comes with a 3-cylinders engine which produces 2100 RPM. John Deere 5050 is strong and reliable, which is perfect for rugged and challenging farming applications. The tractor engine is synonymous with durability and can efficiently handle adverse Indian fields. John Deere 5050 D comes with oil-immersed disc brakes, avoiding slippage. The price range of the tractor model is Rs. 8.00-8.40 lakhs*.
3. John Deere 5105 Tractor
It is the foremost tractor of John Deere, belonging to the 40 hp category. The tractor is very well known for its engine power which handles all the farming tasks. The John Deere 5105 has a steering system, which along with an economical and robust twin-clutch, makes the operation exceptionally simple. Engine oil cooler cools the engine making it a pleasant ride for the operator. John Deere 5105 tractor price is Rs. 5.55 lakhs* - Rs. 5.75 lakhs*.
These are all about John Deere tractors. We hope you enjoyed getting information about John Deere tractors and updated John Deere tractor prices.
For more such good topics and blogs, stay tuned with us. If you are searching for best-in-class mini tractors of various brands, visit TractorGuru.