Jerrick's Journey from Idea to Reality
Platforms that solve problems remain the primary driving force behind Jerrick's success and Vocal's adoption.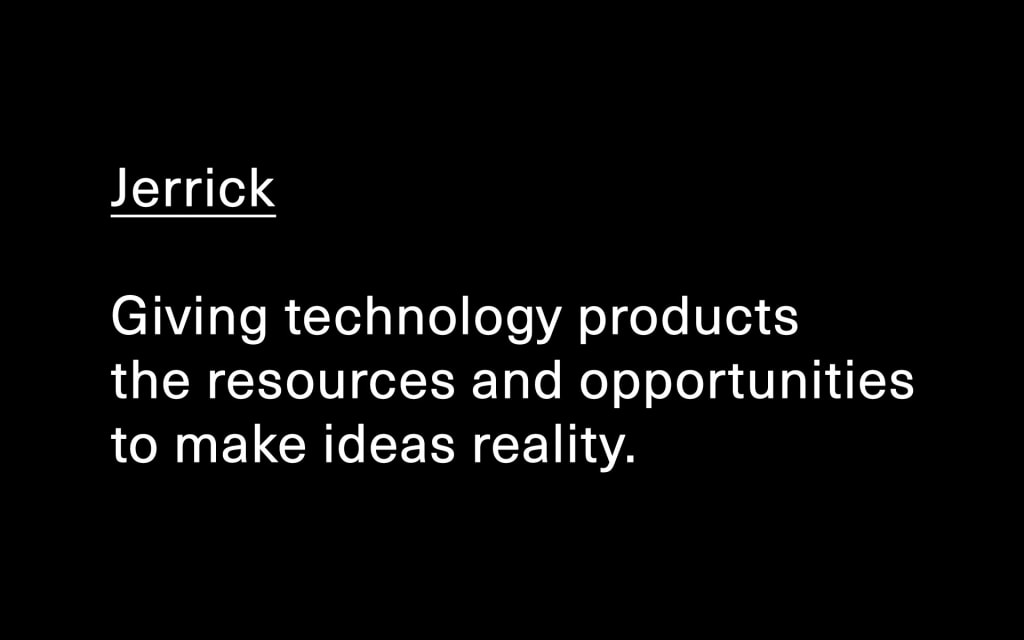 Cultural revolutions are often followed in history by innovation sprints. Consider the printing press. It took the world 561 years — a blink of an eye relative to human history — to go from Gutenberg's great invention in 1440 to listening to Beethoven on an iPod in 2001.
More recently, technology disruptions have led to even more rapid cultural revolutions. Six years after the birth of Twitter, the Arab Spring changed an entire region of the world. These two unique disruptions indicate that cultural revolutions will be coming faster and faster. Belief systems will be questioned; people will be united in ways we could never have imagined, but they can also be divided. Change is good, but it also brings challenges.
We are now entering a second generation of the technology revolution that began at the turn of the century with the introduction of innovative tech and hardware. Today's digital frontier is not the Internet your parents remember. There is no Ask Jeeves — but you can ask Alexa how the weather is in China or even to book a flight to Beijing.
There was a dramatic shift over the 1990s and early 2000s in hardware, such as flatscreens, compact devices, and fiber optics, in comparison to what is commonly referred to as the digital world. By that, we mean a world responsive to data.
Data is the currency of today's technology world.
Understanding the value first- and third-party data can provide a company is now the key to that very same company's growth in almost any industry. It was Facebook which perfected the use of data in this way — but the problems inherent in that use is now causing another major technology disruption. I will save more of that discussion for a future article.
Data is more transparent after an IPO.
In May 2012, with the IPO of Facebook and the transparency required for an initial public offering, I came to better understand both their advertising interface and the underlying nature of open source code, as well as the scale it can provide. The library React.js was created by Jordan Walke, a software engineer at Facebook, and was deployed on their newsfeed in 2011 and later on Instagram in 2012. Years later, it continues to be one of the most important contributions Facebook made to open source languages.
Rapid cultural change creates bubbles.

In conjunction with rapid change in technology, there has also been an expansion of a bubble in general valuations of legacy technology and traditional media assets. It is as systemic as anything I ever experienced on Wall Street — and ultimately leads to an overweighted buyer's market.
Unprecedented access to capital for new technology and distribution channels led to unsustainable expectations for returns on investments from the private equity and hedge fund communities. The institutionalization of open source languages through groundbreaking products like GitHub — which recently sold to Microsoft for 7.5 billion — have leveled the playing field for entrepreneurs and their digital development partners.
Valuation deterioration is rippling through agencies, media, and distribution points of the digital space that are not prepared for a new way of thinking and behaving. Unlike content-congested legacy websites and poorly-conceived media infrastructures, the new platform space represents centralization, organization, and evolution in a theory of conscious design. The byproduct of perfecting organization is the elimination of multiple middle layers of inefficient legacy business processes, as well as a great deal of people.
Companies such as Netflix, Spotify, and Vimeo promise safer digital environments and better user experiences (UX). The next iteration of the digital frontier will be non-intrusive safe environments, providing needed solutions for multiple stakeholders: creators, consumers, and brands.
The future is a feedback loop that provides long-term value to the creator.
Our team's combined passions for design, entertainment, and finance led to the creation of Jerrick in 2013. We began development on the Vocal platform in 2014. Jerrick went public under the ticker JMDA in February 2016 and Vocal went live in December of that same year. The platform ended 2017 with nearly 100,000 content creators.
Vocal celebrated its two-year anniversary with 41,227,109 words published by 360,000 creators, and 151,329,821 total minutes spent reading those stories by their audiences. We crossed 400,000 content creators this past month, and I expect that we will have over one million creators by June 2020.
A vast number of our creators will begin paying subscription-based fees for a suite of premium tools and features. Jerrick's core values define how Vocal works; the creative community provides an authentic environment for those creators to amplify their audience and be rewarded for their work. Our feedback loop with creators will provide the knowledge for us to develop the right tools — tools that people will pay for and which will provide long-term value.
One of the core fundamentals of the platform's growth is attributed to our bespoke moderation system and community guidelines. We launched Vocal amidst the proliferation of hate speech, fake news, and nefarious websites masquerading fiction as fact.
We knew that in order to protect our community of creators and brands, we would needed to develop human-led curation, foolproof algorithms, escalation protocols, and a deep daily study of data to improve the efficiencies embedded in this important component of our success.
From our earliest days, we implemented a moderation process that ensures a safe environment for both creators and audience. We read every single word submitted to the Vocal platform. Learning from platforms like Facebook and from digital scholars like Sarah T. Roberts and Tarleton Gillespie, we immediately saw the need for moderation to foster a community of quality ideas.
This formed the foundation of how we created Jerrick, a technology company that will in 2019 fund itself through a creator subscription model.
Vocal is recognized as a trustworthy partner to creators — creators who will evolve into brands. Successful brands become companies which face digital challenges and require qualitative solutions. This trust, along with our ability to meet the challenges of the future, lay behind the foundation of Jerrick, a technology company that will in 2019 fund itself through a creator subscription model.
We intend to pursue multiple monetization opportunities, but it is the creators who remain the primary driving force behind Vocal's success and adoption.
We designed a virtuous feedback loop for Vocal.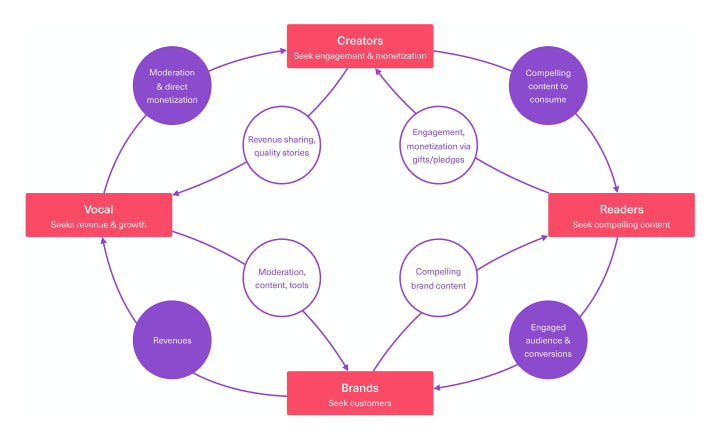 This is Jerrick's position in tomorrow's digital landscape.
While the digital environment holds great promise, technology disruptions have left a number of casualties in their wake. Just look at the evolution of the Internet; in Web 1.0, it was "readable": flat data. People couldn't interact with pages in any capacity.
Then in Web 2.0, we reached "writable": people could post videos on YouTube or leave reviews on websites such as Yelp or Rotten Tomatoes.
In just a few years, we reached Web 3.0, the "executable" stage: dynamic applications, interactive services, and machine-to-machine interaction.
With a great deal of empathy, we watched structural issues compound for businesses reliant on programmatic and intrusive advertising tactics.
It was disconcerting to see old-school entertainment and media operators destroy value in poorly conceived print-to-digital transitions.
Most concerning was the way in which the financial industry continues to slip into problematic legacy architectures with little hope of recovery. Poorly conceived investments, lacking knowledge for the underlying minutiae, will lead to massive markdowns of aging technology/digital investments deeply embedded in VC and private equity portfolios.
My acquisitive side regularly follows the deteriorating value of content and old media, and anticipates continuous dialogues on multiple fronts regarding corporate and asset acquisitions.
There is value to be found in small companies as well as distressed private equity portfolios. A great deal of capital over the last decade was spent on entrepreneurs and managers who lacked the basic operating acumen to run large organizations — organizations such as the ones I oversaw at Carlin and the Royal Bank of Canada (RBC). There is limited coordination, maturity, and process in a company unless it is instilled from the very top down. Without these cultural traits, the probability of success is significantly reduced.
Jerrick's institutional approach is an old-school "hedge fund" style culture fused with modern digital design theory. By merging two distinct philosophies, Jerrick has created a hybrid model that seeks alpha with style and discipline.