Jerrick (OTCQB: JMDA): FY 2019 Shareholder Letter + White Paper
CEO's perspective on where the company was, is, and will be.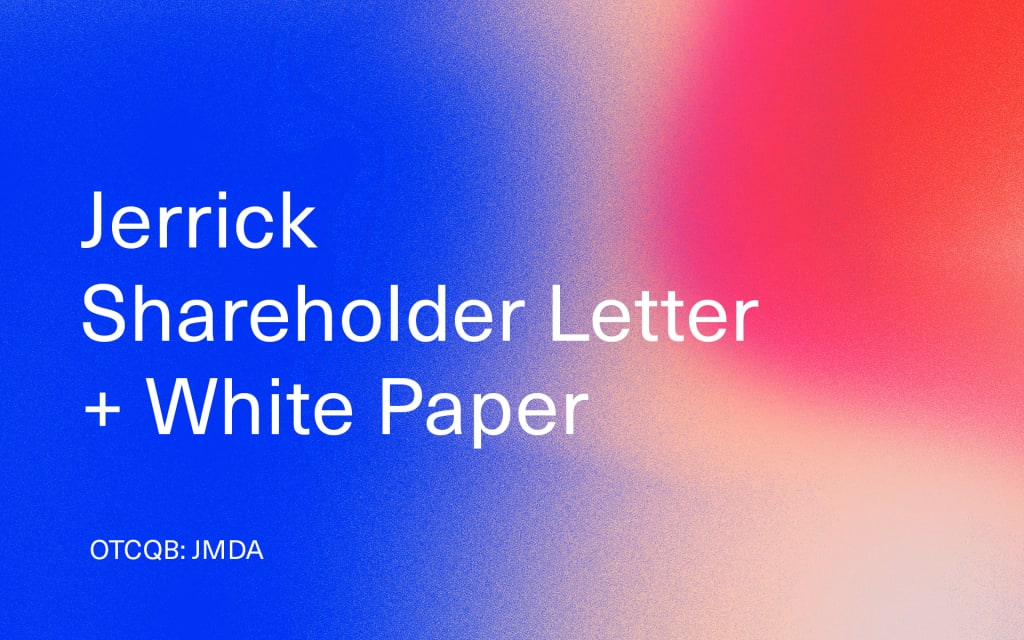 On March 30th, 2020, Jerrick Media Holdings, Inc. timely filed its 2019 10-K.
Global Perspective
It has been a long quiet period for our company. The last time I communicated publicly was my weekly update on Monday, February 10th. At that moment, in what was already quite an existential period in the business world, the Dow Jones Industrial Average closed the day at 29,276. It closed yesterday at 22,327.48, having given up 23.7% of its gains since that day.
On Feb 12th, 2020 the Dow hit an all-time closing high of 29,551. Back then Corona was a beer, and my office was humming with activity. The Dow sustained itself for another 8 days before it collapsed and the world changed. On some level, the grave significance of these events feels reminiscent of other crisis moments I have experienced both personally and in my career, but at the same time, the scale of the impact is beyond what any of us has ever experienced or could possibly have a frame of reference for. Nevertheless, I have seen enough in my day that I knew what to do relatively early on when the crisis began and each day after. All of this is not to say that I can predict the future, but I am positive that our team at Jerrick is prepared for it.
I read an interesting quote from Thomas Peterffy, the billionaire founder and chairman of Interactive Brokers. It helped put into perspective how I should view the success we are having as a company amid the very difficult time we are having as a community.
He told CNBC on Thursday that stock trading on his platform has soared during the coronavirus concern-driven market swings.
"We've been doing on the average 1.2 million trades a day for our customers, which is about 50% higher than we used to last year and account openings have doubled over the past two months," he added. "It is great for business, but it's a sad situation." ¹
It has been inspiring to watch other CEOs and entrepreneurs reinvent themselves or pivot, finding new opportunities and applications of their business models. Companies such as Upwork and Slack are critical components to this new era with significant upside opportunities.
Technology that scans a person from afar and estimates what their temperature is can theoretically spot fevers and potentially, in the future, infected persons. ThirdEye claims its augmented reality glasses can be fitted with thermal imaging to make this process more seamless.
The company says it has received about 2,000 orders related to the coronavirus outbreak and will ship the devices within the next month and a half. ²
It will be a long time before the new normal becomes just normal. Normal will then be very different than what it was previously. Most importantly for corporate America and the massive small business infrastructure that supports it, survival, let alone success, will depend on unique individuals and exceptional leadership teams.
There were 30.7 million small businesses in the U.S. in 2019. Entrepreneur statistics reveal growth of more than 1.5 million companies between 2015 and 2018. American small businesses employed 59.9 million people in 2019, which represents almost half of the country's entire private workforce. ³
Since my last weekly update on February 10th, 2020, we have had to navigate a path of global uncertainty that, in my opinion, will alter the corporate landscape for years to come. More specifically, I expect it will finally transform the capital markets and investment banking business into financial technology service platforms branded by names from the decades-old financial institutions to new Silicon Valley startups.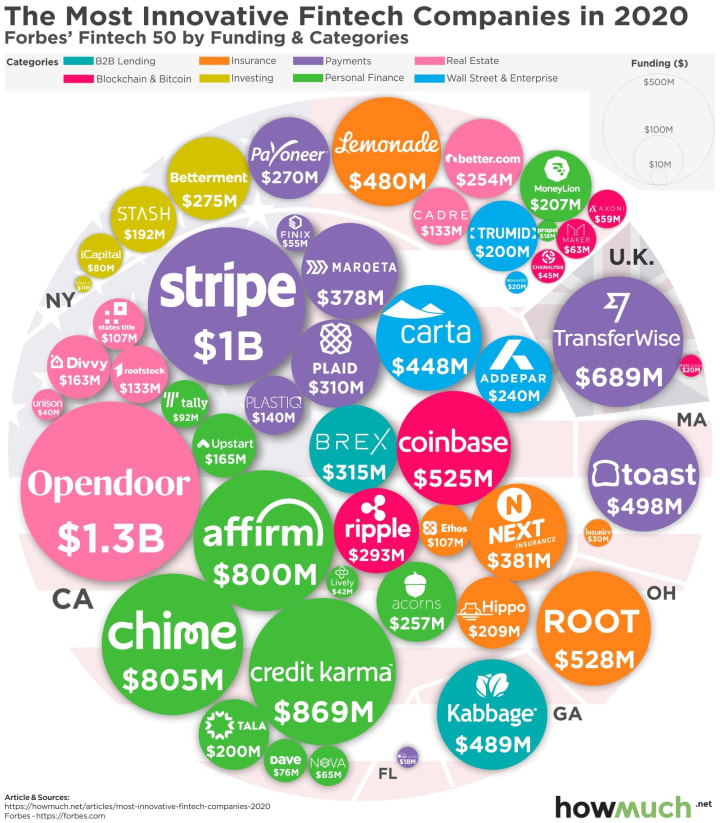 While the current crisis will initially create great disruption in the financial capital markets, it will also create a democratized system that rewards quality companies with great ideas and reveals inept management teams with poorly modeled businesses. In today's uncertain era, the more rapidly the capital markets fix themselves, the more rapidly we will come out of the oncoming recession.
Data, transparent platforms, and online execution capabilities are shifting the way the entire world will look at the financial markets. It started as far back as the late 1990s with sales and trading and is seen more recently with online research. The commoditization of these services has led to $0.00 commissions and an overwhelming amount of research content congesting thousands of online financial sites. Technology will do the same for a business that was once epitomized by roadshows, conferences and a lot of shaking hands. There will always be banking, but there will be more efficiency and transparency, ultimately leading to a more successful environment for innovative small business activity in the new era of social distancing.
Institutional layoffs will dominate headlines for a long time, unemployment will rise to levels never imagined and the gig economy will be intertwined into the fabric of the majority of the labor force in the future. There is no logic that argues that this systemic event–the global destruction of asset value due to an exogenous event, the COVID-19 pandemic–will be a V bottom of recovery. There is, on the other hand, very strong logic that the business community faces a U bottom recovery and that it could take years to create the order needed to cure the current global chaos, let alone find a way to record highs in the stock market. As history has shown us, we will need real change or evolution in leadership at all levels to avoid an L bottom that drags on for a decade.
While we had initially planned on uplisting to the NASDAQ by early April, it seems we are in a new reality. Our potential uplisting is now targeted for mid-June and we are reviewing our plans with a newly selected underwriter. The capital markets are presently in a chokehold. We continue to have an active NASDAQ application and look forward to working towards our goal of uplisting to that exchange. Simply put, there is no guarantee of anything in this world beyond that which is defined by your very own actions. With that said, I am confident that we will uplist in what will be a brief capital markets window for 2020 that starts in late May. I expect a small bit of pent up demand that lasts through the summer, as I doubt many of us will be taking vacation time. The window will probably close months in advance of the 2020 Presidential election. Our dedicated management team will put every ounce of energy we have into hitting our target.
Training + Preparation + Instincts
I was an intern at Solomon Brothers in 1987 a few months before the notorious Black Monday crash. In the early 1990s, I was trained at Kidder Peabody on the distressed/special situations desk and spent years studying assets spilling out of the savings and loan (S&L) crisis. It was a slow-moving financial disaster. Between 1986 and 1995, the crisis came to a head and resulted in the failure of nearly a third of the then 3,234 savings and loan associations in the United States.
The highest rate of U.S. unemployment was 24.9% in 1933 during the Great Depression. Unemployment remained above 14% from 1931 to 1940. In 1982 it reached over 10% and in 1991 the unemployment rate had dropped to only 7.5%. For the last decade, unemployment has been steadily dropping to as low as a recent 3.4%. But I expect that number will begin to rise relatively rapidly, back to levels not seen since the early 1980s and post S&L crisis. I would expect investors and financial markets, as well as individuals and small businesses, today to behave much as they did post those events. Today, our single saving grace is our ability to process and apply data far better than we could back then. The Fed today estimates that unemployment may hit 32%, representing 48 million job losses.
During the dot-com bust of the late 90s and later the terrorist attacks of 9/11, I witnessed disruption on a systemic level that struck fear in coworkers, friends and the public markets. In 2008, after successfully managing the sale of Carlin Financial Group and as the senior MD and Head of RBC Global prime services, I watched the end of a nearly three-decades-long cultural evolution of Wall Street come crashing down during the financial crisis. In late 2012, after 22 years of building, surviving and building bigger in the financial tech space, I had the luxury to reinvent myself in the digital technology space. Over the last seven years our team at Jerrick built a company that was not only meant to survive a crisis like the world now faces, but flourish in the face of disruption. Jerrick built its flagship product Vocal for a world that was moving online. Never did I imagine a crisis like this that would propel it to the forefront of a global digital movement in a time where social distancing is moving more of us online and the framework of the global Internet itself is stressed.
So many people comfort themselves by comparing the present crisis to past events. This time, though, is a far more complex issue than any other crisis we have witnessed previously. It is important for executives with fiduciary responsibility, and in particular the CEO of a publicly traded company, to remain rational and productive in this environment. What he or she has riding on their shoulders is of critical importance to a large community of employees, shareholders, product users, and business partners. The CEO and management team must be communicative, focused and decisive.
Training - Know your job. Know it linearly, dimensionally and socially. Know who in the firm can back you up and vice versa. Know the tools you use inside and out; understand how they work and why you use them. Know your industry and the people in it. Knowledge is a key differentiating factor in times of crisis.
Preparation - Be capable to function in a multi-variant environment. Dozens of scenarios, 1000s of outcomes; accept it, don't be overwhelmed by it. It is best to have backup plans for backup plans. Know your environment and study the battlefield. Being prepared helps one cope with anxiety. Process a plan of action and execute it.
Sharp Instincts - Discern possibility from probability, assess risk on an objective basis and, most importantly, gauge your response to it.
It is experience, frame of reference, and training that become the defining factors in a team's profile for success. Many people freeze up in the face of instability and crisis, taking a "wait and see" attitude. As CEOs and managers, we do not have the luxury of waiting to see.
There are things to do today that will shape tomorrow. People's reactions to crises depend a great deal on their DNA, their tolerance for stress and, most importantly, their ability to assess risk. Fear is not necessarily the primary issue, but rather how leaders deal with fear. The mind must always be planning the future while administering to the present needs. People who can achieve this are best suited to lead and innovate.
Jerrick + Vocal
Jerrick develops technology-based solutions to solve problems for the creator community. Through a combination of data analysis, design and development, the company conceptualizes, creates and maintains a suite of technology products and services that influence a global audience. The Vocal platform connects creators with their ideal audiences and brands that need to connect to those audiences.
Vocal is a user-generated long-form digital publishing platform. The platform primarily focuses on providing storytelling tools, monetization features, and engaged communities for content creators to get discovered and fund their creativity.

—Justin Maury, Jerrick President and Founder of Vocal
In a world where austerity measures are being imposed on operational expenses globally, we believe that Jerrick's agile business framework and the Vocal platform's design and product development process make for a sustainable, capital-light operational infrastructure. Our technology is built to scale, while the rate of growth can be modulated up or down based on the relative tightness of the capital markets.
There are over 4.5 billion Internet users. Of that, 83% publish some form of content on a monthly basis (photos, writing, reviews), and 3.8 billion of them are active on social media (according to data by GlobalWebIndex and Reddit). In 2020, the Internet has become the linchpin of the modern information society, as well as the modern social society. Digital platforms, such as Vocal, Soundcloud, Patreon, Medium and Mixcloud, exist to help the online world find order and monetization opportunities for the creative community.
Global crises, like the 2020 COVID-19 pandemic, only further emphasize how critical a role digital platforms play in society, as government bodies are encouraging social distancing and restricting travel and employers are widely implementing work-from-home policies. These factors aside, Vocal exists in an environment where the total addressable market (TAM) of the platform was previously growing exponentially, and in this new environment, may see even more rapid growth.
The Vocal platform is home to content creators and brands of all shapes and sizes, and attracts audiences across a network of genre specific communities. The platform's unique canvas-style editor supports content creation utilizing a wide range of rich-media assets including streaming content, photos, videos, podcasts, product links, written word and more.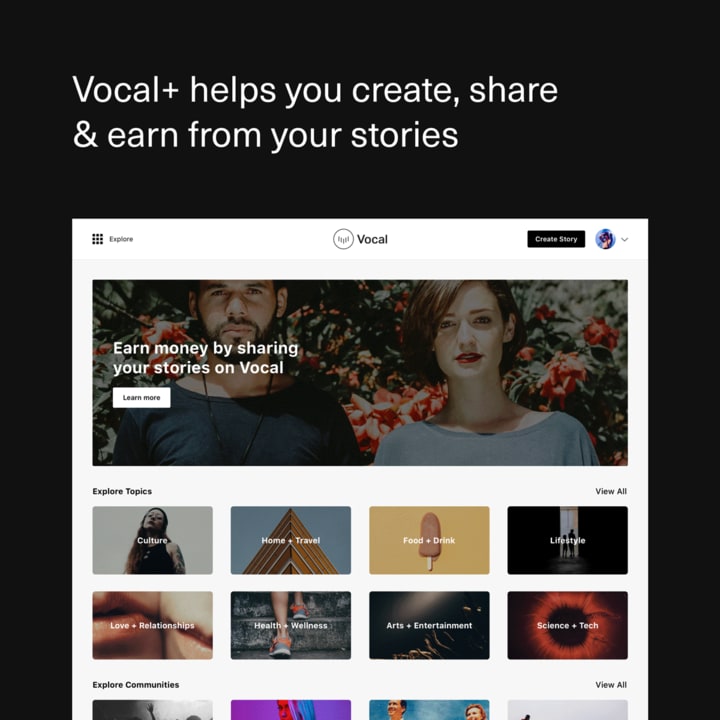 Vocal makes it easy for creators to produce well-constructed, search engine optimized and engaging content. Additionally, creators can upgrade to Vocal+ and pay a premium subscription fee to access a suite of additional features such as increased monetization, exclusive participation in challenges, brand collaborations, rewards and early access to new features.
Given Vocal's built-in monetization capabilities, topic-specific structure and adaptability to a wide range of uses and industries, we believe that it is the ideal platform to help users adapt to evolving social, professional and societal realities. Additionally, following Jerrick's acquisition of e-commerce agency Seller's Choice, LLC in September 2019, Jerrick integrated the company's sales team and operations. The acquisition enabled Vocal for Brands to further expand its client base in the increasingly important online direct-to-consumer (DTC) space.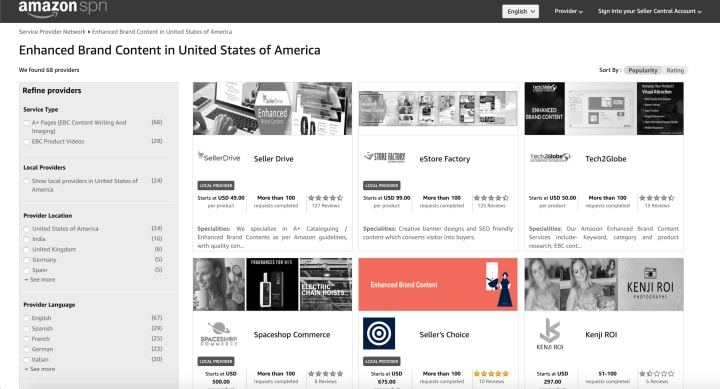 The Vocal platform was built to organically sustain and scale multiple lines of revenues, as well as assimilate external technology platforms and distressed media assets. The company has successfully integrated complementary technology platforms, such as Stripe and Unsplash, and will continue to create targeted collaboration opportunities, as well as eventual acquisitions of smaller public and private companies.
Decades of combined experience spanning the finance, technology and creative industries are fundamental to the Jerrick team's core strengths. The team, whose current optimal headcount is approximately 20-30 employees, comprises a collective of generalist and specialist professionals. The company is currently at 23 full-time employees after a 15% reduction in force, as well as a 20% reduction in salaries across the rest of the management and operating team in response to the current market conditions.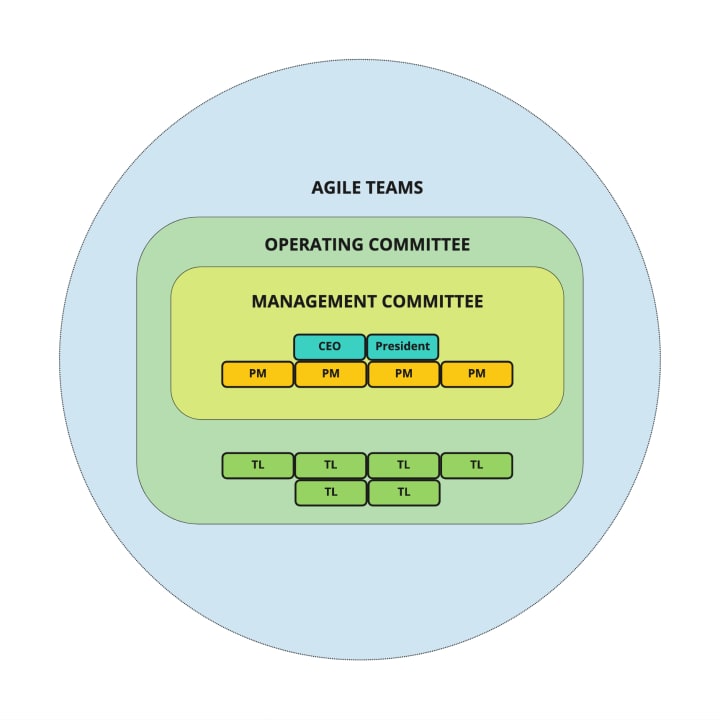 From a control and risk management perspective, Jerrick's corporate governance is centrally managed by its internal operating committee. Consisting of representatives from each of the company's core business units—finance, operations, business intelligence, product design, and corporate communications—the team leverages the company's resources and applies them horizontally across its portfolio of businesses and assets.
This agile operational infrastructure allows for a feedback loop of applicable data for its business risk management, regulatory controls, and compliance responsibilities. The team increases our margins by applying this data and realizing efficiencies within the company's operational infrastructure. Jerrick partners with external segment specialists in development and data analysis in connection with the future applications of our technology for white labeling opportunities.
The company is additionally exploring the technology's application opportunities on a global scale, particularly in foreign language installations of the product. Localized franchises and bespoke development ventures provide white labeling opportunities in industries such as health and wellness, education and sports. These industries can utilize Vocal's underlying technology and operational resources at reduced capital expenditures.
Jerrick's business intelligence and marketing teams identify and target individual creators, communities and brands, utilizing quantitative first-party data and empirical insights harnessed from the Vocal platform. The team applies first-party data to reduce creator acquisition costs, as well as provide brands with a quantitatively determined audience. The internal design team produces unique branded content experiences on the Vocal platform, including branded content campaigns and creator challenges, that can be promoted across multiple distribution channels. Our ability to collaborate with and acquire external agencies and specific media libraries creates opportunities to scale revenues both horizontally and vertically within Jerrick's digital platform ecosystem.
More About Vocal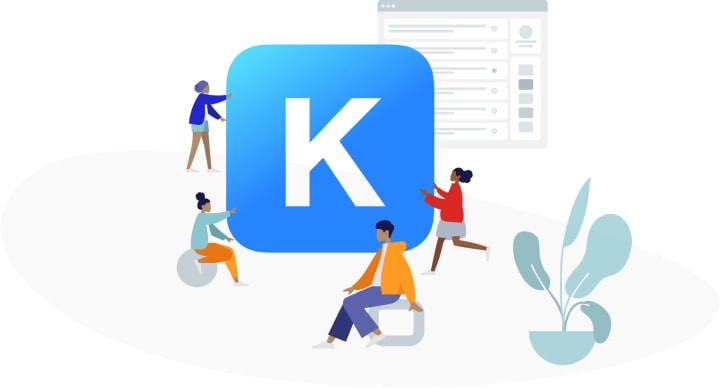 When the Jerrick team first ideated the Vocal platform, we determined that our primary constituents should be creators, and we placed them at the center of our corporate mission. We identified their pain points and created a blueprint to solve them. Vocal's proprietary technology was developed with the help of Thinkmill, our Sydney-based development partners. We used Thinkmill's open-source content management framework, Keystone, as a framework for Vocal, which enabled us to provide rapid updates in a cost-effective agile development environment. Our product design and quantitative groups are able to quickly distribute product improvements, updates and new features to enhance our users' experience.
The Vocal platform and its underlying technology are maintained in a capital-light and cost-effective infrastructure. By using cloud service providers, our team is able to focus on platform and revenue growth rather than building and maintaining the costly internal infrastructures that tend to adversely affect legacy media platforms.
Vocal's technology has been specifically designed and built to scale without a material corresponding increase in operational costs. While our users can embed rich media content such as video and audio into their Vocal stories, it is hosted elsewhere, such as YouTube, Vimeo, Shopify, Spotify, etc. Thus, our platform can accommodate rich media of all kinds without bearing the financial or operational costs associated with hosting the rich-media content itself.
Since its November 2016 launch, Vocal has amassed over 565,000 content creators across a wide range of mediums and interests, such as bloggers, journalists, influencers, musicians, artists, podcasters, gamers, entrepreneurs and more. Vocal creators provide a steady stream of user-generated content across our portfolio of owned-and-operated, genre-specific communities, which can be monetized through reads and microtransactions.
Vocal helps creators fund their creativity and build their personal brand. Our target for year-end 2020 is to convert 25,000 - 30,000 creators into Vocal+ premium subscribers. With 3,000 current premium subscribers, our data and growth models are projecting potential exponential increases through the end of 2020. Statistical forecast models indicate that in 2021 this number could increase nearly tenfold.
The Vocal content creation process can be broken down into three key steps: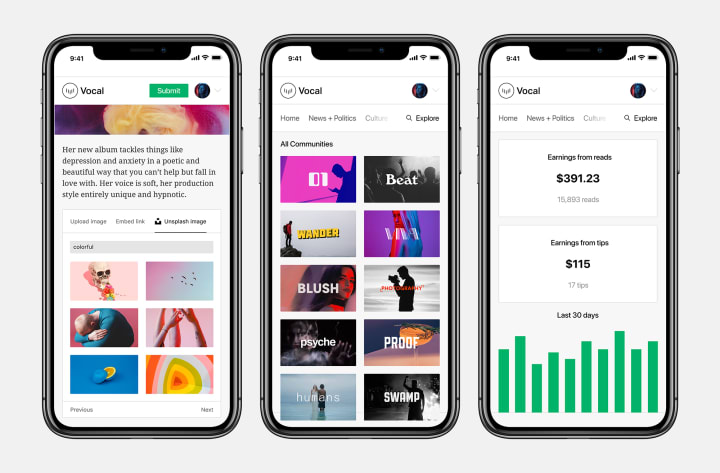 1. Create: Vocal's storytelling tools make it easy for creators of all kinds to produce beautiful, engaging, rich-media content.
2. Share: Creators share stories on our communities to get discovered and connect with like-minded creators and readers.
3. Earn: Creators can earn money every time their story is read, through participation in Challenges and from microtransactions from fans.
Importantly, Jerrick does not see Vocal as a substitute or competitor to segment-specific content platforms such as Vimeo, YouTube or SoundCloud. Instead, Vocal is a supplementary platform with which to leverage the vast number of fragmented content creation tools that exist in the digital sphere. The management team believes that Vocal is well-positioned between the content creation tools and the various distribution channels that creators depend on to publish and amplify their content.

Vocal employs a number of strategies to collect first-party data around our users' behavioral activity on the platform. The data is processed and analyzed by our internal business intelligence team to improve our product, services, and user experience. Vocal's growth and marketing strategies make use of these first-party data insights, resulting in a lower creator acquisition cost and reduced subscription churn when targeting third-party networks, such as the big social media platforms.
Importantly, we do not sell our users' information. We utilize first-party data to optimize the success of our creators and generate revenue when our creators monetize their content and brands reach the right audience. In essence, our company views itself as a partner to the creative community. Additionally, unlike traditional publishing platforms, Vocal does not charge its audience for consuming content.
Vocal Key User Demographics:
• 59% of Vocal's creators and audience are 18-34 years old.
• The split of gender is relatively balanced; 55% of Vocal users are female and 45% are male.
• The United States represents 57% of Vocal's traffic, and an additional 20% of traffic is split between the United Kingdom, Canada, and Australia.
• As a mobile-first platform, 75% of users access from a mobile device.
• There are 34 active communities on the Vocal platform, across genres ranging from health and wellness, beauty and mental health, to food, politics, pop culture and more.
Vocal's Value for Creators
Vocal is a proprietary technology platform, built to expand its digital audience through content distribution while providing a digital environment for creators to be rewarded for their content. We believe that digital audiences have become increasingly wary of traditional display and programmatic advertising tactics—intrusive ads like pop-ups that disrupt the consumer experience. Our company is focused on building a network of user-generated content communities that emphasize discovery, creator monetization and, more specifically, non-interruptive branded storytelling.
In response to what we recognize as the growing shift away from interruptive ads, brand marketing teams actively seek partners like Vocal that can deliver key performance metrics in an authentic and brand-safe network. By utilizing Vocal's first-party behavioral data, we can quantitatively pair content creators with the brands to produce predictive strategies and successful non-interruptive marketing campaigns.
Platform Compliance
Trust and safety are paramount to the Vocal ecosystem. We follow best practices handling personally identifiable information with guidance from the European Union's General Data Protection Regulation (GDPR), the California Consumer Privacy Act (CCPA) and the Digital Millennium Copyright Act (DMCA).
Other platform policies include:
• Human-led, technology-assisted moderation of every story submitted.
• Algorithmic detection of hate speech, nudity and copyright infringement.
• Brand, creator and audience safety enforced through community watch.
• The rejection of what we consider toxic content, with the understanding that diverse opinions are encouraged.
Vocal Users: Stories Published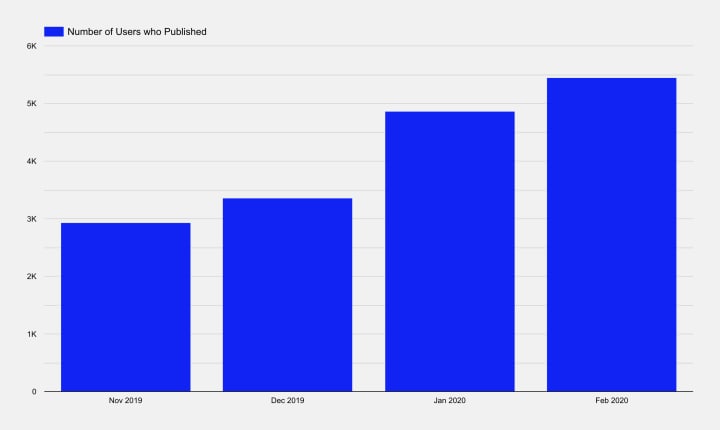 Based on our internal data collected over the last four months, there has been a steady increase in creators who are publishing on our platform, which we believe is a result of the introduction of features like Challenges, which further incentivize creator submissions and improve the quality of content overall. In the past week in particular, we have seen record high submissions from creators.
Vocal Users: Creator Acquisition Cost
As we continue to collect platform data, we are able to further refine our ideal user profile and hone our targeting strategy, such that the Creator Acquisition Cost (CAC) for both Vocal Free and Vocal+ premium subscribers naturally declines over time. Having spent over three years executing marketing campaigns to attract Vocal Free users and refining our strategy, the CAC for Vocal+ subscribers experienced a decline; costs dropped from over $1,100 to approximately $200 in the first 4 months following the launch of Vocal+. This past week we have seen that cost drop to as low as $140 for a Vocal+ creator acquisition. The lifetime value of a creator is well over $200. For the first time since inception, we see significant margin increases relative to this revenue line.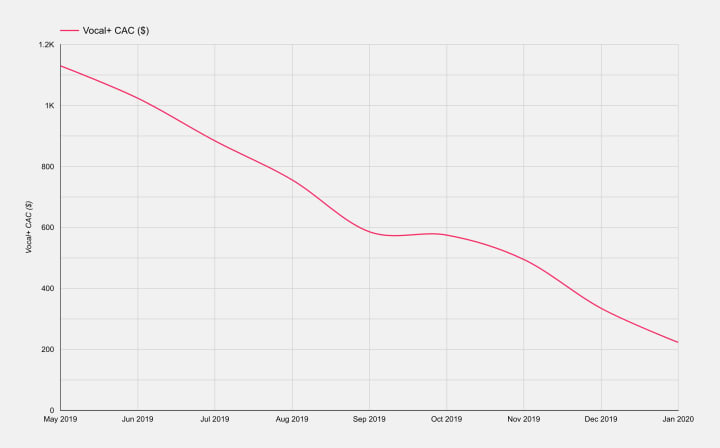 Meanwhile, the CAC for Vocal Free creators followed a similarly sharp rate of reduction, dropping from approximately $4.50 to under $2.00 in this same time frame.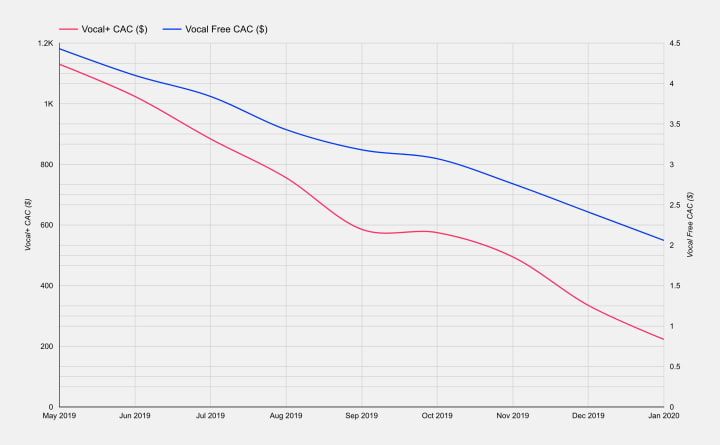 Digital Landscape and Industry
Ad technology is experiencing declining margins and requires excessive traffic in order to maintain a declining spread in their financial model. Digital content and media asset values have, as a result, been rapidly deteriorating from 2016 until today. This compression of margins has, in recent years, led to massive layoffs at media publishing companies that were dependent on this legacy form of advertising.
In the face of this radical disruption in the digital marketing landscape, content distribution is undergoing a significant shift.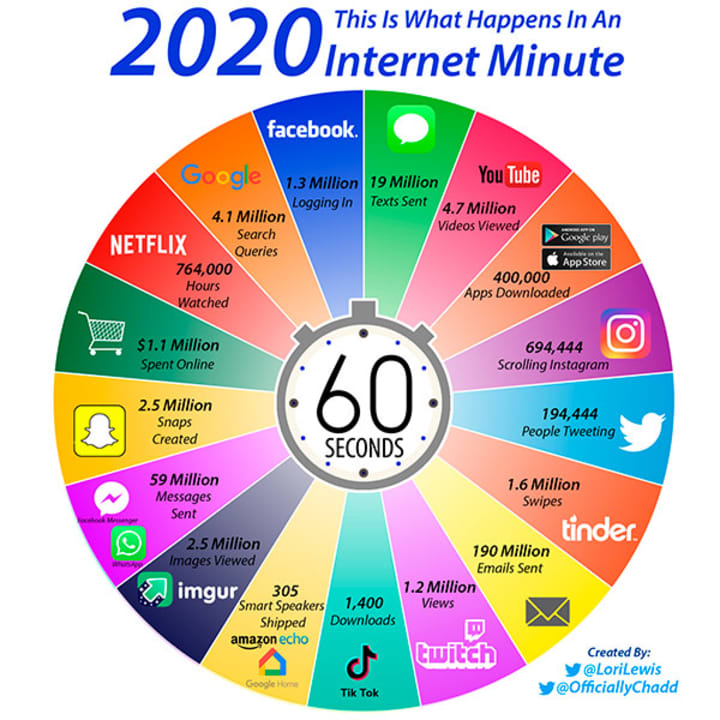 Further, content monetization has become increasingly oriented toward native and creator-based fees. Facebook, Google, and Amazon capture nearly 70% of digital ad spending. With these changes, and in light of more recent developments—the shift toward remote workforces, the popularization of freelancing and social distancing recommendations—we believe content creation on digital platforms is at an all-time high and projected to only increase.
At the same time, branded content, a form of native advertising, is also on the rise specifically in the online direct-to-consumer space.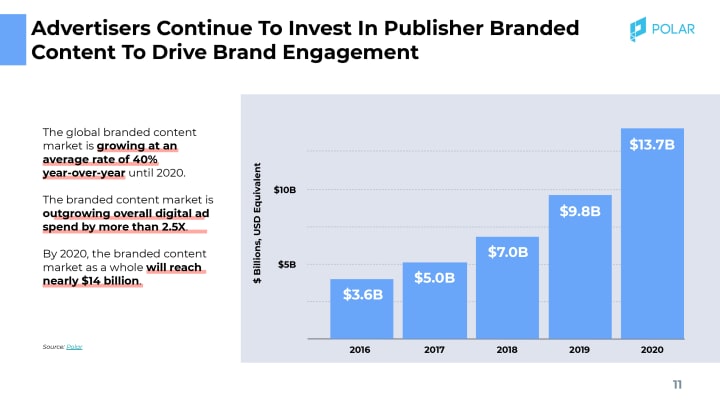 According to data from Pressboard:
• Consumers find branded content 22x more engaging than display advertising.
• Consumers spend 2x more money when they feel a personal connection with a brand.
• Branded content results in a 60% higher brand recall than other digital advertising.
Brands are actively seeking trustworthy and safe platforms like Vocal to drive engagement through non-interruptive brand storytelling and deliver key performance metrics that help optimize their marketing efforts.
Our History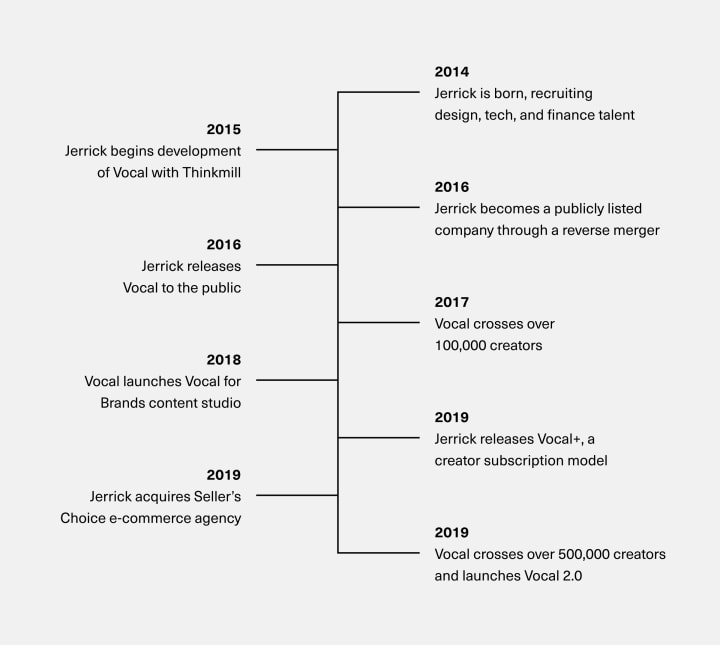 Jerrick was founded in 2013 and became an OTC publicly listed company in February 2016. Jerrick began working with its Australia-based development partners, Thinkmill, in early 2015. The Vocal technology platform was released to the public in December 2016 with six niche communities in its network and a small group of beta creators.
In late 2018, we introduced our in-house creative studio, Vocal for Brands, which partners with direct-to-consumer (DTC) brands like Daily Harvest, hims, and Lull, to create engaging and campaign-optimized stories on Vocal that build brand affinity, trust and drive results.
2019 was marked by a series of important milestones for the company. First, in July 2019 the Vocal+ premium membership offering was introduced on the Vocal platform to a small group of founding members. Later that year, we completed the acquisition and integration of boutique e-commerce marketing agency, Seller's Choice.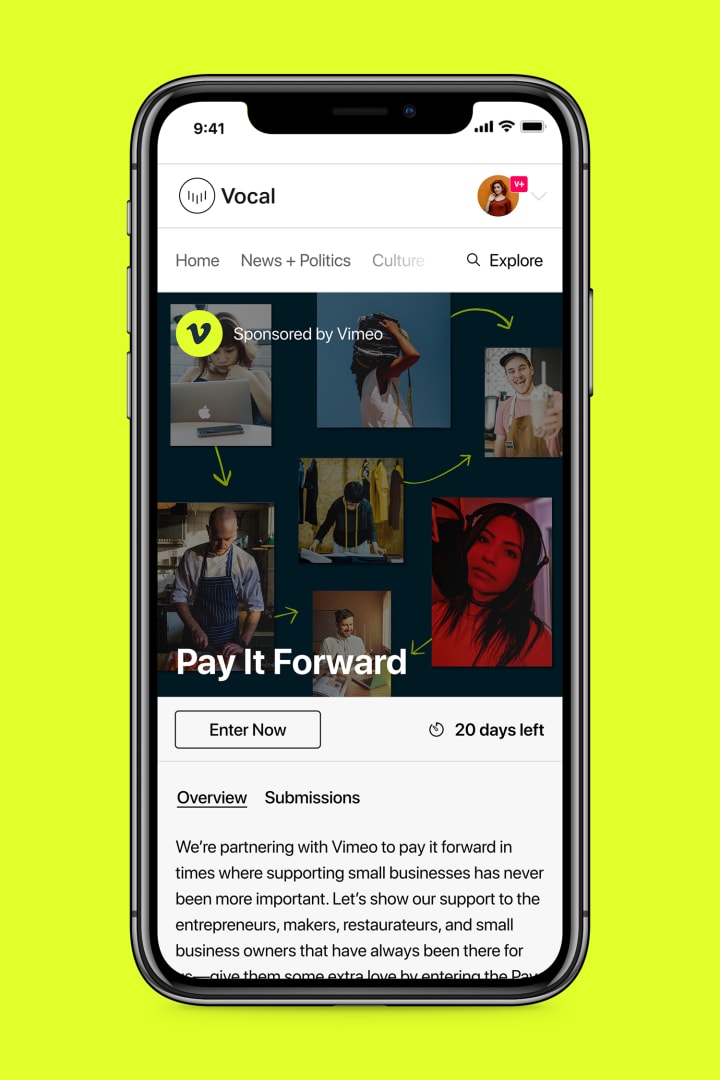 In January 2020 Vocal's product team launched the latest feature for creators and brands, called "Creator Challenges." Challenges, which are either organic to the platform or sponsored by brands, are themed story contests that incentivize content submissions and engage Vocal's user base by providing creators with the chance to win cash prizes and other rewards.
The introduction of Creator Challenges, which represents one of Vocal's most important product updates, showcases Jerrick's unique ability to leverage the power of its creators, its communities and its curation capabilities by hosting unique content experiences that drive engagement. Moreover, Creator Challenges are accretive to Jerrick's own marketing efforts. Challenges incentivize creators to join Vocal and, in particular, to upgrade to Vocal+, where they access members-only Challenges. As a result, since the launch of Creator Challenges, we've seen our creator acquisition costs materially decrease.
Competitive Landscape
The idea for Vocal came as a response to what Jerrick's founders recognized as systemic flaws inherent to the digital media industry and its operational infrastructures. The depreciating value of digital media business models built on legacy technology platforms created a unique opportunity for development of a creator-centric platform that appeals to a global community while also positioned to acquire undervalued complimentary technology assets.
Jerrick founders built the Vocal platform with the general thesis that a closed and safe ecosystem utilizing first-party data to increase efficiency and scale could create a sustainable and defensible business model. Vocal was strategically developed to provide value for content creators, readers, and brands, as well as serve as a home for the ever-increasing amount of dormant content libraries and digital assets.
There is limited competition that provides the specific type of resources and platform that Vocal provides the creative community. In addition, there are a limited number of digital media companies like Vocal that charge creators and brands for publishing content, as opposed to charging the audience for accessing content. Jerrick's management team believes that Vocal's primary competitors are other platforms that can draw attention to or time from the creative community in general. These platforms can vary in scope, size and genre. Simply put, platforms compete for the attention of the digital consumer.
Vocal's Competitive Strengths
Digital platforms must differentiate themselves by providing executable solutions and fulfilling users' needs. Our focus on rewarding the creator for their content, partnering with them on distribution and providing opportunities for monetization is one of the key differentiating factors between Vocal and legacy publishing platforms.
Some of the key differentiating elements of Vocal's technology are ease-of-use, speed, sustainability and scalability. Jerrick continues to invest heavily in research and development to consistently improve and innovate the Vocal platform with the goal of optimizing the user experience.
Vocal's synthesis of democratization and monetization opportunities for its content creators is distinctive in the industry. Creators, influencers, and entrepreneurs seek a trustworthy platform that offers needed resources to expand their brand and reach. At the same time, brands seek a safe and reliable platform to engage with customers, drive conversions and build awareness.
Product Revenues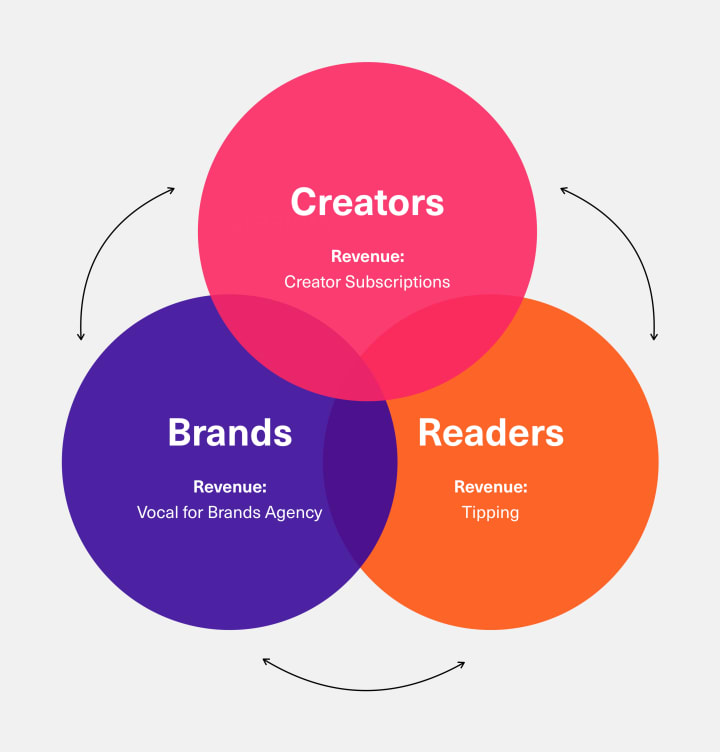 Our continually expanding network of over 565,000 creator accounts is the driving factor in revenue production. Quality content submissions from creators attract audiences, and brands, the other primary stakeholders who exist within Vocal's ecosystem. The continuous interactions between creators, audiences, and brands propel a virtuous cycle of transactions and represents a key element of Vocal's scale and success.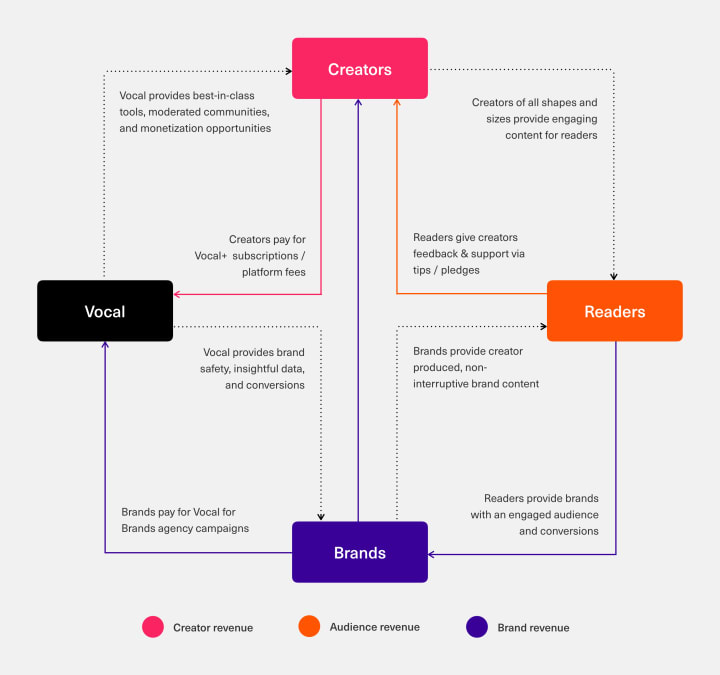 Jerrick has designed several revenue touch-points throughout the Vocal ecosystem, ensuring a balanced portfolio of revenue streams, sustainable infrastructures and compounding scalability.
Revenues are primarily generated through:
Creator Subscriptions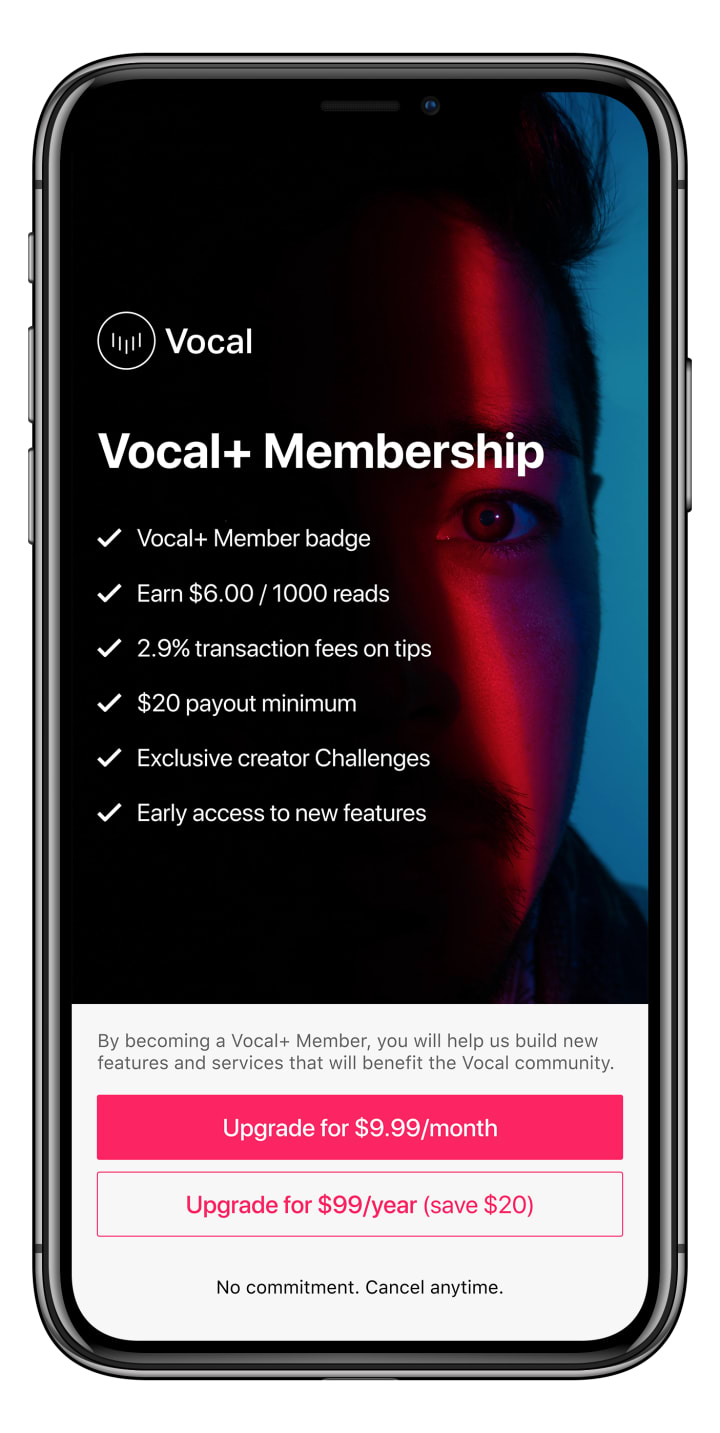 Vocal+ is a premium subscription membership for Vocal users. Vocal+ members pay a membership fee for premium features, including receiving increased earnings for their content, reduced platform processing fees for microtransactions, a Vocal+ badge on their creator page, access to exclusive Creator Challenges and monetization programs. Creators may sign up for a Vocal+ membership when they create an account, or they can upgrade an existing Vocal Free account to a Vocal+ account at any time. The cost of a Vocal+ membership is either $9.99 per month or $99 annually.
Brand Agency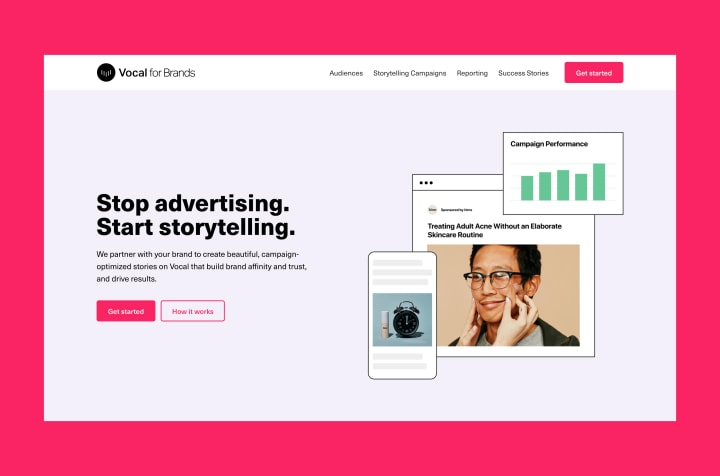 Our in-house creative studio, Vocal for Brands, focuses on non-interruption based advertising and engaging brand storytelling. Vocal for Brands pairs brands with active creators in the Vocal network to produce bespoke branded content campaigns, brand-sponsored creator Challenges, and other types of branded experiences on the Vocal platform. With the introduction of Challenges, brands can tap into Vocal's network of thought leaders, influencers, and content creators. Brand-sponsored Challenges effectively yield a collection of crowdsourced branded content for brands and helps them reach a wider audience.
Vocal's first-party data enables our team to create highly targeted and segmented audiences for the campaigns and help the brand target their audience. Brands can access story performance data, engagement data, behavioral data and sentiment data, all of which are used to further optimize the campaign's success. Fees range from $5,000 to $45,000 for bespoke Vocal for Brands campaigns, depending on duration and other key factors.
Marketing + Consulting Services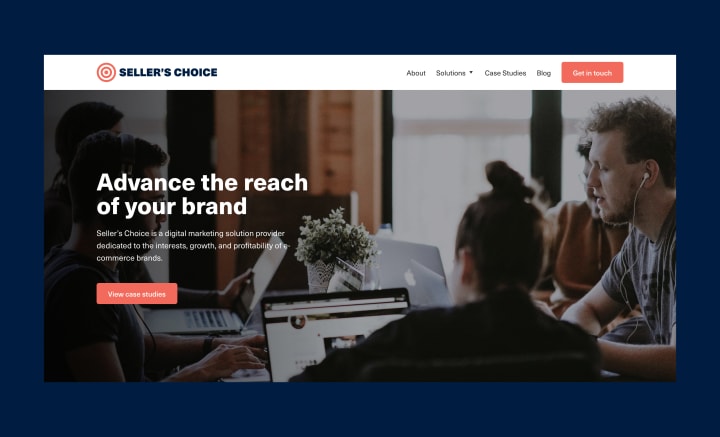 Seller's Choice, which we acquired in September 2019, is a digital marketing solution provider focused on the interests, growth, and profitability of e-commerce brands. Seller's Choice focuses cohesively on four key components to online selling: sell-through, differentiation, community, and compliance. Seller's Choice helps e-commerce businesses establish their brand identity as well as realize profitable and sustainable growth.
Through Jerrick's acquisition of Seller's Choice, the company has further expanded its reach into the direct-to-consumer marketplace, while enabling Seller's Choice's clientele to leverage Vocal for Brand's unique brand storytelling capabilities.
Microtransactions
Creators and their audiences have the ability to process fees such as tips or future planned microtransaction features on the Vocal platform. Each microtransaction sent on Vocal generates fee revenues. For Vocal Free creators, we retain a 7% platform processing fee per microtransaction. For Vocal+ creators, we retain a 2.9% platform processing fee.
Affiliate Sales
We are also beginning to generate more revenues through our affiliate marketing relationships, which pay a percentage of customer purchases derived from our platform. Affiliate partnerships include Amazon, Skimlinks, Tune and more.
E-commerce
Our e-commerce strategy involves revitalizing archival imagery and media content in dormant portfolios of legacy brands.
Growth Strategy
We intend to continue to grow by focusing on the following key areas:
Moderation Improvements: Constant analysis and improvements to the moderation process enable us to reduce manpower costs and maintain a brand-safe environment. Vocal's genre-specific community structure, which evolves based on usage data, provides brands with a more transparent and targeted community for their product.
Creator Growth: Vocal brings new creators, brands, and their respective audiences to its platform through organic growth, performance marketing and brand-building campaigns that drive awareness. As the Vocal team continues to collect first-party behavioral data, it is able to further refine an ideal user profile and hone a specific targeting strategy to effectively scale the platform's creator base.
Brand Partnerships: The company intends to continue to invest in new product offerings for brand storytelling on the Vocal platform that provide valuable analytics, engagement and conversion data. Products and services offered on the platform are constantly evolving to elevate brand relationships, both qualitatively and quantitatively.
Platform Enhancements: The product team intends to continue to invest in research and development and explore strategic acquisitions in order to enhance our platform's capabilities. With features such as Challenges, Tipping and premium subscriptions, we believe that Vocal is consistently innovating while introducing new revenue lines to its portfolio. Further, our strategic partnership with Thinkmill affords us an additional benefit in the Australian government's research and development tax incentive program, which offers a significant rebate on funds spent on research and development.
White Label Opportunities: The management team intends to pursue opportunities to white-label Vocal's underlying platform architecture for application in a range of industries. The platform's underlying technology can be utilized by sports franchises, trade companies, education organizations, the financial sector and beyond.
New Geographies: Global expansion is fundamental to our growth strategy. While the U.S., U.K., and Canada represent the vast majority of our audience, we believe there will be significant demand for white labeled installations of our product in overseas markets–including Asia, the Middle East and South America—particularly for foreign language installations.
Acquisitions: Our acquisition of Seller's Choice in September 2019 successfully expanded our brand product offering and client network. Future potential acquisition targets include creator platforms, content communities, data science companies, e-commerce brands and digital marketing agencies.
Licensing: Within our expanding user base, we look for content that can be leveraged for adaptation to film, television, digital shorts, books, and comic series. Vocal's ever-expanding community of creators and influencers affords the company with the unique opportunity to cultivate these relationships.
Customers
There are three primary categories of stakeholders/customers that interact within Vocal's ecosystem: creators, brands, and readers.
Creators
Vocal provides a large stage for creators and artists to connect with fans and find new audiences. In addition to enabling access to millions of monthly visitors, we provide creators with a full suite of tools and services for content creation, discovery, distribution and monetization, including:
Easy-to-use, rich media content editor: Vocal's content editor allows creators to easily add their rich media to their stories. From Spotify songs to Shopify products, Vocal's open canvas content editor makes it easy to create high-quality and engaging stories. It is a cost-effective alternative to managing a blog content management system (CMS).
Monetization: Both Vocal Free and Vocal+ memberships provide multiple monetization opportunities for creators. Creators can earn money through visitor engagement as well as from microtransactions received from readers. Vocal Free members monetize content at a rate of $3.80 per 1,000 reads (calculated based on time on page, scrolling behavior, and other internal metrics), whereas Vocal+ members monetize at $6.00 per 1,000 reads.
Designed for SEO: Creators benefit from the search engine optimization (SEO) inherent to Vocal's architecture and the volume of organic traffic the platform receives from it. When creators amplify their content through their own social media channels, the optimization is further enhanced. Creators can potentially get more views and greater discoverability by publishing content on Vocal, as opposed to other sites geared toward short form content.
Transparent Performance Data: Creators can view their "Stats" at any time to view their individual performance data, such as how many reads a given story has received, how much money they have earned and how many microtransactions or 'Likes' they have received.
Valuable Audience: The nature of Vocal's genre-specific community structure is such that it generates a positively selected audience, a quality which makes Vocal an attractive prospect for creators and brands alike. In a topic-based community, audiences are inherently more likely to be interested in the particular content housed in that community.
Brands
Vocal for Brands leverages Vocal to produce branded stories and Challenges that build affinity and trust while generating sales and awareness. The key value propositions for brands include:
Authentic Storytelling: Jerrick's internal data group partners brands with authentic Vocal creators to tell the brand's story in a way that is both engaging and trustworthy.
Valuable Audience: Jerrick's first-party data provides an opportunity to create highly targeted and segmented audiences to promote branded content. Most importantly, Vocal's technology helps brands target a quantitatively determined audience by utilizing and applying that first-party data.
Transparent Analytics: For every campaign on Vocal, the business intelligence team provides performance data, engagement data, behavioral data and interest data. Brands can apply this data to further increase awareness and optimize audience targeting.
Readers
The product development team is focused on enabling the discovery and curation of stories for our readers through a range of products and services:
Discovery: Readers benefit from our ability to help them safely navigate our network of communities. Every story published on Vocal is run through our proprietary moderation system, which synthesizes machine learning and human-touch curation. Readers know that every story on Vocal complies with community guidelines, which ensures a safe environment for creators, brands and readers alike.
Sentiment: Readers have the option to "Like" their favorite stories, allowing them to interact directly with the creator while providing the Vocal team with insights into their interests and behavior. The data science team uses this to create segmented audiences to optimize content discovery. Simply put, Vocal helps readers find stories personalized to their interests.
Microtransactions: Vocal provides readers with the opportunity to generate transactions showing their support and appreciation for individual creators. Microtransactions are designed to be frictionless while providing a secure user-experience, allowing readers to pay with digital wallets such as Apple Pay and Google Pay.
Conclusion
The world is currently facing a crisis that is entirely unprecedented, and its myriad butterfly effects still remain to be seen. I chose to publish my first annual shareholder letter so that I could properly elucidate our team's perspective on our company. Transparency is, and always has been, one of Jerrick's core pillars, and so it is essential that we offer our shareholder base full insight into how we operate. My hope is to reaffirm our steadfast commitment to our investors and to affirm for our network that we will not only withstand these uncertain times, but will come out a better company on the other side.
References
1: Interactive Brokers founder: Trading and account openings surge in coronavirus 'mass hysteria' via CNBC
2: The most ridiculous ways companies are trying to profit from the coronavirus outbreak via Vox
3: The 20 Most Important Startup Statistics (2020 Update) via Fortunly
Reader insights
Be the first to share your insights about this piece.
Add your insights