I Worked With My Celebrity Crush (A Memoir)
First Place in OG Celebrity Crush Challenge
When an on-screen fantasy as a kid becomes your awkward reality in adulthood.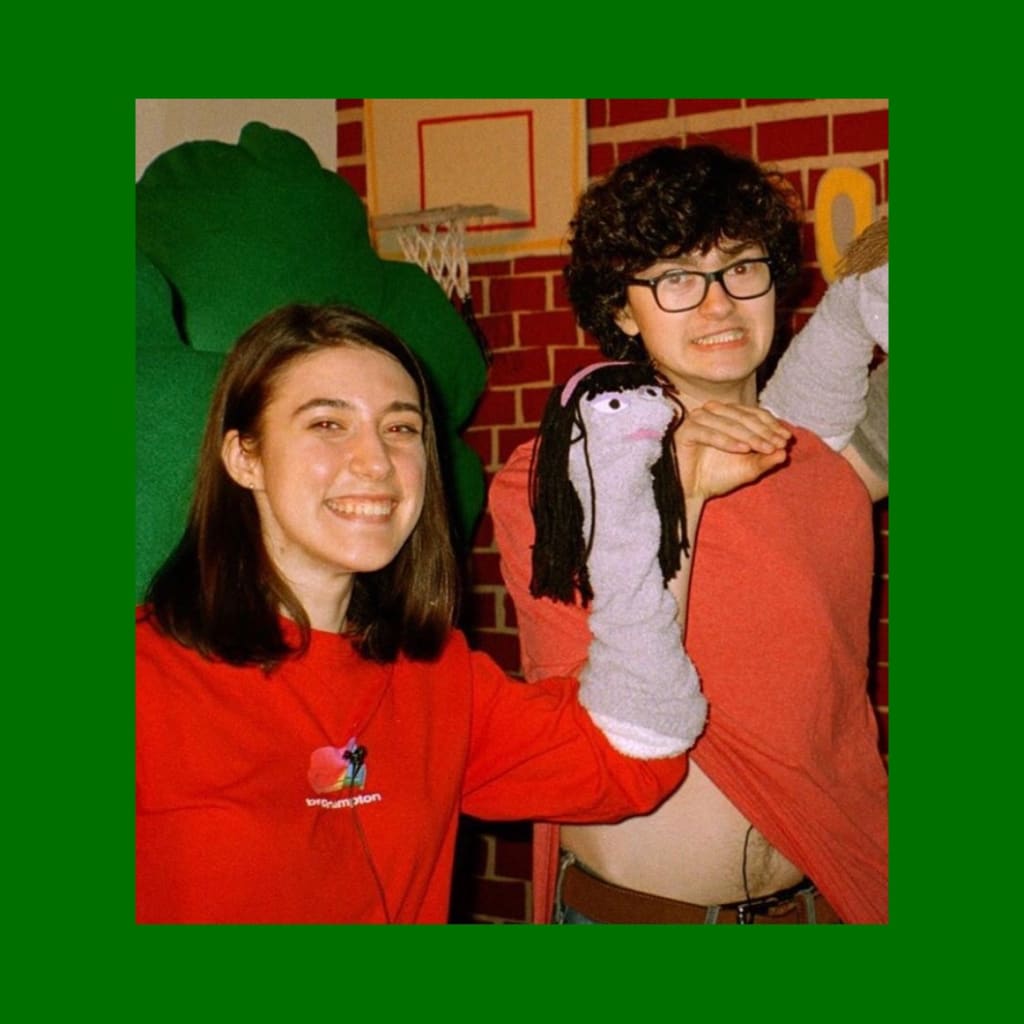 I remember the first time I saw the pastel colors and wondrous landscapes of Wes Anderson's Moonrise Kingdom. It was 2013, and I was 14 years old. It wasn't a bad night for my first time watching The Oscars. Two of my all-time favorite movies - Django Unchained and Silver Linings Playbook - stole the show with their nominations. Life of Pi and Les Miserables were also standout flicks that year, and Argo took home the prize for Best Picture.
However, of all the clips played before someone said, "and the Oscar goes to," Moonrise Kingdom's really stuck in my head. The film was only nominated for one award that night: Best Original Screenplay. I was awestruck by the quirky costumes the actors wore, the plucky orchestral music playing behind Bruce Willis as he gave commands to tiny boy scouts. But what captured my attention the most was that the film focused on two star-crossed lovers, Sam and Suzy. And remarkably, they were both around my age.
Not too long after seeing those clips, I watched the full movie for myself. By far, the intelligent, adventurous, and hilarious Sam Shakusky was my favorite character. I loved his iconic raccoon hat and square glasses, felt for his outcast status, and adored how protective he was of his girlfriend. It was easy to imagine myself as Suzy while watching the film. I am also a lover of books, running away from home, and deep blue eyeshadow. Plus, I have brown hair, a similar asymmetrical jawline, I was a singer at the time...and Suzy is my mother's name.
While I can't say Sam Shakusky was my first on-screen crush (Will Turner from Pirates of the Caribbean will forever be my sexual awakening), I can say the passionate young romance between Sam and Suzy was something I deeply idolized. It was the first time I had an on-screen crush on a boy close to my age. I wanted someone adventurous, someone cool who wrote me letters, brought me flowers, and yes...a partner to dance on the beach in my underwear with while listening to classy French music.
While the girls at my middle school had lackluster flings and sloppy kisses with greasy-haired boys who smelled like farts, I wanted a mature romance with someone debonair like Sam Shakusky. However, what I didn't understand is that Wes Anderson's child characters are written to be smarter than his adults. I was told I was a precocious kid, and the curse of precociousness is that you're forced to dumb yourself down in order to appeal to those growing slower than you. I was never going to find my middle school Sam Shakusky because Sam Shakusky only existed on screen.
Fast forward to 2019. I was 20 years old, almost 21. My 30-year-old friend, Chris, and I were sitting in a cozy diner near Maplewood, in northern New Jersey. I had traveled in from New York City, where I pursued a theatre arts degree at Marymount Manhattan College. That evening, we talked about our upcoming projects, then geeked out over films and actors we were currently obsessed with.
"Y'know, a lot of famous actors are from this area of Jersey?" Chris said. "I think that kid from Moonrise Kingdom, Sam? He's in a picture on the wall up front. With the owner of this place."
At that point, I'd seen Moonrise Kingdom quite a few times. It was one of the five films we were forced to watch in my cinema studies class, and the only film my classmates and I were passionate about. In essays, I'd used stills of Sam Shakusky for examples of brilliant production design. My favorite was one of him holding a stick up in the air, just before getting struck by lightning.
"Yeah, that makes sense," I told Chris. "I just watched Patterson with Adam Driver. Him and that girl who played Suzy were in a small scene on a bus."
"Wonder what they're doing now..." Chris trailed off as he took a sip from his coffee mug. When I returned to my college dorm that evening, I did some casual Wikipedia research. It was hard to tell what Suzy's actress, Kara Hayward, was up to. But the kid who played Sam Shakusky was still acting, and was a sophomore at NYU. Sure enough, he hailed from New Jersey, and his name was Jared Gilman.
Two months later, I received a strange message from a girl named Sarah Gold on Backstage: a casting website. She was looking for voice actors and puppeteers to act in her senior thesis film. The concept sounded ridiculous. It was about a guy living in a sock puppet planet who discovers he's actually a human, then goes on an interdimensional adventure to return to the "normal" world where he's from. I didn't intend on applying and ignored the message for a few days...until my curiosity got the better of me. I found the Indiegogo page for the NYU film, including a proof-of-concept video Sarah made.
And in that video was Jared Gilman, sitting on a couch.
He would be playing the lead in Sarah's film. The role she had reached out to me about was for one of his character's sock puppet friends.
I did not know puppeteering for shit and only had a bit of voiceover experience. But if the universe was reaching out to me by offering a chance to work with Jared Gilman two months after talking about him in class and at a diner with Chris, then BY GOD I would be reaching back.
I finally messaged Sarah and told her the project sounded great, please let me audition for you! She sent me sides, I recorded lines on a phone, and sent them back. I did as many takes as my busy college schedule allowed. You get used to rejection as an actor, but I would not be failing this audition. Two days later, the part was mine. I casually asked Sarah how she knew Jared, and how on earth she'd casted him in her senior thesis. She told me they'd worked together on a group project and stayed friends.
Through email, Sarah asked if I had any puppeteering experience. I was honest and said not at a professional level. I did do a medieval-themed puppet show for senior citizens when I was a ten-year-old Girl Scout, but that was it. She replied, good enough, and sent me the full script and filming schedule. We would shoot at the historic Kaufman Studios in Queens, on the same soundstage used for Sesame Street. And fortunately, there would be professional puppeteers there to teach me how to hold and move my sock puppet.
There was just one problem. Although I'd be on set for only a day, the date was the same as a Wednesday evening class I could not afford to skip. Not to bash my alma mater, but Marymount Manhattan College is nothing like your typical university. It's basically high school part II. The professors are weirdly strict about attendance due to the school's small size. I already used two free skips for my class, so if I skipped one more, my grade would plummet. I would have to leave Kaufman Studios and head back to Manhattan as soon as all my scenes were done.
I also had another class in the afternoon, but that was easy to skip. My professor was super chill. I emailed her, "Hey Erin. Sorry, can't come in tomorrow. I'm working with Sam Shakusky in the Sesame Street Studio. See ya next week!" Hilariously, she emailed me back, "Rad! See ya later!"
I remember breezing into Kaufman with a million butterflies in my stomach. I was nervous about being five minutes late, showing up with zero puppetry experience...and acting in front of my middle school hearthrob. The outside of the studio was tremendous and practically a maze - far from the tiny indie film sets I'd spent my college career acting on. Fortunately, I found the studio lobby and Sarah was waiting for me inside the elevator.
She was all smiles as she prattled on about breakfast in the green room, the hard work that had gone into the set, and the awesome day she had planned. As she led me to our crew's workstation, we passed the production office for Orange Is the New Black. "Apparently, it's their last day of filming," she said, "rumor has it they're freaking out 'cause they already shut off the WiFi."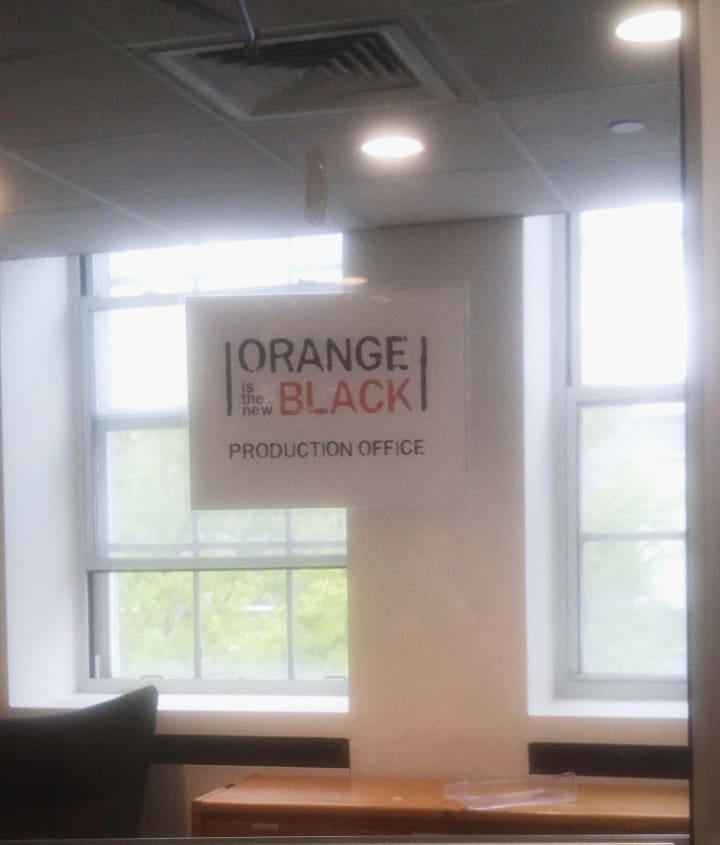 The green room was large, but a little cramped. There was some equipment on the floor, a buffet set up to the side, and some large sofas for kids to sit on as they enjoyed bagels and coffee. There must have been about twenty NYU crewmembers. They were all my age, but very quiet and focused. Far from the loudmouthed musical theatre geeks from my college.
Before I could plop my backpack down on the floor, Sarah stopped me. "Oh, you can put your stuff in the dressing room next door," she said, "It's for actors. You should go meet Jared. I think he's in there."
My heart was beating faster than a drum solo in a heavy metal song. Act natural, act natural. Be normal, please. I entered the tiny dressing room - only furnished with a grey loveseat and one of those vanity mirrors with the light bulbs around the rim - and there he was. Jared Gilman. Sitting with one leg crossed over the other, scrolling through Twitter on his Iphone. Same square glasses, but with longer curly hair and some peach fuzz above his upper lip. He was still lanky, but far taller than he was eight or nine years ago. Just us two actors in the same space. Alone.
I slinked past the loveseat where he sat, pretending like the moment was no big deal, and placed my backpack on the ground next to the vanity mirror.
"Hey," he greeted me from across the room. "Are you crew?"
"No, I'm an actor for today," I smiled while still crouched on the floor.
"Oh, cool. I'm Jared."
Oh yes, I know who you are. "I'm Katy. Nice to meet you."
There were so many things I wanted to say next. I'm a huge fan of your work. You're a terrific actor. Do you still talk to Wes Anderson? What's it like being famous while studying at NYU? We were even in a dressing room meeting for the first time. I could have said his iconic line, "what kind of bird are you?" as a cheeky reference to the film he was most known for.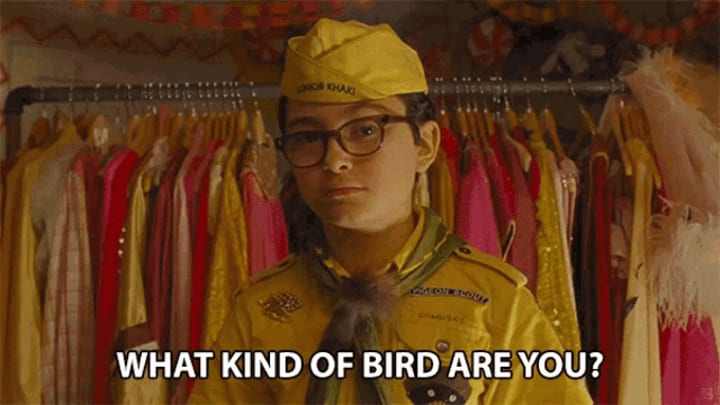 But instead I asked, "so did you eat breakfast yet?"
He shook his head. "Nah. Maybe I'll go in there in a bit."
"Those bagels looked good. I'm gonna go eat one."
In the green room next door, I hopped on the buffet line feeling like my stomach was going to fall out of my butt. It is the weirdest thing meeting film stars in person. Because before you meet them, you see them as pixels on your television screen. And then they're there, in the flesh - HD human eye vision. No editing tricks to hide the awkward silence. I remember thinking over and over, what the hell just happened as I spread some cream cheese over my bagel slice. I decided to eat breakfast in the green room with the crew instead of the dressing room with Jared. We had made enough small talk, I didn't want to embarass myself further. Plus, he seemed like the introverted type.
It was in the green room I met the other actor playing our leading man's friend. His name was Sebastian. He was in his mid-twenties, out of college. Also very tall with long chestnut hair that reached his shoulders, a full beard, and a baseball cap he wore backwards. "Nice to be here again!" he said while shaking Sarah's hand. Unlike me, Sebastian was a seasoned puppeteer who had done some fancy Jim Henson internship at Kaufman. He would be teaching me the basics of puppetry.
With Sebastian and I in the green room and the crew off working in the soundstage, Sarah invited Jared to come out of hiding and have a chat with us. Before we got into talking about our characters' backstories, we broke the ice a bit.
"I love this part of Queens," Jared said while lounging in a brown armchair. "The Museum of the Moving Image is next door. The last time I went, I saw a screening of It's a Mad, Mad, Mad, Mad World. So cool."
Damn, he's got good taste. That film was my dad's fave, and one of the first comedies he ever showed me. Jared then proceeded to list off the other old movies he'd watched at The Museum of the Moving Image. Most actors I've met can't talk about anything else but acting on movie sets. However, Jared didn't act like a typical actor. He made it clear he was a cinephile first.
"So where's everyone originally from?" Sarah asked.
"Jersey," I replied. Jared's face lit up.
"I'm from Jersey too!"
"Oh cool!" I grinned, pretending like I didn't know his face was hanging on a diner wall in Maplewood.
"I'm from the Seaside Heights area," I told him. He nodded. "Nice. I've been there. I'm from South Orange."
There was something different in the way he looked at me after that. His face was softer. I liked the way he smiled at me. Us Jerseyans are very tight-knight people. We like to stay with our own kind, as we're a very specific breed of American. Since he'd been to Seaside, I wondered if Jared had spent his summers walking down the boardwalk and crashing through the same beach waves I had. It was nice to find some common ground.
After some character chit-chat, a producer walked into the green room holding a bright red t-shirt.
"Jared! Found your costume!" she said, ready to throw it on him.
"Oh god," he chuckled, and without further ado, he was thrust into the tight crimson fabric. Miraculously, his glasses didn't fly off his eyes as he squirmed his head through the collar. I didn't realize it at first, but there were no slits for his arms.
"Toby doesn't realize he's a human at this point, so he doesn't need sleeves," Sarah explained. Everyone died of laughter. I excused myself and quickly ran back to the dressing room. In my backpack was a Fujifilm polaroid camera. I've gotten at least one picture from every film set I've been on, and this day was no exception.
"Woah, is that a polaroid?" Jared asked as his eyes widened. Everyone else ooo'd and aah'd.
"Smile!" I said, snapping a photo of him in his chair. He wore a crazed expression while glaring into the lens. When the blank photo rolled out of the top, everyone crowded around me as the colors developed.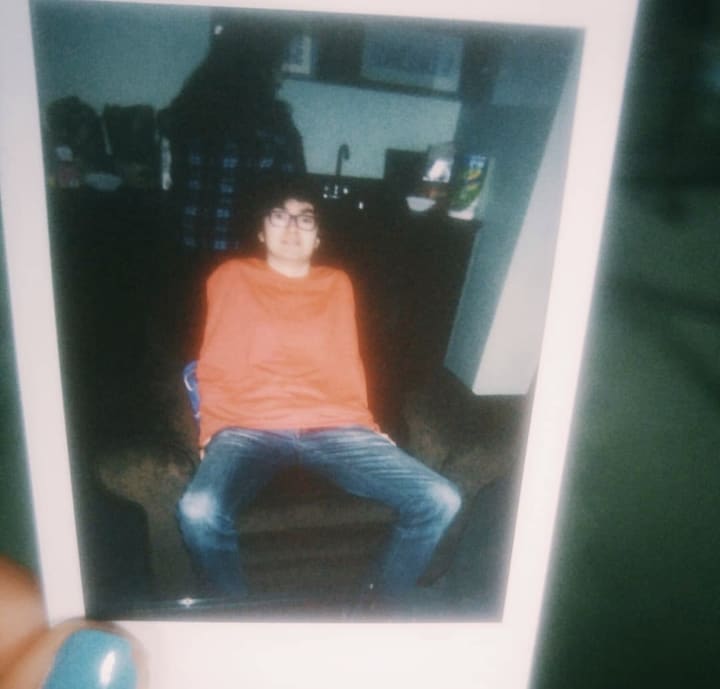 He was mesmerized by the changing film. Still wearing his constricting shirt, Jared reached for his phone and snapped a picture of my picture.
"That is the coolest thing," he reeled. I could feel my cheeks warm. It was nice to start the day off on the right foot.
Moments later, we all walked to the Sesame Street soundstage. It was a large space with black walls and flooring. Sets Sarah and her crew made were scattered around as little stations for people to explore. There was a kitchen, a bedroom, and a basketball court with a brick wall and trees. And it was all made of felt and cardboard!
It was then I was introduced to my very special sock puppet friend: Candace. She was purple and soft with black yarn for hair and a funky headband. Basically, she was the puppet version of Trixie Tang from The Fairly Oddparents. Sebastian gave me a quick tutorial on how to use her.
"Keep your arm straight and high while you're ducking underneath the camera," he said. He pointed to a monitor screen I could see myself in. "Look at the monitor when you're moving your puppet. Move left to go right and vice versa. Takes some getting used to, but you'll get the hang of it."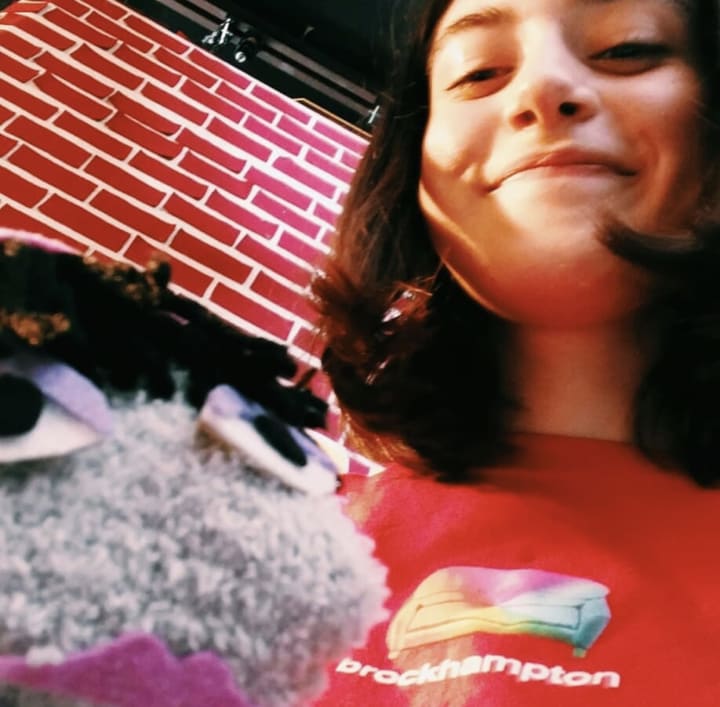 Turns out I didn't have much time to get the hang of it. The first shots we had to film were of our characters hitting or catching sack balls for "tryouts." (As though we were trying out for a school baseball team.) Sebastian put a felt baseball bat in his sock puppet's mouth and hit balls crew members threw to him from offscreen. Jared did the same, but with the felt bat between his actual mouth. His character struggled to hit the balls because he didn't realize he could use his arms. It was funny to watch - Jared's a good actor, after all. When he was finished, there were bite marks all over the bat's handle.
As for me and my character, Sarah wanted Candace to have actual talent as a sack ball player. I had to catch as many sack balls as I could in a row, all while crouching down under the camera and holding my arm as high as it could go. Having no puppetry experience and being a sucky softball player as a kid, I knew it was bound to be a disaster.
"Let's do some practice catches!" Sarah said before throwing two sack balls at my hand. Because I have zero hand-eye coordination, I missed every ball she threw at me. A minute passed and zero catches. Two minutes, still no catches.
"Okay. Let's just roll the camera until you catch one," Sarah said. "Three, two, one, action!"
Still no catches as the camera rolled and every crewmember watched. I was starting to feel very embarrassed. Perhaps they'd have to get someone else to wear the puppet and catch the balls. But then, from afar...
"C'mon Katy! You can do it!"
It was Jared's voice, cheering me on. "You got this, Katy!"
And by some Christmas miracle, sack balls started landing in Candace's mouth. One after another; I made spitting sound effects as I dropped one ball to catch the next one. And then, once I began to miss them again...
"Cut!" said Sarah, "We got it. Nice work, Katy!"
She gave me a high-five, hitting the hand not covered by a sock puppet. Feeling electric, I scurried back over to where Jared and Sebastian were standing. They both wore huge smiles.
"That was amazing!" Jared said to me,"You got four in a row!"
"Haha, yeah, I don't know how," I gushed, pleased as punch with myself.
The rest of the day was fun, easy, and went by in a flash. While setting up shots, cheery crew members walked up to me and asked to try on my sock puppet. One girl even did a whole performance of the song "Roxie" from Chicago while making Candace dance. There was cool film equipment to look at, more food to eat in the green room, and a fun shot where every crew member got to wear their own sock puppet on camera while a "coach" puppet yelled a speech at us.
Through it all, I watched Jared film every little thing on his phone. I could tell he was curious about all the activity going on. It surprised me. He'd probably been on bigger sets than this with big-name directors, actors and cinematographers...and yet the inner workings of a student film still fascinated him. It was a feeling I related to. For movie-lovers, the whimsicality of "movie magic" never really fades away, no matter how many sets you've been on.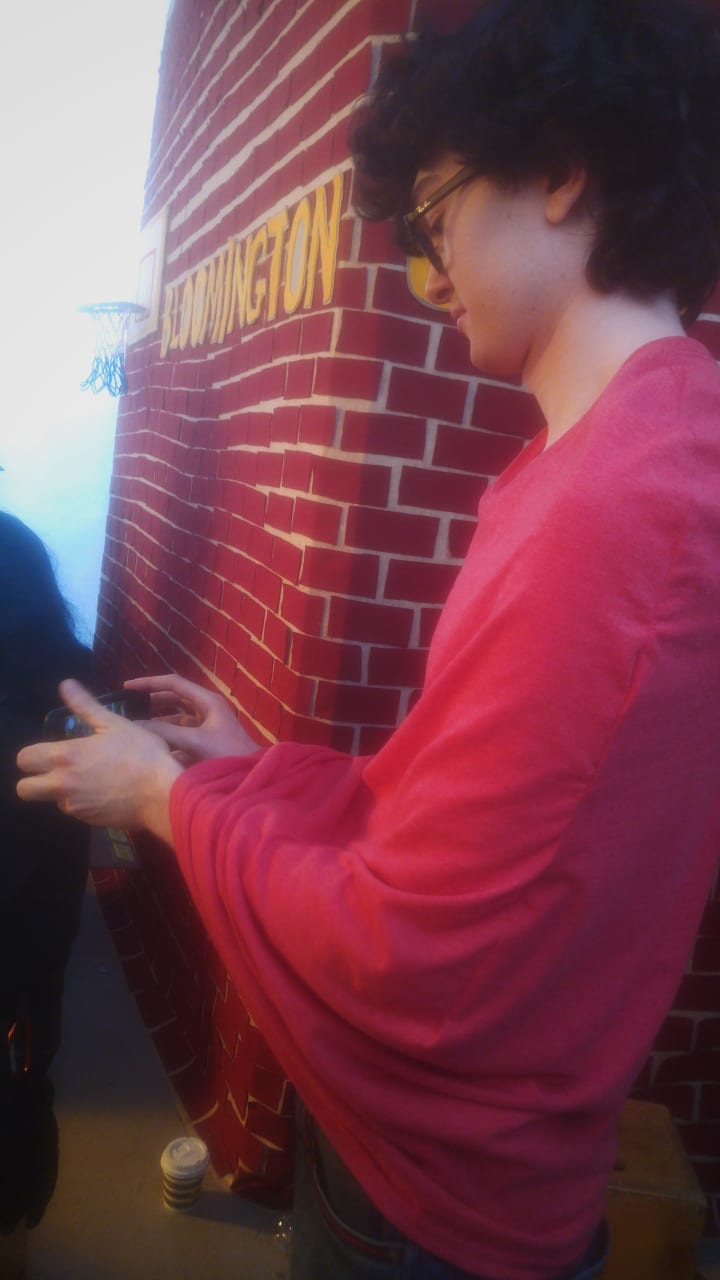 I remember the two of us sitting on apple boxes (in film production terms, "stools") next to each other while waiting for a scene to be set.
"So...are you gonna take that costume off so you can finally move your arms?" I asked him. He smirked.
"Nope. Wore it all day yesterday. I can do it again today."
I chuckled. His sense of humor was awkward and dry, but in an endearing sort of way.
"So what's it like studying at NYU?" I asked him.
"Pretty good," he said. "Been here for two years. Some hard classes, but the people are nice."
"Are you in the acting program?"
He shook his head. "No, I'm not. I'm in the film program. Want to make and direct short films when I graduate."
This surprised me. I thought that as a famous actor, he would have studied at the prestigious Tisch School of the Arts to broaden his acting connections or maybe brush up on technique. But I was happy to hear he wanted to expand his artistic horizons, particularly in the realm of making short films. In the cinema world, short films often go underappreciated.
"What about you?" he asked, "do you study acting at your school?"
"Actually, I don't either. I do this weird concentration at my school called theatre and new media. It's like acting and filmmaking combined? But also learning about, like, digital art, making online games. Stuff like that. Kinda weird, I know..."
"No," he said, "that's not weird at all. That's really cool, actually."
I told him more about the stuff we learned in my classes, including an interactive app named "Karen" that was supposed to be a parody of a lifestyle coach. (He downloaded it out of curiosity.) We talked about the TV show What We Do In The Shadows, which I didn't think anyone else watched at the time. And eventually, we exchanged Twitter handles. My first follow from a celeb.
"Wanna see my house?" he asked me later in the day. He wore an oddly straight face as he asked the question.
"Uuuuuum okay," I replied in reluctance, thinking he meant his actual house in Jersey. This was all happening so fast.
Fortunately, his "house" was just a model of a yellow suburban house Sarah's crew had made. Sebastian joined us as we inspected its tiny mailbox, picket fence, and paper trees in the cardboard backyard.
"So this is where I liiiiive," Jared said, "they used it for the establishing shot, but yeah...it's my house."
"It's very nice," I played along, "I'm surprised you fit in there."
He smiled at that. We shared a look for a moment. But before he could reply, someone called him over for a mic check.
"I'll be back," he said as he left. When he was gone, Sebastian turned to me.
"Hey Katy, this is a weird thing to ask, but isn't he the kid from Moonrise Kingdom?"
I chuckled. I'd almost forgotten. "Yeah, he is. I know. Crazy, huh?"
Here's something strange I noticed: despite Jared having the most esteemed film career among us, no one on set that day - not even the geeky film bros NYU is notorious for - asked him about his childhood spent on a Wes Anderson set. Perhaps it was an unspoken rule that no one could ask any Moonrise Kingdom questions. Or maybe people were just too intimidated to ask. When it came down to it, Jared was just another student going to the same university. He was a classmate, not a child star. In fact, Jared himself didn't even talk about his Wes Anderson experience. There was only one moment he alluded to it, while the cinematographer was doing a test shot. He panned the camera from right to left on a dolly rig. It was super smooth and symmetrical. We could all see it on the monitor.
"This cinematography reminds me of...nah, I won't say it," Jared said aloud with a goofball smile. Everyone laughed, knowing he was referring to Wes Anderson's similar smooth and symmetrical camera movements.
Eventually, my time on set came to an end. It was around 5 pm, I had just wrapped my last scene, and Sarah said I could keep my Candace puppet as a "thank you" for my time. Everyone walked off the soundstage, back through the hallway to the green room. It was break time, and eventually dinner time.
Jared and I were the last two people on the soundstage. He looked back towards me as we walked to the door.
"Hey, uh...are you staying for dinner?" he asked. His eyes were wide. His tone was lighter, softer. "My parents are coming over from Jersey. They're bringing us food and everything. Gonna be great. You staying?"
For a second, I couldn't breathe. That question killed me. I wanted so desperately to say, absolutely, can't wait to eat and meet your folks! At that point in the day, Jared Gilman wasn't my middle school OG celebrity crush anymore, but a new friend I wanted to get to know better. I wanted to learn more about his experience growing up in Jersey, his personal acting journey. I wanted to know more of his favorite movies, ideas he had for his future short films.
But unfortunately, I was like Cinderella having to choose between Prince Charming or turning into a pumpkin. If I stayed at Kaufman for dinner, I wouldn't make my evening class back at Marymount. And my grade would plummet. So as much as I wanted to...
"Can't. Gotta be back at school for a class."
A beat. He looked shocked. "Oh damn. Wow. That blows."
"Yeah. It does..."
We walked side-by-side down the hallway. Past old movie posters on the walls. Past the empty Orange Is the New Black production office. Something about that walk felt like an eternity. After returning to the empty actors' dressing room to retrieve my backpack, I saw Sarah, Sebastian and Jared all standing together outside the green room.
"Yeah, I'll let you guys know when it's done," she said with a smile, "so when Bliss is finished, the plan is to submit it to film festivals. I'm thinking South by Southwest? And then...maybe it can be developed into a feature."
I smiled. That sounded amazing. It was nice to know although it was goodbye for now, I would probably be seeing these goofballs at a premiere party or a film festival in a few months' time. I couldn't wait to see the finished product, and how poor my puppetry skills were.
"Goodbye Katy! You're so sweet!" Sarah chirped as she hugged me tight. Sebastian gave me a high-five. Then...
"Bye Katy."
"Nice meeting you, Jared!"
I laid a big bear hug on him, and although he still wore his constricting sleeveless t-shirt, I could feel Jared hug me back.
I couldn't just say 'goodbye' and go. Suddenly, an idea struck.
"Here," I reached into my backpack for the polaroid I took of Jared that morning, "I was gonna keep this, but you should have it."
He chuckled, "Oh, are you sure?"
"Yeah! It's you in the picture, after all." It's a souvenir. It's a token of my gratitude. It's something to remember me by.
He thanked me, we hugged again, and I was on my merry way. I remember getting on the elevator and closing my eyes as it took me back down to earth. What a crazy, crazy day. I got on the subway feeling like everything that happened was a dream, and I made my evening class on time.
The sad thing is, I never saw Jared, Sarah, Sebastian, or anyone who worked on Bliss again after that day. For some reason, Sarah decided not to release her short. I haven't even seen a rough cut. In a strange way, it's like the film was never made. Maybe someday it will be ready for an audience. But with a pandemic still rocking our world, I doubt that day will be soon.
However, I can say Jared and I still keep in touch, albeit rarely. Because we followed each other on Twitter, I am able to keep up with his life as he continues studying at NYU, working on films, and geeking out over old flicks. We'll engage in the occasional Twitter conversation every few months or so. One time, he even helped a good college friend of mine out. He was considering moving into an apartment with one of Jared's co-stars from Moonrise Kingdom, but Jared warned me the guy was something of a party animal. My college friend is an introvert who likes his peace and quiet, so with that piece of information, he promptly looked for a new place to stay.
I'm glad I had the experience of working with Jared. It taught me that fame is nothing but a flawed, man-made concept meant to sell movie tickets. Celebrities are people, and people are people. Someone being more recognizable than you or having a more successful career than yours does not make them any less human. Fame is overrated...but that's just my opinion.
I would love the opportunity to meet or work with Jared again when this pandemic is over. However, I don't think there's a chance of us ever dating one day. Unfortunately for him, I have fallen for another black-haired bespectacled cinephile who I don't plan on ditching anytime soon. We haven't danced around in our underwear, but he did take me to the beach the other day. My middle school self would be happy to know he is adventurous, debonair, and very protective of me. And of course, he makes me feel like a kid again. :) <3
xxx
Follow me @katyisaladybug on insta for more crazy stories and adventures. Thanks for reading! ^-^